Best Tech Deals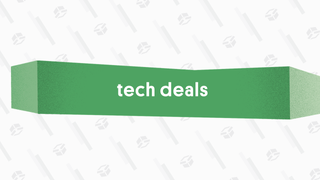 Best Tech Deals
The best tech deals from around the web, updated daily.
Logitech Lightsync Gaming Mouse | $15 | Amazon
Listen up, so called gamers. I see many of you out there claiming to be the ultimate game God. You say you have 400 hours in Stellaris or that your K/D is sitting pretty at 15.0 in Call of Duty: Black Ops Cold War. That don't impress-a me much. A TRUE gamer doesn't need any of those meaningless accolades. All it takes to be a gamer is one thing: stuff that lights up. Yeah, that's right. If your PC can't flag down an airplane, are you really a gamer? Think about that, casual. In the meantime, check out this Logitech Lightsync gaming mouse, which is on sale for $15 at Amazon. It's a precise mouse with all sorts of sensitivity customization options, but let's cut to the chase: the sucker lights up. You can select between different color presets and animation options to make sure your mouse can be better seen from space. If you want to be considered a real gamer in God's eyes, $15 is a small price to pay for entry to those great RGB gates.
---