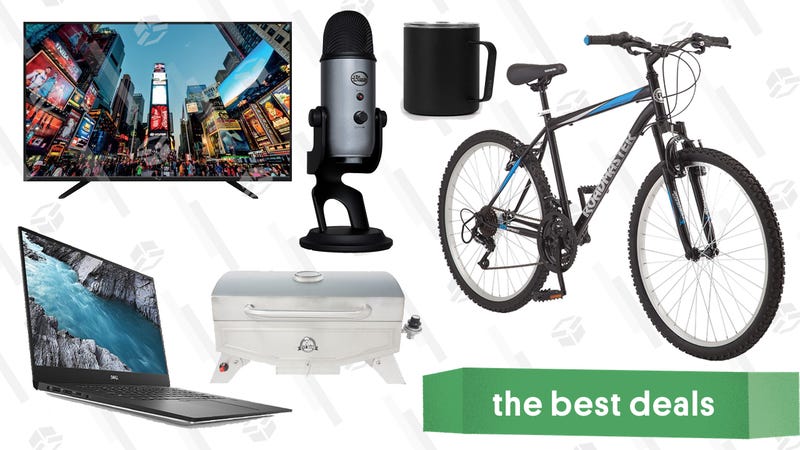 Best Deals of the Day
The best deals from around the web, updated daily.
An Anker Gold Box, Roadmaster mountain bikes, and Target Beauty Boxes lead off Wednesday's best deals from around the web.

Bookmark Kinja Deals and follow us on Twitter and Facebook to never miss a deal.
Update: The coupon is gone, but $145 for a mesh network is still a solid deal.

Kiss your ugly, barebones router goodbye with this sleek $125 $145 mesh network from TP-Link. Systems, like the TP-Link Deco, Google WiFi and eero, offer a bonafide solution to WiFi dead zones in your home.

Here's how they work: multiple nodes, or access points, work together to blanket your home in signal. Better still, their glossy design encourages people to keep them outside of closets and drawers and in plain view to ensure unencumbered signal. (Walls block signal, bro.)
This model also offers all the benefits of a modern router (e.g., 802.11ac/WiFi 5 and app-based management) and routinely offered at $200-240, this markdown is the biggest we've seen.
Make sure to clip the coupon to bring the price all the way down to $125.
---
The Anker PowerCore Fusion is one of our biggest sellers ever, because it combines a USB wall charger and a portable battery pack into a single product. Now, RAVPower has their own alternative with a slightly larger 6700mAh battery inside, and you can grab it for just $22 with promo code KINJAQFF.
They sent me one to check out, and despite the larger battery inside, it's barely bigger or heavier than the Anker, and would make a great holiday stocking stuffer.
---
Amazon's 12 Days of Deals have arrived at PC day, and the most wide-ranging sale of the bunch includes everything from networking gear, to external hard drives, to flash drives, to actual components you could use to build or upgrade your PC.

A few of our favorite deals include the basic-but-fast Archer C1200 router for $40, a 2TB portable hard drive for $48, an ultra-fast cable model for $79 (a must-buy if you're still paying for one from your ISP), and a GTX 1060 graphics card for just $229. There are dozens of other deals included in the sale though, so you'll want to head over to Amazon before they sell out.
---
iTunes gift card discounts are a dime a dozen, but for whatever reason, deals on Google Play credit are far less common. That makes today's $50 Google Play gift card for $40 deal from Walmart so impressive. 20% off would be a sizable savings for any gift card, but especially for one that's so universally useful (at least for Android owners), and so rarely discounted.
---
The hits keep on coming: You can add Acer and LG PCs, and Viewsonic monitors to the long list of discounted computers and peripherals marked down today. All of which feature the highest markdowns we've seen on Amazon.
In case you missed it, you can pretty much find anything associated with computers discounted today on Amazon. This includes routers, USB Type-C peripherals, mice and keyboards, and laptops.
---
Today, Amazon is blowing out a number of Logitech accessories for work and play.
If you're looking to upgrade your home office setup, notable deals include the $30 Logitech MK545 and $130 MX900 wireless keyboard and mouse combos. (The latter set features an exclusive all-black version of my favorite mouse, the MX Master.) Both sets are an all-time low.
Gamers, too, can get in on the fun with Logitech's G-Series gaming headsets and an entry-level starter set for $80, or $20 off a similar bundle offered by Razer during Black Friday.
---
Apple's 12" MacBook is one of the thinnest and most travel-friendly laptops out there, and you can get the current 2017 model for $1,000, complete with an upgraded 512GB SSD, 8GB of RAM, and an upgraded Core i5 processor, as a certified refurb.
This computer isn't exactly a powerhouse, but if you just need a travel-friendly Mac, this is one of the best deals we've seen. I have this exact model model as my work computer, and I'm happy with it, especially when I travel. Just note that while this model has been refurbished by Apple, its one-year warranty is backed by Woot.
---
There are a lot of reasons to own a Raspberry Pi, but anecdotally, I think somewhere north of 90% of people buy them to build retro game consoles. If anyone on your shopping list loves to tinker Amazon's running a couple of great starter kits today.

$58 gets you a kit with a Pi 3 Model B, but you should probably spend $6 extra to upgrade to the faster B+, in addition to a faster microSD card. Both kits include all the basics, including a case, storage, and a power supply, so your giftee can start building cool projects from Day 1. Just note that both deals are only available today.
---
Even if Pop Sockets aren't really your thing, if you have any teens on your holiday shopping list, they'll almost certainly love to get one of these swappable three-packs. Each set comes with one Socket and three interchangeable face plates, and you can get the pack of your choice for $20 with promo code 5OFF3PACKS.
---
If you've been sitting on a killer podcast idea or have aspirations à la "A Star is Born," this Gold Box is for you. Right now, Amazon is blowing out a bunch of microphones, keyboards, headphones and other recording essentials.
Internet favorites, such as Blue Yeti microphones and Audio-Technica ATH-M50x's, are down to some of the lowest prices we've seen. Burgeoning pianists can pick up an Amazon-exclusive Casio CDP-240 digital piano for $120 off its regular price.
---
Anker is best known for its charging gear, but they make some pretty handy office accessories as well, and several are on sale for one day only in Amazon's Gold Box.
Give your wrist a break with a wireless vertical mouse, charge six gadgets at once for $25, or turn your USB-C ports into a variety of more useful ports with a pair of discounted hubs. But the most exciting deal is on a product I've never seen before: A clever power strip for your desk that includes two AC outlets, two USB ports, and even a 30W USB-C PD port that can charge a laptop or a Nintendo Switch. That's a steal for $26.
Just remember that all of these deals are only available today, so you probably shouldn't bother trying to go through procurement.
---
Today is a really good day to buy a laptop. Amazon is blowing out a bunch of components, as well as these awesome Dell computers.
Dell XPS laptops are some of the best all-around laptops. These lightweight ultrabooks have beautiful, edge-to-edge screens and boardroom-ready looks. Underneath its business-friendly exterior, however, is serious business: solid-state drives, oodles of RAM, and gaming-ready Nvidia graphics cards.
Oh, and there are Chromebooks, too. Less impressive than their XPS cousins, but a few Chrome OS-powered Dells are marked down, starting at $250.
Quick heads up: Some of these are refurbished models. Some shoppers have misgivings about used products, but these come with a Dell warranty, so you're covered.
---
If you lose your keys, or your bag, or your phone, you don't have to lose your mind, too. Prepare for any bouts of forgetfulness with this Tile Mate, now just $10. The tiny Bluetooth tracker pairs with your phone and beeps when you push a button on the smartphone app, so you can find what you're looking for. And if you've lost your phone, press a button on the Tile to make your phone beep, too. And if you've lost both your phone and the Tile, probably time to reevaluate your priorities.
Just kidding, the Tile community can help you track down the Mate, while this thing called the "Find My iPhone" should be able to help with the phone. Cool? Cool. Yes, it's an older Tile model, but at that price, it's a Mate worth getting acquainted with.
---
Chrome OS laptop devotees, your time has come. Google's most powerful, flagship Pixelbook is currently selling for its lowest price ever on Amazon.
Inside this beautifully designed 2-in-1 package, you'll find plenty of power: an i7 processor, 16GB of RAM and 512GB of storage. (Yeah, pretty overkill for web and Android apps.)
Despite the impressive specs, this laptop isn't for everyone. Chrome OS remains a niche operating system. But for those who understand the limitations and, more importantly, the benefits of the no-viruses-ever Chrome OS, this is the deal you've been waiting for.
At $1,324, it's selling for even lower than on Black Friday.
---
I don't know why but big ass TVs make people happy. And if I know anything about the science of happiness (which I assure you, I do not), this 70-inch RCA smart TV is going to make some of you really happy.

Will it look as good as Samsung's QLED sets? Of course not. Will it have the same inky, deep blacks as LG's OLEDs? Keep dreaming.
But if size is your most important consideration, it's hard to pass up a 70-inch screen, with 4K and built-in streaming apps, for $550.
---
Many gamers scoff at the idea of a pre-built gaming rig, let alone a gaming laptop. So this ROG Zephyrus GX501 is bound to get more than a few toxic nerds riled up.
The ROG Zephyrus GX501, I'll admit, is a ridiculously named device. Its discounted $2,500 price tag is bound to receive the peanut gallery's collective scorn. And yes, you could build a desktop with the same kind of horsepower (GeForce GTX 1080 graphics, Intel Core i7 processor, 16GB of RAM, and 512GB SSD) for far less.
However, you wouldn't have to choose between power or portability with the GX501. You could bring it to a friend's and play. Since I've always viewed gaming a social activity, this is super enticing. Imagine giving each of your friends a high five after a particularly grueling competitive match. (I, for one, think it's one of nerdom's true joys.)

Better still, this build is $200 less than the average price. If you're into LAN parties as much as I am, this is a great deal. Just make sure to bring your power brick.
---
Massdrop, land of a thousand mechanical keyboard deals, has a particularly good offer available on the Gamdias Hermes M3 right now. You can grab the keyboard for just $59 (albeit not shipping until early January), compared to $95 elsewhere.

The Hermes M3 features brown mechanical switches, onboard profile storage, and full RGB backlighting; all the key features you'd want are here. It also eschews the number pad for a more compact, borderless design, and its low profile keycaps are a nice reprieve from traditional mechanical boards, without going full chiclet like a laptop.
---
These discounted and powerful gaming computers from CyberPower PC and HP can help kick off your burgeoning eSports career. (Let's go NYXL!)

Both $1,700 CyberPower PC rigs are fully specced out, offering 16GB of RAM, and the powerful NVIDIA GeForce RTX 20 series graphics cards.
But, of course, there are a few key differences that go beyond the keyboard and the case. The SLC10200CPG offers an i9, NVIDIA GeForce RTX 2070, and a 1TB SSD, while the GXiVR8080A3 rocks an i7, NVIDIA GeForce RTX 2080, and 240GB SSD and 1TB HD for storage. Also, the former doesn't ship with a WiFi card but that may be less of a priority for hardliners who swear by the ethernet cable.
And the $1,500 OMEN model offers the still-capable GTX 1080 graphics card, as well as a i7 processor, 256 GB SSD and 1 TB hard drive for storage and 16 GB RAM. This current markdown is the lowest we've ever seen, and $80 off average price.
---
With its 24 hour battery life, impressive bass, and crystal clear sound quality, the Anker SoundCore has long been our readers' favorite affordable Bluetooth speaker, and its water-resistant successor is down to $30 today, or $10 less than usual.

The SoundCore 2 still includes dual drivers and that amazing 24 hour battery; the only real differences are a slightly tweaked design and the aforementioned water resistance. That means you can take it to the pool, the beach, or even the shower without fear.
---
We, the trackball enthusiasts, are a special breed. You may point and stare at our ergonomically sculpted peripherals, but we're too busy getting stuff done to care.
It took nearly a decade for Logitech to update its trackball line and with the MX Ergo, I got everything I wanted. It's super comfortable, can tilt 20 degrees for a more natural hand position, and it'll last 4 months on a single charge.
It's currently $76 on Amazon, a few pennies off from the lowest price we've ever seen. And while it's not as sexy as the MX Master 2S, it won out as my favorite office accessory.

---
Noise canceling headphones, like the Sony WH-1000xm3 or Bose QuietComfort 35, come with many useful features, superb audio quality and a restrictive price tag. This alternative from Sennheiser offers great sound and a bare-bones noise canceling experience for less than half the price of the competition.
These cans leave out a lot of the bell and whistles of the competition, such as touch controls and a voice-assistant dedicated button. But they deliver what most people care about most: price and sound quality. And right now, the black version is available at the same price offered on Black Friday: $130.
---
Anker's entry-level truly wireless headphones are available for just $45 today, the lowest price we've ever seen.

Like the Liberty headphones before it, the Liberty Lites will run for 3.5 hours on a single charge. The Lite's charging case only holds an extra 9 hours worth of battery, vs. 24 hours for the Liberty, and 48 for the Liberty+. Still, that's enough juice for an entire workday or a flight from New York to Los Angeles.
---
We've seen power cubes with more ports and outlets from other manufacturers, but Anker's take on the category has a few nice touches. While it leaves one side of the cube empty, it does come with adhesive pads that let you mount it on a wall or underneath a desk. It normally sells for $26, but you can get it for just $20 today — the cheapest it's been.

---
Anker makes just about every capacity of PowerCore battery pack imaginable, but the company's 10,000mAh packs have always been among their most popular. And now, just in time for the holidays, they squeezed that much juice into a shockingly small new package.

The PowerCore 10000 Redux is only 4.1" x 2" x 1", and weighs only 6.6 ounces, making it the smallest 10,000mAh battery pack we've ever seen. And of course, Anker's PowerIQ technology is built in, meaning you'll get the fastest possible charging speed no matter what you plug in. There's even a special trickle charge mode for low-draw devices like Bluetooth headphones, which often don't draw enough power to keep USB battery packs "awake."
The Redux only just came out, and retails for $34, but it's marked down to $26 this week, making it a perfect stocking stuffer idea.
---
At a certain point, the benefits of upsizing your monitor still start to be overshadowed by the sheer amount of desk real estate you lose. But 27" is not that point, and the Dell UltraSharp 27" LED Monitor is a good buy at $329 today at Amazon, if you've been jonesing for more screen space.
---
It's $5 more expensive than it was on Black Friday and Cyber Monday, but if anyone on your shopping list (yourself included) would like an Alexa-enabled, incredible-sounding Sonos One speaker, they're $20 off right now, which is the second best deal we've ever seen. Or, you can buy two and save $50, which is a match for Black Friday.

Unlike Black Friday though, that $20 discount is also valid on the new, limited-edition HAY Sonos Ones. They're priced $30 higher than black and white, even on sale, but you get to pick from five designer colors.
The $100 Connect:Amp discount also made a comeback. This device basically turns any unpowered speaker pair into a Sonos smart speaker, compatible with streaming services and multi-room audio.
---
Samsung's U3-rated microSD cards are some of the fastest and most popular options out there—I have the 128GB model in my own Nintendo Switch—and all four sizes are down to all-time low prices today on Amazon.

The 32GB card is down to a laughably cheap $6, the 64GB just dropped to $11, and the