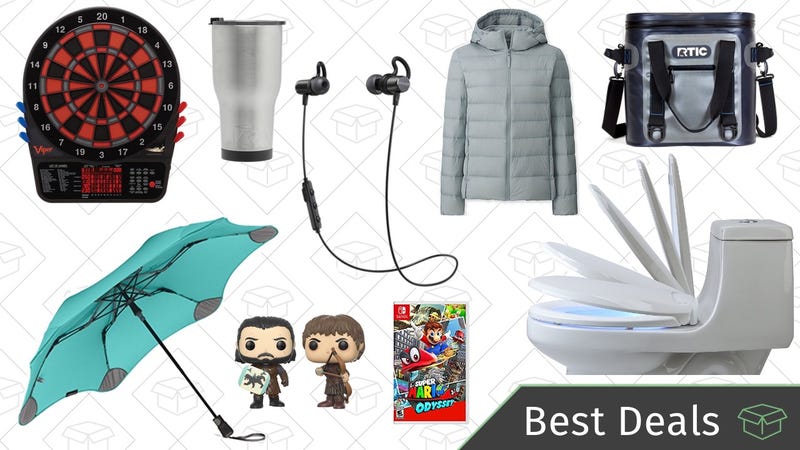 Today's deals start off with game room essentials, RTIC coolers and tumblers, Blunt umbrellas, and many more.
Bookmark Kinja Deals, follow us on Twitter and Facebook, join our Kinja Deals Community group, and sign up for our Kinja Deals messenger bot for the latest updates!

Top Tech Deals
Mesh routers have, uh, routed the rest of the Wi-Fi industry over the last couple of years, and the popular Luma system is on sale for an all-time low $150 for a pack of three routers with promo code 20OFFLUM.
Rather than relying on a single base station to fill your entire home with Wi-Fi, Luma uses three of them to create a dense mesh of connectivity, making dead zones a thing of the past. Plus, they include some neat software for parents like automatic content filtering and daily time limits for specific devices.
---
Anker's SoundBuds have long been reader favorites, and two different options are on sale right now for the holidays.

For just $18 (with code SUPER236), you can grab the SoundBuds Surge lightweight Bluetooth headphones. With magnetic connectors on the earpieces and a water-resistant coating, these would be a great addition to your gym bag.
And if you missed it earlier this week, Anker's brand new Zolo Liberty truly wireless headphones are still on sale for $80, down from $100. These run for 3.5 hours untethered, but the included battery case packs in an extra 24 hours for recharging on the go.
---
You know those cool 360 videos you've seen on YouTube, or even in a VR headset? All you need to make your own is the Samsung Gear 360, and the 2017 4K version can be yours for an all-time low $129 today with code 40OFF360.

Even if you don't have access to like, a helicopter or speed boat to capture truly jaw-dropping video, you could easily plop this thing into the middle of a party or get-together, and relive the whole thing in 360 degrees later. I wish I'd had one for my wedding.
Here's a sample of what you can capture from the Gear 360. On desktop (Chrome only), you should be able to click and drag around, and on mobile, your phone's accelerometer should be able to rotate the video within the YouTube app.
---
Half the things you plug in these days probably plug into USB ports, so it only makes sense for power strips to incorporate them. Today on Amazon, you can get an 8-AC outlet/6-USB strip with Quick Charge 3.0 for $29, or a 4-outlet/4-USB model for $16. Just be sure to note the promo codes.

---
It's 2017, and your lighter doesn't need fuel anymore, it just needs to recharge over USB. This flexible neck model is just $12 with code C2YFTPRG, is perfectly designed for lighting candles, and can spark 400 times on a charge from its 220mAh battery.

---
Anker's reader-favorite SoundCore Bluetooth speaker spawned a whole line of products, but the original model is still great, and it's never been cheaper than it is right now.

The SoundCore's headlining feature is its 24 hour battery life, and in my experience, that's a conservative estimate. It also packs in dual 6W drivers for room-filling sound, and looks pretty great to boot. It's been mostly selling for $30 lately, but you can get it for a stocking stuffer-friendly $24 today, no code needed.
---
If you know anyone in your family that's bad about backing up their computer (most of them, probably), one of the best gifts you can give them this year is an external hard drive. Both the 8TB and 3TB models of this Seagate drive are great deals today, and they should both hold plenty of movies, photos, music, or even console games.

---
Anker's PowerCore line of battery packs have been our readers' favorites since they debuted, and now you can save on two different sizes of its sequel, the PowerCore II.

Cosmetically, the PowerCore IIs look very similar to the original PowerCores, but with more precise eight-dot charge indicators so you know how much juice you have left. But inside, they've been upgraded with Anker's new PowerIQ 2.0 charging technology, which delivers the fastest possible charging speed to your devices, including Quick Charge-compatible phones. That speed works both ways, as the entire battery will recharge in four or five hours (for the 10,000 and 20,000mAh models, respectively) if you plug them into a QC wall charger.
---
A really good Lightning cable is a great stocking stuffer for any iPhone owner, and two of the best are on sale right now.

Your options are a 6' nylon-braided PowerLine+ cable for $13 (no code needed), or a 3' PowerLine II cable for $10 with promo code KINJA843. The braided shell of the PowerLine+ will feel nicer, but the PowerLine II comes with a lifetime warranty, so you can't go wrong either way. Both are offshoots of Anker's reader-favorite PowerLine product line, and either one will make Apple's first party cables feel like cheap toys.
USB-C device owners, there's a deal here for you too.
---
VPNs are in the news these days, and with good reason. So if you're curious to sign up and start protecting your browsing history and personal data (or, you know, getting around websites' geoblocks), NordVPN charges less per month than a typical trip to Starbucks.
NordVPN has long been one of the most popular and reliable VPN providers out there, and if you sign up for a one-year membership, promo code VIP70 will drop your annual price from $69 to $48. If you're sure you want to commit, use this link to get a special two year plan for $79 with code 2YSpecial2017, or this link to get three years for $99 with code 3ydeal. Lifehacker has recommended Nord in some previous guides, but if you have any firsthand experience with the service, sound off in the comments!
Top Home Deals
A warm toilet seat in a public bathroom is a nightmare. But a warm toilet seat, with a nightlight, in the comfort of your own home when it's 30 degrees outside, that's a dream. Make that dream come true with the Brondell LumaWarm heated toilet seat. It's easy to install and comes with it's own light (no Glow Bowl required).

---
Similar to the special Walmart and Best Buy Chase Pay promotions we shared a few weeks ago, you can now get 2,000 Chase points (worth $20 in cash back at a bare minimum) when you spend $20 at eBags and use Chase Pay to check out. Terms and conditions here and here.

At a base level, if you find something for around $20—like this TRTL travel pillow, or these packing cubes—and use this promotion, you'll almost be getting your purchase for free.
But if you have either the Sapphire Preferred or Sapphire Reserve cards though, the points you earn from this promotion can be used for travel rather than cash back, meaning they could be worth a lot more than $20. For example, if you have a Sapphire Reserve card, which allows you to book travel directly at a rate of 1.5 cents per point, then this promotion is worth a minimum of $30 in travel. If you find a really good partner redemption (like I did for my trip to Hawaii), it could be worth a lot more.
Just be sure to hit the Chase Pay button at checkout, and use either a Chase Freedom, a Freedom Unlimited, or a Sapphire Preferred card to pay. It doesn't appear that the Sapphire Reserve is eligible, though once you get the points, you can transfer them into your Reserve account for travel redemption purposes.
---
RTIC's top-selling 30 ounce vacuum insulated tumbler just got a design refresh, and the new model is down to an all-time low $8 on Amazon right now. I don't think I've ever met someone who didn't love these things, so it'd make a great little gift.

RTIC also makes our readers' favorite coolers, and all three sizes are on sale for about $18-$25 less than usual, in a variety of new colorways. I have the 20-can model, and yes, it really does keep ice frozen for days on end.
---
This is a beautiful salad spinner that I'd be okay with leaving out on the counter. Normally selling for $50, you can spin your salad dry in this OXO steel salad spinner for just $35. It might even encourage you to eat more salad, ya never know.

---
You may not be spending too much time outdoors right now, but you'll want a blanket like this when it's nice outside again.
Normally selling for $20, this large, travel-friendly waterproof blanket is $9 with code BLKT2950 and when you clip the 8% off coupon, and comes in a variety of colors.
---
The best pressure cooker/slow cooker/rice cooker around is back on sale for $82 today, and it'll forever change the way you prepare dinner.

Unless you were living in a cave over Black Friday or Cyber Monday, you surely saw better Instant Pot deals. But against any other backdrop, $82 would be a really solid price on this model, so it's worth picking up if you missed out on the bigger promotions.
---
Only luddites use tape measures anymore. This laser distance measurer takes instant distance readings of up to 131', and includes several built-in area calculation functions, in case you're a little rusty on your middle school geometry.

---
With this set of ten OXO Good Grips Pop Containers, the days of snacks going stale are no more. $70 is the best price this set has ever been, and it makes a great holiday gift even if you don't need it for yourself. Fill it with anything and store it much easier than that half-open bag of chips you're using a binder clip to hold closed.

---
These AllStar Clever Cutters are perfect for when you're feeling lazy and don't feel like getting out the knife and dirtying a cutting board. Essentially a pair of sharp scissors with tiny cutting board attached, this As Seen on TV product could be great to speed up kitchen prep.
Just to note, this is an add-on item, meaning it will only ship for free if you send it with qualifying orders over $25.
---
Upgrade all your bakeware in one purchase with this 10-piece nonstick set from Calphalon. It includes all the essentials like loaf pans, cookie sheets, a muffin tin, a cooling rack, and more. This set has been hovering between $70 to $95 for the last 6 months, but is just $52 today, an all-time low price for Amazon.
---
You could buy a $5 umbrella every time you get caught in a storm, only to watch it disintegrate before you get to safety, or you could invest in a Blunt umbrella for 20% off.
Blunt umbrellas feature rounded safety tips to avoid poking anyone in the eye, include a special pocket for a Tile device tracker, and most importantly, can withstand winds of up to 72 mph (in the case of the standard model, others are lower). For reference, tropical storms become hurricanes at 74 mph, so if your Blunt ever succumbs to the wind, you probably have bigger things to worry about. You can see it in action in the video above, which personally left me slack-jawed.
Note: Make sure you're buying from the BLUNT USA listing, not the Amazon.com listing, or else the code won't work. You'll still get Prime shipping.
These umbrellas hardly ever go on sale, but this week only, you can save 20% on either size, and in any color, with promo code 97CBRENE. The most popular models are the Classic and the smaller Metro:
Beyond those, you can also choose the Blunt Lite (which features a curved leather handle) or the Blunt XL, which is just a bigger version of the Classic. Any of them would make awesome gifts.
---
Why pile boxes up on the floor of your garage when you can pile them up on the ceiling? This 4' x 8' Fleximounts overhead storage system can hold all of your holiday decorations once it's time to put them away, plus a lot of other stuff too. Its height is even adjustable from 22" to 40", so you can optimize it for storage space or headroom, depending on your needs. Just be sure to use promo code XMASHOME at checkout to get it for $148.

---
Brown Sugar Cinnamon and Strawberry are the only Pop-Tart flavors worth a damn, and you can save 25% on 32-count boxes of either flavor today on Amazon, albeit as Add-On Items.

---
With the ability to transform into a grill, an electric griddle, or a sandwich press, Cuisinart's 3-in-1 Griddler is one of the most versatile kitchen appliances you can own, and it can be yours today for just $45, the best price Amazon's ever listed.

Why stop there though? Add the optional waffle iron plates to your cart, and get even more use out of your new toy.
---
Pizza stones help you quickly achieve crispier crusts (or crispier anything) in the oven, and the best one you can buy has a rare discount today, just for our readers.

While most stones are made of ceramic, NerdChefs are basically just solid 1/4" - 1/2" slabs of food-grade stainless steel. That means they're heavy as hell (16-32 pounds), and absorb heat like a sponge to achieve crispy crust nirvana in half the time of a traditional pizza stone. As Shane notes over on Gear, you can even just leave one of these things in your oven to act as a heatsink to regulate its temperature.
By virtue of their weight, NerdChefs are expensive to ship, and basically never go on sale, but our readers can save 10% today on any of the three models with promo code BAKEMODO, plus free Amazon shipping. If you have anyone on your holiday shopping list that likes to cook pizza at home, this will be the best gift they receive this year.
---
Forget trying to find quarters under your car seat and paying way too much for 3 minutes of air, and get this $22 tire inflator with code 975WIE8H. You can fill up your tires whenever and wherever you please for free. Keeping your tires properly inflated helps improve gas mileage so this guy will basically pay for itself. It also works on bike tires.
---
---
If you've ever spent more than 5 seconds sorting through your mismatched food containers to find the right lid, it's time to throw them all out and upgrade to the uber-popular Rubbermaid Easy Find Lid system.

These containers come in six different sizes, and yet you only have to deal with three different lids, making it much easier to find the right one. The 42 piece set is on sale for $15 today on Amazon. We've seen better prices in the past, but this set has been selling for around $20-$24 pretty consistently this year, so you're saving between $5 and $9. Not too shabby.
---
If you need a little extra help getting your house together for holiday guests,