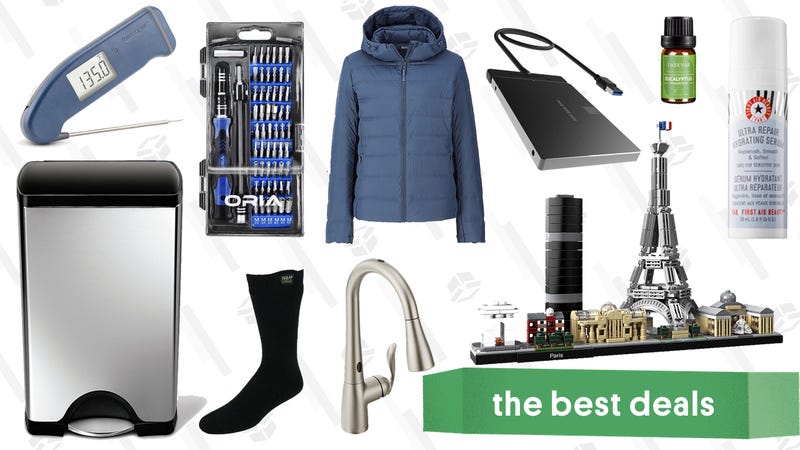 Best Deals of the Day
The best deals from around the web, updated daily.
A Simplehuman trash can, Thermapen Mk4, and LEGO's Paris Skyline architecture set lead off Wednesday's best deals from around the web.

Bookmark Kinja Deals and follow us on Twitter to never miss a deal.
If you have any old SSDs lying around, this SATA to USB 3.0 cable can turn them into speedy external drives, with no tools required. Sure, there are plenty of enclosures that will do the same job, but I think it's kind of cool to be able to see the label of the SSD.

Get it for $5 with promo code 45Q9AGM1, while they last.
---
Whether you require the raw power, advanced screen, and superior camera, and USB-C connectivity of the latest and greatest iPad Pros, or if the standard 9.7 iPad can fulfill your tablet needs, Amazon's offering all of Apple's latest tablets for some of the best prices we've seen.
Depending on capacity, the mammoth 12.9" iPad Pro is $50-$150 off, the 11" Pro is $50-$100 off, and the 32GB standard iPad is $80-$100 off, matching the deal we saw on Black Friday. If you need help deciding which one's right for you, Apple has a handy comparison chart here.
---
At first glance, Anker's SoundCore Spirits look a lot like the reader-favorite SoundBuds Slims, but they do have a few key upgrades. The big one is IPX7 water resistance, plus added sweat-countering measures from Anker that make them ideal for working out, especially compared to the IPX5-rated Slims. They also last a bit longer with an eight hour battery (vs. seven), include a built-in cord shortener, and should have a bit more bass as well.

The SoundCore Spirits have sold for $30-$40 since they launched last year, but today, they're just $25, no promo code required.
---
If you want the durability and lifetime warranty of Anker's PowerLine II charging cables, but you own a lot of different devices, this $11 microUSB cable (with promo code 3NCABKJA) includes Lightning and USB-C adapters attached to the end. It's a little awkward looking, but it's nice to know you'll always have the right cable handy.
The Hue Play is the best backlight around and this bundle essentially saves you $45 if you want to go all-in on Philip's smart lighting system.
I've been using a pair with my gaming desktop for the past month and it's easily my favorite RGB accessory. Not only does it look great when you first boot it up, but unlike the rest of my setup, I see the lights working in game.

I've used it with both Razer Synapse, which displays game-specific lighting effects (e.g., flashing green when a Set item drops in Diablo III or glows blue when my shield is up as Reinhardt in Overwatch) and the Hue Sync app, which samples and reflects whatever is on your screen. Of course, how much you'll get from the former depends on developer adoption.
Not much of a gamer? You can also just mount Hue Play behind your TV and use it as a backlight. It functions a lot like the Hue LightStrip, but easier to set up. Of course, it works with all of the Hue accessories you already own.
This particular deal bundles the $45 Hue bridge, and is geared more toward people who are just starting out with their smart lighting set up. This offer expires next month, but the black unit is already selling out. So, I'd act fast.
---
If you're the kind of person who scoffs in the face of warranties and wants to repair their own phone, this $11 tool kit (with promo code HA7ORJMHH) has every tiny screwdriver you could need to open up most gadgets, plus a flex shaft for reaching into tight spaces, say, inside a PC case.

---
Those long, awkward tubes of gift wrap don't have to be piled up willy-nilly at the back of your closet. It's true! There are actually dedicated gift wrap organizing solutions out there, and this bag is only $7 today on Amazon, an all-time low. Gift it to yourself.

---
Amazon's opening the discount floodgates on Moen faucets today, even those fancy ones that can be turned on and off hands-free. A bunch of them are up to $80 off their average price, but still a little on the pricey end. (Jeez, home ownership is expensive huh?)
If you're looking to update your kitchen with some fancy new faucets, this is a good time to buy. Just don't take too long, since these prices will disappear by EOD.
---
Victorinox Fibrox knives has long been some of our readers' favorites, and at just $17, this 6-inch boning knife makes the cut, too. This stainless-steel, semi-flexible blade is specifically designed for slicing meat and fish off the bone, plus the textured Fibrox handle promises to prevent slipping, which could interfere with your perfect cut or, uh, your plans to keep all your digits intact. Get yours now, since this deal is certainly a cut above, and it likely won't last long.
---
When compared to traditional blenders, stick blenders are 1,000x easier to clean up after. You can skip the single-use blender pitcher, and just place this stick blender in whatever container you were already using to make your sauce, smoothie, or whatever else needs to be pureed. That means fewer dirty dishes, and more time to do all your other chores (or enjoy whatever meal you just mixed up).

This blender from Chefman is just $19 today, the best price Amazon's ever listed. Not sure what to use it for first? My suggestion: Make some refreshing watermelon juice using Alton Brown's method.
---
Joesph Joseph's clever nesting bowls and measuring cups are perfect for anyone who's tight on kitchen space. Or organization freaks. or people who love colorful stuff. Or people who cook. So everyone, basically.
The 9-piece set is marked down to $27, and the 7-piece set is on sale for $22. While they might look similar, note that the 9-piece set includes a mesh strainer (the light blue one) and a colander (the dark green one), while the 7-piece set only includes measuring cups and bowls.
---
Today, Taylor Swift professed her love for Command tape, and now probably millions of tweens (and also me, an adult woman) are in the market for some of that sticky sweet mounting goodness. Luckily, this 12-pack of large picture-hanging strips from Command is marked down to $9 on Amazon. So we will buy this Command product, fill that "Blank Space" on our walls with some new art, because Band-Aids don't fix nail holes. Look what you made us do, Taylor!

---
This time of year, it's probably dark already by the time you get home from work. But without any wiring to futz with, solar-powered, motion-sensing spotlights are the easiest way to illuminate your front porch or lawn, and you can get four of them for just $16 today with promo code 355QD9LQ. That could be one for each side of your house!
---
Simplehuman makes our readers' favorite trash cans, and one of their most popular kitchen models has a $20 discount today.

This has been my personal kitchen trash can for several years now, and I love the thing more than anyone should be allowed to love a garbage receptacle. It looks great, the pedal mechanism is rock solid, is does a good job of containing odor, and the inner lining makes it easy to remove a bag and add a new one.
---
Outdoor barbecues will be back before you know it, and you can be ready for that (and all of your other cooking needs) with a 15% discount on the best kitchen thermometer money can buy: the Thermapen Mk4.

You guys love the Thermapen because it displays the temperature in 2 - 3 seconds, has a 3,000 hour battery life, is waterproof, and is accurate within 0.7°F. Step back into the kitchen in just about any nice restaurant, and you'll probably see some ThermoWorks gear in use.

Here are just a few readers gushing over it:

Thermapen Classic (or really any of the Thermapens). Bar none the best thermometer for cooking I have ever bought — accept no substitutes.

Somewhat expensive at ~$70-$120 range, but I've been using mine for years and years, and it still gives me an accurate reading in less than three seconds. Well, well worth the price. Especially excellent for the grill. - theburners
Without a doubt. No other thermometer comes close. I've said it before on Kinja that the Thermapen is the best piece of kitchen equipment I've ever bought. - the-return-of-samba00
This model doesn't see significant discounts very often, and today's is actually only available on the new, limited edition Marine Blue colorway. Very tasteful!
---
You like things that smell good? Of course you do. Buy these essential oils.
On top of pouring a couple drops in your aromatherapy diffuser, you can use them to make your trash smell better, ward off bugs, freshen up your house and shoes, and a whole lot more. One bottle of essential oils usually costs around $2, but today, you can get a variety pack of eight for $11. Just be sure to clip the $1 coupon and enter code DF9K9O9D to get this set for $11.
Just in time for a new season, Clear the Rack is on at Nordstrom Rack. And while we know and love this sale for being full to the brim with heavily discounted styles for men, women, and kids, this time around, Clear the Rack is really stepping things up with over 20,000 — yes, you read that correctly — items included in the promotion. For today only, the 25% off at checkout is exclusively for Nordy Club members (which, if you haven't joined for free, what are you waiting for?); everyone else should be able to get in on the deals tomorrow.
---
In the immortal, paraphrased words of Taylor Swift, this deal has that red lip classic thing that you like. MAC staples rarely go on sale, but today, MAC's Shiny Pretty Things All Star Kit, featuring a trio of coveted minis is down to just $15. Included in the kit is cult-favorite Ruby Woo lipstick, the most universally beloved true blue red lip shade, in a tiny size perfect for keeping in your purse, plus a mini Prep + Prime Fix+ and In Extreme Dimension 3D Black Lash. This bundle would make for a nice gift (you can gift it to yourself, too, by the way), and size-wise, it has major benefits for travel.
---
Uniqlo is known for both it's Ultra Light Down and Seamless Down, but both lines join forces in the retailer's Ultra Light Down Seamless Parka for men and women, now marked down to $70. This jacket is thin and light enough to grant you full range of motion, but durable enough to keep you feeling cozy. It will certainly serve you well as winter turns to spring over the next several months.

---
Update: Sold out.
Serum is an essential part of a skincare routine, and in winter, that serum should probably contain hyaluronic acid. In case you have yet to hear Eva Longoria enunciate that word on TV, hyaluronic acid is a hero ingredient that helps your skin retain moisture, and today, you can load up on this moisture-locking agent in spades for much less than usual thanks to this half-off deal on First Aid Beauty's Ultra Repair Hydrating Serum.

This water-based serum is super lightweight, and it contains peptides and collagen for a truly glow-y, smooth complexion. Not to mention, it's safe for sensitive skin and boasts soothing ingredients like colloidal oatmeal and aloe leaf juice, which help to calm irritation. My incredibly dry skin and I personally can't live without this superstar serum — in fact, I put it on this morning! — and I think it makes for a great starter serum for those who have yet to delve into that skincare realm. So stock up now; at $18, this stuff will definitely sell out.
---
Winter, that miserable, good-for-nothing turd, isn't done with us yet... at least not for a couple of weeks. The Weather Channel tells me it's gonna be crappy this week, so I'm stoked about this insulated sock deal.
Look, I know sock sales are rarely the most exciting thing. But thermal socks are essential for surviving shitty weather and this is a great chance to stock up on quality socks that'll last.
With the code KINJAPOLAR, you'll save about $2 over Amazon's current price.
---
Amazon has numerous in-house fashion brands now and thanks to this Gold Box, you can take up to 50% off men's shirts, socks, ties and more from their Buttoned Down label.
Just remember that all of these deals are only available today, and the best stuff could sell out early. I've included a few picks below, but make sure to visit the main post to see all of the options.
March Madness, America's favorite productivity killer, is only a few weeks away, and if you don't have cable, Sling TV's offering a great deal that'll allow you to watch every game live.
For a limited time, Sling's Blue plan, which includes TBS, TNT, and TruTV, is marked down to $15 per month for your first three months (or until canceled), down from the usual $25. Just note that it's only available for new accounts. If you want to enjoy a lot of conference tournaments in the lead-up, you can also opt for the Orange & Blue plan, which adds ESPN, ESPN2, and access to the vast ESPN3 streaming service.
Between those three networks, you'll have access to most games, and for the ones that air on CBS, you can watch via the March Madness Live app for free with no cable login, or use an antenna.
---
Evan Amos' Wikipedia-famous game console photography makes for a stunning coffee table book, and it's down to an all-time low price on Amazon right now. Featuring 300 pages of full color photography spanning the entire history of video games, it also gives you a rare look inside some iconic consoles. Today's $17 price is the best we've seen since the holidays, and within about $1 of an all-time low.
Looking to upgrade your gaming setup? Right now you can save $10 off the $50 ROCCAT Tyon mouse. This particular unit offers 14 buttons, full RGB illumination, an 8200 DPI sensor, and a unique dorsal fin switch on the top for executing quick macros.
This is the first discount we've seen on this mouse since the holidays, so you'd better act fast before this deal scurries away.
---
I struggle to understand why LEGO's Paris Skyline architecture set includes the Tour Montparnasse, the worst building in Europe, but the rest of the kit is great. Marked down to $43 today (from the usual $50), you can adorn your desk with the Arc de Triomphe, the Champs-Elysées, Grand Palais, the Louvre, and of course, the Eiffel Tower.
TECH
HOME
LIFESTYLE
MEDIA
GAMING
Deals You May Have Missed
If you want to save money on one of Apple's top-of-the-line MacBooks Pros, Amazon's got one for about $200 off. This unit offers Intel Core i5 processor with 8GB of RAM and 128 of storage.
And yes, that's a meager amount of storage but if you're mostly on the Cloud, as most are nowadays, it shouldn't be a big deal. Pair it with an external drive and you'll be golden.

---
While I'm sure the sound quality and noise cancellation abilities of these Mpow over-ear Bluetooth headphones don't live up to the likes of Sony's WH1000XM3s line or Bose's QC35s, they annihilate the competition on price at just $40.

If you're on a budget, and want to drown out airplane noise or your annoying coworkers, they could be worth trying out. Just be sure to use promo code MPOW143A at checkout to save $20.
---
Our readers have bought thousands of Aukey's nylon braided right angle Lightning cables, and now, you can do the same for USB-C. Get a pair of these unique, 6.6' long cables for just $12 with promo code SHPC2KPG.

Note: These being USB A-to-C cables, they don't support Power Delivery charging speeds.
---
Amazon sells its own coffee now, and it's incredibly affordable when you clip the $3 coupon and use Subscribe & Save on 12 ounce bag 3-packs today. As in, under $5 per bag delivered (or under $4 in the case of the Donut Café blend, which I just ordered).

I've actually been the Colombia blend flavor for cold brew recently, and while I'm no coffee connoisseur, I've been impressed. At 12 ounces, they're just about the right size for a full batch in the OXO cold brew coffee maker. It calls for 10 ounces, but I just add a little extra water and get more coffee out of it. There are five flavors to choose from, but just remember to cancel your subscription after your first one ships if you don't want to keep receiving it.
---
Wi-Fi connected home security cameras have largely taken over the baby monitor market, but nobody would blame you for feeling anxious about streaming a live video feed of your baby to the cloud. If you'd prefer to keep things local, Anker's new Eufy SpaceView is a great all-in-one solution for just $116 (down from the usual $160) with exclusive promo code USKINJAM.
The pan and tilt camera streams in 720p (most baby monitors are a paltry 240p) directly to the included LCD screen, over distances of up to 460', no Wi-Fi required. Somewhat ingeniously, Anker also included a detachable wide angle lens that expands the camera's view up to 110°, so you can more easily keep an eye on your toddler when she starts to move around the room on her own.
---