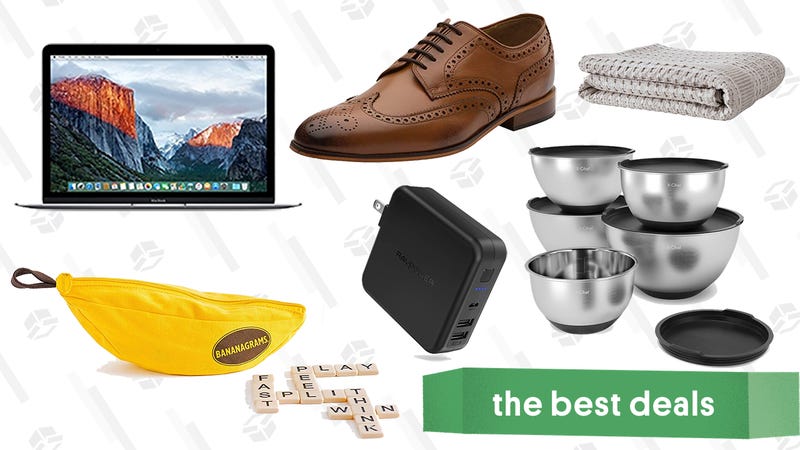 Best Deals of the Day
The best deals from around the web, updated daily.
Apple's 12" MacBook, Tarte Cosmetics custom kits, and a Qi charging pad lead off Wednesday's best deals from around the web.

Bookmark Kinja Deals and follow us on Twitter and Facebook to never miss a deal.
The Anker PowerCore Fusion is one of our biggest sellers ever, because it combines a USB wall charger and a portable battery pack into a single product. Now, RAVPower has their own alternative with a slightly larger 6700mAh battery inside, and you can grab it for just $23 with promo code KINJABYC.

They sent me one to check out, and despite the larger battery inside, it's barely bigger or heavier than the Anker, and would make a great holiday stocking stuffer.
---
Apple's 12" MacBook is one of the thinnest and most travel-friendly laptops out there, and you can get the current 2017 model for $1,000, complete with an upgraded 512GB SSD, 8GB of RAM, and a core M3 processor, as a certified refurb.
This computer isn't exactly a powerhouse, but if you just need a travel-friendly Mac, this is one of the best deals we've seen. I have this exact model model as my work computer, and I'm happy with it, especially when I travel.
---
Elevation Lab, the folks behind some of our favorite Apple accessories, has a brand new Qi charging pad, and it's 30% off today with promo code A4J573SH.

The NightPad is somewhat unique among Qi pads, in that it's not trying to get out of your way. It's a big, unadorned black puck, which takes up a bit more space than other options, but means that it's a lot easier to find on your nightstand in the dark. Elevation Lab also made the bold and laudatory decision to not put any LED lights on the thing. Your phone vibrates and lights up to let you know that it's charging, so why would you want extra lights in your face when you're trying to get to sleep? More of this, please.
Beyond the aesthetics, they also worked with Apple to ensure that it can charge iPhones at the maximum 7.5W charging speeds. Many pads claim this, but they don't all deliver. Just note that you'll need a Quick Charge 3.0 USB charger to power it properly. You can buy it bundled with the NightPad, or save a few bucks go without if you already have one.
---
Anker has long been the purveyor of our readers' favorite affordable Bluetooth headphones, and the SoundCore Spirits looks to be one of the best models yet. With an IP68 rating and an additional hydrophobic nanocoating that keeps them operating under sweaty conditions, they're perfect for working out. And that 10 hour battery is best in class for this form factor. They'll normally sell for $50, they're marked down to $40 with week with promo code SDCREPRO.
---
Google Wifi is one of the highest profile competitors in the exploding mesh router market, and our readers' favorite mesh system. If you have a big house, and could make use of a three-router array, Rakuten is marking down the system to just $210 with promo code HOME20, the best price we've ever seen.
---
SanDisk's microSD cards are some of the most popular and highest rated on the market, and if you need a lot of extra storage for your Switch, GoPro, drone, or dash cam, this 256GB model is down to $55 today, the best price we've seen outside of a one-day Gold Box that brought it to $50.

---
Every photographer has lost a lens cap or two in their lives, but with KUVRD's new Universal Lens Cap 2.0, you'll want to lose them on purpose.
The silicone caps come in two sizes to fit multiple lens sizes, and can work as both front and rear lens caps, or stretch to protect other gear like flashes and drones. They seem simple at first, but they're full of nice touches, like the ability to clean them in a dishwasher, white X's on top that you can color with a permanent marker to distinguish different lenses in your bag, and side wall columns that protect your precious glass from jostling within your bag.
The Universal Lens Cap 2.0 has already blown through its crowdfunding goal, but you can still save a lot by preordering. They're estimated to ship in February.
---
The release of the new Apple Watch Series 4 coincided with a price drop for the still-excellent Series 3. Today though, Walmart's taking an extra $20 off those newly reduced prices, and throwing in a free official Apple Watch band of your choice.
This deal is valid for both 38 and 42mm models, both in GPS-only or GPS + Cellular configurations. All of the prices are $20 below Apple's new MSRPs, and you get to choose an extra sport band or woven nylon band, in your choice of color, for free. That's in addition to black sport band that comes with the watch, so you'll be able to swap them out at will.
---
We see deals all the time on USB-A to USB-C cables, but discounts on C-to-C cables, which are necessary for faster Power Delivery charging (used by the new iPad Pros, the Nintendo Switch, and a bunch of laptops), are bafflingly rare. Today though, you can get an Anker PowerLine II C-to-C cable for just $7 with promo code ANKE8481, or double your length to 6' for $8 with promo code ANKE8482.

PowerLine II cables are incredibly durable, and also come with a lifetime warranty, so if you ever do wear it out, you can contact Anker for a free replacement.
---
TCL's 2018 6-series TVs are famous for offering every form of HDR (including top-shelf Dolby Vision) and excellent Roku software in an affordable package, and the 5-series has basically all of the same features, save for a metal body and local LED dimming zones. It still supports Dolby Vision, it still has an advanced Roku remote and app control, and it'll still look amazing. At $430 for a 55" (about $40-$70 less than usual), it's an incredible value.

---
VPNs have been in the news, and whether you want to get around video geoblocks, circumvent proxy filters, or just keep prying eyes out of your browsing data while using sketchy public Wi-Fi, reader-favorite Private Internet Access has a deal to fit your needs.

Private Internet Access doesn't do much in the way of discounting, but they offer exclusive pricing and packages just for our readers that you won't find anywhere else. Here are your options, and what you'd pay if you bought the same plan elsewhere:
These deals are only for our readers, but we aren't sure how long they'll be available, so go ahead and sign up while you can.
Even if you rent an apartment, you can (and almost definitely should) upgrade your shower head. A bunch of models from Moen, most of which include flexible wands, are on sale in today's Amazon Gold Box.
I really like that this model (at an all-time low $45) uses magnets to snap the wand into place, but there are several higher and lower end options available to suit your budget and shower preferences.
---
You probably wouldn't want to use the Dremel MiniMite for, like, cutting through steel bolts, but it's perfect for smaller tasks like sanding, polishing, engraving, and, uh, carving jack-o-lanterns. Plus, it's battery powered, and only $20 today, making it a great addition to your toolbox.
---
Our readers' favorite toaster oven can replace your actual oven in a lot of situations (including cooking Thanksgiving dinner sides), and it preheats a lot faster to boot. Two different sizes are on sale right now: The Smart Oven Mini for $120 ($30 off), and the standard model for $200 ($50 off).

I got the larger model as a wedding gift, and use it nearly every time I cook, if only to roast some vegetables while I cook something else on the stove or in my Instant Pot. But, you don't have to take my word for it, here's what our readers love about it:

Simply the best toaster oven you can get without buying a commercial convection oven. Since buying it we only use the big oven for Thanksgiving. Heats up quick, and 100 times more even than that POS you had in college. - SteveG
---
Free bacon. Forever. Do I have your attention?

Butcher Box ships grass fed beef, heritage grade pork, and free range chicken right to your door for less than $6 per serving, and if you sign up with our exclusive link, you'll get $10 off your first box, plus a FREE pack of uncured bacon in every box for the life of your subscription. Think of all you could do with an extra pack of bacon every month.
Your reader-exclusive bonuses come bundled with any of Butcher Box's pre-selected boxes, which are priced at $129 for 24 servings, or $238 for 48 servings, which can be delivered every 30 or 60 days. For a nominal surcharge, you can also build a completely custom box, with your choices of proteins.
Note: You'll have to enter your email at the beginning of the process. I know, it's annoying.
---
Amazon's Wickedly Prime snack brand makes a Nutella-like chocolate spread, and it's actually pretty damn good! And at $9 for two 13 oz. jars (after clipping the 20% coupon), it's way cheaper too. That's down from the usual $11, so stock up, and pig out.

---
As frigid winter temps set in, there's no such thing as too many blankets. Amazon agrees; they've added three especially cozy options of different weights, sizes, and colors, all 30% off, to their Gold Box today. Each is made from breathable cotton, so you won't get too hot, and features a snuggly waffle-weave texture that you won't want to get out from under. So don't waffle on this deal; get these blankets before the deal's over tomorrow.

---
No kitchen is complete without a good set of mixing bowls, and this 10-piece stainless steel collection (five bowls and five lids) is a steal at $28 with promo code 5UB9DH4C. They even have non-slip bases, and measurements etched on the inside so you end up with <very Great British Bake-Off voice> a good bake.
---
Trekking out to the Christmas tree farm is fun, but you know what's even more fun? Saving money on your tree. Groupon is here to conserve your Christmas cash this year by taking pre-orders on a few festive options, all for about half-off, including a 6-Foot Premium Fraser Fir Tree for $80, a 22-inch Fraser Fir Wreath for $35, a Fraser Fir tree-wreath combo for $95, and a 6-Foot Snow-Tip Black Hills Spruce for $80. They'll be shipped right to your front door starting on November 27 for maximum Christmastime freshness, but saving all that green on a tree is what will really make this holiday season merry and bright.

---
I have to say, I don't think pressure washers ever crossed my mind as a market Anker might compete in, but here we are. Its 2100 PSI and 1.78 gallons per minute specs should be more than enough power to clean your car or driveway, and its 35' power cable and 26' hose mean you probably won't even need an extension cord to go with it.

Its current $160 list price is a pretty solid value given those specs, and promo code ROAVWW22 makes it even more enticing at $119. If you aren't convinced, five minutes on r/pressurewasherporn will change your mind.
---
For as long as humans have been fermenting grapes, wine has always been an "indoor" beverage. If you want to enjoy wine on the go, you've got a pack a big, breakable bottle, a corkscrew, and glasses. There's an entire cottage industry dedicated to making the practice slightly less inconvenient. Here's a better idea: just drink wine from a can, dummy!

The Drop is an online wine club that makes and sells its own canned wine, and our readers can save $20 on their first 24-pack with promo code KINJA20 by signing up for a subscription. By default, you'll get eight cans each of red, white, and my personal favorite, rosé, but you can also customize the mix to your liking. Each can holds 1.7 glasses, or 1/3 of a bottle, making this deal essentially eight bottles of wine for $47. You don't need to be a math whiz to know that's a great deal.
If you stay on as a member, you'll get a new box every month for $67 with free shipping, which still comes out to just over $8 per "bottle." If you've got too many cans piling up, you can also skip a month or flat out cancel your subscription at any time.
---
A finalist in our inexpensive office chair co-op, the Gaiam balance ball chair has a rare discount to under $60 today. This chair can help improve your core strength and balance, and stop you slouching, all while you're sitting at your desk.

There are bunch of colors to pick from, and although this isn't the best price we've seen on these chairs, it is a good $10 off the usual.
---
FoodSavers can pay for themselves by keeping your frozen and refrigerated food fresher for longer, and that's not even accounting for how great they are for sous vide.
This 5800-series model is one of the best your can buy. It automates every part of the process, from the bag feeding, to the sealing, to the cutting, and includes a handheld vacuuming hose that you can use with compatible FoodSaver accessories as well. You can buy it from FoodSaver's site for just $120 right now, which is about half what Amazon is currently charging, and easily an all-time low.
---
Luggage gets all the attention, but if you ask me, a good toiletry bag is just as important for maintaining your sanity while traveling. AmazonBasics' hanging toiletry bag is one of our readers' favorites, and you can grab it for just $11 today, within $.01 of an all-time low.

There are a lot of other AmazonBasics discounts running right now, so be sure to check those out as well.
---
Your KitchenAid can be used for a lot more than just mixing batters and doughs. Plug in this $63 attachment (the best price since May), and it can also core apples, peel fruits, and spiralize vegetables into healthy "noodles."

---
You don't necessarily need to buy a new mattress to get a better night's sleep: Sometimes, a mattress pad will do, and one of Amazon's most popular options is 25% off today with promo code KINJAPAD.

Unlike most mattress pads, these ExceptionalSheets bamboo mattress pads are stuffed with Revoloft synthetic fill, which should feel a lot like down, but without the associated allergies and poking feathers. They also feature a hypoallergenic—and extremely soft—bamboo cover.
They sent me one to try out, and while I had no prior complaints about my Casper, the pad added a welcome boost to softness, without getting warm at night. This is not like the memory foam topper that you used in your dorm room to improve that awful mattress. Your bed will still feel like your bed, just a cozier, nicer version of it. I'm actually laying in bed as I write this, and it feels like I'm on a really nice hotel mattress.
Prices range from just $67-$88 today after the promo code, which takes 25% off all sizes.
---
I won't bury the lede here: this is a $798 robotic vacuum. And while that's $100 less than usual, and within about $20 of the best price ever, it's still a lot of money. And yet, it may just be worth it.

With Alexa support, a suite of sensors that map your house in detail to determine the best cleaning plan, and massive suction power, it'll earn its place by keeping your floors spotless.
---
This Dyson AM09 looks like a futuristic portal to another dimension, but really it's a fan and space heater. Today on Amazon, you can grab it for (an admittedly still expensive) $279, which is about $100 less than usual, and a match for the deal we've seen in "leaked" Black Friday ads.

You can set it to work like a thermostat, turning on and off within set temperature ranges, and with both heating and cooling functionality, you'll be able to use it year 'round.
---
Victorinox's Fibrox 8" chef's knife is one of your favorite chef's knives period, and by far the best value in the industry. It's also the knife I've used almost every day for over six years. Amazon has it for $30 right now, which is an absolute steal for the quality you're getting.

---
If you're still using a regular ol' bath towel to dry off after your daily scrubbing, you're doing it wrong. Bath sheets are basically the bath towel's bigger, more luxurious cousin, and for a limited time, you can get one of your own from Crane & Canopy for 15% off of their usual price of $48 each, using promo code KINJA15.

Measuring in at a whopping 40" by 70", these bath sheets are 67% larger than your typical bath towel, and they're made from finely combed, long-staple cotton for an extra soft and absorbent feel. We've previously tested out these bath sheets and were particularly impressed by their most surprising, yet ingenious feature: a built-in loop for effortless hanging.
Snag your own set in any of six available colors by November 12, when this deal runs dry.
---
There are a couple different DIY fixes (toothpicks, rubber bands, etc) to remove stripped or damaged screws, but if you don't have the time or patience to try those out, consider grabbing this $5 Dr. Meter kit. It includes four drill bits that grip into stripped screws, making them easier to remove. Just be sure to enter VSEBXHYU at checkout.
---
AmazonBasics makes pretty much everything at this point, and generally speaking, it's a brand you can count on to be affordable and of good quality. While Amazon runs discounts on individual AmazonBasics products with some regularity, a whole bunch of it is on sale right now.
A few favorites are below, but dozens of other products are included, so head over to Amazon to see the full list.
---
Amazon makes its own furniture under the Rivet and Stone & Beam brand names, and it actually looks really good! Whether you could use an extra lamp, an ottoman, or an entire leather sofa, a bunch of popular pieces are on sale right now for up to 25% off.
I know that list prices and listed "savings" on Amazon are usually bogus, which is why we don't often pay them any heed. Today though, the pieces I spot checked actually were discounted by the "You Save" amount listed on the product page. It seems that the price is pulling from the last listed price, which in some cases is higher than the product often sells for, but every deal I've checked has been good.
For example, this $158 coffee table says it's $91 off today, and it does, in fact, often sell for $250. It also frequently sells for less, and has even been a little bit cheaper than $157 on a few short-lived occasions, but this is still an excellent deal. That leather couch I mentioned earlier, on the other hand, has legitimately never been discounted from $1100 until today, so you really are saving $220 no matter how you parse it. So go forth, and shop with confidence.
---
Everyone ought to own a good old fashioned Swiss Army Knife, and Amazon has this classic model marked down to just $11 today. Whenever a box needs cutting, a bottle needs opening, or a screw needs tightening, a branch needs sawing, everyone respects the person with the utility knife.
---
Firstleaf is an online wine club that learns your preferences, offers tons of options, and most importantly, saves you money compared to buying from the store. It's a solid deal any time, but it's even better for our readers today.

Every new Firstleaf member gets an introductory delivery with three bottles of wine for just $15, plus $5 shipping. Considering that you aren't locked in and can cancel any time, that's a bargain. But it gets even better for our readers, as promo code Kinja will waive the $5 shipping charge, for a limited time. That's three bottles of wine (all of mine had MSRPs over $20) for just $5 each shipped, with no commitment.
You can read more about the service in my review, but if you choose to remain a member (I did), every box thereafter includes six bottles for $80, plus $10 shipping.
TOMS are well-known for one kind of shoe — you know what we're talking about — but in case you're not up to date, the brand actually offers a whole range of other, more winter-appropriate styles. Whether you're looking to test out classic TOMS or something new, check out their Surprise Sale for up to 60% off the brands' shoes and sunglasses. But don't walk, run to take advantage of this deal; it's only happening for less than two more days.
---
Cole Haan is known for making quality handbags, shoes, clothes — you name it. And today, you can fill your closet with all of the above at clearance-level cost. Nordstrom Rack is having a major flash sale on everything from Cole Haan women's shoes, men's shoes, women's coats, men's clothing, jewelry, sunglasses, and handbags. Our favorite knit sneakers, the Cole Haan ZERØGRANDS, is included in the sale in several styles, if you hurry.

---
J.Crew is no stranger to extra discounts on sale items, but for their Friends and Family Event, happening now, they're marking down a whole lot of full-priced new arrivals, as well as stuff in the clearance section. All shoppers get 30% off their purchase with code FRIENDS, while J.Crew rewards members get an extra 5% boost with code FAMILY. The time to stock up on classic sweaters, coats, button-downs, accessories, and more is now.
---
Do you have enough jeans for the coming winter? Trick question; it doesn't matter, because you should buy some $50 Everlane jeans regardless (