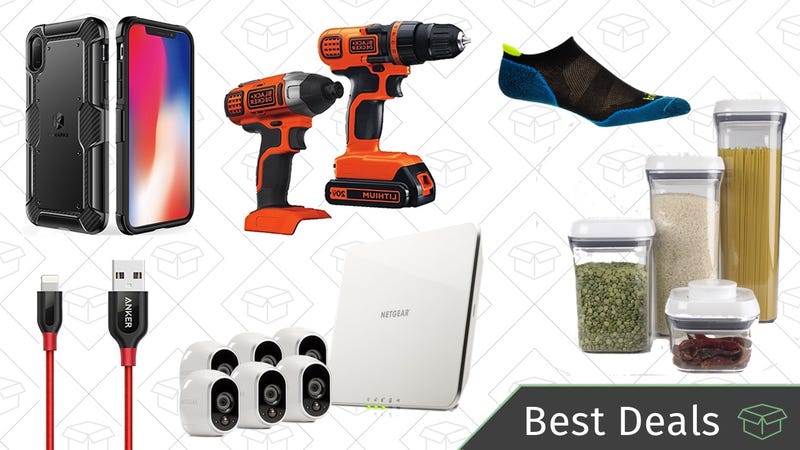 Today's best deals start off with iPhone X accessories, a Netgear home security system, a Black & Decker Gold Box, and a lot more.

Bookmark Kinja Deals and follow us on Twitter to never miss a deal.

Top Tech Deals
iPhone X preorders go live on Friday, but you can get a head start on your accessories with these exclusive discounts from Anker.

First up, the PowerPort Speed USB-C charger is basically the Anker equivalent of Apple's $49 MacBook charger, except it's only $21. If you buy a USB-C to Lightning cable from Apple, this is the fastest way to charge your new iPhone (though it's not that much faster than a regular 12W charger).
Speaking of Lightning cables, you can never have enough of them, and Anker's nylon-wrapped PowerLine+ cables are on sale as well. You've never felt a cable this nice before.
And of course, if you get your hands on a shiny new iPhone X, you're going to want to keep it safe, so you can choose from a variety of discounted cases. Note: We were having trouble with the code for the case on the right side of the main image on this post. We'll put the link back if Anker resolves the issue.
---
Samsung's quantum dot-powered Q7 TV isn't exactly easy on the bank account, but it would be a stunning upgrade to your home theater, and Amazon just knocked $200 off the previous going rate of the 55" model.

You can read all about quantum dots here, but the long and short of it that they're the backbone of a backlighting technology that can produce OLED-quality images on a less expensive LCD panel.
Okay, so with that background out of the way, Samsung's 2017 Q-series TVs utilize quantum dots to great effect. That Gizmodo review is about the Q9, rather than the Q7 that's on sale today, but most of it should apply to either set. The Q7 has fewer local dimming zones and a less-premium industrial design, but it'll still be the best looking TV you've ever owned. We've seen a couple of $1800 deals on the 65" model from MassDrop, but this is a great price if you don't have that much space, or want to take advantage of Prime shipping.
---
File this one under niche, but cool. For $54, you get a tiny dolly that can move your GoPro, smartphone, or DSLR around in a circle around a small object, or in a straight line. It comes with a remote, and can move at three different speeds. Now get out there and make the next American Vandal.

---
It's backordered by a few weeks, and still priced at a premium by virtue of being cutting edge, but $124 is the best price Amazon's ever offered on this 256GB microSD card, and about $26 less than usual. If you need to store a lot of 4K footage from your action cam, or games on your Switch, this is as big as these cards come.

Update: There was a slightly slower model of this card available for $100 last week during an Amazon Gold Box deal.
---
While Amazon's Key service has gotten a lot of attention today, you might have missed that you can purchase the associated cloud security camera separately.
With 1080p recording, night vision, a 2-way intercom, and 24 hours of free cloud clip storage (or more if you sign up for an account), its specs compare very favorably to the Nest Cam, especially at just $120 (compared to $200 for the Nest).
Plus, this being Amazon, you can buy multiple cameras and save money. Order two and use code 2CLOUDCAM to get them both for $200, or get three for $290 with code 3CLOUDCAM. And if, somewhere down the road, you decide to buy a smart lock, you'll have everything you need to use Amazon Key.
---
Netgear's new Arlo home security system is a lot like Nest Cam, except the cameras can run off battery power, so you really can stick them anywhere. If that sounds like something you're looking for, Amazon will sell you a six-camera starter kit for $480, today only. That's about $150 less than usual, and an all-time low for this bundle, which should cover all but the largest homes, both indoors and out.
---
If your old router isn't cutting it for things like online gaming and 4K streaming, this powerful NETGEAR Nighthawk X8 almost always sells for $250, but Amazon's marked it down to $200 today, an all-time low.

My favorite feature is that it includes six ethernet ports, compared to the 3-4 most routers include these days. Two of them can even be aggregated to a NAS to double its throughput speed. That's very niche, but also very, very useful to a certain subset of people..
---
There's a new Amazon Echo coming out at the end of the month, and that means great closeout deals on the old model. Woot has them brand new for $80 shipped in both black and white right now, which is the best price we've ever seen.
---
Prime exclusive Kindle discounts come around fairly often, but today's $30 discounts are notable in that they're available to all Amazon shoppers.

The Kindle, Kindle Paperwhite, and Kindle Voyage are all included in the sale. Most readers will probably want to get the Paperwhite for $90, since the $50 Kindle has a lower resolution screen without a backlight. But if you've got the money to spare, the pressure-sensitive bezels and ambient light sensor on the Voyage do make for a superior reading experience.
To give you some context for these deals, since the holidays are on the horizon, $30 is about as big a discount as you're likely to see on the Kindle and the Paperwhite; that's what Amazon offered on Prime Day this year. The Voyage, however, has been discounted as much as $5o in the past, on rare occasions.
Update: You can also save an extra $35 on the Voyage by buying refurbished.
---
Smart outlet switches have become the atomic unit of smart home gadgetry, and you can get two Alexa-compatible switches (with energy monitoring!) for just $13 each today with promo code 855XJ38T.

---
You don't need to sell a kidney to afford noise-cancelling Bluetooth headphones; these 4 star-rated Cowin E-7s are just $40 right now, or $30 off with promo code 9H9778YO.
They might not have the brand recognition of Sony or Bose, but these headphones pack in 30 hours of battery life, and yes, active noise cancellation that reviewers say works really well.
---
We see a lot of deals on home theater bias lights, but even by our standards, $10 is insanely cheap for an RGB model. Just stick it to the back of your TV, plug it into a USB port, and control it with the included remote.

---
You could fill a swimming pool with sub-$20 Bluetooth earbuds, but not many of them boast 8mm drivers, let alone 10 hours of battery life. Even if you already own a pair you like, I recommend getting extra sets of headphones to keep in your gym bag or luggage, for when you inevitably forget your favorites.

---
There's a nasty new Wi-Fi exploit out in the wild these days, but you can protect yourself from prying eyes (and get around geo-blocked content too) with a VPN subscription.
Lo and behold, PureVPN is offering some pretty stellar discounts right now when you use promo code Privacy20:
24 months for $62.40 ($2.60 per month)
Six months for $42.96 ($7.16 per month)
One month for $8.76
PureVPN encrypts and obscures all of your internet traffic from everyone from malicious hackers to your ISP to the government, and includes some cool features like a kill switch to automatically disconnect your Wi-Fi if the VPN stops working, as well as split tunneling, which can route some of your traffic through the VPN, while letting the rest go through your ISP.
Top Home Deals
Today only, Amazon's running two great deals on Black & Decker tools to help you with your next DIY project.

First up, you can get a 20V cordless drill/driver and an impact driver (with one shared battery) for just $60. That's an all-time low, and a solid discount from its usual $70-$100 price range. If all you have at home is an entry-level drill, these will be a nice upgrade with a lot more power.
Second, you can score a height-adjustable project center and vise for an all-time low $80. It's strong enough to hold up to 550 pounds, and when you're done, it even folds up flat to hang on the wall of your garage.
Again, these prices are only available today, and they could very well sell out early.
---
You may believe that electric carving knives don't do anything a sharp knife can't do, and you might be right. But, Alton Brown, the unitasker denouncer himself, uses one to cut his Thanksgiving turkey. Plus, you can use it to cut corn off the cob, carve chicken, roasts, ham, and bunch of other stuff that would normally require a little more finesse.
Normally selling for $23+, this Hamilton Beach carving knife is just $15 today. So you can save some money and effort while carving your turkey this year.
---
You were so preoccupied with whether or not you could buy this poster for 20% off with code SALEONTOLOGY that you didn't stop to think if you should.

Hold on to your butts.
---
You can warm up next to Amazon's best-selling space heater for $47, which is its lowest price we've seen since last May. It oscillates, has an 8-hour timer, and comes highly-recommended with almost 5,000 reviews and a 4.3-star rating.
I recommend grabbing another one for your over-cooled office building too.
---
Garment bags are the perfect solution for keeping fancy clothing safe while traveling, but I highly recommend storing those suits and dresses in one of these even in a closet. For $10, you can grab a 3-piece garment bag set, plus a shoe bag, with the code D69VUOF5.
---
With this set of ten OXO Good Grips Pop Containers, the days of snacks going stale are no more. $80 is, with a few short-lived exceptions, about as cheap as this set ever gets, and it would make a great holiday gift as well. Fill it with anything and store it much easier than that half-open bag of chips you're using a binder clip to hold closed.

---
Bodum's pour-over coffee maker is as beautiful as it is functional, and Amazon's marked it down to $14 today, the best price they've ever listed on the 34 ounce model. Hopefully, you take your coffee makers like you take your coffee: Black. Because that's the only color on sale today.

---
Typically selling for $175+, this fire pit features a deep bowl for bigger, but safer fires. Unlike more inexpensive steel fire pits, this one is made of cast iron and built to last. It weighs 60 pounds and will take a couple of extra days to ship, which gives you a little more time to get s'mores ingredients.

---
Even outside of holiday decorations, these (almost) 20-foot solar-powered strands can add a nice ambiance to your backyard or any event, without needing a power cord. They're just $8 today with code QQRHRXAU, so start stringing.

---
Dash cams can really save your butt in the event of an accident, and they can even see ghosts, so for $50, it's probably worth buying one. This model from Aukey includes a 1080p Sony sensor and 170 degree field of view, two different mounting options, and capacitors that are rated to work in temperatures from -4°F to 149°F.
---
Mini LED flashlights belong in every drawer, glove box, and tool chest, and you can get two of Aukey's new flashlights for $9 today with code EL75HD47. Unfortunately, they don't include a rechargeable battery, but you can always pick up rechargeable AAs.
---
We've posted a lot of deals lately on these coccyx seat cushions, but $14 is one of the best prices we've seen to date, and this particular model is one of Amazon's top sellers. These will improve posture and ease back pain in any chair where you spend a lot of time, from the office to the car to a long flight.
---
You need dishwasher detergent anyway, so you might as well buy it on sale. While supplies last, Amazon's offering a $4 coupon on this 78-pack container of Cascade Complete ActionPacs, nearly a 25% savings.
---
Rolling carry-ons are great, but everyone should keep a good duffel bag or two in their collection as well. They can carry a ton of gear, can fit awkwardly-sized items, and they pack down to basically nothing when they aren't in use.
With its durable, water-repelling fabric, backpack straps, and attractive design (as duffels go, anyway), Eagle Creek's Cargo Hauler is one of our favorite duffels out there, and all four sizes are on sale today, in a variety of colors.
Just note that not every color is on sale at every size (with the exception of Large), so make sure you're selecting one of the cheaper models before you check out.
(No, I don't know why the M and XL models are in German)
---
These Coop Home Goods adjustable loft pillows are hypoallergenic, machine-washable, and insanely popular - they have almost 14,000 reviews on Amazon and a 4.3-star rating. Plus, they're all 35% off today with code HJG85O5L.
---
Magnetic wristbands are incredibly handy for doing work around the house, and this one's only $8 with promo code JWBEUCWX today.
---
Most of us will soon be enduring the season of perpetual darkness, in which the sun is already setting by the time we leave the office. So really, there's never been a better time to install some affordable solar motion lights around the outside of your home. You can stick them anywhere that gets a sliver of sun during the day, and they don't require any wiring.

---
The Nest Learning Thermostat usually costs $250, or maybe $200 if you find a good sale, but today at Home Depot, you can pick up a refurb of the previous generation model for only $139. The only real difference between this and the current edition is that it has a smaller screen, and it's not like you're watching movies on the thing.
---
When is a pen worth $40? Possibly never, but the GP 1945 makes a really strong case.

This Kickstarter campaign is set to ship out pens starting in November, and the demo unit they sent me is incredibly impressive. My titanium model is very solid and well built (there's also a lighter aluminum version), to the point that I don't think I could break it if I tried. The butt cap also doubles as a glass breaker for emergencies, the diamond knurled finger grip works as a small ruler, and you can even blow into the back of the tube to to use it as a survival whistle.
The real star of the show here though is the bolt action method of extending and retracting the tip of the pen. It gives you enough resistance to be satisfying, but not enough to be slow or frustrating, and it makes a very addictive click when the mechanism slides into place. I have no less than four fidget toys in heavy rotationon my desk, but clicking this pen was all I wanted to do today.
There's only about a week left of the campaign, but you can still get aluminum GP 1945s for under $40, or titaniums for under $70. That's a lot to spend on yourself, but these would make great gifts for the holidays. Plus, if you pledge $8 extra and include a note, they'll throw in a magnesium pen core that you can use to start a fire. Just take it out and rub it against the finger grip to generate a spark.
Top Lifestyle Deals
If you think you don't need new socks, you're probably wrong. Especially with the change of the season and the ability to lose a single sock at any time of the day, this 20% off sale from Backcountry is for you. Grab some pairs from Smartwool (maker of your favorite socks), DarnTough, Icebreaker (both in the top five of your favorite socks), Pendleton, and more.

---
Get the waterproof protection you want, with the breathability of a sweatshirt with Under Armour's Swacket (yes, it's really called that). Right now, they're taking 25% off all their styles of swackets (it doesn't get less awkward to type that) and have the right outerwear for the awkward weather we're having.
---
Our readers have purchased thousands of custom-tailored suits over from Indochino the last few years, and as a result, they're unlocking their Black Friday sale early, just for us. For a limited time, take your pick of 65 suit styles—most of which are part of their latest collection—for just $349 with promo code KINJA17.

These suits regularly sell for $799, and even the ones that have been available in previous sales have never been this cheap before. Again, this is the exact pricing and selection they'll offer on Black Friday, so there's no reason to wait and see if a better offer comes along next month.
You do not have to go through the measurement and customization process to lock in this discount. You can checkout now and submit later, which makes it very easy to gift a suit.
Having a suit that fits perfectly is great, but the little details Indochino lets you customize, from your jacket lapels to pocket flaps to accent stiching around your buttons, are where things get fun.
How It Works
Measure and customize from home...
Follow the directions on Indochino's site to submit your measurements and customize your suit. Once the suit arrives, if anything doesn't fit quite right, Indochino will provide directions for your local tailor, along with a $75 credit to cover their work. If for whatever reason your tailor cannot resolve the issues, Indochino will remake your suit. Shipping and return shipping are free.
If you live near a showroom...
Purchase your suit online with our discount and take your receipt/account info into an Indochino showroom. They'll do your measurements, walk you through your customization options, and have your suit delivered to the showroom. Return once it arrives for any final alterations if they're needed.
Let us know what you'll be wearing to your next event (or day at the office) in the comments.
---
When it comes to having a corner on the market, nothing really compares to Nike. And right now, use the code 20EXTRA and take an extra 20% off their sale styles for both men and women. Everything you could need for a good workout wardrobe is included, from apparel, to sneakers, to gear.
---
$48 for a year's-supply of razor blades is a great deal, especially from Dorco. $24 for the same pack (with code KINJA1024) is downright unbelievable.
That price includes a mishmash of products, but basically, it boils down to 28 cartridges, including a mix of three, four, and six-blade models. Obviously, it depends on how often you shave, but for many of you, that should last at least a year. It would probably last me like three.
---