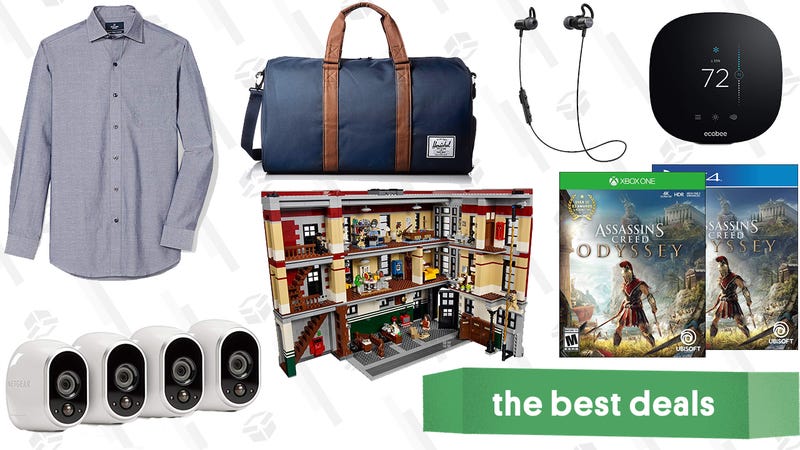 Best Deals of the Day
The best deals from around the web, updated daily.
The Ecobee3 Lite, a Ghostbusters LEGO set, and men's clothing at Amazon are among the best deals online today.
Bookmark Kinja Deals and follow us on Twitter and Facebook, or sign up for our newsletter to never miss a deal.

While it doesn't have the brand recognition of Nest's learning Thermostat, the Ecobee3 Lite Smart Thermostat one-ups its most popular competitor by pairing with wireless remote sensors that you can place elsewhere in your house, giving the thermostat a more accurate picture of your home's overall temperature. Plus, it'll work with Siri via HomeKit, and your Amazon Echo too.

Just note that this is the "Lite" version of the Ecobee3, which doesn't detect occupancy, can't control accessories like dehumidifiers, and doesn't include a room sensor (though it does work with them), but today's $139 price for the thermostat is a solid $30 less than usual, and a match for the best price we've ever seen.
---
For just $19 today, you can grab Anker's SoundBuds Surge lightweight Bluetooth headphones, a close relative of the SoundBuds Slim, which won our affordable Bluetooth headphone Co-Op. With magnetic connectors on the earpieces and a water-resistant coating, these would be a great addition to your gym bag or suitcase, even if you already have another set of earbuds.

---
The Kindle Voyage, which has been my personal Kindle for the last several years, is no more, supplanted by the Kindle Oasis. May it rest in peace. So if you don't want to spend $250 on an Oasis, and the $129 Paperwhite doesn't check all of your boxes, you should buy a refurbished Voyage while you still can.
Refurb prices on the Voyage tend to fluctuate between $150 and $120 (they sold for $200 new), so today's $100 price is terrific, especially considering the product's impending rarity. Once these refurbs are gone, they're probably gone forever. It was $5 cheaper on Amazon a month ago, but this is still a great deal by any other measure.
---
Anker has a new, less expensive version of its excellent true wireless headphone line, and you can grab a set for just $50 today after clipping the $15 coupon.

Like the original Liberty headphones, the Liberty Lites will run for 3.5 hours on a charge untethered - the main difference is that the included charging case only holds an extra 9 hours worth of battery, vs. 24 hours for the Liberty, and 48 for the Liberty+. Still though, that's enough for a day's worth of use in almost any situation, and the case is noticeably more pocket friendly, which was one of my least favorite aspects of the original models.
---
Given how many Lightning cables seem to wear out at the necks, it's surprising that 90 degree cables aren't more of a thing. You can grab two nylon braided cables for $13 from Aukey today with promo code AUKEY04AL, which would be a great price for two nylon-braided Lightning cables anyway, even without the unique connector.

---
If you have any old hard drives or SSDs gathering dust, this $11 enclosure can turn it into a handy USB-C external drive. No tools are required: just pop in the drive, and plug it in.

---
---
LG's OLED TVs have achieved something of a cult status thanks to their ridiculously dark black levels and vibrant colors. If you were waiting for Black Friday to snag yours, the discounted price on the 55" C8 model is already live.

The picture quality got an upgrade over last year's model thanks to a new processor that improves color accuracy, reduces artifacts, and supports HFR (high frame rate video) up to 120 FPS. HFR content doesn't really exist yet, but a few movies are expected to come to streaming services starting later this year, so if you're planning on using the TV for several years, it might be worth it for future-proofing purposes.
We've seen cheaper deals on the lower-end B8 model, but that one uses last year's processor, meaning it can do HFR or HDR, but not both at the same time like the C8.
---
Whether your current mouse is giving you chronic wrist pain, or you just want to try something different, this 4-star rated wireless ergonomic vertical mouse from Anker is only $13 today with promo code ANKE7809. In addition to the clever design, it even comes with three adjustable DPI settings and forward/back buttons, which are pretty rare at this price level.
---
You know those fancy Bluetooth earbuds you love using so much? Surprise: they won't work with your Nintendo Switch, or the seatback TV screen on a plane. But for just $20 (with promo code f56YJJYJ), you can plug this Bluetooth dongle into any headphone jack, and connect to it with your favorite wireless headphones for wireless listening. It even has AptX codex support for lower latency.

It also works as a Bluetooth receiver, so you can plug it into an old stereo system or car, and broadcast music from your phone over Bluetooth to speakers that otherwise wouldn't be compatible.
---
RAVPower's HyperAir Qi charging pad is one of the few models out there to support the fastest-possible 7.5W iPhone charging, and you can get it for just $20 today with promo code KINJA889.
To be clear, there are a lot of Qi pads that support 10W charging for certain Android devices, but iPhones require a very specific frequency to enable their maximum charging speed of 7.5W, and this is one of the most affordable compatible pads we've seen, and the cheapest we've seen with the necessary Quick Charge 3.0 power adapter included. It's normally priced at $30; today's $22 list price itself is an aberration, but still, don't forget the code!
---
If you've had your eye on Samsung's 8000-series TVs, which are the company's best non-QLED sets this year, their Black Friday discounts are already live. Every size (55", 65", 75", and 82") includes Samsung's new Dynamic Crystal Color engine and HDR10/ HDR10+ support, plus some nice quality of life features, like the Bixby voice assistant, and a quad core processor for speedy smart app operation.

These prices are the same that we've seen in Black Friday ads, and we have no reason to expect them to go any lower. So buy now, and you'll be set up in time for Thanksgiving football.
---
Our readers have bought thousands of Yi's home security cameras, and today, you can get a panning and tilting 1080p model for $36 with code XNUQ2G79.
Yi now offers an online cloud DVR service that will store seven days of motion detection footage (six second clips when it detects movement) for free, or more footage if you pay. That said, you can choose for forego the cloud service altogether, and just store your clips locally on a microSD card. The camera also has two-way intercom and live broadcast built in, so you can check in on your house any time you want.
---
This tiny, $6 USB charger isn't much bigger than the one that ships with every iPhone, except it has two ports, folding prongs, and 2.4A of total power, compared to the 1A Apple gives you. No surprise, it's one of our top sellers of all time. Just use promo code FQCJOBX6 to get the deal.
---
What were they thinking inventing this surge protector and not calling it the Power Tower? Missed marketing opportunities aside, it comes with 10 outlets, four USB ports, and its own 6ft retractable power cord. Plus, it rotates for optimum space-saving. Get it for $18 with promo code ROXH3B3E.
---
Walmart has already marked down a few of the TVs listed in their Black Friday ad: Grab a smart Sharp 50" TV with HDR (though not Dolby Vision) for $249, or a 55" version for $299, both the best prices we've seen. If size trumps features and you don't need smart functionality or HDR, there's also a 65" RCA on sale for $399.
---
VPNs have been in the news, and whether you want to get around video geoblocks, circumvent proxy filters, or just keep prying eyes out of your browsing data while using sketchy public Wi-Fi, reader-favorite Private Internet Access has a deal to fit your needs.

Private Internet Access doesn't do much in the way of discounting, but they offer exclusive pricing and packages just for our readers that you won't find anywhere else. Here are your options, and what you'd pay if you bought the same plan elsewhere:
These deals are only for our readers, but we aren't sure how long they'll be available, so go ahead and sign up while you can.
These Herschel Supply Co bags would normally set you back around $80, but select colors are marked down to around $60 today, so you can pack for your next weekend getaway for less.

Your discounted choices are navy ($61) and black ($60) both of which include gorgeous brown leather handles. If previous deals are any indication, these prices might not last long, so head over to Amazon if you need a new bag for any upcoming holiday travel.
---
Netgear's Arlo home security system is a lot like Nest Cam, except the cameras are waterproof and can run off battery power, so you really can stick them anywhere. If that sounds like something you're looking for, Amazon will sell you four indoor/outdoor cameras for $250, the best price we've seen.

Just note that you'll need an Arlo Base Station for these to operate, if you don't have one already.
---
Cooking for one person can be a challenge, but we're betting you can whip up some amazing ramen in this Lodge L9MW 9" Cast Iron Mini Wok from Walmart. I mean, just look at that photo. Doesn't that look like a delicious, healthy meal? And, as a bonus, the wok serves as both a cooking apparatus and a serving bowl. Just, you know, do something to make sure you don't sear the skin on your hands while you're eating.
---
Boiling water isn't exactly rocket science. But it's also not much to look at, usually. That all changes with the OXO On Cordless Glass Electric Kettle. It's almost like a modern lava lamp, an inspired blend of art and science that allows you to see the mesmerizing swirl of bubbles as it heats water. We love an item that combines form and function; it's the very definition of efficiency.

---
The computers in your car constantly spit out useful data, and you can make sense of it with this OBD2 scanner from NEXPEAK, which is $25 off today when you use promo code NEUSZW29.

At $44, it's a bit more expensive than the basic scanners that only tell you error codes, but it's not that much more expensive considering all the extra features included. The color screen helps you make sense of all the data, it'll let you know if you'll pass your emissions test, and it can even display a live graph of various measures of engine performance to help you diagnose issues.
---
There are people on this earth who make rice on a stove, with a pan and water. But for true rice connoisseurs, that just won't do! Only a dedicated rice cooker like the Zojirushi 10-Cup Neuro Fuzzy Rice Cooker can guarantee perfect rice every time, and that's because it's maybe smarter than a human.

Its microchip adjusts cooking times and temperatures for different kinds of rice, and it can even optimize for specific dishes like sushi and porridge. Are your other appliances that smart? (If you answered in the affirmative, do you live inside the movie The Brave Little Toaster? And are you accepting visitors?)
---
Gerber's suspension multi-plier features 12 tools in one package, meaning you're spending less than $2 per function today. If you don't already own one, you should take this opportunity to rectify that. If you do, buy some more to give away as holiday gifts.

---
Instant Pot makes a sous-vide circulator, and confusingly, it doesn't require an Instant Pot. Sure, it'll clip onto your Instant Pot inner pot, but it'll also work with a regular stock pot, just like any other sous-vide circulator.
So what makes it interesting? The price! At $60, it's far less than equivalent models from Anova. Buy it now, practice on a few steaks, and then go and do an entire Thanksgiving turkey next week.

---
Before we go any further, let's get this out of the way: Please don't burn your house down. Alton Brown can show you the way to fry a turkey safely, and it's so worth the extra work to not eat your Thanksgiving meal to the dulcet tones of firetruck sirens.
Now, why do you need this 30-Quart Turkey Fryer? Because frying has been the trendiest way to cook your holiday turkey for as long as there have been culinary trends. Because for $40, it's a smart investment. Because it's what William Shatner would want for you. (And if you're not sure how to fry a turkey? There's an app for that.)

---
Look, no one is judging you for being an adult and still managing to spill stuff all over your carpet and sofa. We're human. It happens. But people will judge you if you don't even try to get the stains out, because gross. To that end, may we suggest the Bissell Multi-Purpose Portable Carpet and Upholstery Cleaner?
It's less cumbersome than a full-size carpet cleaner, more effective than the old spray-and-rag technique, and much easier than always moving your furniture to cover spots on the floor. It even has a drying function to save you from the horrors of wet socks. What will they think of next?

---
If your tool chest is lacking a good set of pliers, this 8-piece VISE-GRIP GrooveLock set is only $60 on Amazon, within about $3 of an all-time low. The set features a near-perfect 4.7 star review average from over 500 customers, and comes with a lifetime warranty to boot. Needless to say, it'd make a great gift too.

---
Miir makes some of our favorite vacuum insulated stainless steel drinkware, and they just kicked off their best sale ever on Amazon.
First up, the camp cup. This is a favorite of ours thanks to its handle, colorway variety, and sip-through lid, and it's 30% off today in every color. Even if you don't camp, you should use it at home. And even if you don't want one, you should buy them as stocking stuffers. Black and white are down to $17, but you'll pay $21 for the more fun designs.
For heavier liquid loads, Miir's popular 32 ounce growler is a whopping 50% off its usual price as well, in every color. It'll keep beer cold for 24 hours, or coffee hot for 12, and its buckle lid seals in carbonation, while remaining easy to clean.
---
The massive mise en place of Thanksgiving is bearing down upon us. If you don't own a quality cutting board, do yourself a favor and pick up this Epicurean Kitchen Series Cutting Board for just $16 at Amazon. It's low maintenance — dishwasher safe, and requires no oiling or bleaching — and aesthetically pleasing, earning it a finalist spot in our reader poll on the best cutting boards. There's no getting around the pun that it's a cut above.

---
Want to get started with Philips Hue? This two bulb kit is marked back down to $100 today, matching an all-time low. Those full-color bulbs usually sell for $50 each, and even on sale rarely dip below $40, so if you need a hub, this is a great deal.

Note: We're expecting to see four-bulb starter kits for $200 + a $50 gift card from various retailers on Black Friday, so keep that in mind if you need more bulbs.
---
Wayfair's massive holiday sale just went live, and in addition to deals on holiday decor like 5-for-$25 ornaments and artificial Christmas trees, you'll find wide-ranging deals on furniture that you'll use all year long. We're talking rugs starting under $15, furniture for every corner of your bedroom, and dining furniture to fit any style of decor. Every order over $49 ships for free, so this is a great chance to give your home a bit of a refresh.

---
Life is full of conflicting desires. Like, you don't want to sacrifice valuable kitchen counter space to ugly, bulky appliances, but you also don't want to have to dig your coffee maker out of the cabinet every morning when you wake up. A task like that is not meant to be taken on before you're caffeinated.

Behold the Keurig K-Compact K-Cup Coffee Maker for just $50 at Walmart. It's sleek enough to be tolerable as a kitchen fixture, and it's also available in red and turquoise, if you dig colorful appliances as a decor choice. Does it make coffee as good as an Aeropress or a a $1,000 DeLonghi? No. But it takes like a minute and you have to push one button, which is a perfectly valid trade off.

---
Free bacon. Forever. Do I have your attention?

Butcher Box ships grass fed beef, heritage grade pork, and free range chicken right to your door for less than $6 per serving, and if you sign up with our exclusive link, you'll get $10 off your first box, plus a FREE pack of uncured bacon in every box for the life of your subscription. Think of all you could do with an extra pack of bacon every month.
Your reader-exclusive bonuses come bundled with any of Butcher Box's pre-selected boxes, which are priced at $129 for 24 servings, or $238 for 48 servings, which can be delivered every 30 or 60 days. For a nominal surcharge, you can also build a completely custom box, with your choices of proteins.

Note: You'll have to enter your email at the beginning of the process. I know, it's annoying.
---
Trekking out to the Christmas tree farm is fun, but you know what's even more fun? Saving money on your tree. Groupon is here to conserve your Christmas cash this year by taking pre-orders on a few festive options, all for about half-off, including a 6-Foot Premium Fraser Fir Tree for $80, a 22-inch Fraser Fir Wreath for $35, a Fraser Fir tree-wreath combo for $95, and a 6-Foot Snow-Tip Black Hills Spruce for $80. They'll be shipped right to your front door starting on November 27 for maximum Christmastime freshness, but saving all that green on a tree is what will really make this holiday season merry and bright.
---
For as long as humans have been fermenting grapes, wine has always been an "indoor" beverage. If you want to enjoy wine on the go, you've got a pack a big, breakable bottle, a corkscrew, and glasses. There's an entire cottage industry dedicated to making the practice slightly less inconvenient. Here's a better idea: just drink wine from a can, dummy!

The Drop is an online wine club that makes and sells its own canned wine, and our readers can save $20 on their first 24-pack with promo code KINJA20 by signing up for a subscription. By default, you'll get eight cans each of red, white, and my personal favorite, rosé, but you can also customize the mix to your liking. Each can holds 1.7 glasses, or 1/3 of a bottle, making this deal essentially eight bottles of wine for $47. You don't need to be a math whiz to know that's a great deal.
If you stay on as a member, you'll get a new box every month for $67 with free shipping, which still comes out to just over $8 per "bottle." If you've got too many cans piling up, you can also skip a month or flat out cancel your subscription at any time.
---
Firstleaf is an online wine club that learns your preferences, offers tons of options, and most importantly, saves you money compared to buying from the store. It's a solid deal any time, but it's even better for our readers today.

Every new Firstleaf member gets an introductory delivery with three bottles of wine for just $15, plus $5 shipping. Considering that you aren't locked in and can cancel any time, that's a bargain. But it gets even better for our readers, as promo code Kinja will waive the $5 shipping charge, for a limited time. That's three bottles of wine (all of mine had MSRPs over $20) for just $5 each shipped, with no commitment.
You can read more about the service in my review, but if you choose to remain a member (I did), every box thereafter includes six bottles for $80, plus $10 shipping.
Amazon seemed to go from having zero private label fashion brands to having one for every conceivable style of clothing seemingly overnight, and today, it's Buttoned Down that's getting the spotlight.

As you've probably guessed, Buttoned Down is a menswear brand that offers button down men's shirts, as well as pants, ties, and even socks to complete the worker drone look. None of it is exciting, but these sorts of clothes are the backbone of most men's wardrobe, so it's nice to have a new, affordable option.
For a limited time, a bunch of Buttoned Downs wares are on sale for about 20%-50% off, including lots of non-iron dress and business casual shirts for under $30 (or even under $20, if you can abide by discontinued patterns), and pants under $50. There are tons of fits and styles available, so surely you can find a few affordable basics that your closet currently lacks.
---
The silver medalist in our favorite electric toothbrush co-op, this Oral-B 5000 is just $55 after some stacked discounts: clip the $15 off coupon and use promo code 20ORALBNOV1.
If the price doesn't convince you, our readers love this toothbrush because of its superior oscillating, pulsing, and rotating brush head. It also connects via Bluetooth to an app on your phone and can show you were need to brush more, and store data for your dentist to review. This deal will probably not last long, so get while you can.
---
This 150 lumen camping lantern runs off solar power, and is inflatable, meaning it hardly takes up any room in your bag during the day. That's a compelling product pitch on its own. But the 2,000mAh battery and USB charging port is what really puts it over the top.

That's a small battery, to be sure, and and the tiny solar panel won't charge it all that quickly, but it could give you enough juice to make an emergency call, or less urgently, revive your phone to post a few more Instagrams from your camping trip. $30 is $20 less than usual, and the best price we've ever seen on this, so don't let the lights go out on this deal.
---
Well isn't this lucky: Bohemian-cool retailer Lucky Brand is offering a pair of winning deals: an extra 50% off of their already marked-down sale section, and 40% off all their regular-priced items. So take advantage of this blowout to add to your supply of good jeans, vintage-y tees, and plenty of fall styles. Don't press your luck by waiting too long, though; today's the last day to get lucky with this deal.

---
Tory Burch flats are the real work shoe MVP (OK, OK, all-around MVP), and today, thanks to Nordstrom Rack, you can stock up on any styles that your footwear collection might be lacking. A multitude of multicolored Tory Burch footwear, including several flat styles, boots, mules, loafers, pumps, and sneakers, are up to 70% off. It's a sale event so good, finding something you love is a shoo-in.

---
We've featured several Mynt massaging products here over the past year, and now, three of them are on sale in Amazon's Gold Box, today only.

The most popular product in the sale will almost surely be this heated massage pillow, now available for just $28 down from its usual $40. Its four rotating nodes can massage any part of your body in pretty much any location, and it even includes a car charger so you can use it on the road.
For a more intense experience for your shoulders, consider this model for $35. It includes arm straps to help you apply pressure, and eight massage nodes with multiple modes.