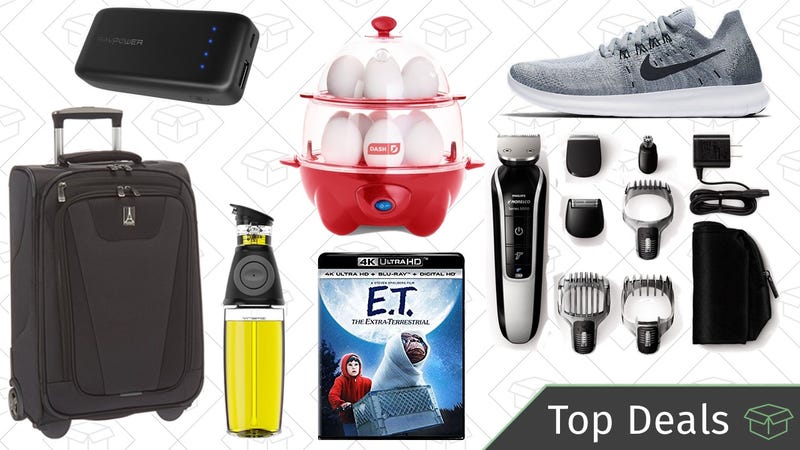 We start off today's deals with a Philips Norelco multigroomer, best-selling egg cooker, our audience's favorite carry-on suitcase and more.
Bookmark Kinja Deals and follow us on Twitter to never miss a deal.

Top Tech Deals
Giant battery packs are great in some situations, but more often than not, you just need something that can fit in your pocket and give you a single extra phone charge, or maybe a bit more. That's exactly what you can get today for $10 with promo code KINJA060.
---
While mesh routers have broken through in 2016, the Wirecutter-recommended TP-Link Archer C7 though is one of the best "traditional" routers you can get, and it'll only cost you $70 today after clipping a $10 coupon. That's a match for last year's Black Friday price, and the best deal we've seen.
---
You probably already own a pair of Bluetooth headphones, but it never hurts to buy an extra set for your gym bag or luggage, in case you leave your favorites at home. VAVA's MOOV 28 have fantastic Amazon reviews, and have never been cheaper.
---
You can never have enough outlets and ports to plug things in, and with a pair of deals from RAVPower today, your charging needs will be fully covered.

---
If you want to cut the cord, but can't abide earbuds, Sony's popular on-ear MDRXB650BTs are on sale for $65 right now with promo code ALT8C, an all-time low. These include NFC pairing, a built-in microphone, and 30 hours of battery life, and you even get your choice of three different colors.
Note: You won't have the option to enter a promo code unless you sign into a Rakuten account. Guest checkout won't work.
---
We've seen USB battery packs that can jump start a car, and we've seen USB battery packs that can charge new MacBooks and Nintendo Switches, but this is the first we've found that can do both.

This 20,000mAh battery pack from iClever includes USB-C Power Delivery, which can push up to 30W to your high-powered USB-C devices, sufficient to charge a 12" MacBook at full speed, or charge your Nintendo Switch in portable mode while you're playing a game. There are also two standard USB ports for phones and other devices, including one with Quick Charge 3.0 support.
The battery's other neat trick is a set of detachable jumper cables that can start a dead car battery. It's rated for 800A, which should be sufficient to start basically any regular car engine, up to 8L (or 6.5L if it's a diesel vehicle). People never think they need one of these things until they really, really need one.
---
Google Home got a couple of new siblings last week, but the original remains unchanged, and well worth today's $90 deal on Rakuten. Just be sure you're logged into a free Rakuten account, and use promo code ALT18 at checkout to save big.

---
Sometimes, I'm still amazed that you can get a 55" TV for $398, let alone one with 4K resolution, HDR10 support, built-in Roku software, and the ability to use your phone as a remote. This has gotten down to this price a few times in the past, but it usually sells out quickly and goes back to $450.
It's 1-3 weeks backordered, but Amazon tends to under-promise in that department, at least in my experience.
---
Why should your smart speaker, toothbrush, candles, and potted plants take up precious counter space when you can just add a shelf to a power outlet? This thing holds 10 pounds, and is only $15 today.

---
If you're still wrestling with a terrible inkjet printer at home, do yourself a solid and pick up the reliable Brother HL-2380DW monochrome laser printer today for just $99 today, about $30-$50 less than usual.

While it doesn't print in color, it more than makes up for that with the ability to spit out 32 pages per minute, duplex printing, and inexpensive toner cartridges that can last for years without being replaced. We've posted a lot of Brother deals in the past, and we've heard nothing but good things from readers about them. Plus, this particular model has a sterling 4.4 star review average on Amazon, a built-in scanner, and AirPrint and Google Cloud Print support, so it should serve you well for years.
---
VPNs are in the news these days, and with good reason. So if you're curious to sign up and start protecting your browsing history and personal data (or, you know, getting around websites'geoblocks), NordVPN charges less per month than a typical trip to Starbucks.
NordVPN has long been one of the most popular and reliable VPN providers out there, and if you sign up for a one-year membership, promo code VIP70 will drop your annual price from $69 to $48. If you're sure you want to commit, use this link instead to get a special two year plan for $79 with code 2YSpecial2017. Lifehacker has recommended Nord in some previous guides, but if you have any firsthand experience with the service, sound off in the comments!
Top Home Deals
Update: Sold out
The original Dash Egg Cooker was one of the fastest items to ever join our bestseller pantheon, and now, you can score an all-time low price on the Deluxe model. This is the same Dash our readers know and love, but now it can cook a full dozen eggs at once, rather than just six.
---
One of the only downsides of cast iron pans is that they can be a nightmare to clean, but this chainmail scrubber can scrape away caked-on food without hurting your seasoning, or resorting to soap. No wonder one of them is in our bestsellers club. Today's $7 deal also happens to be the best price we've ever seen on one of these.
---
Holiday travel is just around the corner, and your airport experience will be greatly improved with this Travelpro Maxlite 4 deal.

The Maxlite 4 is the follow-up to the Maxlite 3, which our readers named their favorite rolling carry-on bag. Like all Travelpro bags, it comes with a ton of organization tools, is incredibly well built for the money, and even has a limited lifetime warranty if anything goes wrong.
$77 is the best price we've seen since July, so grab this deal before it takes off.
---
One of the only downsides of cast iron pans is that they can be a nightmare to clean, but this chainmail scrubber can scrape away caked-on food without hurting your seasoning, or resorting to soap. No wonder one of them is in our bestsellers club. Today's $7 deal also happens to be the best price we've ever seen on one of these.
---
Update: The price just changed from $44 to $61, it's still a good deal though.
If you've spent any time making your outdoor space nice, you deserve to enjoy it year-round. This $61 patio heater will keep your space nice and cozy.
This model is meant for table tops, so it's about half the height of the large patio heaters you see at restaurants. It normally sells for $80, so take the $20 you save and buy some hot cocoa.
---
When you cook with olive oil, you have three choices: You can pour imprecisely, you can make a measuring spoon dirty, or you can use Vremi's $15 olive oil dispenser, which measures out a precise amount of oil before you pour it. I know which one I would choose. Needless to say, this would also make a great gift for the home cook in your life.
---
For a limited time, Dyson's eBay outlet is taking an extra 25% off any $50 order with promo code P25DYSONOUTLET, including vacuums, fans, and even hair dryers. Most of the wares here are refurbished, but they're sold directly by Dyson; this isn't a sketchy third party situation.

My pick is the V6 animal for $172. I bought this thing a couple months ago, and it makes quick work of all the pet hair on our furniture.
---
Amazon's squeezing prices today with their Yost vise Gold Box deals. Inside, you'll find both bench vises and smaller, portable clamps marked down to great low prices. Even if you don't think you need any of these, it's worth picking up a little bar clamp to add to your toolbox; they really come in handy when gluing wood.

---
Throw out those old, gross pots and pans you've had since college and replace them with this T-fal nonstick 10-piece cookware set for just $40 today.
They're nonstick all the way around, so even cleaning caked on food from the outside of the pot is a breeze.
This is the lowest price we've seen since April so snag these while they're hot.
---
It's not exactly a YETI or an RTIC, but it's tough to complain about a $14 cooler that can keep ice frozen for up to 24 hours in 90 degree heat. With room for up to 30 cans, this'll be a great addition to your tailgating setup. Today's price is a solid $6 less than usual.
---
If you like to do your own oil changes, or aren't afraid to tinker on the underside of your car, these inexpensive RhinoRamps are the quickest way to elevate your car. Obviously, they won't help you for tire changes, and they won't give you a ton of clearance, but for quick, basic maintenance, they should get the job done. $28 is the best price Amazon's ever offered, but it's only available for Prime members.

---
If you ever make tacos at home, do yourself a favor and pick up some of these metal taco holders for just $6 each. If you use them as shown in the picture above, they'll hold two tacos, but flip them over and <audience gasps> they hold three tacos!
---
In a world where we know how many steps we've taken in a day and the specific firmness of our mattress, why not extend that precise knowledge to our showers?
This Techboss digital shower thermometer monitors the water temperature in real time, letting you find exactly the perfect temperature for you.
It is also a great product for parents, who can monitor the temperature before their easily-over-heated toddlers get in.
Today, it's just $17, which is the exact price we want it to be. Well, it's the lowest price we've seen, but you get where I'm going with that.
---
Anker's HomeVac Duo vacuum transforms from handheld to upright, has the impressive runtime you'd expect from the brand that makes your favorite battery packs, a washable HEPA filter, and a great warranty. That's quite a package for $80 (or $83 for certain colors), the best price we've ever seen.

This was Anker's first foray into cleaning products, and reviewers seem to love it so far. It'll run for 24 minutes on a charge at full power, or an hour in eco mode, which should be sufficient for most average-sized homes. The standout feature though is definitely the detachable hand vac, which lets you clean furniture, shelves, and even your car with ease.
---
I'm convinced that 30 ounce stainless steel tumblers are the pinnacle of human drinking glass technology, and will never be bested. They're all basically the same, so don't overpay for a YETI; get this $9 X-Chef instead with promo code MKFG9WIY.

---
You already know that packing cubes can make traveling slightly less terrible (though they won't stop United from beating your ass), but Gonex's take on the product category includes a second zipper and extra material, allowing them to expand while you're packing, and compress when it's time to stuff everything in to your carry-on. For a limited time, get a set of three in the color of your choice for $13 with promo code AY9S85YS.

---
Saliva-based ancestry DNA tests probably won't tell you anything profound, but they're fun, and make great gifts, so you may want to pick one for $79.
---
With a reliable motion sensor and an easy-to-charge battery pack, I've put OxyLED's T-04 light strips in every closet of my apartment. I might just have to rip them out now though and replace them with this new model, which features a warmer color temperature, in addition to all of the old model's features.

---
BioLite, maker of our favorite camping stoves and lighting, is back with a FirePit we've been psyched about since we saw it in action back in December. Their Kickstarter launched today and is already... on fire.

Update: BioLite is running low on $199 preorder bonuses with the free solar cover (only about 500 left as of October 6), so get yours while you can.
The BioLite FirePit is easy to transport, minimizes smoke, is see-through for maximum fire viewing, uses wood or charcoal, and doubles as a hibachi grill. The secret here is an advanced circulation system that's powered by a removable battery pack (which you can plug your phone into, natch), but unlike some of BioLite's other products, the flames won't recharge that battery themselves.
That said, Kickstarter preorders include a solar cover for free that will recharge the battery when the pit isn't in use, but about a third of the units available at the $199 level are already gone, so don't let this one smolder.
---
If you live in a city with Amazon Prime Now, but haven't yet tried it, you can save $10 on your first order with promo code 10PRIMENOW.

All you have to do is build a cart with at least $20 worth of eligible goods from Amazon, and enter that code at checkout to get the deal. I've literally built Prime Now orders in the past that consisted of nothing but ice cream and junk food, but they recently added a selection of healthier stuff from Whole Foods as well, so you should have no trouble taking advantage.
Just remember that this deal is only available in cities with Prime Now service, and only first time Prime Now customers are eligible.
Top Lifestyle Deals
It's the perfect time to get outside for a run (or finish off training for an upcoming race). Nike has the perfect sale for those of us that need to update their workout wardrobe, because god knows how long you've had those leggings or basketball shorts for. For the next 48-hours, they're taking up to 40% off a ton of styles for men, women, and kids. Everything from running tights to sneakers to sports bras is included.
---
Philips' entry-level Sonicare Essence electric toothbrush has long been a reader favorite, and now Amazon's running the best deal we've seen on the sequel, the Essence+.

The big improvement here is the brush head: Rather than the screw-on E-series heads (which have a tendency to collect sludge along the seam), the Essence+ uses standard Sonicare snap-on heads. The upshot is that you get a lot more choices: Philips sells seven different options for different budgets and brushing styles.
For a limited time, Amazon's taking $10 off the brush's $35 price tag. We've seen this $10 coupon before, but it's usually subtracting from a $40 starting price. Just note that you won't see the final price until checkout.
---
I'm a huge fan of Too Faced, and I feel that this is a brand everyone should try at least once. Even if you're a Too Faced vet, this 25% off sale is perfect you too. Use the code REDHOT25 and everything (except sale items) gets 25% taken off, so don't be shy. Stock up on Better Than Sex mascara and Melted Matte lipstick while you can, or try out their adorable new Peaches and Cream collection.
---
The Philips Norelco Multigroom 5100 is actually seven different grooming tools rolled up into one device (including a nose hair trimmer!), and you can own one for an all-time low $20 today on Amazon. This was a strong contender for your favorite beard trimmer in over on Kinja Co-Op, just note that this deal is only available today.
---
This time Amazon's back at it with home, personal care, beauty & grooming, vitamins, baby, and beverages & food samples.

If you haven't used Amazon sample boxes before, let me explain. You buy samples and then Amazon gives you an equivalent credit that you can then use to towards a whole bunch of different products in that same product category.

If you normally shop Amazon for anything in these categories, it's basically free samples.
---
If you enjoy camping but sleeping on rocky, uneven ground just isn't your thing, grab one of these Coleman cots for your next camping trip for just $48 today.

This cot folds in half to make it easy to store and pack up in the trunk of your car. It could also be a great alternative to an air mattress as an easy-to-store guest bed. Many reviewers note it's pretty comfortable as far as cots go.
At $48, it's at the lowest price we've seen since May, so don't sleep on it.
---
Jumping rope is one of the most time and space-efficient ways to get in a decent workout, and you can pick up an adjustable length rope with ball bearings for just $10 with promo code TOMY5167.
---
TOMS is no longer just the purveyor of canvas slip-ons. They have a ton of options for basically every kind of shoe person, from sneakers, to dress shoes, to sandals, and yes, boots. Use the code BOOTS25 at checkout and take 25% off boots for men and women, so you can be a little more weather appropriate in the coming months.
---
Pack your stuff in a new Timbuk2 bag. Get 30% off select styles, plus free shipping, when you use code T24LIFE, which include the ever-popular Commute and Command Bags, and make sure your commute is packed well. There's everything from one of your favorite carry-ons to your favorite laptop bags.
Top Media Deals
It's only $36 for The Office: The Complete Series DVD set. I want you think about this deal long and hard.

<looks directly into camera> That's what she said.
But seriously, it's the lowest price it's even been and there's no limit to the number of times you can cringe watching the Diversity Day episode.
---
Note: This link only seems to work on desktop browsers, sorry!
If you own a 4K Blu-ray player (or an Xbox One S), here's one of the best deals we've seen for building up your movie library. Just pick any three films out of the 145 on this Amazon page, and no matter what they cost individually, you'll only pay $50 at checkout (so long as they're all shipped and sold by Amazon directly). Most of them also include regular Blu-ray discs, and digital copies too.

My picks, based on both quality of the film and how much they'd benefit from a 4K upgrade: The Martian, Mad Max Fury Road, and Star Trek, though I could be talked into Ex Machina.
---
The Nightingale is a former #1 New York Times bestseller, is being adapted into a major motion picture, and has a 4.8 star rating from over 35,000 Amazon shoppers. It's a good book, is basically what I'm getting at, and you can download it for just $2 today.

With courage, grace, and powerful insight, bestselling author Kristin Hannah captures the epic panorama of World War II and illuminates an intimate part of history seldom seen: the women's war. The Nightingale tells the stories of two sisters, separated by years and experience, by ideals, passion and circumstance, each embarking on her own dangerous path toward survival, love, and freedom in German-occupied, war-torn France—a heartbreakingly beautiful novel that celebrates the resilience of the human spirit and the durability of women. It is a novel for everyone, a novel for a lifetime.
---