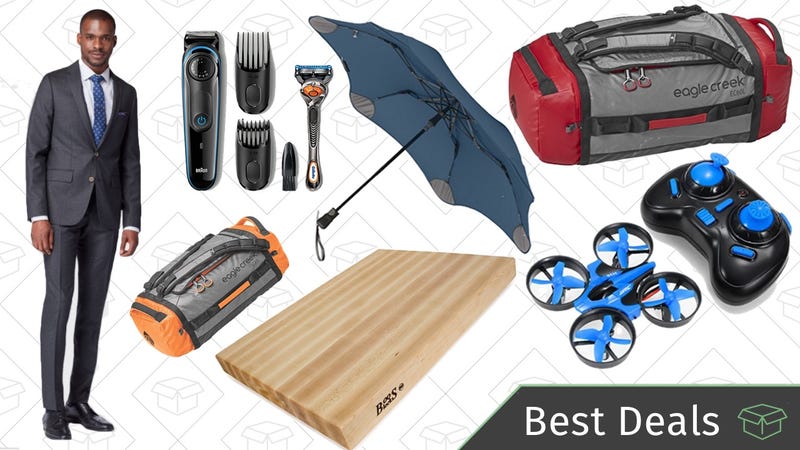 We start off this Tuesday with deals on tropical storm-proof umbrellas, a cutting board, custom-tailored suits, and more.
Bookmark Kinja Deals and follow us on Twitter to never miss a deal.

Top Tech Deals
If you don't need a number pad, Drevo's 84-key mechanical keyboards have a tiny footprint and a cool, retro look, and you can get them for just $34 today with promo code Gramr010.

This deal is only available on the white keyboard with either red or black key switches. Both of these are linear switches, but the reds require less actuation force, so that model will be less tiring to type on.
---
If you're ready to dive into the Philips Hue ecosystem, the third generation starter kit is down to $140 right now (shipped and sold by Amazon directly), one of the best prices we've seen, complete with three bulbs and a hub.
If you have an Echo voice assistant already, this is one of the coolest accessories Alexa-compatible accessories you can buy. Once you start controlling your lights with your voice, there's no going back.
---
There's a new Amazon Echo coming out at the end of the month, and that means great closeout deals on the old model. Woot has them brand new for $80 shipped in both black and white right now, which is the best price we've ever seen.
---
Prime exclusive Kindle discounts come around fairly often, but today's $30 discounts are notable in that they're available to all Amazon shoppers.

The Kindle, Kindle Paperwhite, and Kindle Voyage are all included in the sale. Most readers will probably want to get the Paperwhite for $90, since the $50 Kindle has a lower resolution screen without a backlight. But if you've got the money to spare, the pressure-sensitive bezels and ambient light sensor on the Voyage do make for a superior reading experience.
To give you some context for these deals, since the holidays are on the horizon, $30 is about as big a discount as you're likely to see on the Kindle and the Paperwhite; that's what Amazon offered on Prime Day this year. The Voyage, however, has been discounted as much as $5o in the past, on rare occasions.
Update: You can also save an extra $35 on the Voyage by buying refurbished.
---
Smart outlet switches have become the atomic unit of smart home gadgetry, and you can get two Alexa-compatible switches (with energy monitoring!) for just $13 each today with promo code 855XJ38T.

---
You don't need to sell a kidney to afford noise-cancelling Bluetooth headphones; these 4 star-rated Cowin E-7s are just $40 right now, or $30 off with promo code 9H9778YO.
They might not have the brand recognition of Sony or Bose, but these headphones pack in 30 hours of battery life, and yes, active noise cancellation that reviewers say works really well.
---
Everyone should keep an inverter in their glove box for powering laptops and other electronics in the car, and you can choose from two discounted options from Aukey today, including one that fits in your cupholder.

---
Anker's glass screen protectors will keep your iPhone displays looking flawless, and you can get two of them for just $5 right now on Amazon.

---
We see a lot of deals on home theater bias lights, but even by our standards, $10 is insanely cheap for an RGB model. Just stick it to the back of your TV, plug it into a USB port, and control it with the included remote.

---
You could fill a swimming pool with sub-$20 Bluetooth earbuds, but not many of them boast 8mm drivers, let alone 10 hours of battery life. Even if you already own a pair you like, I recommend getting extra sets of headphones to keep in your gym bag or luggage, for when you inevitably forget your favorites.

---
There's a nasty new Wi-Fi exploit out in the wild these days, but you can protect yourself from prying eyes (and get around geo-blocked content too) with a VPN subscription.
Lo and behold, PureVPN is offering some pretty stellar discounts right now when you use promo code Privacy20:
24 months for $62.40 ($2.60 per month)
Six months for $42.96 ($7.16 per month)
One month for $8.76
PureVPN encrypts and obscures all of your internet traffic from everyone from malicious hackers to your ISP to the government, and includes some cool features like a kill switch to automatically disconnect your Wi-Fi if the VPN stops working, as well as split tunneling, which can route some of your traffic through the VPN, while letting the rest go through your ISP.
Top Home Deals
You could buy a $5 umbrella every time you get caught in a storm, only to watch it disintegrate before you get to safety, or you could invest in a Blunt umbrella for 20% off.
Blunt umbrellas feature rounded safety tips to avoid poking anyone in the eye, include a special pocket for a Tile device tracker, and most importantly, can withstand winds of up to 72 mph (in the case of the standard model, others are lower). For reference, tropical storms become hurricanes at 74 mph, so if your Blunt ever succumbs to the wind, you probably have bigger things to worry about. You can see it in action in the video above, which personally left me slack-jawed.
Note: Make sure you're buying from the BLUNT USA listing, not the Amazon.com listing, or else the code won't work. You'll still get Prime shipping.
These umbrellas hardly ever go on sale, but this week only, you can save 20% on either size, and in any color, with promo code GDX4NKIK. The most popular models are the Classic and the smaller Metro:
Beyond those, you can also choose the Blunt Lite (which features a curved leather handle), the Blunt Golf (most notable for a fiberglass shaft), and the Blunt XL, which is just a bigger version of the Classic.
---
We've posted a lot of deals lately on these coccyx seat cushions, but $14 is one of the best prices we've seen to date, and this particular model is one of Amazon's top sellers. These will improve posture and ease back pain in any chair where you spend a lot of time, from the office to the car to a long flight.
---
You can save 15% off select home items from Target like rugs, furniture, and decor with code HOME. Unfortunately, they don't have a page featuring qualifying items exclusively, so look out for a line of red text saying "15% off with code" on the landing pages and product pages.
Especially if you're planning on buying some big ticket items like large rugs or furniture pieces, it's worth your while to hunt around.
---
It's 2017, and your vacuum doesn't need a power cord anymore. This light and nimble Black & Decker can zip around your floors untethered from the wall, and it can actually pop out of its base to convert into a hand vacuum for your car, your furniture, and more. $100 is the best price we've ever seen, so orders yours before they're all cleaned out.

---
You need dishwasher detergent anyway, so you might as well buy it on sale. While supplies last, Amazon's offering a $4 coupon on this 78-pack container of Cascade Complete ActionPacs, nearly a 25% savings.
---
Rolling carry-ons are great, but everyone should keep a good duffel bag or two in their collection as well. They can carry a ton of gear, can fit awkwardly-sized items, and they pack down to basically nothing when they aren't in use.
With its durable, water-repelling fabric, backpack straps, and attractive design (as duffels go, anyway), Eagle Creek's Cargo Hauler is one of our favorite duffels out there, and all four sizes are on sale today, in a variety of colors.
Just note that not every color is on sale at every size (with the exception of Large), so make sure you're selecting one of the cheaper models before you check out.
(No, I don't know why the M and XL models are in German)
---
Take the pack of three bamboo or plastic cutting boards you bought on a whim and throw them in the garbage. Or, at least order this awesome John Boos solid maple, reversible wooden cutting board and then throw your other crappy ones out when this arrives. At $70, it's a worthwhile investment, but that price is gone by the end of the day.

And if you do grab one of these, I would highly recommend buying board oil or cream to make sure it doesn't dry out and crack.
---
Did you know you've been pooping all wrong? It's true! Luckily, the obscenely popular Squatty Potty is designed to lift your legs into an ideal bowel movement position, and you can get a bamboo model on Amazon today. Although it more expensive than the usual plastic model, this one allows you to adjust to your optimal squatting height. Plus, at $52, it's the lowest price we've seen.

---
These Coop Home Goods adjustable loft pillows are hypoallergenic, machine-washable, and insanely popular - they have almost 14,000 reviews on Amazon and a 4.3-star rating. Plus, they're all 35% off today with code HJG85O5L.
---
Amazon is looking out for parents today by offering up to 30% off select Graco products. They have a wide selection of swings, cribs, car seats, jogging strollers, and more from one of the industry's most trusted brands. These prices will only last for today or until they sell out, so grab them while you can.
---
Shun is one of the most trusted names in kitchen blades, and their 6.5" serrated utility knife is down to an all-time-low $70 today, if you're willing to wait out a backorder (which you should, at this price).

http://gear.lifehacker.com/five-best-chefs-knives-1594840910
The blade has both serrated and straight sections, making it a versatile multitasker that can chop through just about anything in your kitchen. Plus, it'll probably be one of the most beautiful things you own.
---
Why would you ever futz around with a bubble level when you can find a straight line with a LASER? <Inception horn>

DEWALT's self-leveling cross-line laser mounts to any wall, and projects a perfectly straight horizontal and vertical line in either direction for up to 165 feet. It's currently listed on Amazon for $143, and its all-time low is $130. Today only though, it's included in an $89 bundle with a few handy accessories. Needless to say, that's the best deal ever on this thing, and it's likely to sell out before the end of the day.
---
Magnetic wristbands are incredibly handy for doing work around the house, and this one's only $8 with promo code JWBEUCWX today.
---
Upgrade all your bakeware in one purchase with this 10-piece nonstick set from Calphalon. It includes all the essentials like a loaf pans, cookie sheets, muffin tin, cooling rack, and more. This set has been hovering between $70 to $95 for the last 6 months, so at $60, this purchase should be a cakewalk.
---
If you've ever thought about pulling out your blender to make a smoothie, sauce, or dip, and then held off because you didn't want to clean 12,537 different parts, this deal is for you. A highly rated OXA hand blender is $10 off, and comes with a variety of attachments.

The big advantage here is that unlike a traditional blender, you can dip a hand blender into whatever container you were already using to hold your ingredients; be it a single-serve cup or a huge mixing bowl. That saves you time, and means fewer dishes to clean up once you're done. This one though also comes with a whisk attachment, and even a food processor bowl that plugs right into the end of the blender, and includes its own set of food chopping blades.
---
These $11 gloves let you grab a hot pan out of the oven, pull meat right off a grill, or even turn logs in an active campfire without getting burned, like some kind of superhero. We've seen silicone barbecue gloves for less than this in the past, but these are rated for much higher temperatures, and should be more flexible as well.
Use promo code L8ERJCOU to get them for $11.
---
Most of us will soon be enduring the season of perpetual darkness, in which the sun is already setting by the time we leave the office. So really, there's never been a better time to install some affordable solar motion lights around the outside of your home. You can stick them anywhere that gets a sliver of sun during the day, and they don't require any wiring.

---
There are few things more irritating than noticing your tires are low on air, and then having to find a bunch of quarters, driving to the gas station, and cursing the heavens when the compressor shuts off before you've finished filling all four.

Instead, just buy this tiny $26 compressor, and fill up your own tires from anywhere. You can thank me later.
---
The Nest Learning Thermostat usually costs $250, or maybe $200 if you find a good sale, but today at Home Depot, you can pick up a refurb of the previous generation model for only $139. The only real difference between this and the current edition is that it has a smaller screen, and it's not like you're watching movies on the thing.
---
When is a pen worth $40? Possibly never, but the GP 1945 makes a really strong case.

This Kickstarter campaign is set to ship out pens starting in November, and the demo unit they sent me is incredibly impressive. My titanium model is very solid and well built (there's also a lighter aluminum version), to the point that I don't think I could break it if I tried. The butt cap also doubles as a glass breaker for emergencies, the diamond knurled finger grip works as a small ruler, and you can even blow into the back of the tube to to use it as a survival whistle.
The real star of the show here though is the bolt action method of extending and retracting the tip of the pen. It gives you enough resistance to be satisfying, but not enough to be slow or frustrating, and it makes a very addictive click when the mechanism slides into place. I have no less than four fidget toys in heavy rotationon my desk, but clicking this pen was all I wanted to do today.
There's only about a week left of the campaign, but you can still get aluminum GP 1945s for under $40, or titaniums for under $70. That's a lot to spend on yourself, but these would make great gifts for the holidays. Plus, if you pledge $8 extra and include a note, they'll throw in a magnesium pen core that you can use to start a fire. Just take it out and rub it against the finger grip to generate a spark.
Top Lifestyle Deals
Our readers have purchased thousands of custom-tailored suits over from Indochino the last few years, and as a result, they're unlocking their Black Friday sale early, just for us. For a limited time, take your pick of 65 suit styles—most of which are part of their latest collection—for just $349 with promo code KINJA17.

These suits regularly sell for $799, and even the ones that have been available in previous sales have never been this cheap before. Again, this is the exact pricing and selection they'll offer on Black Friday, so there's no reason to wait and see if a better offer comes along next month.
You do not have to go through the measurement and customization process to lock in this discount. You can checkout now and submit later, which makes it very easy to gift a suit.
Having a suit that fits perfectly is great, but the little details Indochino lets you customize, from your jacket lapels to pocket flaps to accent stiching around your buttons, are where things get fun.
How It Works
Measure and customize from home...
Follow the directions on Indochino's site to submit your measurements and customize your suit. Once the suit arrives, if anything doesn't fit quite right, Indochino will provide directions for your local tailor, along with a $75 credit to cover their work. If for whatever reason your tailor cannot resolve the issues, Indochino will remake your suit. Shipping and return shipping are free.
If you live near a showroom...
Purchase your suit online with our discount and take your receipt/account info into an Indochino showroom. They'll do your measurements, walk you through your customization options, and have your suit delivered to the showroom. Return once it arrives for any final alterations if they're needed.
Let us know what you'll be wearing to your next event (or day at the office) in the comments.
---
When it comes to having a corner on the market, nothing really compares to Nike. And right now, use the code 20EXTRA and take an extra 20% off their sale styles for both men and women. Everything you could need for a good workout wardrobe is included, from apparel, to sneakers, to gear.
---
$48 for a year's-supply of razor blades is a great deal, especially from Dorco. $24 for the same pack (with code KINJA1024) is downright unbelievable.
That price includes a mishmash of products, but basically, it boils down to 28 cartridges, including a mix of three, four, and six-blade models. Obviously, it depends on how often you shave, but for many of you, that should last at least a year. It would probably last me like three.
---
Levi's is a classic American denim brand, and they make your favorite pair of men's jeans (no surprise there). Right now, they're giving you up to 75% off a ton of styles during their Warehouse Event. Obviously there is tons of denim to choose from, but also tops, outerwear, and more.
---
With fully 39 different length settings between 1 and 20 mm, Braun's Beard & Hair trimmer is perfectly suited for, well, both your beard and your hair. It even comes with a free Gillette Fusion ProGlide razor with FlexBall to tidy up your edges. $30 is an all-time low price on its own, but Amazon's also offering a $3 coupon to sweeten the deal even futher.

---
Whether you wear TOMS for the ease of never having to tie your shoes, or just dig the style, this is one deal you should take advantage of. Head over to Nordstrom Rack for their rather large TOMS sale for both men and women. Plus, they've come a long way from just simple, canvas slip-ons.
---
Safety razors require more skill and patience than typical razors, but will get you a better shave when used correctly. They're also cheaper in the long run, especially when you can get a handle and some starter blades for just $12.

While you're at it, pick up this chrome razor stand for $10. It also has a hook for your shaving brush.