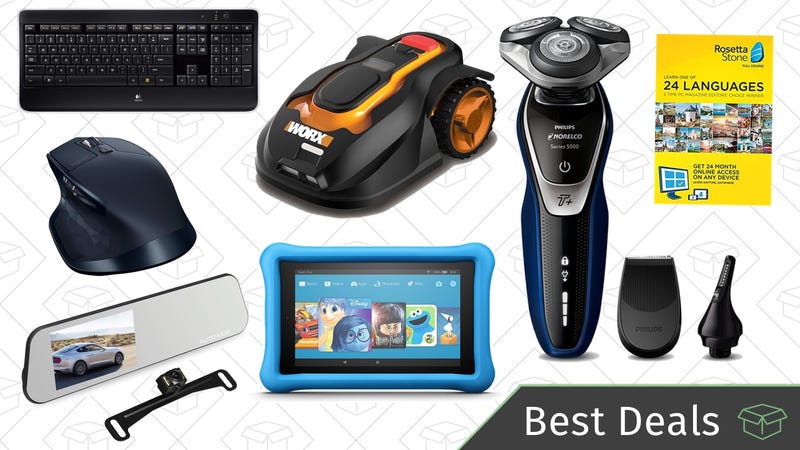 A Logitech Gold Box, a Philips Norelco shaver, a Rosetta Stone package, and more are all part of today's best deals.
Bookmark Kinja Deals and follow us on Twitter to never miss a deal.

Top Tech Deals
Amazon's back at it again with another big Logitech sale, so whether you're upgrading your own computer setup, or buying holiday gifts, there's a lot to choose from in here.

The headliners here are probably the MX Master Mouse and the MX Anywhere 2, both of which have proven popular with our readers. The Master has a few extra buttons and a more ergonomic design, but they both have excellent sensors that can work on any surface, including glass.
The C920 webcam is also a good choice for vloggers, or desktop PC users who don't have cameras built into their monitors.
A variety of keyboards are included in the sale, starting at just $12. The most popular model though is the K400, which includes a built-in trackpad that makes it perfect for controlling a home theater PC from afar.
As for audio, you can choose from two different speaker systems, including a surround sound setup that would work for your home theater, in addition to your computer.
There are still more deals in here that we didn't cover, so head over to Amazon to see the full list.

---
You might have heard of quantum dots in the context of TVs, but Samsung uses them in a 4K computer monitor as well, and we've got an exclusive all-time low price on it today with promo code KINJA4K.

You can read all about quantum dots here, but the long and short of it that they're the backbone of a backlighting technology that can produce OLED-quality images and rich, deep blacks on a less expensive LCD panel.
$400 (with promo code KINJA4K) is really not all that expensive for a 28" 4K monitor from a name brand manufacturer, so you're definitely getting your money's worth considering this model uses state of the art technology. For context, the monitor's currently priced at $450 on Amazon, and it's never been cheaper than $430.
---
Anker's SoundCore line of speakers have been huge hits among our readers, and you can choose from three different models on sale today, ranging from tiny to booming.

On the small end, the SoundCore Mini packs impressively loud audio into a speaker the size of half a soda can. Get it for $24 with promo code QUM7D9ED.
I suspect that most people will want to spring for the SoundCore 2, which is a true sequel to our readers' favorite Bluetooth speaker. The main selling points here are 24 hour battery life (and that's a conservative estimate, in my experience) and IPX5 water resistance.
And if you missed it yesterday, the rugged and powerful SoundCore Sport XL is still $14 off with code QUM7D9ED. With dual 8W drivers, this is loud enough to fill an entire yard.
---
Most modern laptops don't include ethernet ports, but it's worth keeping a dongle in your bag just in case you run into a rare situation where wireless internet isn't available or reliable. This one plugs straight into a USB-C port, supports gigabit speeds, and is only $11 today.

---
A good HDTV antenna is essential gear for any cord cutter, and will let you watch a ton of football games this season for free. $17 is a fantastic price for a an amplified antenna, and you've got two to choose from today. The weird looking model includes a stand and a unique design, but in terms of specs, they should be pretty similar.

---
Anecdotally, Amazon's Fire tablets seem to be incredibly popular kids' devices, so it makes sense that Amazon would make a model just for them. The Fire 7 Kids Edition comes with kid-friendly content subscriptions, a rugged case, and most importantly, a two year warranty that covers accidental damage.

It normally sells for $100, but Amazon's marked it down to $70 today, the same price we've seen seen in early Black Friday ads, so there's probably no reason to wait for a better deal.
---
This aluminum charging stand will look great next to your favorite Apple devices, and can accompany both an iPhone and an Apple Watch. You even get to pick between silver, space grey, and rose gold. Just note that it doesn't include any actual charging hardware; it just holds your Apple power cords in place.

---
I've never been a fan of hard laptop bags, but MOBICASE, with its built-in ergonomics and plethora of smart pockets, is wooing me on the trip to Chicago it's currently accompanying me on.

The MOBICASE was easily able to accommodate my MacBook, Nintendo Switch, external battery pack, and noise-cancelling headphones, along with all the requisite cables for my flight out here. Get it for just $89 $104 with a preorder.
Update: The super earlybird pricing is expired, but you can still get it for $104, compared to the estimated $190 retail price.
---
Peak Design is running a 5-day Kickstarter to celebrate updates to their straps and clip, and not only can you save on those new products by preordering, but you can add on other Peak Design gear to your order to snag a discount on that as well.
Peak Design makes the best camera bags, backpacks, totes, straps, and cuff. Their Kickstarter has already blown past its goal (no surprise), and they're expecting to ship mid-December.
---
You don't need a new car to stream Bluetooth audio from your phone, or even a new stereo: You just need one of these $15 gadgets from Aukey.

This one connects to your phone over Bluetooth, and outputs the audio over AUX.
If your car is so old that it doesn't even have an AUX jack, this model transmits your Bluetooth connection over the FM station of your choice, creating a truly wireless (if not the best sounding) solution.
---
The iPhone X might just be the most breakable iPhone ever, so as pretty as it is, you'd probably be well-served to slap a case on it. These two options from Anker are both just $7 right now. I have the Touch Case myself, and it's working well for me so far.

---
We see deals on WeMo switches and TP-Link Smart Plugs on a pretty regular basis, but this similar product from Koogeek is Apple HomeKit certified, and only $20 today.

Like those other smart switches, the Koogeek Wi-Fi Smart Plug includes an app for turning your electronics on and off, and putting them on a schedule. The key difference here is that you can also control it with Siri from your phone, or from Control Center in iOS. That's a big deal if you're an iPhone owner, and with promo code LWZN3ASA, you're not even paying a premium for it.
---
Power strips with USB ports are nothing new, but most are designed for a home theater or an office desk, while this compact model is better-suited for a nightstand. Three AC outlets and three USB ports might be all you need in that environment.

---
If you're lucky enough to have an iPhone X arriving in the near future, you're going to want to keep that screen looking pristine. If you missed the deal earlier this week, Anker's once again marked down their 2-pack of screen protectors. Get them for $6 with promo code KARAP113.
---
Anker's original SoundBuds were our readers' favorite affordable Bluetooth headphones, but they've since spawned an entire line of earbuds to fit every budget and lifestyle.
The SoundBuds Curve are the newest addition to the family, and are designed with active users in mind. Their ear wings ensure they stay put while you exercise, and an internal hydrophobic coating means your sweat won't fry them. Their best spec though? 12.5 hours of battery life, which is fantastic for Bluetooth earbuds. They normally sell for $36, but you can get them for an all-time low $26 right now, no code necessary.

---
VPNs are in the news these days, and with good reason. So if you're curious to sign up and start protecting your browsing history and personal data (or, you know, getting around websites'geoblocks), NordVPN charges less per month than a typical trip to Starbucks.
NordVPN has long been one of the most popular and reliable VPN providers out there, and if you sign up for a one-year membership, promo code VIP70 will drop your annual price from $69 to $48. If you're sure you want to commit, use this link instead to get a special two year plan for $79 with code 2YSpecial2017. Lifehacker has recommended Nord in some previous guides, but if you have any firsthand experience with the service, sound off in the comments!
Top Home Deals
Robotic vacuums have finally started to catch on in the mainstream, but mowing the lawn might actually be the more odious chore, especially when it's hot out. Luckily, the Roomba for your yard exists, and it's on sale right now.
The Worx Landroid runs seven days per week to keep your lawn perfectly manicured at all times, and like a robotic vacuum, it can park itself back on its charging base whenever its battery runs low, or if it starts to rain. The biggest catch is that you'll have to peg down or bury a guide wire along the perimeter of your lawn, which prevents Landroid from escaping into the wilderness of Ms. Jenkins' backyard herb garden.
Amazon is currently offering Landroid for $854, or about $100 less than usual. That's still a lot of money, but it's a small price to pay to reclaim your Saturday afternoons.
---
You don't need to buy a new car to get a backup camera (which is life-changing, by the way), you just need $81, and a few minutes to run the wires. This model attaches to your license plate, and runs to a special rear view mirror that attaches in front of your existing mirror.

Oh, about that mirror...it has a dash cam built into it! Just pop in a microSD card, and you have a backup camera, plus a dual-lens dash cam to record any accidents.
---
Decorative projector lights aren't just for Christmas anymore. This waterproof LED projector from OxyLED comes with 12 different themes like spooky Halloween characters, Santa Claus, snowflakes, falling leaves, and Valentine's Day hearts. You can set the timer and project your holiday spirit indoors or out.

---
The second place (and much less expensive) winner of our readers' favorite meat thermometer contest is this Taylor precision probe thermometer, which is just $12 after your clip the 25% off coupon today, just in time for your Thanksgiving turkey temperature tracking.
Here's what you guys had to say about it:

On my second one (got 10 years out of the first one, only replaced it because I lost it in a move). $15. Does the job. This isn't rocket surgery. - shelwood
Yup, same here. It's not rocket science AND even if it's off by a degree or two, it doesn't matter. Bacteria are killed by a combination of temperature and time, so the extra minute or two that it's at temperature will easily make up for any discrepancy in accuracy. - Kumico
---
Some people can't live without their coffee, but for me, it's fizzy water. While supplies last, you can get a SodaStream Source from Amazon for $62, complete with a small starter CO2 canister, and a mail-in rebate for a free full-sized starter canister. If you regularly buy soda or carbonated water at the store, it'll pay for itself.

---
Get yourself two new collapsible, silicone colanders for just $9 with code QOHWVBSW today and throw out the bulky plastic or metal ones that are hard to clean. These can fold down to the about the size of a dinner plate and be cleaned in the dishwasher, making them perfect for smaller kitchens.
---
Unless you have absolutely perfect knife skills and a lot of time, mandolines put precise, uniform cuts in the realm of possibility. This mandoline slicer is just $50 today, which is shaved down about $10 from it's usual price.
It features a dial to set your desired thickness and three different cut options; straight, crinkle, and waffle. But the options go way beyond french fries, this machine will cut stir-fry prep down to just minutes.
Although it has a protective cover to keep your fingers away from the blade, if you want to be extra careful, pick up a pair of these cut-resistant gloves, which are $1 off today.
---
This hard-shelled, travel-friendly first aid kit is full of 85 pieces of gauze, bandages, antiseptic wipes, tweezers and other things you might need in an emergency. At $8 today, it's at its all-time-low price, so you can thank us later.
---
For a limited time, Amazon will sell you three pouches of Tide HE-compatible laundry detergent (totaling 144 ounces or 93 loads) for just $14. These pouches are designed basically as refills for plastic Tide bottles, but as long as that doesn't bother you, this is a fantastic price-per-ounce for any detergent, let alone name brand. Just be sure to clip the $4.50 coupon on the page and use Amazon Subscribe & Save.

---
You need toilet paper anyway, so you might as well stock up while it's cheap. Get 48 rolls of Scott tube-free toilet paper for just $12 (or $11 if you use Subscribe & Save) after clipping the 20% coupon on this page. I'm not sure toilet paper tubes were high up on the list of ecologically damaging waste, but I suppose it doesn't do any harm to get rid of them.

---
The Bouqs is probably the best place to use when sending flowers right now. The bouquets are unique and the blooms are harvested from the side of a freakin' volcano. And right now, you'll be able to get double the flowers for free in honor of their 5th anniversary. Just choose the Deluxe size of select rose bouquets, use the code TOFIVEMORE at check out and get it for the price of the Original size.
---
OxyLED's T-02 motion-sensing lights have long been a hit with our readers, and now you can get three of them (with warm bulbs, rather than the traditional cool LEDs) for just $15, one of the best deals we've ever seen. These are perfectly sized for small closets and cabinets, but you can stick them anywhere you want.

---
It's decorative gourd copper string light season, and we are here for it. Get a 20' strand with 60 LEDs and a remote to control it for just $7 with code BXJWREBN.
Top Lifestyle Deals
If you're ready to upgrade to an electric shaver, you could do a lot worse than the Philips Norelco 5570 for an all-time low $80. You can use it wet or dry, its built-in battery runs for an hour on an hour's charge, and it even comes with sideburn and nose/ear trimmer attachments for detail work. Amazon's only shaving the price on this thing for one day though, so don't miss out.

---
Every person should have a good pair of sneakers and workout clothes in their closet that can actually function during athletic activities. If you haven't gotten around to getting an actual pair of athletic shoes or need to layer up for your runs, New Balance is taking 15% off sitewide, plus free shipping on orders of $99 or more, no code needed.
---
Dorco's Pace razors consistently represent some of the best values in the shaving industry, even when they aren't on sale, but if you aren't sure which model is right for you, this trial pack can help you decide.

The Pace Trial Pack includes a handle, six Pace 6 Plus cartridges (which include a seventh blade on the top to use as an edger), and four each of their Pace 6, Pace 4, and Pace 3 cartridges, which includes six, four, and three blades, respectively. The set would normally cost you about $38, but promo code KINJA116 will take 50% off at checkout.
---
Newbury Mills has quickly become one of our favorite shirt makers, with offerings that can be dressed up or down, worn tucked or untucked, and with or without a tie. They also resist wrinkles well and are 100% soft SUPIMA cotton. Our readers can grab three for $99, plus additional shirts for $33 each. Considering one shirt is normally priced over $80, this is a great opportunity to upgrade your entire wardrobe. Just be sure to add at least three to your cart (you can mix and match styles), and use promo code kinja330 at checkout to get the deal.

---
Support your local superhero and grab one of these DC Comics tees and stickers, on sale today only. Go classic with Batman or Superman, or get a little weird with Aquaman or Cyborg. Anyway you choose, they're $15-$16 (depending on size and character because Amazon needs to complicate everything), today only. Which means this deal has to hide its secret identity at the end of the day.
---
At first glance, the American Eagle clearance section is full of leftover summer styles. But if you dig through the pages of 60% off merchandise, you'll find some pretty great transitional pieces. Flannels and sweaters are hidden among the tank tops and rompers, you just gotta dig a little.

Note: The 60% off only applies to American Eagle brand, though there are a ton of other brands mixed into the clearance section that are worth it.
---
The Nomatic BASICS wallet is one of our readers' four favorite front pocket wallets, and you can try one out for just $13 today, down from its usual $20. We've seen it dip as low as $10 on a few occasions, but if your current wallet has seen better days, this is still a great deal. You even get to pick from three different colors.
---