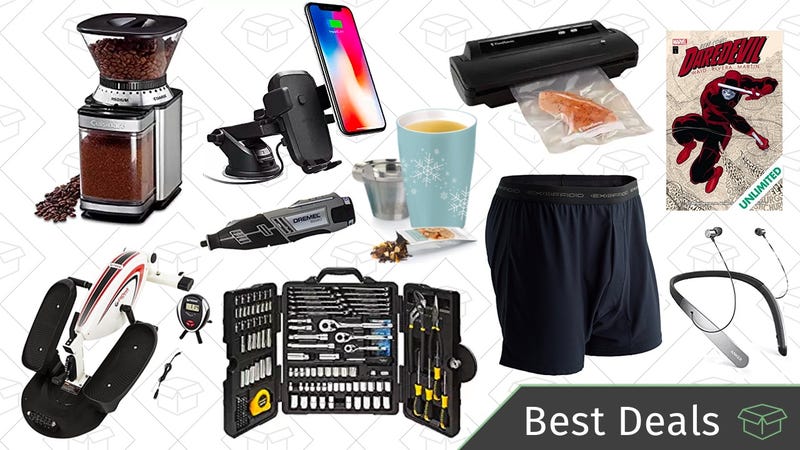 Crazy-popular ExOfficio underwear, iOttie phone dash mounts, Anker bluetooth headphones, and more are all part of today's best deals.
Bookmark Kinja Deals and follow us on Twitter to never miss a deal.

Top Tech Deals
iOttie's been turning out ultra-popular smartphone dash mounts for years, and several models are cheaper than ever in today's Amazon Gold Box.

The star of the show here is iOttie's Qi-compatible mount, which would make a great gift for any new iPhone 8 or iPhone X owners. It's similar to their iOttie OneTouch mounts, except that it'll charge your phone wirelessly as soon as you mount it, so you don't have to fiddle with any cords. This has sold for $50 pretty much since it was released, but while supplies last, it's down to $35.
The new OneTouch 4 is also included in the sale, with options available if you prefer a traditional dash or windshield mount, a vent holder, or even one that makes use of your dormant CD slot.
---
It's a matter of taste, but some might say that the new, cheaper Nest Thermostat E is even nicer looking than the original, while still packing in almost all of the original model's features. It's a bargain at its usual $170, but today you can get it for $130 from Verizon, or $139 from Best Buy with a free Google Home Mini for free.
---
Even if you already have a good set of Bluetooth earbuds, it never hurts to have a spare for your gym bag or luggage, especially when you can get them for this cheap. Three different styles of Anker's popular SoundBuds are on sale today, all for $26 or less. The Slims are great for general use, the Curves are ideal for exercise, and the SoundBuds Life boast a whopping 20 hours of battery life. You can't go wrong with any of them.

---
You can seemingly build just about anything with a Raspberry Pi, including your own miniature game console, and here's a great deal on the newest Raspberry Pi 3. The kit comes with a case, a power supply, and some heatsinks, so just add a microSD card, and you'll have everything you need to get started.

---
Update: Now even cheaper - just $75
You know those cool 360 videos you've seen on YouTube, or even in a VR headset? All you need to make your own is the Samsung Gear 360, and it can be yours for an all-time low $77 today.

Even if you don't have access to like, a helicopter or speed boat to capture truly jaw-dropping video, you could easily plop this thing into the middle of a party or get-together, and relive the whole thing in 360 degrees later. I wish I'd had one for my wedding.
---
There are precious few battery packs out there with USB-C power delivery, and this 26,500mAh model from Aukey is one of the most affordable we've seen.

In addition to the two standard USB output ports, the USB-C port works as both an input and high-speed output port that can charge a 12" MacBook at full speed, or charge your Nintendo Switch's battery level while playing it at full brightness. It's pretty huge, but 26,500mAh should be enough juice to power your devices for hours or days on end. Just be sure to use promo code AUXMAS15 at checkout to get it for $56.
It doesn't come with a USB-C power brick to recharge itself at full speed, but that's also on sale today for $28. You can, of course, recharge the battery with any USB charger, but this will be significantly faster.
---
Anker's reader-favorite PowerLine charging cables have blossomed into an entire line of different products, and it hasn't always been clear which one was the best:

PowerLine - The original. Rubber-wrapped, and kevlar-reinforced.
PowerLine+ - The same, but wrapped in Nylon for added durability, less tangling, and a better feel.
PowerLine II - A more durable version of the original, and backed by a lifetime warranty, but without the benefits of nylon wrapping.
That confusion can now become a thing of the past, because they've combined the best of all of their cables into the new PowerLine+ II, and you can save on the 6' Lightning version today for the first time ever. It's incredibly durable, it's wrapped in nylon, and it comes with a lifetime warranty, meaning it's probably the last Lightning cable you'll ever have to buy. Get it in black or red today for $12, or about $6 less than usual, no promo code required.
---
It's not hard to find good deals on VPN subscriptions, but our readers' favorite service, Private Internet Access, hardly ever goes on sale. This is the holiday shopping season though, so for a limited time, you can sign up for two years of the service for just $60, down from its usual $70. That's just $2.50 per month to protect your browsing data, get around video geoblocks, circumvent proxy filters, and more.

---
HDTV bias lights are nothing new to our readers, but Luminoodle's are some of the most highly-rated out there, and you can save 30% on the white models today on Amazon.

For a limited time, you can choose from all three lengths (there's a guide to help you pick on the product page, but you can trim them every two inches to get the right fit) for 30% off with promo code NZ6Y8AN2. If you aren't familiar, these ease eyestrain when watching TV at night, improve your TV's perceived contrast, and just look really cool. Needless to say, this would make for a creative holiday gift as well.
---
Anker's reader-favorite SoundCore Bluetooth speaker spawned a whole line of products, but the original model is still great, and it's never been cheaper than it is right now.

The SoundCore's headlining feature is its 24 hour battery life, and in my experience, that's a conservative estimate. It also packs in dual 6W drivers for room-filling sound, and looks pretty great to boot. It's been mostly selling for $30 lately, but you can get it for a stocking stuffer-friendly $24 today, no code needed.
Top Home Deals
Amazon's back at it again with another last minute holiday tool sale, this time with an eclectic mix of hand and pneumatic-powered gear for the DIY enthusiast in your life. The highlight of the sale is probably this 170-piece Stanley tool set for $64, but be sure to head over to Amazon to see all of the deals.

---
Amazon is steeped in discounts with this Gold Box, filled with loose leaf sets and these beautiful ceramic tea brewing cups from Tea Forté. These would make great gifts for the tea lover on your Christmas list, or for yourself, if you're attempting to drink less coffee and survive a day like a functioning human adult. But, this deal will only last until the products sell out, or through the end of the day, so don't wait oolong.
---
We've all had to throw away leftovers or cuts of meat and cheese that spent a little too much time in the fridge or freezer, but vacuum sealing your foods can keep them safe from freezer burn pretty much indefinitely, and dramatically extend their shelf life everywhere else.

It sounds like an expensive proposition, but today only, Amazon's selling the well-reviewed FoodSaver Starter Kit for just $55, complete with everything you need to get started. Of course you can use this to store meats in the freezer for a long time, but it can also keep cheese from molding, lettuce from wilting, or cookies from going stale, just to name a few examples. Think about how much food you throw away, and you'll get a sense of just how quickly this purchase could pay for itself.
---
It's 2017, and your lighter doesn't need fuel anymore, it just needs to recharge over USB. This flexible neck model is just $15 with code Y45AGCOV, is perfectly designed for lighting candles, and can spark 400 times on a charge from its 220mAh battery. We've seen it go as low as $12, but today's promo code still represents a solid discount if you need a last minute stocking stuffer.
---
Update: The Roomba is back in stock, if you missed out last week.
Want to get a robotic vacuum for someone you love this holiday season, or just buy one for yourself? A couple of models are back on sale today.

First up, the ECOVACS Slim Neo is thin enough to slip under most furniture, and is $30 off when you clip the on-screen coupon. You can also control and program it with your smartphone.
If you'd prefer the name brand, the iRobot Roomba 690 is back down to its Black Friday price of $275. This one also features smartphone controls, and you can even start or stop it with Alexa.
---
A fancier cousin to the uber-popular Rubbermaid Easy Find Lid storage set, this 14-piece Rubbermaid Brilliance set is just $20, down from its usual $25.

These top-of-the-line containers are made from stain-resistant and odor-blocking materials that are safe for the dishwasher, microwave, and freezer. With built-in vents, they're ready to go in the microwave without splattering and are 100% leak proof.
They were $4 cheaper over Black Friday, but if you missed that and are in still in need of some nice containers, today's $20 is a good price.
---
Update: If you missed it yesterday, this deal is available again, though it won't ship until January now.
Just when you thought you had car chargers pegged, Anker went out and made the smartest one you've ever seen.

Similar to the Nonda Zus, the Roav by Anker SmartCharge Spectrum connects to your phone over Bluetooth while you drive. When you turn the car off and the Bluetooth connection breaks, the Roav app will mark down your parking location on a map, so you can find your way back.
Perhaps more usefully, every time you start your car, the SmartCharge will also log the health of your car battery, so you can track its charge over time from your phone, and get a replacement ready before you get stranded in your own driveway.
Those features alone (along with Quick Charge 3.0 charging) would make this worth $16, but it does have one last trick up its sleeve: A customizable accent light. The LED ring around the USB ports can display 16,000 different colors, and you can choose your favorite from the app to make it perfectly match (or stand out from) your car's own dashboard lighting.
---
We see solid Dremel discounts pretty frequently, especially around the holidays, but I think this is the first time Amazon's ever bundled free gift cards with your purchase. Three different Dremel products are included in this deal: A cordless rotary tool, an oscillating tool, and a handheld saw. Just add one to your cart, add in a $25 gift card (you have to add it to the cart yourself), and you'll get the gift card for free.

The cordless oscillating tool at $79 is a particularly enticing deal here, as that price is only $5 more than its all-time low, making this the best deal ever on that particular rotary tool. If you give it to someone as a gift, we won't tell them that you kept the gift card for yourself.
---
Save a couple of bones on food, toys, gifts, or whatever else your furry friends might need with this $50 Petco card for $40 with code PETS10.
---
If you want to grind your own coffee beans at home (and you really should if you want the best flavor), you could do a lot worse than the Cuisinart DBM-8. It's affordable, it's dead simple to use, it includes 18 coarseness settings, and it looks great.
---
You've heard of Automatic's smart driving assistant, but if nearly $100 is too rich for your blood, this cheap OBD2 dongle connects to any iPhone or Android device over Wi-Fi, and can fulfill many of the same functions using various third party apps.

The most obvious use case here is understanding and clearing check engine codes, but these things give you access to pretty much all of the sensor data in your vehicle, at a much more granular level than you'd get from all of the symbols in your instrument cluster.
---
It's not exactly the beach season that most people think of, but these 2-packs of AmazonBasics beach towels have never been cheaper. Amazon has discounted three colors, now priced between $15 and $16 . Who says you can't use beach towels year-round?
---
Those big, fancy swing arm lamps aren't just for architects and lawyers in dramatic films; you can clip this one from OxyLED onto just about any desk for $47 today with code OXT4SPRO. That's the best price we've ever seen, and even if you don't need it yourself, it could make a nice gift for the night owl in your life.
---
Sous-vide was already a stupid-simple way to make incredible meals with minimal fuss, but Mellow's sous-vide cooker has features that redefine convenience.
Let's say you want a sous-vide steak for dinner. Normally, you'd have to get home from work, wait for your circulator to heat your water to the correct temperature, and then wait another hour or more for your food to cook. If you have a Wi-Fi-connected circulator, you could start the water heating process on your way home, but you'd still have to wait around while the steak cooks. Mellow fixes this hang-up with one key addition: Refrigeration.
With Mellow, you prepare your meals before leaving in the morning, or even the night before, specify what time you want to eat, and place your food bags in the cooker. Mellow will keep the water cold enough to keep food from spoiling, and start the cooking process just in time for your meal to be finished as you walk through the door. It's sort of like a slow cooker, but instead of mushy cat food, it produces restaurant quality meats and vegetables.
Mellow normally costs $400, but it's $100 off for the holidays, and you can add a pack of 20 bags for free with your order with promo code GIZMODO10. Just be sure to add both the bags to your cart (you'll see the option after adding the cooker to your cart) to make the code work.
---
The great thing about Philips Hue is that your fancy lighting profiles aren't limited to standard bulbs; the Hue LighStrip Plus lets you to stick a rope of color-changing, Wi-Fi connected lights anywhere in your house.

This LightStrip Plus is compatible with Alexa, Google Assistant, and Apple HomeKit, and it hardly ever goes on sale, but while supplies last, you can pick it up for $60. That's $10 more than it was on Black Friday, but otherwise, a fantastic deal. This kit includes a 6' strip, but you can add on 40" extensions for a (comparatively) affordable $30, if that's not quite long enough.
Just note that you'll need a Hue Bridge to control this thing; it's not a starter kit on its own. That said, the official 4-bulb Hue Starter Kit is also still on sale for $140, within $5 of an all-time low.
---
The shower head that came preinstalled in your home or apartment is probably terrible, but if you don't have the cash to upgrade it to a Delta In2ition, the Delta 75152 is a fantastic option for just $14, an all-time low.

Aside from a single switch that toggles between 2.5 and 1.85 gallons per minute, this showerhead doesn't have any notable features to speak of. But I can tell you from years of experience that its water coverage is beyond excellent. Each of the four valves uses Delta's H2Okinetic system to agitate the water and create a full, perfectly dispersed wall of water, rather than four individual streams. It's a difficult sensation to describe, but I absolutely recommend you try it for yourself, especially at this price.

---
Sugru is right up there with binder clips and the Raspberry Pi in Lifehacker's pantheon of must-have gear, and you can stock up today with four black and four white packs from Amazon for just $11, the best price Amazon's ever listed.

---
Germaphobes rejoice! Pick up eight travel-friendly hand sanitizer bottles for $10, the lowest price it's been since this time last year. These would also make a very practical stocking stuffer.
---
If you have any flights on the horizon, this discounted Southwest gift card can make your ticket just a little bit cheaper. The best part is that even if you book the lowest fares, you can always change them with no penalty, and even cancel for a refund in the form of a 1-year voucher.
---
Stainless steel vacuum insulated tumblers make great stocking stuffers, and RTIC's newly redesigned 30 ounce and 40 ounce models are both on sale for $10 or less.