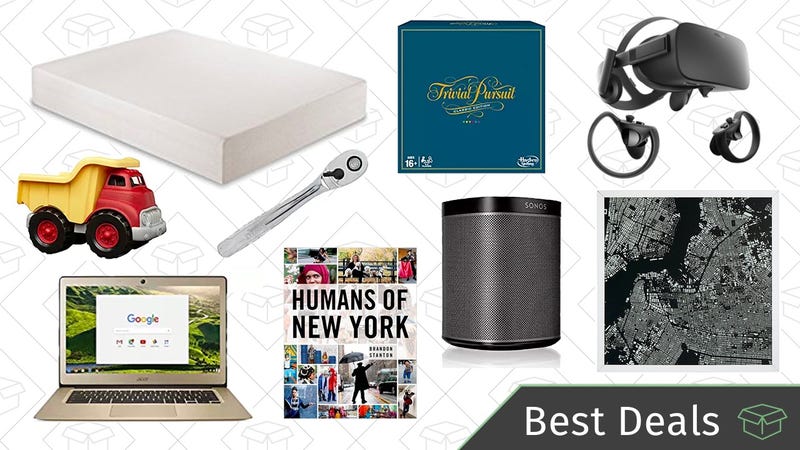 Discounts on laptops, monitors, and modems in Amazon's tech Gold Box, $5 off any $15+ book, and a SONOS speaker sale kick off today's best deals.
Bookmark Kinja Deals, follow us on Twitter and Facebook, join our Kinja Deals Community group, and sign up for our Kinja Deals messenger bot for the latest updates!

Top Tech Deals
Yesterday was supposed to be electronics day in Amazon's 12 days of deals, but today's TV and PC sale would have fit right in.

There's an eclectic mix of products in here, including a lot of computer monitors, laptops to fit any budget, and even a sole (somewhat underwhelming) 1080p TV from Samsung.
Let's start with the laptops: Your best value on the low end will come from the 1080p Acer Chromebook 14, but there are a few Chromebook 11s available for less. There are also a lot of gaming laptops in here, including several Razer Blades, but you'll get the most value from this $1,000 Acer Predator Helios, which includes a GTX 1060, Core i7, and even a bundled VR headset.
As far as monitors go, you won't find any 4K options here, but you can't go wrong with a 24" IPS display for $110, or Dell's ultrawide 3440x1400 model for $500, a ~$150 discount.
There are also a few scattered accessories worth checking out in here, including a fast cable ISP modem for $60, an $80 router (actually $70 if you clip the $10 coupon on the product page), and a Swiss Gear laptop backpack for $40. That's really just scratching the surface though, so be sure to head over to Amazon to see the entire wide-ranging sale.
---
If you didn't pull the trigger on SONOS discounts during Deals Week, you've got another chance today to save on the entire lineup, including a few sales that are actually better than what we saw last month.

The PLAY:1 for $134 is an absolute steal; $150 is about as low as we've ever seen it go before today. Ditto the PLAY:3 for $224, or about $25 less than it was over the holiday. The Alexa-enabled SONOS One is a few bucks more than it was over the holiday, but $20 is still a solid discount for the brand new speaker
On the TV side of the equation, the PLAYBAR and PLAYBASE both have $70 discounts, which aren't quite as impressive as the $100 price drops we saw last month, but now you can save on the SONOS SUB as well, which never went on sale at all during Deals Week.
---
It's aluminum, it's adjustable, it holds any device, and it's $8. What's not to love about this desktop phone stand?
---
Since coming out with our readers' favorite budget action cam, Yi has since added a 4K and 4K/60 model to the lineup, but now, they've circled back and developed an upgraded version of their ever-popular entry-level camera.

Compared to the original Yi Action Cam, the Yi Lite adds a 2" touchscreen, 4K/15FPS recording, and improved 2+ hour battery life. At $65 on sale (compared to a current price of $48 for the original), it's a no-brainer upgrade for the screen alone, which helps you line up your shots, and also makes it much easier to change the camera's settings.
Note: You can also get the head strap mount for free with your purchase. Just add it to your cart, and you should see the discount at checkout.
---
Update: We're having some trouble with this promo code, and will update the post when it's working.
For iPhone and iPad owners, there's no such thing as owning too many Lightning cables. So buy two cables for yourself, or stuff someone's stocking with a 3' and 6' cable for just $10.

---
The most versatile member of Anker's insanely popular PowerCore battery pack family pulls double duty as a USB wall charger, and you can save $8 on the white model with promo code XMAS1621.
I've owned the Fusion since it launched earlier this year, and it's an indispensable part of my bag. Now, rather than traveling with a wall charger, a battery pack, and a microUSB cable to recharge said battery, all I need is the Fusion and my Apple charging cables. You can read all of my impressions here, and then head over to Amazon to get yours for $22.
---
Whether you need a small card for a dash cam, or a ton of space for Nintendo Switch games and 4K GoPro footage, these Samsung microSD cards are cheaper than they've ever been, in all four of the capacities listed below.

---
We thought Amazon was just about done with discounts on their own gadgets for the year, but a bunch of new deals launched this morning, some of which are actually better than Black Friday.
Check out all the device discounts here.
---
VPNs are in the news a lot lately, and whether you want to hide your tracks, or just watch videos that would otherwise be geoblocked, there are several great deals available out there to get you started.

If you can commit to five years, PureVPN is going to be your best bet at a measly $70, which works out to just $1.17 per month. PureVPN encrypts and obscures all of your internet traffic from everyone from malicious hackers to your ISP to the government, and includes some cool features like a kill switch to automatically disconnect your Wi-Fi if the VPN stops working, as well as split tunneling, which can route some of your traffic through the VPN, while letting the rest go through your ISP as normal.
If you don't want to commit to the same company for that long, or would just prefer to use a different provider, NordVPN's holiday offers are still in effect as well:
Lifehacker has recommended Nord in some previous guides, but if you have any firsthand experience with the service, sound off in the comments!
Top Home Deals
If you haven't replaced your metal spring mattress with a giant block of foam that you bought on the internet, what are you even doing with your life? Right now, Amazon's marking down this Zinus memory foam mattress, today only. A queen will run you $179 and a king is $204.

Note: Prime Members who have never bought furniture might get an extra 15% off coupon.
---
If the winter air is zapping the moisture out your skin, giving you consistently chapped lips, and killing your sinuses, fight back with this discounted PureGuardian humidifier. It's part of Amazon's Gold Box deals today, bringing it down $10 from its usual price to just $25.

This model has a 30-hour run time, so you won't have to be refilling it too often. This deal only lasts through the end of the day or until it sells out, so get yourself one before this deal dries out.
---
Anti-fatigue mats can make standing for periods of time significantly less painful on your joints. So, you might spread them all over your house, with this 5-pack from AmazonBasics for just $108, which is $30 less than usual and just a little over $21 per mat.
If you need some ideas on where to put them, consider placing one at your kitchen sink, stove, washer/dryer, workbench, and a standing desk.
---
Anker's HomeVac Duo vacuum transforms from handheld to upright, has the impressive runtime you'd expect from the brand that makes your favorite battery packs, a washable HEPA filter, and a great warranty. That's quite a package for $70 with code XMASHVAC (red or white only), the best price we've ever seen.
This was Anker's first foray into cleaning products, and reviewers seem to love it. It'll run for 24 minutes on a charge at full power, or an hour in eco mode, which should be sufficient for most average-sized homes. The standout feature though is definitely the detachable hand vac, which lets you clean furniture, shelves, and even your car with ease.
---
Anova dominates the sales charts, but in many ways (raw heating power, looks, size, software quality), the Joule sous-vide circulator is actually the superior product. Although not as big as its Black Friday discount, Amazon is running a rare $20 off today off two models.

The Joule White is actually a new model of the Joule, swapping the original's stainless steel top and base with white plastic to match the rest of the unit. Otherwise, it's exactly the same as the Joule White/Stainless, and usually retails for $20 less at $179. Today's sale though is a great chance to save a bit more.
The steel version is also $20 off, but at $179, there's really no reason to buy it over the white model, unless the white sells out.
---
Perfect for small kitchen, this magnetic strip will keep your knives accessible without taking up counter space and looks way cooler than a knife block.

It would also work well for tools like drill bits, or if you're getting creative, you can use magnets in the lid of jars to store just about anything.
For just $12, it's hard not be attracted to it.
---
You can keep the charm of Christmas lights going the whole year with this commercial-grade set of string lights. These lights are completely weatherproof and they normally sell for $50, but today you can string them up for $35. Although it might not be ideal outdoor-lounging weather where you live, this a great deal, so buy them now and save them for when the weather warms up.

If you'd like dimmable lights, you can pick up this deal for the same price.
---
We've seen a few deals recently on Amazon's new AmazonBasics rolling luggage, but if you need more space and expandability, their new Ripstop rolling duffels just got their first discounts ever. Save $18 on the 30" model, or $10 on the supersized 35", both of which should hold enough clothes for multiple weeks away from home.

---
Mechanics tools make great gifts for the tinkerers in your life, and this one-day Amazon sale includes deals on everything from single ratchets to an entire 247 piece set. A few options are highlighted below, but be sure to head over to Amazon to see the complete list.
---
You might not have an immediate need for a pressure washer, but if you own a home, it's a useful thing to stash in the back or your garage. Today only, Amazon's spraying out deals on a couple different models from GreenWorks, plus a bunch of accessories.
The washers themselves are just $68 and $77, so if you don't already own one, this is a fantastic opportunity to save. Just remember that these prices are only available today, so get yours before they're blasted away.
---
In their continued effort to become the place you get literally everything you could ever need, Amazon now makes (pretty nice looking) home decor. Rivet and Stone & Beam feature modern styles, their collections of artwork and prints are all 20% off. Photos, canvases, wood murals, and more are included, so if you have some wall space you need to fill, this is perfect.
---
The Cabeau Evolution was your favorite travel pillow (by a long shot), and you can save 20% on yours today in a repeat of their Black Friday sale.

Unlike cheaper travel pillows that you have to inflate with air, the Evolution is made of memory foam, and wraps all the way around your neck to provide support no matter what direction your head falls when you nod off. You won't win any fashion awards while you're using it, but you won't care, because you'll be asleep.
These pillows hardly ever go on sale, so if you have any holiday travel plans on the horizon, you won't want to miss out on this one.
---
If your wiper blades have seen better days, Amazon's discounting a variety of Michelin Stealth and Bosch Insight blades right now.
Unlike a lot of previous wiper blade sales, there are no coupons to clip or in-cart discounts here; the prices listed are the prices you'll pay. The deals vary a bit by wiper blade size, but you'll be spending about $10-$12 per blade, which is about $4-$6 less than usual, in most cases.
---
Update: Back in stock for $31, if you missed it last week.
Victorinox's Fibrox 8" chef's knife is one of your favorite chef's knives period, and by far the best value in the industry. It's also the knife I've used almost every day for almost five years. Amazon has it for $31 right now, which is an absolute steal for the quality you're getting.

You can also get a four-knife Fibrox set for $104, if you want to upgrade your entire collection.
---
Today's $5 price on this reusable set of silicone baking cups is an all-time low and is just in time for the height of holiday baking season. Plus, they would make great stocking stuffers for the baker in your life.
---
One of the only downsides of cast iron pans is that they can be a nightmare to clean, but this 4.7 star-rated chainmail scrubber can scrape away caked-on food without hurting your seasoning, or resorting to soap. No wonder a similar item is in our bestsellers club. Today's $10 deal isn't the lowest price we've ever seen, but is still a decent discount from its usual $15 price.
---
Giving a flask as a holiday gift might be a little bit iffy, but if you know someone that would like one, Stanley's classic 8 ounce model has never been cheaper, as long as you don't mind their iconic Hammertone Green color scheme.

---
You can't control it from your smartphone like a Philips Hue Lightstrip, but this 16.4', 300 LED light strand from Aukey can glow in several different colors, is capable of daisy chaining for longer stirps, and is even water resistant if you want to set it up on your patio. Oh, yeah, it's also just $18 with promo code AUSALE07.

---
---
No matter how great your kitchen knives are, they all need some tender loving care from time to time. This $7 Lansky BladeMedic includes two v-sharpeners, a fold-out sharpening rod, and a ceramic sharpening edge for serrated knives, all in a handheld package that can fit into any kitchen drawer.

This thing amazingly has a 4.6 star review average from over 3,000 customers, and it's sold out within a few hours every time we've posted it at this price, so I wouldn't wait.
Top Lifestyle Deals
Uniqlo's hopping on the Daily Deals bandwagon, and today it's two kinds of fleece for $15. Men can pick up a fleece zip jacket, which is perfect for layering and women can grab the same style, but it's fluffy. Plus, there's free shipping on everything.
---
Dorco, the best deal in razor blades, and the only company crazy enough to make a 7-blade razor, will sell you their take on the safety razor complete with a mirror and 30 blades for