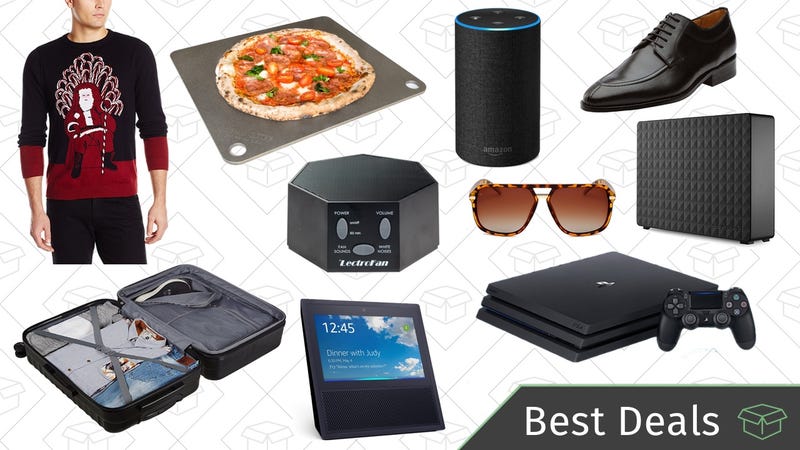 A few different models of Amazon Echoes, Privé Revaux sunglasses, a steel pizza stone, and much more are all part of today's best deals.
Bookmark Kinja Deals, follow us on Twitter and Facebook, join our Kinja Deals Community group, and sign up for our Kinja Deals messenger bot for the latest updates!

Top Tech Deals
If you missed your chance over the holiday weekend, Amazon's once again marked the brand new Echo down to $80, an all-time low. The same $20 discount also applies to its high-end wood finishes, but personally, I think the fabric options look great.

You can also bundle it with a four-bulb Philips Hue starter kit for $250, which effectively acts as a $30 discount on the Hue kit. That's not as good a deal as we saw on Black Friday, but it's not bad if you missed out.
---
Amazon has long offered a buy two, save $100 offer on the touchscreen-enabled Echo Show, but they just bumped that up to $150, if you want to buy a couple for the holidays. That brings the effective price of each down to $155, easily besting Amazon's $180 Black Friday offer, as long as you're willing to buy two. All you have to do is add two to your cart, and you'll see the discount automatically.

---
Update: Back in stock, and the $5 smart plug is now available with a whole host of Alexa devices. The Dot is the only one currently discounted though. 
In addition to last week's smart lighting bundles, Amazon is currently throwing in a TP-Link Smart Plug for $5 when you purchase an already-discounted Echo Dot for $30.

These switches effectively add smartphone and voice control to anything with an on/off switch, including, it must be said, Christmas string lights. I can turn my own tree on just by stating "Alexa, turn on Christmas tree" into the void.
This deal also works with the as-yet unreleased Echo Spot, which has yet to receive a discount itself at any point, obviously.
---
It's 2017, and your lighter doesn't need fuel anymore, it just needs to recharge over USB. This flexible neck model is just $12 with code C2YFTPRG, is perfectly designed for lighting candles, and can spark 400 times on a charge from its 220mAh battery.

And if you missed it over the weekend, the pocketable Sparkr Mini (which includes a built-in flashlight) is still on sale for $24, down from its usual $30.
So what's so great about these? Compared to regular lighters, there are three main advantages.
Fuel - This lighter doesn't need fuel; you recharge it over USB. How cool is that?
Wind - Since it's using tiny electrical coils to create heat rather than an open flame, it can't be blown out.
Orientation - You can use a plasma lighter upside down without burning your fingers, which makes lighting candles a lot easier.
Bonus, #4 - they're cool as hell. Nobody denies this.
---
Anker's reader-favorite SoundCore Bluetooth speaker spawned a whole line of products, but the original model is still great, and it's never been cheaper than it is right now.

The SoundCore's headlining feature is its 24 hour battery life, and in my experience, that's a conservative estimate. It also packs in dual 6W drivers for room-filling sound, and looks pretty great to boot. It's been mostly selling for $30 lately, but you can get it for a stocking stuffer-friendly $24 today, no code needed.
---
You can seemingly build just about anything with a Raspberry Pi, including your own miniature game console, and here's a great deal on the newest Raspberry Pi 3 Model B. The kit comes with everything you need to get started, and will only set you back $58 with promo code IWYUJQSR.

These Raspberry Pi deals tend to sell out within hours, so don't wait too long.
---
If you aren't onboard with the sound bar's recent dominance of home theater audio, this 7.2 channel Pioneer receiver has just about every feature you could need for under $300, including Bluetooth, Wi-Fi, Dolby Atmos, 4K/60 passthrough...you get the idea. That's an all-time low price for this model, which had only once sold for under $400 until a few weeks ago.

---
If you know anyone in your family that's bad about backing up their computer (most of them, probably), one of the best gifts you can give them this year is an external hard drive. Both the 8TB and 3TB models of this Seagate drive are great deals today, and they should both hold plenty of movies, photos, music, or even console games.

---
Anker's first set of truly wireless earbuds is finally here (under its new ZOLO audio umbrella), and you can get them for half the price of AirPods today with a 20% clippable coupon.

The ZOLO Liberties run for 3.5 hours on a single charge, but include a charging case that packs an extra 24 hours of listening time. You also get on-board buttons for audio control, one-tap access to your phone's virtual assistant, and unlike AirPods, a bunch of different tips to customize your fit.
You might recall an Anker crowdfunding campaign several months ago for these, but that campaign was actually for the Liberty+, which are shipping early next year. Those will have slightly bigger drivers and a battery case with 48 hours of extra capacity, and will be priced at $150.
---
Anker's PowerCore line of battery packs have been our readers' favorites since they debuted, and now you can save on two different sizes of its sequel, the PowerCore II.

Cosmetically, the PowerCore IIs look very similar to the original PowerCores, but with more precise eight-dot charge indicators so you know how much juice you have left. But inside, they've been upgraded with Anker's new PowerIQ 2.0 charging technology, which delivers the fastest possible charging speed to your devices, including Quick Charge-compatible phones. That speed works both ways, as the entire battery will recharge in four or five hours (for the 10,000 and 20,000mAh models, respectively) if you plug them into a QC wall charger.
---
A really good Lightning cable is a great stocking stuffer for any iPhone owner, and two of the best are on sale right now.

Your options are a 6' nylon-braided PowerLine+ cable for $13 (no code needed), or a 3' PowerLine II cable for $10 with promo code KINJA843. The braided shell of the PowerLine+ will feel nicer, but the PowerLine II comes with a lifetime warranty, so you can't go wrong either way. Both are offshoots of Anker's reader-favorite PowerLine product line, and either one will make Apple's first party cables feel like cheap toys.
USB-C device owners, there's a deal here for you too.
---
If you've been meaning to buy yourself some noise canceling headphones, there's no time like the present. These Sony XB950s are all the way down to $113 today, besting their already-great Black Friday price by $10. They would also make a great gift for anyone that spends a lot of time on planes or trains.

---
If you missed out on Sonos' Black Friday discounts, their $50 discounts on the PLAY:1 and PLAY:3 speakers are still available. Sonos speakers hardly ever go on sale, so if you've been wanting one for yourself, or plan to give one as a gift, I wouldn't recommend waiting.
---
Anker's SoundBuds are our readers' favorite affordable Bluetooth headphones, and the newest version just dropped to an all-time low $18.
The SoundBuds Slim are, as you might have gleaned from the name, far smaller than the originals. Heck, they look like a small set of wired earbuds; you might never guess there were batteries and Bluetooth radios in there. Despite the size, these buds are still rated for seven hours of battery life, and recharge fully in just 90 minutes.
---
VPNs are in the news these days, and with good reason. So if you're curious to sign up and start protecting your browsing history and personal data (or, you know, getting around websites' geoblocks), NordVPN charges less per month than a typical trip to Starbucks.
NordVPN has long been one of the most popular and reliable VPN providers out there, and if you sign up for a one-year membership, promo code VIP70 will drop your annual price from $69 to $48. If you're sure you want to commit, use this link to get a special two year plan for $79 with code 2YSpecial2017, or this link to get three years for $99 with code 3ydeal. Lifehacker has recommended Nord in some previous guides, but if you have any firsthand experience with the service, sound off in the comments!
Top Home Deals
Pizza stones help you quickly achieve crispier crusts (or crispier anything) in the oven, and the best one you can buy has a rare discount today, just for our readers.

While most stones are made of ceramic, NerdChefs are basically just solid 1/4" - 1/2" slabs of food-grade stainless steel. That means they're heavy as hell (16-32 pounds), and absorb heat like a sponge to achieve crispy crust nirvana in half the time of a traditional pizza stone. As Shane notes over on Gear, you can even just leave one of these things in your oven to act as a heatsink to regulate its temperature.
By virtue of their weight, NerdChefs are expensive to ship, and basically never go on sale, but our readers can save 10% today on any of the three models with promo code BAKEMODO, plus free Amazon shipping. If you have anyone on your holiday shopping list that likes to cook pizza at home, this will be the best gift they receive this year.
---
Forget trying to find quarters under your car seat and paying way too much for 3 minutes of air, and get this $22 tire inflator with code 975WIE8H. You can fill up your tires whenever and wherever you please for free. Keeping your tires properly inflated helps improve gas mileage so this guy will basically pay for itself. It also works on bike tires.
---
---
If you need a luggage upgrade before heading home for the holidays, a couple of Amazon's new AmazonBasics spinner suitcases are on sale right now.

This $41 softside carry-on is within a few cents of its best price ever, and at 21", it should fit comfortably in almost any overhead bin. If you're checking a bag, their 24" hardside spinner is down to an all-time low $52 as well. These are still fairly new products, but their early reviews are great.
---
Unless you have absolutely perfect knife skills and a lot of time, mandolines put precise, uniform cuts in the realm of possibility. This mandoline slicer is just $49 today, which is shaved down about $11 from it's usual price.
It features a dial to set your desired thickness and three different cut options; straight, crinkle, and waffle. But the options go way beyond french fries, this machine will cut stir-fry prep down to just minutes.
Although it has a protective cover to keep your fingers away from the blade, if you want to be extra careful, pick up a pair of these cut-resistant gloves, which are $1 off today.
---
$437 is a lot to spend on a vacuum cleaner, but the Dyson Cinetic Big Ball Canister vac has quite a few tricks up its sleeve:

Dyson Cinetic technology means no filters, no bags to buy, and no loss of suction.
When it topples over, it stands back up on its own.
A dirt ejector...ejects dirt when you empty the vacuum, so you don't have to touch it.
The thing's a behemoth, and it's still not cheap, but it's one of the best vacuums Dyson makes, and it legitimately normally sells for $600. $437 is the best price Amazon's ever listed, so if you're in the mood to splurge, this really is a huge discount.
---
Making a coffee/espresso hybrid drink, this Bialetti Moka stovetop espresso maker is one of Lifehacker's favorite ways to make coffee. This thing was invented in the 1930s, but their method hasn't needed an update - Amazon reviewers have awarded this a 4.4-star rating and almost 7,000 Amazon reviews.
This 3-cup version is great if you're drink coffee solo, and normally floats around the $25 mark, so today's $19 price is a solid discount.
---
If you've ever spent more than 5 seconds sorting through your mismatched food containers to find the right lid, it's time to throw them all out and upgrade to the uber-popular Rubbermaid Easy Find Lid system.

These containers come in six different sizes, and yet you only have to deal with three different lids, making it much easier to find the right one. The 42 piece set is on sale for $15 today on Amazon. We've seen better prices in the past, but this set has been selling for around $20-$24 pretty consistently this year, so you're saving between $5 and $9. Not too shabby.
---
Slice into this deal on a well-reviewed 18-piece knife set from Chicago Cutlery. Normally priced at around $95, today's $76 price tag is the lowest it's been in months. Plus, it has a very impressive 4.4-star rating with 1,700 reviews, so chop, chop!
---
If you need a little extra help getting your house together for holiday guests, let Amazon pitch in for $30 less today.
For cleaning services, you simply select the size of your home. For handyman services, you estimate how many hours you'll need them and note whether they'll be inside or outside. Examples of applicable handyman jobs might be installing a garbage disposal, mounting a TV, or drywall repair. For both services, you'll see the $30 discount at checkout.
Unfortunately, Amazon isn't set up with providers everywhere in the country, but if you live in a covered area, this is as great deal.

Just note that you'll have to complete the checkout process with the local provider by 12/21, and you'll have to schedule service within 90 days.
---
Anker makes night lights, and they don't even have to be plugged into a wall. You just stick them anywhere, they turn on when it's dark enough and they detect motion, and you can get three of them for $11 today with promo code NIGHT999.

Just note that they run for up to a year on three AAA batteries each (not included), so you'll want to pick up some rechargeables.
---
If excessive noise (or utter silence) makes it difficult for you to doze off, this feature-packed white noise machine might be the key to a better night's sleep.

LectroFan can pump out 10 white noise sounds and 10 fan sounds, all of which are generated dynamically, without any jarring looping. Today's $35 price tag is an all-time low, and $25 less than usual, but it's only available today as part of an Amazon Gold Box deal.
---
Every year around the holidays, Amazon offers a limited edition teddy bear when you order gift cards of certain denominations, and it never lasts long. 2017's bear just went live on gift cards ranging from $100-$500, so lock in your order before they're all adopted.

Note: This is exclusive to Amazon Prime members.
---
Update: This deal is back if you missed it over Black Friday.

Cooking eggs isn't exactly rocket science, but I'd say the ability to make soft, medium, and hard boiled eggs, plus omelettes and poached eggs at the touch of a button is worth $16. The Dash is Amazon's top-selling egg cooker, and carries a stellar 4.5 star review average from nearly 4,500 customers, so get it while it's on sale today!
---
OxyLED is best known for its battery-powered light strips, but this discounted kit plugs into an AC outlet, and is designed specifically for under-cabinet installation.

The kit comes with three foot-long LED light bars, plus three connecting cables. You can either plug the bars into each other to create a longer strip, or use the cables to snake around corners and extend your setup. Once it's all installed, just use the touch-sensitive power button to turn them on and adjust the brightness, and enjoy a well-lit countertop while you prepare dinner.
---
I was in the camp of people who felt like aromatherapy diffusers were glorified Glade plug-ins. And they are to some extent, but the fact you can use natural essential oils to create the scent, rather than whatever Glade uses, is a real game changer. The peppermint and eucalyptus scents can help with migraines and sinus headaches as well help humidify the air during drier winter months.
This diffuser is just $13 (with code MYNT3173), has two different aromatherapy settings (intermittent and continuous mist), and doubles as an LED light with seven color options. Throw in this 6 pack of essential oils and you're all set.