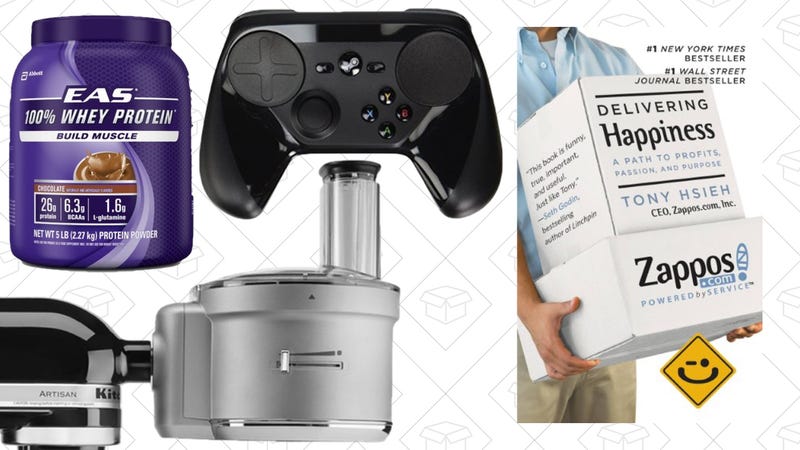 EAS protein powders and supplements, business Kindle books, and a great KitchenAid food processor accessory lead off Thursday's best deals.

Bookmark Kinja Deals and follow us on Twitter to never miss a deal. Commerce Content is independent of Editorial and Advertising, and if you buy something through our posts, we may get a small share of the sale. Click here to learn more, and don't forget to sign up for our email newsletter.

Top Deals
Much like last year, it seems that January is Amazon's month for offering big discounts on protein powders and fitness supplements. Today, it's EAS's turn.

Inside, you'll find protein powders and ready-to-drink shakes, all for great low prices. We'll probably see more deals like this in the coming weeks, but if EAS is your brand of choice, these prices are only available today, or until sold out.
---
While they aren't quite as adjustable (5-pound increments vs. 2.5), or heavy (45 pounds vs. 52.5) as Bowflex's SelectTech adjustable dumbbells (still on sale for $236), Nautilus's PowerPak is still a solid, space saving piece of gym equipment for an all-time low $199. Just note that you'll need to be a Prime member to lift this deal.
---
From now until 8PM PT (11PM ET), eBay is taking $15 off any $75 order (with a few exclusions) when you check out with Paypal and use code CNEWYEAR15OFF at checkout. This time around, it doesn't include gift cards but there are tons of awesome options.
---
Whether you're a slow typist, are a carpal tunnel sufferer, or just want to feel like you're living on the Starship Enterprise, Nuance's Dragon dictation software can make your voice as powerful as any mouse and keyboard. If you're curious to try it out, Amazon's hosting a Gold Box deal today.
Windows users can choose between Dragon NaturallySpeaking Home ($30) or Premium ($61), and you can see the differences in the chart below. Mac users only have one option: Dragon for Mac, marked down to $40. Those are all at or near all-time low prices, so if you've had your eye (or ear) on this software, I wouldn't hesitate to take advantage of this deal.
---
If your new year's resolution is to become a better employee, manager, or entrepreneur, Amazon's discounting dozens of business books for Kindle to just a few bucks each, today only. A few of the most popular titles are below, but commute over to Amazon to see the full list.
---
Update: Sold out.
If you missed out during the holidays, the popular Steam Controller is back on sale for $35, matching an all-time low, now with an included case. That case retails for $20 on its own, so don't miss out.
---
If you've tried an unamplified HDTV antenna (like the standard Mohu Leaf), but can't quite pull in every channel you want, this leaf-style model includes a USB-powered amp that should add a few miles of range. Promo code JVQNT9WG brings it down to just $16, which is one of the best prices we've ever seen on an amplified antenna.
---
We see our fair share of water-resistant Bluetooth speaker deals, but the Mpow Buckler has been one of our readers' favorite models to date, probably thanks to its ingenious suction cup design that you can stick to your shower wall.
---
Whether you're enticed by the idea of a Bluetooth-connected toothbrush, or just want it to get off your lawn, $60 is a great deal for an Oral-B Pro 5000 toothbrush with a pressure sensor, five modes, and compatibility with several different brush heads.

If you want to pair it with your phone to track your brushing habits and learn which parts of your mouth aren't getting enough attention, great! If not, it's still worth buying at this price. Just be sure to clip the $15 coupon to get the lowest price ever.
---
It's no secret that you all love the PowerLine lightning cables from Anker, and a ton of other Anker products. So what better way to start 2017 than to stock up? Grab a 3-pack of PowerLine lightning cables for only $20, a PowerPort wall charger with quick charge for $24, and more. Just not the discount codes below.
---
USB-C's time will come, but in the meantime, we all need some old fashioned microUSB cables, and you won't find a better deal than a 5-pack for $4, with Prime shipping. Three of them are 3' long, and two are 1', which are great for traveling.
---
For just $5-$6 today, you can sip your drinks in style with a four pack of stainless steel drinking straws, either bent or straight. I own the bent ones, and use them for everything from Coke Zero to Moscow Mules. And don't worry, they come with a little tube cleaner to help you wash them.
---
The 5.7" Moto X Pure "does Android better than Google," and Best Buy's selling 64GB models in black, white, and bamboo for an insanely low $250 unlocked. That's far and away the best price we've ever seen for that capacity, but we don't expect it to last long.

---
In terms of video quality, it's no GoPro, but there's no more adorable action camera on the market than Polaroid's Cube. If you want a basic 1080p action cam without spending a ton of money, you could do worse for $60, an all-time low.
---
Your KitchenAid is good for more than just mixing doughs and baking cookies: With this special attachment, it transforms into a full-fledged food processor, and the kit has never been cheaper.

$116 gets you the food processor attachment with the commercial dicing kit, while supplies last. With the included blade discs and the thickness slider on the unit, you can slice, shred, julienne, and even cube just about anything in your kitchen, to the exact specifications your recipes require. It's like your own personal sous chef.
---
It may say 30% off on the Levi's site, but enter the code SALE40 at checkout, and you're in for a treat. Levi's ramped up their sale discount from 30% to 40% off all sale styles. And the great thing about the Levi's store is that it isn't just denim.

I finally got my hands on a pair of the infamous Wedgie jean, and I love them (the Joshua Tree wash is on sale for $42). My most recent purchase was this really comfy sweater that I have worn at least three times in the past two weeks.
---
If you didn't get your denim fill during the Levi's sale, maybe check out Uniqlo's crazy-good deal on jeans. All women's styles are $30 and all men's are $40, including selvedge denim and HEATTECH jeans.
---
Around these parts, it's starting to get uncomfortably cold. So, if you haven't stocked up on winter essentials, this one's for you. Not only is Moosejaw marking down a bunch of The North Face stuff, use the code NACHO10 and get an additional 10% off.

---
Humble's Game Dev Software bundle is full of...software for game developers, but two of the apps are worth the purchase price for anyone.

If you beat the average donation (currently $6.73), you'll get a year of Todoist Premium, even if you're already a subscriber. Todoist has long been a Lifehacker favorite in the crowded to-do list manager space, and the Premium features normally cost $29 per year.
If you donate $10 or more, you'll also get a year of 1Password Families, though only for new members. The Families membership normally costs $5 per month, and lets up to five people access the apps, and share passwords between accounts (or not). I've been using 1Password for years, and couldn't get by without it.
---
This isn't a new deal by any means, but since Mass Effect: Andromeda just got a release date, it bears repeating: Prime members can save 20% on all (physical) video game preorders and new releases, meaning you'll only spend $48 on Andromeda, or $56 for the Deluxe edition, which includes a soundtrack and some in-game items.
---
$30 is a solid great price for any LED desk lamp, but it's one of the best we've ever seen for a model that includes a USB charging port and adjustable color temperature, which can seriously boost your productivity. Hell, it even includes an LCD display that shows you the time, date, and current air temperature, which nobody ever asked for, but actually seems kind of cool.
---
We've seen a lot of deals on Bluetooth car receivers, but I don't think any of them have looked as nice as this model from Aukey. It even comes with two extra USB ports to keep your phones charged.
---
2016 was the year of wireless headphones, so if you still don't own any, it's past time to join the future. $45 is the best price we've ever seen on Sony's MDRZX330BTs, so if you like on-ears, it's time to cut the cord
---
USB charging standards are changing fast, but this $13 car charger is about as future-proof as they come. In addition to a pair of 2.4A USB-A ports, you get a Quick Charge 3.0-compatible USB-C port for newer devices as well, allowing you to get the most juice possible out of your daily commute.

In case you missed it yesterday, Aukey's ultra-popular 4.8A mini car charger is also on sale for $7.
And if you want Quick Charge 3.0, but not USB-C, here's a dual-port charger for $8.
---
If you're going to focus on one exercise to get into better shape for 2017, a rowing machine works just about every muscle in your body, and you can own one for just $64 today, with free shipping from Amazon.

Obviously, this machine is about as barebones as they come, but you do get 12 levels of resistance, and it'll track calories, time, and number of pulls, though it won't translate that into a rowing distance. Reviewers seem about as impressed as could be reasonably expected for a machine this inexpensive, so if you're on a budget and have the space, you won't find a more affordable option.
---
Update: Sold out.
Balance boards can improve your core strength, posture and (obviously) balance, and this highly rated non-slip model is just $20 today, complete with a 5-year warranty. Once you've mastered standing on it, try adding in juggling.
---
Thousands of our readers have bought Anker's HomeVac Duo (still on sale for $90), but today, we have one of the first discounts on the brand new model.

This HomeVac is sold under Eufy, Anker's new home goods brand, and while it doesn't include a pop-out hand vacuum like the Duo, it is more powerful as a vacuum. And naturally, since it comes from Anker, it's completely cordless, and can run for almost an hour in low power mode, or over 20 minutes at the highest setting.
Just be sure to use code D2TS53R4 at checkout to save $20.
---
I have painful, yet fond memories of my college's Athletic Trainer using one of these on my thigh after I suffered a strained quad. They are hell while using it, but heaven afterwards. And for $10 when you use the code Naipo604, this muscle roller can help further your love-hate relationship with working out.
And if you really want to get the best use out of this thing, why not pick up a balance board too?
---
Just watch the video above, and try not to spend $10 on this (with code LSB9FI68). I dare you.
Note: I couldn't find a video of this exact brand of space putty, but they're all basically identical.
While you're at it, you can buy 160 magnetic balls with a magnetic base for $10 too.
---
Sitting is killing you, but if a standing desk isn't an option, this discounted foam cushion can at least take some of the strain off your lower back whether you're at your desk, on a plane, or driving your car.

Cymas' orthopedic cushion is designed to take pressure of your tailbone while seated, easing lower back pain and numbness. And while this is a new product without a lot of reviews, you can check out this nearly identical listing from Aylio, which features a 4.4 star average from over 10,000 customers.
---
These MIU COLOR glass bottles will make any drink look ten times more expensive. Grab a 6-pack for only $26 when you use the code 6PACKMIU at checkout. Fool people into thinking you're drinking a protein shake when it's really a Shake Shack shake poured out of its paper cup. Or actually put healthy stuff in it, I guess.
---
Restock your underwear drawer on the cheap with $3 undies from Aerie. Every style you could think of is marked down, including the adorable Sunnie line. It's gonna be hard not to leave with 10 new pairs.
If you don't really need new underwear (but really, who doesn't?), there's also a ton of really comfy-looking clothes in their clearance section. You can get up to 60% off pjs, sweaters, and more.
---
Anthropologie will always be a good destination to start looking for something unique. With an extra 40% off sale styles with the code TAGTIME, that uniqueness is that much more affordable. Or you could end up doing what I did and get lost in the world of redecorating your place when you see all the marked down furniture.

---
You know that rat king of cords that's tangled behind your desk and home theater? You can get them under control with a pack of 50 velcro cable ties for just $7 (with code IU2238M9). They're just as easy to use as zip ties, and you can reposition and reuse them as often as you want.
---
Amazon's currently offering a buy two, get 30% off deal on vitamins, supplements, and protein products from several manufacturers, including BSN, Cullucor, Vitafusion, and more. Just add any two products to your cart, and you'll see your discount automatically at checkout.
---
Lärabars are great for starting your day or fueling up on the go, and Amazon's taking an extra 25% off when you buy various multipacks as part of a back-to-school promotion. Just pick your favorite flavor, and you should see the extra savings at checkout.
---
Mrs. Meyer's dish soap is incredibly popular (at least judging by online reviews), and Amazon's taking an extra 20% off 3-packs today. The coupon will work whether you use Subscribe & Save or not, but of course, you'll save extra if you subscribe, and you can always cancel after your first delivery.
---
Blacklight flashlights are great if you want to spot hidden stains on train seats, hotel sheets, or (gasp) even in your own house...if that's something you want to do.

It may seem silly, but if you find even one stain in a hotel room and complain to management, I guarantee that this thing will pay for itself several times over.
---
If you want to take better care of your teeth in 2017, buying a Philips Sonicare 2 Series toothbrush for $30 (after $10 coupon) would be a great start.

We sometimes see the Sonicare Essence available for $20 (in fact, it is right now), but for $10 more, the 2 Series includes a slimmer design, compatibility with multiple brush head styles, and a smaller charger that's easier to pack in a suitcase.
---
Amazon's Prime Pantry service has kicked off the new year with a pair of special promotions.
If the $6-per-box Prime Pantry delivery fee is scaring you off, it's easy to avoid by including any five items from this page in your box. There are hundreds of eligible products from across every major category (including your favorite toilet paper), so you should have no trouble finding five that you were going to buy anyway. If you meet this requirement, you'll see the $6 shipping fee waived at checkout.
If that weren't enough, you can also spend $30 on a smaller selection of items, and get $5 off your order. Eligible items are limited to skin, oral, hair, and health care products, but there are enough choices that you can probably find $30 worth of stuff that you need.
So if you play your cards right here, you'll pay far less for non-refrigerated food, laundry detergent, bathroom essentials, skin care, and home goods than you would at your local supermarket, and you won't even have to leave the house to get it.
---