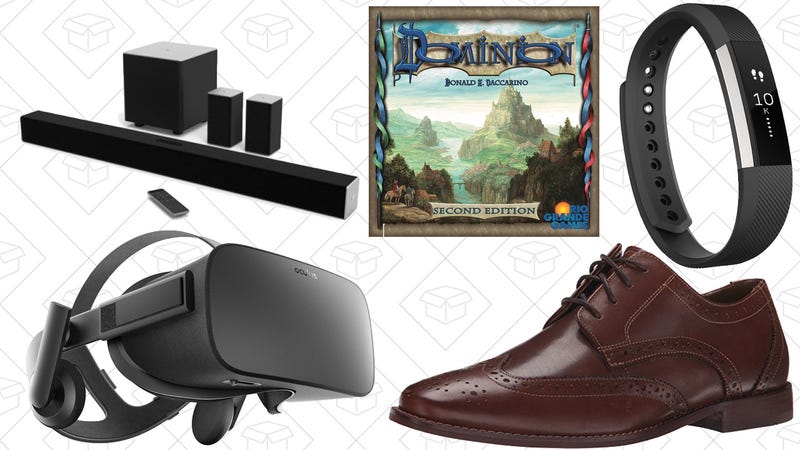 A huge sale on board games, a free $100 gift card when you buy an Oculus Rift, and the easiest way to upgrade to surround sound lead off Wednesday's best deals.
Bookmark Kinja Deals and follow us on Twitter to never miss a deal. Commerce Content is independent of Editorial and Advertising, and if you buy something through our posts, we may get a small share of the sale. Click here to learn more, and don't forget to sign up for our email newsletter.

Top Deals
Just in time for holiday family gatherings, Amazon's put a whole cabinet full of strategy board games on sale in today's Gold Box.

We've listed a few highlights below, but there are dozens of options available if you click over to Amazon to see the full list. Just remember that these prices are only available today, and the most popular games could sell out early.
---
Update 2: It's back!
Update: Sold out
If you've always wanted surround sound at home, but have been scared off by its cost and complexity, Amazon's running the a great deal on Vizio's turnkey 5.1 sound bar system.
While supplies last, the Vizio SB3851 system is marked down to $200, the best price we've seen on this model outside of a few short-lived Prime-only promotions.
The system's three front audio channels are housed in an attractive 38" sound bar, while the two satellite speakers connect to a Bluetooth subwoofer that you set up in the back of the room, meaning you don't have to run any cables across the entire room to enjoy true surround sound (though to be clear, you do have to plug the satellite speakers into the subwoofer). The best part? You don't even need a receiver to operate this thing; it'll plug straight into your TV.
There are surely systems out there that sound better or offer more options, but for the majority of non-audiophiles, this system is basically a miracle for the price. I own it, and absolutely love it.

---
If you still haven't tried out a home theater bias light, there's never been a better time to pick one up. Vansky's LED bias light strips plug directly into your TV's USB port for power, and stick to the back of the set via built-in adhesive. Once you turn your TV on, the LEDs cast a soft glow on the wall behind them, which can reduce eyestrain when watching in the dark, and improve your TV's perceived black levels.

We've posted deals on these several times now, but today's $12 (RGB) and $10 (white) price points are all-time lows. Just be sure to use code GT8OMP06 at checkout to get the deal.
---
Today only, B&H is offering up this 810 W/1325 VA CyberPower UPS for just $88, or about $60-$75 less than its usual price.

If you use a desktop computer, a UPS like this will of course keep your machine running without any interruption in the event of a power outage, which means you won't lose any unsaved work. But even if you only use laptops and mobile devices at home, this could still run lamps, your router and modem, or even a TV until the power comes back on.
---
Even if you don't give presentations all that often, for $8, it can't hurt to keep this well-designed PowerPoint remote tucked away in your bag. Powered by a single AAA battery, the remote speaks to any Mac, PC, or Android device via a tiny wireless USB dongle which docks into the pointer when you aren't using it. Most importantly though, it includes a built-in laser pointer, so you can use it to play with your cat even when you aren't giving TED talks.
---
If you haven't taken advantage of Shapeways for the most unique gifts out there, now's your chance. Grab 20% off everything with the code TECHLOVERS.You can choose from already printed stuff (I got my boyfriend a mini Eames lounge chair last year) or upload a model and create your own. There's basically a 3D printed version of anything you could want.
---
You can get an early start on your New Year's resolutions with this magnetic rowing machine, now marked down to an all-time low $179, with free shipping. These things can kick your ass if that's what you want, or be a relatively leisurely exercise that you tackle while watching TV. So if you've got the space and the motivation, this really is a fantastic price.
---
Fitbit's Alta is one of the first fitness trackers that actually looks nice on your wrist, owing largely to its fashionable interchangeable bands, and you can pick one up on Amazon for $85 brand new right now. That's a match for its Black Friday price, in case you missed out last month.
---
When you aren't using this water-resistant LED flood light to get work done in dim areas, one click of the included remote can switch between 16 different color settings. Almost Christmas? Bam, the front of your house is green. 4th of July? Light it up in red or blue. Use promo code NOVARGB5 at checkout to get it for $50.
---
Ringly has created the most attractive way to keep track of your phone notifications. And today only, you can get the perfect gift for the person who cannot stay off their phone for 20% off when you use the code TECHLOVERS. That includes the Smart Ring or Smart Bracelet, which will knock off $39 and $49, respectively.
It's not a Fitbit or even an Apple Watch. At its core, Ringly just makes really attractive jewelry that just so happens to also tell you when someone is calling you or how many steps you probably didn't take today. It's a wearable that you will actually like wearing.
---
Yi's original action camera is your favorite budget model, and the new 4K version packs in GoPro-quality specs for roughly half of GoPro's prices, and both are on sale for the holidays.

$80 (down from $100) gets you the original 1080p cam that our readers know and love, and the 4K upgrade will set you back $210, or $40 less than usual. Both include Wi-Fi, slow motion, and stellar optics, but the 4K model also includes a touchscreen, whereas the cheaper model requires a connected smartphone to access most settings.
Just note that neither comes with any accessories, but if you buy the appropriate waterproof housing, you'll be able to use any GoPro mount you want. Luckily, both models are $10 off their usual prices right now.
And speak of the devil, a 40-piece GoPro accessory kit is on sale for $9 today with promo code O7YAH4ED.
---
If dry winter air is wreaking havoc on your sinuses, you can fight back with this Eufy (Anker's new home division) humidifier.

The newly-released Humos Air 1.0 can run for over 24 hours with its one gallon tank, and can humidify a room with hot or cool mist, depending on the season. This just-launched product will typically sell for $50, but to commemorate its launch, you can get one for $40.
---
If you're in a bind with what shoes to wear with that suit you got for your holiday party, or just need to trash your old, scuffed loafers, you're in luck. Amazon is marking down a bunch of dress shoes from Florsheim and you can grab a pair for half of what you'd normally pay. But this is a one-day-only kinda deal, so don't waste too long thinking about it.
---
A good travel mug would make a fine gift for just about anyone this year, and if you hurry over to Amazon, the Contigo Autoseal West Loop, is just $13 in a couple of colors. In case you weren't aware, this is our readers' favorite travel mug by a wide margin, and can keep a drink hot for four hours, or cold for up to 12.

---
OXO makes some of the most popular kitchen accessories on the market, and three of their products are cheaper than ever today on Amazon. It should go without saying, but any of these would make a fine gift for the holidays.
---
You probably didn't wake up today thinking "I want to buy a bread maker," and yet here we are. The Cuisinart CBK-100 is one of the most popular bread makers on Amazon, and it's never been cheaper than today's $64.

The CBK-1000 can make loaves as large as two pounds, and includes 12 pre-programmed menu options, plus three crust darkness settings. If you buy it now, you'll have enough time to get good at it before you start cooking for Christmas Eve.
---
littleBits kits are a great way to learn about electronics while building your own gadgets, musical instruments, or smart home accessories, and they're giving you 20% off everything when you use the code TECHLOVERS2016.

It goes without saying that any of these would make a terrific gift for any kids (or curious adults) on your shopping list. Use the promo code to take 20% off anything form their site, including the awesome cloudBit kit. As one example, you could feed your fish with a text message. Kids have it all these days.
---
The world is full of fitness trackers that can count your steps and estimate calories, but today only, we've found a deal on a wearable device that can also help you improve your posture.

The Lumo Lift is a tiny clip that you attach to your clothing like a Fitbit One, but in addition to counting your steps, distance, and calories burned, it'll also start vibrating whenever you slouch. Assuming you heed its warnings and start sitting or standing up straight, this has the potential to meaningfully improve your life in a way that counting steps might not.
Today only, you can snap one up for just $50, which is $30 less than usual, and a match for the best price we've ever seen.
The Lumo Run is also on sale for $70 as part of the same Gold Box, and includes a few cool running-specific features like customized exercise plans, though it's admittedly a less interesting product than the Lift.
---
If you want to dip your toes into the world of electric toothbrushes, Philips' entry level Sonicare Essence line is an amazing value at $20 (after clipping the $5 coupon). I've been using this brush for years, and I still love it.
We saw this deal last month, but if you missed out, it's back in stock today.
While you're at it, stock up on spare brush heads with another $5 Amazon coupon.
---
With the launch of the new Oculus Touch controllers, it's easier than ever to recommend the Oculus Rift (if you have a PC that can handle it, that is), and Amazon's making the price a little more palatable with a bonus $100 gift card, today only.

You'll still pay the standard $599 out of pocket for the headset, but once you get the bonus gift card, you could use it to save 50% on the controllers. Or, you know, just spend it on anything else Amazon sells.
---
The Xbox One Elite controller is ridiculous and indulgent and...maybe actually worth it? It rarely goes on sale, but Amazon's tossing in a $30 gift card when you buy it for $149 today. If you give the controller as a gift, but keep the $30 for yourself, don't worry, we won't tell.
---
Call of Duty: Infinite Warfare is only about a month old, but that doesn't mean you can't already find solid discounts on the latest entry in the series.

Today only, $50 gets you the Legacy Edition, which includes Modern Warfare: Remastered.
If you don't care to relive the original Modern Warfare, the standard edition is down to $35 on Amazon for PS4, and $30 on Microsoft.com for Xbox One, both all-time lows.
---
Amazon makes its own bocce ball set, for some reason, and it's down to an all-time low $27 today. To be clear, that price is for the full-sized 100mm set. The 90mm set, which is ideal for posers that can't handle playing the sport the right way, is actually more expensive at the moment.
---
If your current Android phone doesn't support Quick Charge 3.0, your next one probably will, so there's no harm in picking up a compatible car charger (plus cables!) for $12.

Unlike many dual-port QC chargers that only include a single QC port, both ports here support the faster charging standard. You also get two cables in the box for free, either a pair of USB to microUSBs, or one microUSB, and one USB-C. The charger itself is identical for both products, the only difference is the cable selection. Just be sure to note the appropriate promo code below.
---
One again, LOFT is here to save your wardrobe (or find last minute gifts). Use the code WRAPUP and get 40% off all full-price styles, 60% off a select number of other items, and 60% off all sale styles. Plus, you'll get free shipping. It's basically a holiday miracle.
---
Whether your current mouse is giving you chronic wrist pain, or you just want to try something different, this 4.2 star rated wireless ergonomic vertical mouse from Anker is only $13 today. In addition to the clever design, it even comes with three adjustable DPI settings and forward/back buttons, which are pretty rare at this price level.
---
Cold brew coffee might not sound appealing in the winter, but that's only if you conflate it with iced coffee, which is not the same thing. Cold brew is just a steeping process that results in less acidity, among other benefits, and you can enjoy it hot or cold all year 'round. If you want to give it a shot, the Takeya Cold Brew Coffee Maker is the easiest way to get started, and it's only $18 today.
This non-coffee drinker bought one of these a few months ago, and I'm absolutely in love with it. All you have to do is fill the basket with ground coffee, fill the container with water, and let it steep overnight in the fridge. The resulting coffee concentrate needs to be watered down, so one batch should last you several days.
Amazon's listed slightly lower prices on a few occasions, but $18 is still several dollars less than its usual going rate.
---
The Braun Series 7 was the overwhelming winner in our electric shaver Co-Op, and Amazon will sell you one for $130 today, after you clip a $25 coupon on the product page.

That comes with both the waterproof shaver and the charging/cleaning base station. It's still an investment, but it would make a fantastic gift, if you just can't spend that kind of money on yourself.
---
Whether you're enticed by the idea of a Bluetooth-connected toothbrush, or just want it to get off your lawn, $60 is a great deal for an Oral-B toothbrush with a pressure sensor, five modes, and compatibility with several different brush heads.
If you want to pair it with your phone to track your brushing habits and learn which parts of your mouth aren't getting enough attention, great! If not, it's still worth buying at this price, which is a new all-time low. Just be sure to clip the $15 coupon.
---
Just in time for the confluence of the Rogue One hype train and the holiday gift-giving season, several Star Wars LEGO sets are 20% off their usual prices on Amazon today.
---
In case you missed it last week amidst the Black Friday craziness, you can still grab a pair of Bosch Insight wiper blades for $23 from Amazon today.
Just pick the two you need, add them to your cart, and the discount should appear automatically, assuming both were shipped and sold by Amazon.com. The deal even allows you to mix and match sizes, so you can almost certainly find a combination that will work for your car.
---
A good step stool is something everyone should own, and this highly-rated model from Greenco can hold up to 300 pounds, then fold up to nearly nothing when you're done using it. Today's $10 deal is match for an all-time low, and you even get to pick from a variety of colors.
---
Put all that crap you carry into something a little nicer than what you have with these discounted Under Armour bags. Choose from a few different styles, like totes, backpacks, duffles and more. Plus, these prices are the lowest they've ever been on Amazon. You'll end up saving money and getting a great bag out of it.
---
TENS (Transcutaneous electrical nerve stimulation) massagers seem a bit like pseudoscience, but every time we post a deal on this thing, we hear nothing but rave reviews. In fact, I use one occasionally after exercising, and I'm pretty sure it helps reduce muscle pain. At the very least, it feels cool.