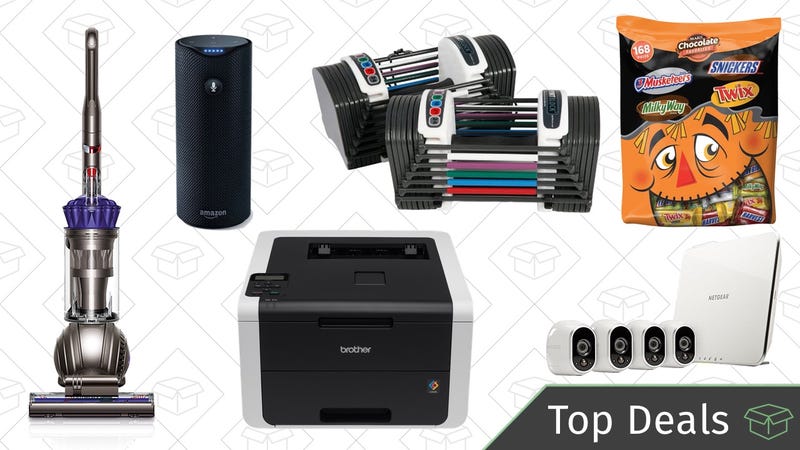 Find savings today on a Dyson Animal vacuum, Halloween candy, a Brother color printer, and more.
Bookmark Kinja Deals and follow us on Twitter to never miss a deal.

Top Tech Deals
Update: Now up to $180
You all have bought a ton of Brother monochrome laser printers, and with good reason! But if you really need to be able to print in color, today's your lucky day.

The Brother HL-3170CDW has all the features you'd expect from a Brother printer, including wireless networking (including AirPrint and Google Cloud Print), and the ability to spit out roughly 20 pages per minute, but with the added bonus of printing in color.
$160 is a little more than you'd spend on a monochrome printer, but that's the best price Amazon's listed since 2014, so it's time to kiss that inkjet goodbye.
---
Though its been followed up by a few higher-specced models, the original Yi action cam is still a wonderful little device, and at $50, it's never been cheaper.

This was our readers' favorite budget action cam, and I can tell you from my own personal experience that it's really terrific for the price...especially this price.
---
$15 is a pretty good price for a 10,000mAh battery pack. It's absolutely insane for one with a solar panel and 12-LED flashlight array. Obviously, that little solar panel won't recharge the battery very quickly, but it can trickle charge it while you're outdoors, so it's nice to have.
---
Netgear's new Arlo home security system is a lot like Nest Cam, except the cameras can run off battery power, so you really can stick them anywhere. If that sounds like something you're looking for, Amazon will sell you a refurbished four-camera starter kit for $330.

For context, buying four cameras new would set you back about $470, so you're saving a bundle with this one-day refurb deal.
---
Now that you can enable an always-on microphone mode, the Amazon Tap is a much better product than it was when it launched, and you can get a refurb for just $10 more than an Echo Dot (which, of course, you can't pick up and take with you) today from Woot.
---
It doesn't tilt or articulate in any way, but this Liger TV mount can hold screens up to 70", and $11 is about as cheap as you'll ever see something like this. Just use promo code TVMOUNT4 to get the deal.
---
You could fill a swimming pool with sub-$20 Bluetooth earbuds, but not many of them boast 8mm drivers, let alone 10 hours of battery life. Even if you already own a pair you like, I recommend getting extra sets of headphones to keep in your gym bag or luggage, for when you inevitably forget your favorites.

---
You're probably familiar with the color-changing Hue lights that screw into your existing lamps and light fixtures, but if you really want to paint your rooms with color, you'll want to pick up a few Hue Bloom accent lights as well.

These lights used to sell for around $80, and today's $45 deal on Amazon is the best we've ever seen. If you're already invested in the Hue ecosystem, you should absolutely pick up at least one.
---
There's a nasty new Wi-Fi exploit out in the wild these days, but you can protect yourself from prying eyes (and get around geo-blocked content too) with a VPN subscription.
Lo and behold, PureVPN is offering some pretty stellar discounts right now when you use promo code Privacy20:
24 months for $62.40 ($2.60 per month)
Six months for $42.96 ($7.16 per month)
One month for $8.76
PureVPN encrypts and obscures all of your internet traffic from everyone from malicious hackers to your ISP to the government, and includes some cool features like a kill switch to automatically disconnect your Wi-Fi if the VPN stops working, as well as split tunneling, which can route some of your traffic through the VPN, while letting the rest go through your ISP.
---
The back of home theater cabinet doesn't have to look like a rat king of tangled wires. These velcro sleeves can keep everything tidy, and they even come with adhesive to attach them to the side or bottom of your furniture. Get four for just $11 with code ISZ8L4YN.
---
The advent of inexpensive Bluetooth headphones has been a net positive, but there's no getting around it: They're a pain in the ass to charge.

Luckily, Mpow's headphone carrying case includes a built-in 800mAh battery and microUSB cable, so you can recharge your earbuds while simultaneously keeping them from getting lost or tangled in your bag. Yeah, you'll still need to recharge the case, but this definitely makes Bluetooth earbuds a simpler option while traveling.
---
You can never have enough places to plug in, and these inexpensive power strips from Aukey plug directly into your wall to add two USB ports and a phone stand in the case of the $11 model, or two USB ports, two extra AC outlets, a phone stand, and even a nightlight if you opt for the $16 option.
---
The wall charger that came with your phone just doesn't cut it while traveling these days. In addition to probably being slow as hell, you likely have at least two or three USB-powered devices that you'll want to charge every night while you sleep.

Luckily, Anker stuffed four USB ports and 40W of power into a tiny travel charger (with folding AC prongs!), and you can get it for $19 today with promo code BEST2242.
---
Vent-mounted magnets might be The Thing in smartphone car holders, but if your CD slot is lying dormant, or if you just don't want to block a vent, this would also be a great option.
---
Plug in all the things with this $22 tower of power. This thing comes with 10 outlets, four USB ports, and its own 6ft retractable power cord. Plus, it rotates for optimum space-saving.
Top Home Deals
Dyson vacuums dominated the nominations in our Kinja Co-Op for best vacuum, but they can be prohibitively expensive. Today though, refurbs of the popular Dyson Ball Animal are down to $200 on Amazon, one of the best prices we've seen.

The Dyson Ball includes a brush that automatically adjusts when you move from carpets to hard floors, a ton of accessory hose tools, including a motorized turbine tool to remove pet hair from furniture, and even a curved tool to help you clean the tops of your ceiling fan blades. And yes, it rests on top of a ball for easy maneuverability. This price is only available today, and will probably sell out early, so get your before they're all sucked up.
---
If you still haven't upgraded your morning routine up a life-changing wake-up light, Philips' entry level model just got a huge price drop.

The Philips HF3500 is currently marked down to $40 (after clipping a $10 coupon), besting all previous deals. While there are higher end models with color-shifting lights and multiple wake-up sounds, this model still offers a reasonably convincing facsimile of a sunrise, which helps ease you out of REM cycles before the alarm sounds. I've been using it for years, and absolutely love it.
---
Chemical Guys makes some of the most popular car detailing products on the market, and Amazon's currently taking 20% off several soaps, sealants, scents, and more. Just note that the prices listed on this page don't include the discount, so you won't see the deal until checkout.
---
Anker's recent Roav brand of automotive accessories have been a hit with our readers, and if you buy their C1 Dash Cam today, you can get a Bluetooth FM transmitter for free.

Now, the Dash Cam is currently priced at $90, but we sometimes see it around $68, so this isn't necessarily a great deal unless you happen to want both products. If you do though, they're both great. Just add them to your cart, and you'll see the discount at checkout.
---
Your phone's alarm can certainly wake you up at an appointed time, but I think it's worth having a real alarm clock that lets you to see the time at night without waking up your phone.

This one from Mpow has a large display, a time projector that can beam the time onto your ceiling, an FM radio, and even a USB charging port for your phone.
---
It's 2017, you would think that all of our important documents would be digitized, but that's not always the case, and it's good to have a backup copy anyway. This file cabinet can keep your documents secure and organized.

You can store your office supplies in the first two drawers, and use the bottom for filing. All the drawers lock and it can even wheel around, making it ideal for smaller spacers where it can moved out of the way easily.
At $88, it's at the lowest price it's been in 7 months, so it's a good time to upgrade that receipt-filled shoe box to something that looks a little bit more adult.
---
A big-ass rolling cooler is something everyone ought to own, if only because seeing it sitting in your closet might motivate you to go to the beach. This one from Igloo is 60 quarts, and has never been cheaper than today's $24.

---
Unlike the plastic tupperware that's overflowing out of your cabinets, these glass storage containers from Glasslock are microwave AND oven-safe. $26 is a match for the best price Amazon's ever listed on this 18-piece set.

---
Amazon's Halloween candy Gold Box is offering candy up to 30% off, which is perfect if you missed the sale last week, or maybe already ate all the stuff you bought.
The bulk of the Gold Box is filled with chocolate candy bars, but they also have some fruity candy like Airheads and Laffy Taffy.
This candy might sell out quickly, so think like trick-or-treater - grab a handful and run.
---
If Roger Federer created a chocolate, it would probably be Ferrero Rocher. There is no higher compliment. This 48-count pack is within a few cents of an all-time low, so everyone can afford to indulge.

---
Home Depot is dropping the price of a bunch of different top-brand pieces of outdoor power equipment today. Everything from a Black & Decker cordless push mower, leaf blowers, a smaller 3-in-1 push mower/trimmer/lawn edger, and a Dewalt trimmer and leaf blower combo kit are deeply discounted.
When compared to their Amazon prices, you can expect to save $15 on the leaf blowers, $40 on the 3-in-1, and $50 on the lawn mower and trimmer/blower combo kit.
These deals only last until the end of the day and some things are already selling out, so pick yours up before they get trimmed down too much.
---
Snuggle up in one of these popular microplush fleece blankets for 15% less today.

These blankets, made by Qbedding, boast a 380 grams per square meter weight, which is significantly higher than the average 250 you'd see on most fleece blankets. That means they're warmer, softer, and less prone to shedding. And if that doesn't convince you, maybe the 4.7-star review average from over 1700 customers will.

For a limited time, promo code 9RRBHC2P will take 15% off any size and any color sold by Qbedding, Inc. and fulfilled by Amazon, so pick your favorite, and bundle up.
---
If you're a fan of chewy, crisp evenly-baked pizza crust (as everyone should be), you can achieve that perfect pizza-restaurant texture at home with a pizza stone.
You place the stone in the oven while it's preheating, so the stone gets just as hot as the oven. Then, when you put your homemade pizza on top, the crust cooks quickly and evenly, creating that ideal soft crunch without doughy spots. Also, this works great for reheating pizza, as microwaves tend to make pizza soggy, this device will keep the crust intact.
This top-rated pizza stone is $8 off today, bringing it down to $42. That's not the cheapest ever, but discounts on this are relatively rare. If you don't believe me, believe the almost 1,200 people who have given it a 4.3-star review.
---
If you plan on enjoying the milder weather this season, might as well get yourself a waterproof outdoor blanket to save yourself from wet-grass-induced soggy pants.

This blanket is just $15 today with code BQ9PEOCY, and folds up to about the size of an iPad for easy storage. Plus, it will come in handy for beach season next summer.
---
One of the only downsides of cast iron pans is that they can be a nightmare to clean, but this chainmail scrubber can scrape away caked-on food without hurting your seasoning, or resorting to soap. No wonder one of them is in our bestsellers club. Today's $7 deal also happens to be the best price we've ever seen on one of these.
---
If you think it's cool that you can buy a robot to vacuum your floors for $178, how would you feel if I told you this one mopped too?

The ECOVACS DEEBOT M80 Pro has all the accoutrements you'd expect from a mid-tier robotic vacuum, including a motorized brush roll, scheduling, and even Wi-Fi, plus one you wouldn't: an optional mopping system. If you want to clean your hard floors, just pop on the mopping pad (it's sort of like a Swiffer), add some water and/or cleaning solution to the reservoir, and go enjoy life while it does your chores for you.
---
Amazon makes trail mix now, because Amazon makes everything, and all three flavors are a couple bucks less than usual today. I've had the Sweet & Spicy, and it's excellent. It's only a matter of time until they can deliver this to you by drone when you're actually out on a remote trail.
---
This $21 portable Thermacell mosquito repeller might allow you enjoy the outdoors again.
Place this down next to you when you're outside, or throw in your hiking backpack and this cordless, odor-free device claims to ward off flying insects (most notably, mosquitoes) as far as 15 feet away for up to 12 hours.
After those 12 hours, you can replace the repellent mats and repellant-dispersing butane cartridge.
Most reviewers say it works pretty well, especially on days with little-to-no wind. Note the different colors are different prices, but this $21 gray model (the least expensive color) hasn't been this cheap since 2016.
---
When is a pen worth $40? Possibly never, but the GP 1945 makes a really strong case.

This Kickstarter campaign is set to ship out pens starting in November, and the demo unit they sent me is incredibly impressive. My titanium model is very solid and well built (there's also a lighter aluminum version), to the point that I don't think I could break it if I tried. The butt cap also doubles as a glass breaker for emergencies, the diamond knurled finger grip works as a small ruler, and you can even blow into the back of the tube to to use it as a survival whistle.
The real star of the show here though is the bolt action method of extending and retracting the tip of the pen. It gives you enough resistance to be satisfying, but not enough to be slow or frustrating, and it makes a very addictive click when the mechanism slides into place. I have no less than four fidget toys in heavy rotationon my desk, but clicking this pen was all I wanted to do today.
There's only about a week left of the campaign, but you can still get aluminum GP 1945s for under $40, or titaniums for under $70. That's a lot to spend on yourself, but these would make great gifts for the holidays. Plus, if you pledge $8 extra and include a note, they'll throw in a magnesium pen core that you can use to start a fire. Just take it out and rub it against the finger grip to generate a spark.
---
Foam floor tiles are great for yoga, general fitness activities, or just for laying out wherever you spend a lot of time standing. Most of them though don't make much of an effort to actually look nice. This pack of 16 though (each one is a single square foot) mimics a hardwood floor, and you can get it for just $19 with promo code EA5W25XG.

---
Made by one of our best-selling brands, these two All-Clad skillets are within $3 of their lowest price ever. The 8-inch and 10-inch skillets are nonstick, scratch resistant, and oven safe up to 500 degrees.
This package usually sells for $60, so get them while they're still sizzling.
---
OxyLED, the company behind so many popular and functional motion-sensing lights, isn't afraid to have a little fun, it seems. For $13 today, you can grab their water ripple effect stage light, which can project multiple colors and patterns onto any wall. The rippling could make it easier for you or your kid to sleep, but it also has a red and green mode that could come in handy around the holidays.

---
I know we all love that five pound bag of Haribo Gold Bears, but if you have bad impulse control, or want to sneak your snacks into the movies more easily, you can opt for a 12-pack of five ounce bags today for $13, when you use Subscribe & Save and clip the 10% coupon on the page. Don't worry, this isn't the sugar free variety.

The five pound bag is also priced at $11 right now, which isn't an all-time low, but it's about $1 off its usual rate.
---
Kick back and relax with your feet up on this $13 adjustable-height footrest. Sure, it can help with circulation and improve posture, but I'd buy one because it's just more comfortable.
TOP LIFESTYLE DEALS
It's been a couple months since we've seen extra discounts from Madewell, and it's come at a perfect time to spend all the money you should be saving for holiday gifts. Use the code GOODLOOKS and get an extra 30% off every sale item they have, which is over 430 choices. Boots, sweaters, scarves, and some off-season styles are all in there for the taking.

---
Not only is Perry Ellis having their Fall Clearance Event, which is marking down items up to 70% off, use the code EXTRA10 and knock an additional 10% off your order. If you need a new blazer, or some slacks, or even a nice button down or flannel, this is the sale you're not gonna want to miss out on.
---
Update: Sold out
If you can't be bothered to schlep to the gym during the winter, you can still keep in shape at home with this cleverly designed PowerBlock dumbbell set. Each dumbbell adjusts from 3 to 24 pounds in 3-pound increments with just the flick of a selector pin, so it's basically like a complete weight rack that could almost fit into a shoebox.

Today's $130 price tag is a solid $30 less than usual, so you can really flex those savings muscles.
---
We're getting close to the point where Bluetooth-enabled smart bathroom scales cost about the same as their "dumb" brethren. This one's $23 with code QCTEQRR6, and its app even ties into Apple HealthKit, so you can keep all of your health data in one place.