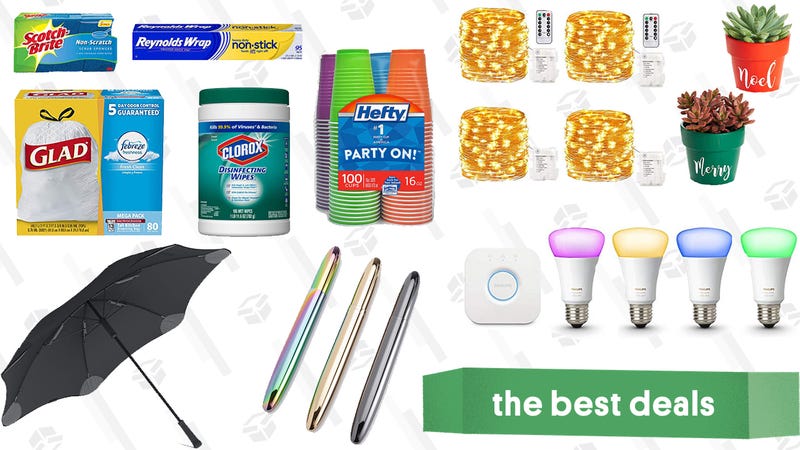 Best Deals of the Day
The best deals from around the web, updated daily.
Fisher Space Pens, household supplies, and Philips Hue bulbs are some of the hottest buys on the net today.

Bookmark Kinja Deals and follow us on Twitter and Facebook, or sign up for our newsletter to never miss a deal.

You might have heard of quantum dots in the context of TVs, but Samsung uses them in a 4K computer monitor as well, and their 28" model just dropped to $349, its best price in nearly a year.

You can read all about quantum dots here, but tl;dr, they're the backbone of a backlighting technology that can produce OLED-quality images and rich, deep blacks on less expensive LCD panels. Samsung's QLED TVs are the most common example of them, and this monitor is basically a small version of those.
$349 is really not all that expensive for a 28" 4K monitor from a name brand manufacturer, so you're definitely getting your money's worth considering this model uses state of the art technology.
---
Dell's Walmart-exclusive gaming laptop deals aren't going to play your games at the highest possible settings, but they offer a clean look and solid values. Both include a 1TB HDD augmented with a 16GB Intel Optane SSD, 8GB of RAM, and a 15.6" 1080p display. The difference is that the $699 model has a Core i5 processor and a GTX 1050, while the $799 bumps you up to a Core i7 and a 1050 TI. At $100, that's probably a no-brainer.
---
The new iPhone XS is nice, sure, but is it ~$300 nicer than last year's iPhone X? I don't think so. Today only on Amazon, you can get a refurbished iPhone X unlocked for $725 (64GB) or $829 (256GB), in the color of your choice. That's roughly what you would pay for this year's XR, and while you won't have the latest processor, the trade-off is a dual lens camera and a stunning OLED screen.
---
Are you clumsy enough to star in an infomercial? Can you really not afford to crack yet another phone screen? Then perhaps you should check out PopUps Direct, where you can buy up to 10 PopUp Grips for $1 apiece. They won't magically glue your phone to your hand or anything, but they will give you slightly more secure grip, which is better than nothing. The range of designs even allows you to rep your favorite animal or hobby, which is more than we can say for any gripless phone back. Trust, you'll be wishing you had bought a couple the next time your phone eats pavement.

---
For just $19 today, you can grab Anker's SoundBuds Surge lightweight Bluetooth headphones, a close relative of the SoundBuds Slim, which won our affordable Bluetooth headphone Co-Op. With magnetic connectors on the earpieces and a water-resistant coating, these would be a great addition to your gym bag or suitcase, even if you already have another set of earbuds.

---
Our readers have bought thousands of Yi's home security cameras, and today, you can get a panning and tilting 1080p model for $36 with code XNUQ2G79.
Yi now offers an online cloud DVR service that will store seven days of motion detection footage (six second clips when it detects movement) for free, or more footage if you pay. That said, you can choose for forego the cloud service altogether, and just store your clips locally on a microSD card. The camera also has two-way intercom and live broadcast built in, so you can check in on your house any time you want.
---
Anker has a new, less expensive version of its excellent true wireless headphone line, and you can grab a set for just $50 today after clipping the $15 coupon.

Like the original Liberty headphones, the Liberty Lites will run for 3.5 hours on a charge untethered - the main difference is that the included charging case only holds an extra 9 hours worth of battery, vs. 24 hours for the Liberty, and 48 for the Liberty+. Still though, that's enough for a day's worth of use in almost any situation, and the case is noticeably more pocket friendly, which was one of my least favorite aspects of the original models.
---
Given how many Lightning cables seem to wear out at the necks, it's surprising that 90 degree cables aren't more of a thing. You can grab two nylon braided cables for $13 from Aukey today with promo code AUKEY04AL, which would be a great price for two nylon-braided Lightning cables anyway, even without the unique connector.

---
If you have any old hard drives or SSDs gathering dust, this $11 enclosure can turn it into a handy USB-C external drive. No tools are required: just pop in the drive, and plug it in.
---
LG's OLED TVs have achieved something of a cult status thanks to their ridiculously dark black levels and vibrant colors. If you were waiting for Black Friday to snag yours, the discounted price on the 55" C8 model is already live.

The picture quality got an upgrade over last year's model thanks to a new processor that improves color accuracy, reduces artifacts, and supports HFR (high frame rate video) up to 120 FPS. HFR content doesn't really exist yet, but a few movies are expected to come to streaming services starting later this year, so if you're planning on using the TV for several years, it might be worth it for future-proofing purposes.
We've seen cheaper deals on the lower-end B8 model, but that one uses last year's processor, meaning it can do HFR or HDR, but not both at the same time like the C8.
---
Whether your current mouse is giving you chronic wrist pain, or you just want to try something different, this 4-star rated wireless ergonomic vertical mouse from Anker is only $13 today with promo code ANKE7809. In addition to the clever design, it even comes with three adjustable DPI settings and forward/back buttons, which are pretty rare at this price level.
---
You know those fancy Bluetooth earbuds you love using so much? Surprise: they won't work with your Nintendo Switch, or the seatback TV screen on a plane. But for just $20 (with promo code f56YJJYJ), you can plug this Bluetooth dongle into any headphone jack, and connect to it with your favorite wireless headphones for wireless listening. It even has AptX codex support for lower latency.

It also works as a Bluetooth receiver, so you can plug it into an old stereo system or car, and broadcast music from your phone over Bluetooth to speakers that otherwise wouldn't be compatible.
---
RAVPower's HyperAir Qi charging pad is one of the few models out there to support the fastest-possible 7.5W iPhone charging, and you can get it for just $20 today with promo code KINJA889.
To be clear, there are a lot of Qi pads that support 10W charging for certain Android devices, but iPhones require a very specific frequency to enable their maximum charging speed of 7.5W, and this is one of the most affordable compatible pads we've seen, and the cheapest we've seen with the necessary Quick Charge 3.0 power adapter included. It's normally priced at $30; today's $22 list price itself is an aberration, but still, don't forget the code!
---
If you've had your eye on Samsung's 8000-series TVs, which are the company's best non-QLED sets this year, their Black Friday discounts are already live. Every size (55", 65", 75", and 82") includes Samsung's new Dynamic Crystal Color engine and HDR10/ HDR10+ support, plus some nice quality of life features, like the Bixby voice assistant, and a quad core processor for speedy smart app operation.

These prices are the same that we've seen in Black Friday ads, and we have no reason to expect them to go any lower. So buy now, and you'll be set up in time for Thanksgiving football.
---
This tiny, $6 USB charger isn't much bigger than the one that ships with every iPhone, except it has two ports, folding prongs, and 2.4A of total power, compared to the 1A Apple gives you. No surprise, it's one of our top sellers of all time. Just use promo code FQCJOBX6 to get the deal.

---
Walmart has already marked down a few of the TVs listed in their Black Friday ad: Grab a smart Sharp 50" TV with HDR (though not Dolby Vision) for $249, or a 55" version for $299, both the best prices we've seen. If size trumps features and you don't need smart functionality or HDR, there's also a 65" RCA on sale for $399.

---
VPNs have been in the news, and whether you want to get around video geoblocks, circumvent proxy filters, or just keep prying eyes out of your browsing data while using sketchy public Wi-Fi, reader-favorite Private Internet Access has a deal to fit your needs.

Private Internet Access doesn't do much in the way of discounting, but they offer exclusive pricing and packages just for our readers that you won't find anywhere else. Here are your options, and what you'd pay if you bought the same plan elsewhere:
These deals are only for our readers, but we aren't sure how long they'll be available, so go ahead and sign up while you can.
We're expecting to see quite a few Philips Hue deals on Black Friday, but the prices won't get anywhere close to what you'll find in today's Gold Box.
The one caveat here is that they're certified refurbished (for the most part). But on the other hand...they're lightbulbs; you plug them in and forget about them. So should it really make a difference? I don't think it should when you can get a four-bulb color starter kit for $115, a white ambiance starter kit for $78, or a white starter kit for $51.
If you already have a Hue system, you can grab individual color bulbs for $25, easily the best price we've ever seen. There are also LightStrips, LightStrip extensions, and more on sale for incredibly low prices. The deal is only available today, but honestly, I'll be surprised if it lasts through lunch.
---
The Roomba 960 is a bit extravagant, but at over $100 off, it might be worth considering if less expensive robotic vacuums haven't checked all of your boxes.

The key feature here is an onboard camera that allows the Roomba to build a constantly-updating map of your home, which means it can clean every square foot without wasting an hour ping ponging around the same room. Of course, you'll also get Wi-Fi for app control, and a more powerful cleaning system than the entry level models.
Today's $450 price tag is an all-time low, and in fact, it's $50 lower than listings we've seen in Black Friday ad scans, so there's really no reason to wait.
---
Even if you don't do much DIY work, you should probably have a screwdriver extension shaft in your toolbox. These let you access awkwardly placed screws that regular screwdrivers can't reach, and this $8 one (with promo code 2LE7VHC4) even comes with a full set of bits.
---
Do you wish it could look like Christmas all year round? Well, it sort of can, thanks to this Amazon sale on an assortment of decor, like string lights and succulents. The plants are low maintenance and totally appropriate to keep on display through summer, except that their pots are marked with Christmas-themed words. (But I thought that was what we were going for?) And if you've ever even heard of Instagram, you know that fairy lights are officially approved for any season. It's totally up to you whether you use them for general ambiance or to make it feel like a holiday today and every day.

---
There's an old joke that NASA spent millions developing a pen that could write in space, and the Russians used a pencil. Whatever, it was totally worth it. MassDrop's selling two-packs of the official Fisher Space Pens for $32 right now, so you too can write in zero gravity, in sub-zero temperatures, or even under water.

Multiple finishes are available at checkout, some of which have a surcharge associated. If you want a brass one, Amazon also has them on sale for $16 each.
---
Holiday season stressors plus cold weather is a recipe for tension, physical or otherwise. Luckily, there's an easy solution for the muscular aches and pains: Amazon is offering a few Pure Enrichment heating pads in their Gold Box today. Two pad sizes on sale feature micro-plush, machine-washable covers, while a neck-specific option boasts a helpful magnetic closure for maximum heat relief. And, it's worth stressing, this deal will be gone tomorrow, so buy now and loosen up.

---
Of the seemingly dozens of private label brands Amazon has launched this year, Solimo is probably the broadest. Encompassing everything from gummy vitamins to shampoo to coffee pods to razors, it aims to be your everything when it comes to home essentials.

For a limited time, Amazon's offering discounts on dozens of different items, including their ultra-popular melatonin gummies, a big bottle olive oil, food storage bags, and a lot more. Like I said, it's a really broad brand.
Some of the deals are straight discounts (usually 20%, as far as I can tell), and some require you to clip an on-page coupon. Some deals combine both, so you can stack the savings.
---
Behind every festive holiday gathering is a heap of cleaning supplies to get the house guest-ready and a second stash to handle the aftermath when the fun's all over. If you're planning to have people over at any point during the season (or, uh, ever), take advantage of Amazon's "household holiday essentials" Gold Box, which is offering discounts on everything from dish soap, Ziploc bags, and Reynolds wrap, to laundry detergent, Clorox wipes, and paper towels. You'll need this stuff at some point; might as well stock up now.

---
If there's a day that will make you take a long, hard look at your current appliance situation, it's Thanksgiving. Is your oven capacity adequate for everything you need to cook? Do you have enough fridge space for all the leftovers? Can your dishwasher handle the massive flood of plates and utensils coming its way?

The more questions you answered "no" to, the more you'll save during Home Depot's appliance sale, where buying two appliances will net you $60 off, but a purchase of six or more will save a whopping $500. That means you can upgrade your entire suite at once! (If you need help finding a sixth appliance to add, wine coolers totally qualify.)
Note that some exclusions apply, but many items are already legit deals at Special Buy prices.
---
These Herschel Supply Co bags would normally set you back around $80, but select colors are marked down to around $60 today, so you can pack for your next weekend getaway for less.

Your discounted choices are navy ($61) and black ($60) both of which include gorgeous brown leather handles. If previous deals are any indication, these prices might not last long, so head over to Amazon if you need a new bag for any upcoming holiday travel.
---
The computers in your car constantly spit out useful data, and you can make sense of it with this OBD2 scanner from NEXPEAK, which is $25 off today when you use promo code NEUSZW29.

At $44, it's a bit more expensive than the basic scanners that only tell you error codes, but it's not that much more expensive considering all the extra features included. The color screen helps you make sense of all the data, it'll let you know if you'll pass your emissions test, and it can even display a live graph of various measures of engine performance to help you diagnose issues.
---
Gerber's suspension multi-plier features 12 tools in one package, meaning you're spending less than $2 per function today. If you don't already own one, you should take this opportunity to rectify that. If you do, buy some more to give away as holiday gifts.

---
Before we go any further, let's get this out of the way: Please don't burn your house down. Alton Brown can show you the way to fry a turkey safely, and it's so worth the extra work to not eat your Thanksgiving meal to the dulcet tones of firetruck sirens.
Now, why do you need this 30-Quart Turkey Fryer? Because frying has been the trendiest way to cook your holiday turkey for as long as there have been culinary trends. Because for $40, it's a smart investment. Because it's what William Shatner would want for you. (And if you're not sure how to fry a turkey? There's an app for that.)

---
Look, no one is judging you for being an adult and still managing to spill stuff all over your carpet and sofa. We're human. It happens. But people will judge you if you don't even try to get the stains out, because gross. To that end, may we suggest the Bissell Multi-Purpose Portable Carpet and Upholstery Cleaner?
It's less cumbersome than a full-size carpet cleaner, more effective than the old spray-and-rag technique, and much easier than always moving your furniture to cover spots on the floor. It even has a drying function to save you from the horrors of wet socks. What will they think of next?

---
If your tool chest is lacking a good set of pliers, this 8-piece VISE-GRIP GrooveLock set is only $60 on Amazon, within about $3 of an all-time low. The set features a near-perfect 4.7 star review average from over 500 customers, and comes with a lifetime warranty to boot. Needless to say, it'd make a great gift too.

---
Boiling water isn't exactly rocket science. But it's also not much to look at, usually. That all changes with the OXO On Cordless Glass Electric Kettle. It's almost like a modern lava lamp, an inspired blend of art and science that allows you to see the mesmerizing swirl of bubbles as it heats water. We love an item that combines form and function; it's the very definition of efficiency.

---
Life is full of conflicting desires. Like, you don't want to sacrifice valuable kitchen counter space to ugly, bulky appliances, but you also don't want to have to dig your coffee maker out of the cabinet every morning when you wake up. A task like that is not meant to be taken on before you're caffeinated.

Behold the Keurig K-Compact K-Cup Coffee Maker for just $50 at Walmart. It's sleek enough to be tolerable as a kitchen fixture, and it's also available in red and turquoise, if you dig colorful appliances as a decor choice. Does it make coffee as good as an Aeropress or a a $1,000 DeLonghi? No. But it takes like a minute and you have to push one button, which is a perfectly valid trade off.

---
Free bacon. Forever. Do I have your attention?

Butcher Box ships grass fed beef, heritage grade pork, and free range chicken right to your door for less than $6 per serving, and if you sign up with our exclusive link, you'll get $10 off your first box, plus a FREE pack of uncured bacon in every box for the life of your subscription. Think of all you could do with an extra pack of bacon every month.
Your reader-exclusive bonuses come bundled with any of Butcher Box's pre-selected boxes, which are priced at $129 for 24 servings, or $238 for 48 servings, which can be delivered every 30 or 60 days. For a nominal surcharge, you can also build a completely custom box, with your choices of proteins.

Note: You'll have to enter your email at the beginning of the process. I know, it's annoying.
---
Firstleaf is an online wine club that learns your preferences, offers tons of options, and most importantly, saves you money compared to buying from the store. It's a solid deal any time, but it's even better for our readers today.

Every new Firstleaf member gets an introductory delivery with three bottles of wine for just $15, plus $5 shipping. Considering that you aren't locked in and can cancel any time, that's a bargain. But it gets even better for our readers, as promo code Kinja will waive the $5 shipping charge, for a limited time. That's three bottles of wine (all of mine had MSRPs over $20) for just $5 each shipped, with no commitment.
You can read more about the service in my review, but if you choose to remain a member (I did), every box thereafter includes six bottles for $80, plus $10 shipping.
Winter can really do a number on your skin, so don't take any chances; take advantage of 40% off a variety of kits and sets from Paula's Choice, a brand taking the guesswork out of the ever vital, often confusing skincare routine. The kits on sale battle everything from dehydration to redness, plus one set dedicated specifically to combatting common cold weather skin complaints.

But that's not all. Paula's Choice is also throwing in a full-sized Omega+ Serum on orders of $79 and over with promo code OMEGA. If the kit of your choosing isn't enough to meet that shopping cart minimum, might we suggest the brand's Clinical 1% Retinol Treatment, the real MVP when it comes to achieving a flawless complexion? It's a choice that we—and Paula, apparently—feel really good about.
---
Urban Decay is known for delivering ultra saturated shades with edgy names, and today, you can pick up a palette's worth and then some for a steal. HauteLook is taking about 50% off a huge range of lipsticks, eyeshadows, primers, powders, and a lot of shadow palettes featuring a rainbow of bold hues and glittery textures. There are even a handful of offerings from their cult-favorite Naked line. Fill your makeup drawers now before this deal decays into nothingness.
---
Next time there's a storm, you could spend $5 on a drugstore umbrella that will last approximately 40 seconds before disintegrating into flying shards of metal, or you could invest in a Blunt umbrella for 20% off with promo code ROWXP8JU.