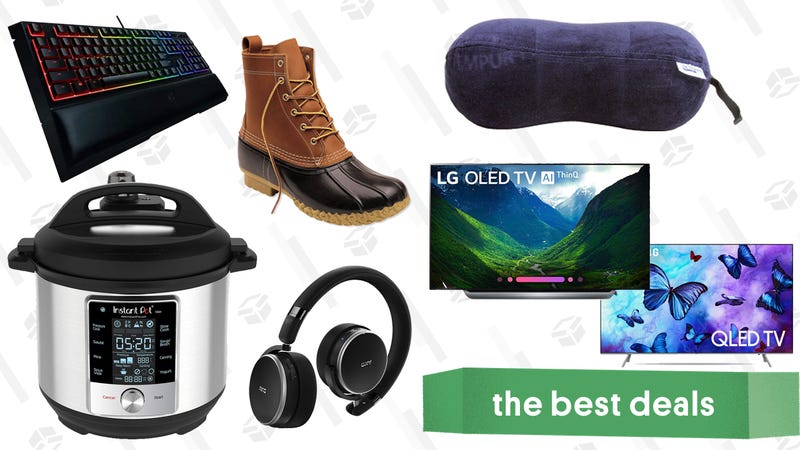 Best Deals of the Day
The best deals from around the web, updated daily.
The first big Instant Pot Max discount, a Christmas decorations Gold Box, and luggage from Amazon lead off Thursday's best deals from around the web.

Bookmark Kinja Deals and follow us on Twitter and Facebook to never miss a deal.
If you didn't find the TV deal you were looking for on Black Friday, Massdrop did what Massdrop does, and just dropped two enormous, high-end sets down to even lower prices than we were seeing during Deals Week.

First up is a 77" C8 OLED TV from LG, the largest size you can get of that model. In addition to the unparalleled black levels that OLED affords, the C8's picture quality got an upgrade over last year's model thanks to a new processor that improves color accuracy, reduces artifacts, and supports HFR (high frame rate video) up to 120 FPS. HFR content doesn't really exist yet, but a few movies are expected to come to streaming services over the coming months, so if you're planning on using the TV for several years, it might be worth it for future-proofing purposes.
Okay, now brace yourself for the bad news...
It costs $4,950. That's a shitload of money! But! It's $850 less than we saw on Black Friday, and over $2,000 less than its current price elsewhere on the web.
Coming in at a slightly more palatable $2,500 is the 82" (!!) Samsung Q6 QLED TV. It won't have the same deep blacks as the OLED set, but quantum dot technology means that colors will look amazing, and Samsung's smart apps are among the best in the industry. That price is $500 less than we were seeing on Black Friday, and $1,500 less than the current price.
---
Go big or go home, that's what I always say. And with this deal from Walmart, you can go home to a bigass TV for just $480.
This internet-capable model features 4K HDR panel which is unlikely to top any list, but if size and budget are your only concerns, this is a worth a serious consideration. It can also work well as a spare TV for an extra room in your home.
---
Anker, as you probably know by now, makes a lot of products. But I don't think any of them are as ambitious as the Nebula Capsule, a surprisingly good portable projector shrunk down to the size of a soda can.
At this size, the Capsule is obviously not as bright as a projector you'd permanently mount to your ceiling, and its standard definition resolution won't dazzle, but it can run for hours on a charge, and has great audio built in, making it ideal for an impromptu outdoor movie night, or even as a replacement for your bedroom TV. I've played around with it, and you can see all of my thoughts here.
For a limited time, the Capsule is marked down to $266 on Amazon with promo code XMASCPM1, which is one of the best prices we've seen so far.
---
---
Listen up, nerds. This is a cheap, piece-of-shit printer and you should buy it right now.
If you own a compatible HP printer, like this HP DeskJet 2622, you can get free printouts (until this garbage printer falls apart) thanks to HP's Instant Ink service.
Here's how it works: You sign up for the program, the printer monitors your monthly page count, and it contacts HP to order ink refills when you run low.
There's a supposed monthly fee based on the number of pages you print, but here's the important bit: Instant Ink offers a 15-page-per-month plan free of charge. Yes, that's 15 Amazon return labels or 15 photos every month, for free.
Cheaper printers like this one are sold below cost so that the manufacturer can recoup those losses through cartridge sales. But if you're careful about how you use HP Instant Ink, you can get away with never paying for cartridges again.
If you have room in your house, this all-in-one model is a no-brainer. (And if you are someone who does print regularly, don't buy a cheap printer. Go with a monochrome laser printer, invest in a reservoir printer, or actually use HP Instant Ink. It is a seriously good program.)

---
Logitech's Harmony Elite is basically the grand poobah of TV remotes, with the ability to control up to 15 different devices, a capacitive touchscreen, the ability to build programs that control multiple devices with one touch, and a lot more.

My favorite feature though? The included Harmony Hub that turns your smartphones, Echoes, and Google Homes into fully-functional remotes; perfect for when you've inevitably lost the actual remote in the couch cushions. $230's a pretty penny, but it's the best price we've ever seen by $10, and deals on this usually only go as low as $250.
---
Wireless, on-ear Bluetooth headphones are a dime a dozen nowadays. But for your next pair, look out for a noise-cancellation feature, like the one found in the $130 AKG Noise Cancelling Headphones N60NC.
This made-for-travel pair promises up to 30 hours of playback with active noise-canceling turned on. That means it can block out outside noise, just don't expect the same quality from Sony or Bose.
Still, at $130 this is a steal and the lowest price we've ever seen on Amazon.
---
Razer's Ornata keyboard is all about compromise, the right kind. And for $67, it's also a steal, the right kind.
This keyboard combines the long travel of a mechanical keyboard and the relative quietness of a membrane-style keyboard.
In his review, Kotaku's Mike Fahey said the "spring of the membrane coupled with that lovely mechanical click and the half-eight keys mean my fingers fly across this thing. It feels like they are being actively propelled from key to key."
It's currently a few bucks off the lowest price we've seen. And did I mention the best part? IT GLOWS.
---
Anker's reader-favorite PowerCore battery packs run the gamut from tiny tubes that fit into your pocket to massive blocks of energy that can power your devices for days at a time. Today's deal is quite firmly in the latter camp.

The PowerCore Speed 20000 is one of the few battery packs on the market with USB-C Power Delivery up to 22.5W. That means it can charge a 12" MacBook at nearly full speed, a Nintendo Switch at full power while you're playing Zelda on a plane, or an iPad Pro significantly faster than the charger it came with (if you have a USB-C to Lightning cable).

Power Delivery works both ways too, so you can actually recharge the entire battery pack with the included 30W USB-C wall charger, which will refill it in a fraction of the time of a standard 2A USB charger, and can be used as a spare USB-C charger for your other gear when it's not refilling the battery.
While its capacity is slightly smaller than the similarly equipped PowerCore+ 26800, it's dramatically lighter, and probably the better choice for most travelers. They've marked it down to $78 today, from the usual $100, and it would make a great gift for anyone who owns a Switch or MacBook.
---
The Anker PowerCore Fusion is one of our biggest sellers ever, because it combines a USB wall charger and a portable battery pack into a single product. Now, RAVPower has their own alternative with a slightly larger 6700mAh battery inside, and you can grab it for just $22 with promo code KINJAQFF.
They sent me one to check out, and despite the larger battery inside, it's barely bigger or heavier than the Anker, and would make a great holiday stocking stuffer.
---
iTunes gift card discounts are a dime a dozen, but for whatever reason, deals on Google Play credit are far less common. That makes today's $50 Google Play gift card for $40 deal from Walmart so impressive. 20% off would be a sizable savings for any gift card, but especially for one that's so universally useful (at least for Android owners), and so rarely discounted.
---
Even if Pop Sockets aren't really your thing, if you have any teens on your holiday shopping list, they'll almost certainly love to get one of these swappable three-packs. Each set comes with one Socket and three interchangeable face plates, and you can get the pack of your choice for $20 with promo code 5OFF3PACKS.
---
If you lose your keys, or your bag, or your phone, you don't have to lose your mind, too. Prepare for any bouts of forgetfulness with this Tile Mate, now just $10. The tiny Bluetooth tracker pairs with your phone and beeps when you push a button on the smartphone app, so you can find what you're looking for. And if you've lost your phone, press a button on the Tile to make your phone beep, too. And if you've lost both your phone and the Tile, probably time to reevaluate your priorities.
Just kidding, the Tile community can help you track down the Mate, while this thing called the "Find My iPhone" should be able to help with the phone. Cool? Cool. Yes, it's an older Tile model, but at that price, it's a Mate worth getting acquainted with.
---
Chrome OS laptop devotees, your time has come. Google's most powerful, flagship Pixelbook is currently selling for its lowest price ever on Amazon.
Inside this beautifully designed 2-in-1 package, you'll find plenty of power: an i7 processor, 16GB of RAM and 512GB of storage. (Yeah, pretty overkill for web and Android apps.)
Despite the impressive specs, this laptop isn't for everyone. Chrome OS remains a niche operating system. But for those who understand the limitations and, more importantly, the benefits of the no-viruses-ever Chrome OS, this is the deal you've been waiting for.
At $1,318, it's selling for even lower than on Black Friday.
---
Massdrop, land of a thousand mechanical keyboard deals, has a particularly good offer available on the Gamdias Hermes M3 right now. You can grab the keyboard for just $59 (albeit not shipping until early January), compared to $95 elsewhere.

The Hermes M3 features brown mechanical switches, onboard profile storage, and full RGB backlighting; all the key features you'd want are here. It also eschews the number pad for a more compact, borderless design, and its low profile keycaps are a nice reprieve from traditional mechanical boards, without going full chiclet like a laptop.
---
With its 24 hour battery life, impressive bass, and crystal clear sound quality, the Anker SoundCore has long been our readers' favorite affordable Bluetooth speaker, and its water-resistant successor is down to $30 today, or $10 less than usual.

The SoundCore 2 still includes dual drivers and that amazing 24 hour battery; the only real differences are a slightly tweaked design and the aforementioned water resistance. That means you can take it to the pool, the beach, or even the shower without fear.
---
We, the trackball enthusiasts, are a special breed. You may point and stare at our ergonomically sculpted peripherals, but we're too busy getting stuff done to care.
It took nearly a decade for Logitech to update its trackball line and with the MX Ergo, I got everything I wanted. It's super comfortable, can tilt 20 degrees for a more natural hand position, and it'll last 4 months on a single charge.
It's currently $76 on Amazon, a few pennies off from the lowest price we've ever seen. And while it's not as sexy as the MX Master 2S, it won out as my favorite office accessory.

---
Anker's entry-level truly wireless headphones are available for just $45 today, the lowest price we've ever seen.

Like the Liberty headphones before it, the Liberty Lites will run for 3.5 hours on a single charge. The Lite's charging case only holds an extra 9 hours worth of battery, vs. 24 hours for the Liberty, and 48 for the Liberty+. Still, that's enough juice for an entire workday or a flight from New York to Los Angeles.
---
We've seen power cubes with more ports and outlets from other manufacturers, but Anker's take on the category has a few nice touches. While it leaves one side of the cube empty, it does come with adhesive pads that let you mount it on a wall or underneath a desk. It normally sells for $26, but you can get it for just $20 today — the cheapest it's been.

---
Anker makes just about every capacity of PowerCore battery pack imaginable, but the company's 10,000mAh packs have always been among their most popular. And now, just in time for the holidays, they squeezed that much juice into a shockingly small new package.

The PowerCore 10000 Redux is only 4.1" x 2" x 1", and weighs only 6.6 ounces, making it the smallest 10,000mAh battery pack we've ever seen. And of course, Anker's PowerIQ technology is built in, meaning you'll get the fastest possible charging speed no matter what you plug in. There's even a special trickle charge mode for low-draw devices like Bluetooth headphones, which often don't draw enough power to keep USB battery packs "awake."
The Redux only just came out, and retails for $34, but it's marked down to $26 this week, making it a perfect stocking stuffer idea.
---
It's $5 more expensive than it was on Black Friday and Cyber Monday, but if anyone on your shopping list (yourself included) would like an Alexa-enabled, incredible-sounding Sonos One speaker, they're $20 off right now, which is the second best deal we've ever seen. Or, you can buy two and save $50, which is a match for Black Friday.

Unlike Black Friday though, that $20 discount is also valid on the new, limited-edition HAY Sonos Ones. They're priced $30 higher than black and white, even on sale, but you get to pick from five designer colors.
The $100 Connect:Amp discount also made a comeback. This device basically turns any unpowered speaker pair into a Sonos smart speaker, compatible with streaming services and multi-room audio.
---
Samsung's U3-rated microSD cards are some of the fastest and most popular options out there—I have the 128GB model in my own Nintendo Switch—and all four sizes are down to all-time low prices today on Amazon.

The 32GB card is down to a laughably cheap $6, the 64GB just dropped to $11, and the 128GB went from $25 to $20. The ever-so-slightly-slower SanDisk Ultra 128GB is also down to $20, which is even cheaper than we saw on Black Friday.
If you need extra space for your action cam, smartphone, tablet, Switch, or anything else, these are extremely fast cards, and extremely good deals.
---
VPNs have been in the news, and whether you want to get around video geoblocks, circumvent proxy filters, or just keep prying eyes out of your browsing data while using sketchy public Wi-Fi, reader-favorite Private Internet Access has a deal to fit your needs.

Private Internet Access doesn't do much in the way of discounting, but they offer exclusive pricing and packages just for our readers that you won't find anywhere else. Here are your options, and what you'd pay if you bought the same plan elsewhere:
These deals are only for our readers, but we aren't sure how long they'll be available, so go ahead and sign up while you can.
There's a new king of the Instant Pot world, and it just got its first significant discount ever.

The Instant Pot Max is the first Instant Pot to achieve steady 15 PSI pressure cooking, comparable to stovetop models. Previous models have maxed out at around 11.6 PSI, and the added pressure means that your food will cook even faster (who knew that was possible?). It can even do high pressure canning, the first electric pressure cooker to achieve USDA approval for that purpose.
Update: Sorry, it's "positioned for approval," but it's not official yet.
The Max also comes with a revamped touchscreen interface—it's come a long way from the cheap-looking bubble buttons of the DUO—and a touchscreen button to automatically vent your pressure. You can even set it to pulse, so you don't have to stand at the counter hitting a button repeatedly for five minutes.
The Max came out earlier this year for $200, and it's basically stayed there for the most part. Today though, you can pick it up for $150, easily an all-time low.
If you don't need to can, and don't mind waiting a few extra minutes for your food to cook, the DUO model is still on sale for $70, and the smart Wi-Fi model is still down to its Cyber Monday price of $90 as well.
The best gift you can buy for a car person is actually a gift for their car. Today only, a ton of Chemical Guys care care products are on sale for some of the best prices ever as part of Amazon's 12 Days of Deals.

If you aren't sure what to get, one of the affordable starter kits are a good place to start. Several are available in the sale, including some that come with a bucket, and even one that includes a Porter Cable electric polisher.
Lots of individual products are available as well, including the company's ultra-popular high gloss spray sealant, and even a $6 pet hair brush that would make a great stocking stuffer. For all of the deals, drive over to Amazon before these deals expire at the end of the day.
---
It might look like something Rey would wear while scouring for spare parts on Jakku, but this neck wrap is actually a travel pillow, and a great one at that.

The Trtl pillow uses a hidden rib system to support your neck as you doze off in your tiny coach airline seat. Just wrap Trtl around your neck, placing the ribs on whichever side you want to lay your head (including directly under your chin) pop on some noise-cancelling headphones, and try your darnedest to get some shut-eye. It looks ridiculous, sure, but I promise you that nobody on your flight cares. Honest!
https://theinventory.com/trtl-makes-sleeping-on-planes-less-of-a-pain-in-the-nec-1821433748
In case it wasn't obvious, the big advantage of this design is size; Trtl weighs less than 1/3 of a pound, can attach to your luggage, and is far less bulky than a memory foam pillow. While not as good as our exclusive Black Friday deal, you can get any color you want for 10% off on Amazon right now by clipping the on-page coupon. This pillow hardly ever goes on sale, and it makes a great gift, so don't sleep on this one.
---
All foods are better fried, but because the world is a cruel place, fried foods are bad for you. If you are looking to fry without fear, look no further than this DASH Compact Air Fryer, now down to $50, which uses hot air instead of oil to make everything extra crispy. It's also technically an oven cooker, making baking easier than ever, and it's tiny enough to not be a countertop eyesore. Order up one for yourself before this deal is burnt to a crisp.

---
If you still have yet to put up holiday decorations, or you have and your house still looks like a sad office party, Amazon's got you covered with a big one-day sale on everything from ornaments, to lights, to full artificial trees. There are two pages of deals, so oh by golly you should find whatever your decoration collection is missing.
---
Are your ties to your hometown stronger than, say, steel? Now you can display your love for your roots with a classy aerial-view city map, made from laser-cut and placed in a neutral 5x7 black frame. Choose one of 50 available cities for yourself or as a gift for any friends or family who've moved away from home. And with promo code STEELMAP giving you $7 off for a total of $23, this deal is definitely something to write home about.
---
Today only, Amazon's bundling two Black & Decker tools that everyone should own into one affordable package. $84 gets you a 20V drill/driver with a bunch of bits (you know, the orange one that everyone owns), and a multi-purpose electric inflator, plus a battery that you can share between the two.

The inflator can fill everything from tires to pool floats to air mattresses, and will even shut itself off once it's reached your desired PSI. It sure beats feeding quarters into the air machine at a gas station whenever your tire pressure warning light goes off.
The drill is a drill.
Today's $84 price tag is more than $40 less than buying both tools separately, but it's only available today.
---
A good mattress is important, but you shouldn't forget about a good mattress topper. Recall the joys of memory foam with today's Tempur-Pedic Gold Box on Amazon. The 3-inch TEMPUR Supreme Mattress Topper is available at an almost 50% discount for twin-, queen-, and king-sized beds, and it promises to relieve pressure on your back by conforming to your body for a great night's rest.
Also on sale in the Gold Box, a $20 Tempur-Pedic sleep mask, which contours to your face without pushing on your eyes, and an all-purpose, peanut-shaped TEMPUR pillow for $35, because there's no such thing as too many pillows.
---
Amazon makes its own AmazonBasics luggage, because Amazon makes everything now, and several sets and individual bags are deeply discounted today as part of Amazon's 12 Days of Deals.

For starters, $50 gets you a 20" roller bag with a metallic (though not actually metal) finish. On the bright side, that should fit in just about any overhead bin. But only because 20" is really small. Still, for a three day weekend, it should be plenty of space.
Elsewhere in the sale, you'll find discounted luggage sets that include a carry-on, plus either one or two matching checked bags. There's a hardside spinner set, a soft spinner set, and a cheaper soft rollaboard set that's inexplicably only available in bright red.
With a three year warranty (compared to the industry standard 10 years or lifetime), I wouldn't plan on these being the last bags you ever buy or anything. But most AmazonBasics luggage has a lot of solid reviews (even if these particular sets don't have many), and these prices are dirt cheap.
---
Don't give up and go inside when it gets dark out. Instead, fill your outdoor spaces with this Sonnenglas LED Lantern, now on sale for $25. This sturdy glass jar charges up all day thanks to the sun, only to give off bright light for 12 hours at night (there's also a USB charging option for cloudy days). Plus, magnetic switch allows you to turn it on and off as you please. This lantern would certainly brighten up any outdoor cookout and campsite, or give your yard or patio a year-round decor glow up.

---
It might not have the name recognition or cool factor of a YETI, but this 55 quart Lifetime cooler is a lot cheaper at just $97 today, and keeps ice frozen for up to seven days. It just met that threshold in this YouTube test, even when it was left outside in the hot sun. Now grab this thing and go spend a week at the beach before summer ends.

---
Aged & Ore's Duo Glasses were a Kickstarter hit back in February, and now, you can buy as many as you want immediate shipping, for 15% off.
Each Duo Glass is hand-blown, and has subtle 1 oz. measurement lines integrated into the design, so you can pour a perfect shot or measure a simple cocktail without dirtying up any other dishes. The best part though? They come with their own sphere ice molds that are designed to nestle perfectly at the bottom of the glass. How...cool is that?
Just note that you'll see the 15% discount automatically at checkout. Cheers!
---
Have you ever noticed in Home Alone that Kevin's mom has a little gift wrapping station set up in her bedroom? She does, and it's quite tidy. I'm not here to issue an indictment on her parenting skills, but I just want to say that if the type of person who can accidentally leave her 8-year-old behind while she crosses the Atlantic can keep her wrapping paper neat, then so can you.
At the very least, contain it all in this $4 Whitmor Clear Gift Wrap Organizer, which you can stuff in a closet or under the bed when you're not actively wrapping. It hold up to 25 rolls, zips up, and makes you look like your life is in order. The only downside is that it's an add-on item.

---
Just as the Contigo Autoseal travel mug is one of our readers' favorites for keeping drinks hot, this Contigo Autoseal Stainless Steel Water Bottle is highly adept at keeping your beverages icy cold. In fact, the bottle, down to just $11 in the highly appropriate iced aqua color, keeps your drink cold for up to 28 hours, thanks to vacuum insulation, plus an autoseal button keeps all liquid where it's meant to be between sips. Throw in the fact that it's dishwasher safe, and that's enough to seal the deal for us when it comes to this water bottle.