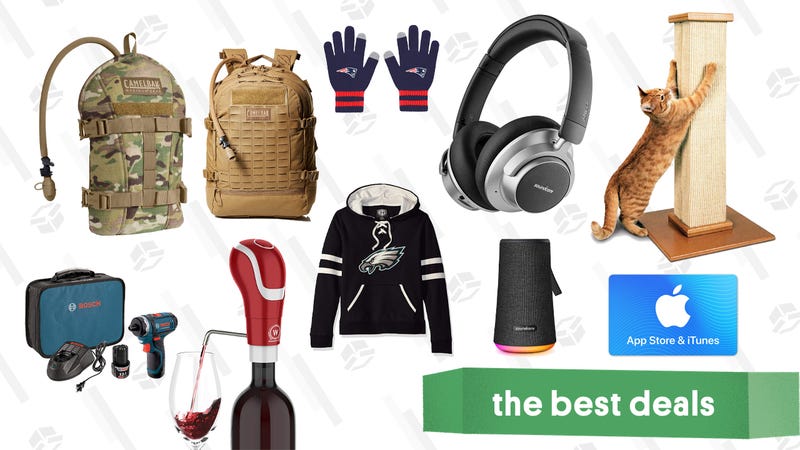 Best Deals of the Day
The best deals from around the web, updated daily.
A big Calvin Klein sale, a big box of meat, and a discounted iTunes gift card kick off Thursday's best.
Bookmark Kinja Deals and follow us on Twitter and Facebook, or sign up for our newsletter to never miss a deal.

Anker's been making a big push into the audio world with its SoundCore spin-off brand this year, and four of its most popular products are deeply discounted in today's Amazon Gold Box.

I imagine the most popular deal here will be the SoundCore Space noise-canceling over-ear headphones for $69 (nice), a $30 discount. These headphones can play music and block sound for 20 hours in wireless mode, or up to 50 if you plug in an AUX cable, and they'd make a great gift for anyone who spends time on planes or in a noisy open office.
For a more fitness-friendly set of headphones, check out the SoundCore Spirit X for $28. They pack in Bluetooth 5.0 for a stable connection, IPX7 water resistance so you don't ruin them with your sweat (I've even gone for a swim in them), and most impressively of all, a 12 hour battery.
Rounding out the deal are a pair of Bluetooth speakers. The more traditional looking SoundCore Motion B with IP67 water resistance, and the unique SoundCore Flare+, which pumps out sound in 360 degrees, and includes its own beat-driven light show on the bottom. You can even pair two of them together to use as a stereo pair.
---
Skip the "Should AI Have Human Rights?" debate until next year and welcome a trinity of Google Assistant-powered servants into your home for just $130, and make the sadist and noted domestic terrorist, Kevin McCallister proud.
Simply add the Google Home Hub to your cart, and you'll receive an automatic $20 discount and an additional pair of Google Home Mini's. Whether you're looking to invest in a smart home, or want to beef up your unpaid, digital workforce, this is a tremendous deal.
---
I have nothing but fond memories of the 90s, and I love everything about the styles from that era. (#sorrynotsorry) If you feel the same, the Impossible Project Polaroid 600 96 Cam Instant Camera, on sale for $152 at Nordstrom, deserves your attention.

Its totally fresh color scheme will remind you of the days when things were crunk or fly or jiggy rather than lit or turnt or on fleek, and as long as instant cameras refuse to die, you may as well have the raddest one on the block. Better yet, if you order before noon Friday, you can actually get it here in time for Christmas and give someone the most amazing gift ever.

---
Update: The campaign ends in just a few days, meaning this is your last chance to preorder the Capsule II for $399, or $200 less than MSRP. In our experiences with Anker's crowdfunded projects, it takes a long time for them to offer a deal on the product through Amazon that's as good as the Kickstarter price, if they ever do.

Anker's soda can-sized Capsule portable projector was a crowdfunding hit last year, and it really did deliver on its promise. But there were a few obvious areas for improvement, and Anker tackled all of the big ones with the brand new Capsule II, now up for preorder on Kickstarter.

So what's new?
1) Resolution: The original Capsule's standard definition 480p has been bumped to 720p, so your videos should look a lot crisper. Easy win.
2) Brightness: The first Capsule's 100 ANSI lumen bulb was fine in a dark room, but the Capsule II's is twice as bright, which means you'll be able to get a usable picture in more lighting conditions, and at larger screen sizes. I saw it firsthand in a fairly well-lit event space, and while not as bright as a TV screen or a full-sized projector, it was definitely bright enough to watch a movie.
3) Software: The original Capsule had a version of Android installed, but it was pretty janky, and didn't have access to Google Play. This time around, the Capsule II ships with Android TV 9.0 onboard, with access to the vast Google Play app store, which means you won't have to rely on your phone for casting content.
There are a few other minor differences of note, including the inclusion of USB-C Power Delivery for fast charging, an improved speaker, and autofocus. It is a bit bigger than the Capsule (which will remain on sale for the time being); Anker calls it "pint sized," rather than soda can-sized, which was pretty cheeky of them. Whatever beverage you compare it to though, it's still very small for a projector.
Kickstarter backers can preorder the Capsule II right now for $399. Anker's touting a $599 MSRP for the Capsule II, and while there will surely be discounts after it comes out, Anker's previous crowdfunding projects have, in hindsight, legitimately offered prices to backers that weren't matched on Amazon for many months after release, if ever.
If you ever bought a Capsule I prior to this Kickstarter going live, you're also eligible for a $100 rebate when you preorder the Capsule II. Check out the bottom of the campaign page for details.
---
If you got yourself a new TV on Black Friday (or even more recently), it's cheaper than you might think to mount it to your wall. This highly rated Perlesmith mount can support TVs up to 55", and it's only $28 today with promo code EYB52OV7, complete with bonus accessories like a level, cord ties, and an HDMI cable.

---
If you ever want to watch TV, and loud movies in particular, without disturbing your neighbors, your kids, or your sleeping partner two feet away from you, you want a pair of RF headphones. Yes, not Bluetooth...RF.
Sennheiser makes some of the most popular and best-reviewed models out there, and their entry level RS 165s are on sale for $149 today on Amazon, the best price of the year. These don't support virtual surround sound like the 175s, but they'll still sound terrific, and once you get them set up, they'll be perfectly synced up with the video on your TV, with none of the lag you can get with Bluetooth.
Needless to say, if your partner's video games and explosion-y action movies keep you awake at night, this would be an amazing (if slightly passive aggressive) gift.
---
---
Let's face the facts; you don't need the iPad Pro. The standard 2018 iPad is a terrific tablet for both consuming and creating media. (And it works with the Apple Pencil, the first non-Pro model to do so.)

And right now you can get the 32GB model for $229, $20 less than the lowest prices we saw (on and off) around Black Friday.
---
---
Once you get your first Qi-charging phone, you quickly come to realize that you can never own enough charging pads. This one from Aukey doesn't have higher-wattage charging speeds like some others we've seen, but it looks perfectly nice, and it's only $7 with promo code XMASAK06, which is about as cheap as we ever see these things.
---
Elevation Lab makes some of the best iPhone docks money can buy, and you'll need a whole lot less money than usual to buy them with our exclusive discounts. Even if you don't need one yourself, they'd make great gifts for any iPhone owner. These deals aren't quite as good as Black Friday's, but they're close.

The $40 (with promo code KINJADOCK4) ElevationDock 4 incorporates a pair of fine adjustment knobs to get a perfect fit, no matter what model iPhone or what case you happen to be using at the time.
The smaller CordDock won't hold your phone quite as steady, but it lets you effortlessly take the phone off the dock while keeping the charging cord attached, which is perfect for nightstand use. Get it for $27 with promo code KINJACDOCK.
---
USB-C is taking over the world, so if you're getting a new Switch, laptop, or other USB-C-powered device for the holidays this year, Anker's got you covered with all the charging accessories you need.

For the chargers, just be sure to note the wattage of the USB-C port. 30W should be plenty for most laptops (if a bit slower than MacBook Pro owners might be used to), and 18W should be okay for things like iPads, phones, and even the Switch in handheld mode.

Chargers:
Battery Packs
Cables
---
Compared to its predecessor, the newest Amazon Echo Dot looks nicer, sounds better, and today at least, is even cheaper. This $20 deal from Daily Steals (via Facebook) is actually less than Amazon was selling these for on Black Friday, and you even get free shipping.
---
Anker's reader-favorite PowerLine charging cables have blossomed into an entire line of different products, and it hasn't always been clear which one was the best:

PowerLine - The original. Rubber-wrapped, and kevlar-reinforced.
PowerLine+ - The same, but wrapped in Nylon for added durability, less tangling, and a better feel.
PowerLine II - A more durable version of the original, and backed by a lifetime warranty, but without the benefits of nylon wrapping.
That confusion can now become a thing of the past, because Anker combined the best of all of its cables into the new PowerLine+ II, and you can save on the 3' (promo code CABLE8462) or 6' (CABLE8463) USB-A to USB-C version today. It's incredibly durable, it's wrapped in nylon, and it comes with a lifetime warranty, meaning it's probably the last cable you'll ever have to buy.
Those codes work on both red and black, but just be sure you're using the right code for the right length. And remember, USB-A to USB-C cables don't support USB-C Power Delivery charging speeds like C-to-C cables, but they do allow you to charge your USB-C gadgets from any standard, ubiquitous USB charger.
---
Anker's most impressive entry in the true wireless headphone market is on sale for the lowest price we've ever seen, by a longshot.

You can read our impressions of the Zolo Liberty+ over on The Inventory, but here are some highlights:
3.5 hour battery, plus a charging case with enough power for 48 hours of playback.
Transparency mode that lets in some ambient noise.
Customizable EQ settings.
Bluetooth 5.0 for a stable connection.
Normally priced at $150, promo code ZWSDZ2010 will bring them down to $75 right now, just in time for the holidays. That's less than they were selling for on Kickstarter, way back when.
For $15 less (with promo code ZWSDZ2000), you can also get the standard Zolo Liberties, which only carry 24 hours of charge in their case, rather than 48. They also lack transparency mode and customizable EQ settings, so it's probably worth spending just a little more for the top-end model.
---
TCL's affordable 6-series TVs are famous for offering every form of HDR (including top-shelf Dolby Vision), local dimming zones for better contrast and black levels, and even excellent Roku software, and the 55" model just dropped to a new all-time low price of $550. That's about $100 less than usual, and even $80 cheaper than we saw on Black Friday, and any way you slice it, it's an incredible value for that set of features.

Want to upsize to the 65"? It's also on sale for $930, though that's only about a $20 discount, and we've seen it go as low as $900, albeit very briefly.
---
$10 is about what you'd expect to pay for a 4-port USB charging hub, but this Aukey model also comes with two AC outlets, so your lamps and laptops don't have to go hungry.

---
The Anker PowerCore Fusion is one of our biggest sellers ever, because it combines a USB wall charger and a portable battery pack into a single product. Now, RAVPower has their own alternative with a slightly larger 6700mAh battery inside, and you can grab it for just $22 with promo code KINJAQFF.

They sent me one to check out, and despite the larger battery inside, it's barely bigger or heavier than the Anker, and would make a great holiday stocking stuffer.
---
Samsung's U3-rated microSD cards are some of the fastest and most popular options out there—I have the 128GB model in my own Nintendo Switch—and all four sizes are down to all-time low prices today on Amazon.

The 32GB card is down to a laughably cheap $6, the 64GB just dropped to $11, and the 128GB went from $25 to $20.
If you need extra space for your action cam, smartphone, tablet, Switch, or anything else, these are extremely fast cards, and extremely good deals.

---
VPNs have been in the news, and whether you want to get around video geoblocks, circumvent proxy filters, or just keep prying eyes out of your browsing data while using sketchy public Wi-Fi, reader-favorite Private Internet Access has a deal to fit your needs.

Private Internet Access doesn't do much in the way of discounting, but they offer exclusive pricing and packages just for our readers that you won't find anywhere else. Here are your options, and what you'd pay if you bought the same plan elsewhere:
These deals are only for our readers, but we aren't sure how long they'll be available, so go ahead and sign up while you can.
Bosch's 12V power tools consistently punch above their weight, and you can grab a 2-speed pocket driver with two batteries for just $70 today, or $30 less than usual.
Unlike most cordless drills that hang a bulbous battery pack off the bottom of the handle, Bosch's 12V tools use a slimline design where the battery fits entirely within the handle, making the drill far more maneuverable in tight spaces.
---
Ninja makes our readers' favorite affordable blender, and today, you can save on a step-up model, with all the accessories you need to make a pitcher of your favorite drink, or a single serve smoothie to go.

The BL642 features Ninja's Auto-iQ base, which combines pulsing, blending, and pausing to make the ideal texture for whatever it is you're blending. The set includes a 72 ounce pitcher, plus three different sizes of single serve blending glasses that let you blend in and drink from the same vessel, which means fewer dirty dishes.
This thing usually sells in the $150-$200 range, and $100 is an all-time low by almost $30. It's only available today though, so grab the deal before it gets pulverized.
---
String up these trendy Edison bulb string lights in your backyard and make Pinterest proud. This 49-foot strand is completely weatherproof, so you can leave them up year-round. Although not the best price we've seen on these, they normally sell for $50, but today you can light your space with them for $36 with promo code 3FK8HUTY.
---
As it turns out, chugging wine directly from the bottle is not the correct way to enjoy it. Huh! Resist the temptation to just stick a straw in your next wine bottle (which, I know, can be especially difficult during the holiday season) and attempt to be ~classy~ by investing in a discounted wine aerator from Waerator in today's Gold Box. With just the touch of a button, these gadgets will improve the flavor of your wine, while also taking the hassle of our pouring it into a glass via a handy spout.

And, while you're at it, might as well pick up an automatic rechargeable electric wine opener for $27 (which is useful for chuggers, just saying). Chances are, you'll need it at some point over the next few weeks.
---
Is there a better gift than a big-ass box of meat? I'm struggling to think of one. Butcher Box sells $135 e-gift cards that can be redeemed for the special holiday gift box of your giftee's choice, and our readers can buy a card for just $120 right now with promo code KINJA.

You can check out the gift box options here, to get an idea of what your lucky giftee will be feasting on in January. You're going to want to invite yourself over for dinner.
---
What would it take to perk you up on this dreary winter morning? How about the best price ever for the Keurig K475 Single Serve K-Cup Pod Coffee Maker? Regularly $140 or more, today it's just $70, and it has several nice features like a 70-oz. reservoir (so you can brew a week's worth of morning joe before refilling it) and the ability to brew a carafe... because that's not moving backwards at all?

On sale for the same price is the Keurig K-Select Single Serve K-Cup Maker with a starter set of Krispy Kreme, Newman's Own, or Green Mountain pods. These bundles normally hover between $90 and $140, and while the machine itself isn't quite as fancy, you probably don't need it to be (and the included coffee makes up for it).

Only you know your coffee habits and which option is best for you, but really you can't go wrong either way.
---
I'm hardly a kitchen expert, but I know a few things about cooking. I know you need pans to do it, and that this Cuisinart MultiClad Pro Stainless Steel 2-Quart Saucepan with Cover is a good one to have. (I also know that it's just $28 when you clip the coupon on the page.)

I know that stainless steel cookware is a smart choice because it stays true to itself and doesn't let food or heat change it. I know that triple-ply construction with an aluminum core is one method for ensuring even heat distribution. And I know that this pan checks all those boxes and more. What I don't know is why you haven't already bought it.

---
I feel like even Mitch Hedberg would be disappointed with the name "food processor." It's accurate and descriptive, but it's also vague — to "process" food could mean anything. "Food dicer/shredder/chopper/grinder/mixer/kneader" is a bit much, though, so I guess "processor" it is.

The Cuisinart 14-Cup Food Processor is a lovely example of this multitasking species, to the point that I'm not sure if I like the copper or red finish better. It's also on sale for $116 for today only, which, considering the number of functions it can perform, is a pretty unbeatable deal.

---
Nice, simple drinkware is something you need to own if you share a hobby with every person to ever appear on HGTV — entertaining. It goes with any theme, any decor, any level of formality.

This Luigi Bormioli Top Class 12-oz Drinking Glass 6-Pack, made of break-resistant, lead-free crystal you can put in the dishwasher, is also pretty low maintenance, as far as glassware goes. And it's chic! Look at that subtle laser-cut rim, the tasteful thickness of it...

---
Spring and summer will be here before you know it. Is your deck/patio/yard ready? If not, Amazon has a handful of Suncast products on sale today, and all are designed to optimize your outdoors experience. Whether you need a rolling cooler, a storage cabinet, a prep station, or just some way to make your trash look nicer, you'll find it here. But don't wait around — the deals end today.
I used to chop garlic by hand, and I think deep down, I was hoping I'd cut my finger off just so I'd have an excuse to stop. That all changed when I bought a garlic press, which minces (really, purees) a clove in a matter of seconds, no peeling required. This press from Greenco is down to $4 today on Amazon. It's an add-on item, so I suggest buying lots of them to give away as stocking stuffers.

Just note that pressed garlic is much more intense than chopped or minced garlic, so you may want to use one or two fewer cloves in some recipes.
---