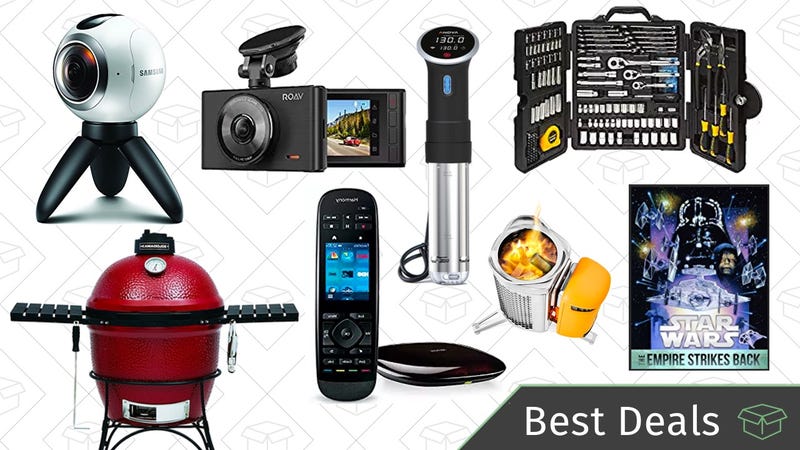 Anker dash cams, a phone-charging camping stove, Star Wars movies and comics, and more are all part of today's best deals.

Bookmark Kinja Deals and follow us on Twitter to never miss a deal.
Top Tech Deals
You know those cool 360 videos you've seen on YouTube, or even in a VR headset? All you need to make your own is the Samsung Gear 360, and it can be yours for an all-time low $77 today.

Even if you don't have access to like, a helicopter or speed boat to capture truly jaw-dropping video, you could easily plop this thing into the middle of a party or get-together, and relive the whole thing in 360 degrees later. I wish I'd had one for my wedding.
---
It's not hard to find good deals on VPN subscriptions, but our readers' favorite service, Private Internet Access, hardly ever goes on sale. This is the holiday shopping season though, so for a limited time, you can sign up for two years of the service for just $60, down from its usual $70. That's just $2.50 per month to protect your browsing data, get around video geoblocks, circumvent proxy filters, and more.

---
We see a ton of deals on affordable Bluetooth earbuds, but if you've been waiting for a solid discount on noise-cancelling over-ears before you cut the cord, you're in luck today.

Amazon's marked down BÖHM's Bluetooth headphones to $75 today as part of a Gold Box deal. These cans include up to 16 hours of battery life, 40mm drivers, and yes, even active noise cancellation.
---
While not nearly as ubiquitous as Nest's Learning Thermostats, Ecobee's smart thermostats one-up the competition by pairing with wireless remote sensors that you can place elsewhere in your house, giving the thermostat a more accurate picture of your home's overall temperature.
The new Ecobee4 is especially notable in that it doesn't just work with Alexa...it actually is a fully-featured Alexa device, just like an Echo Dot that lives on your wall. It's rarely been discounted from its usual $250 since it launched earlier this year, but today on Amazon, you can get it (plus a remote temperature sensor, eat your heart out, Nest) for an all-time low $199, the same price as Black Friday.
---
The Logitech Harmony Ultimate has just about every feature you could ever ask for in a universal remote, and then some, and Amazon's offering it up for an all-time low $140 today, about $80-$100 less than usual.

The Harmony Ultimate can control 15 of your favorite devices (from a database of 270,000), including ones hiding behind cabinet doors. Its touchscreen gives you quick access to your favorite settings, and it can even control smart home devices like your Philips Hue lights, meaning you can create a "Movie" mode that turns on your TV and Blu-ray player, switches your TV to the right input, and dims the lights, all with one push of a button.
The sneaky-great reason to buy this though is the included Harmony Hub. The hub is the thing that actually controls all of your devices, and it doesn't just work with your remote: It works with your smartphone and Alexa too. That means if you can't find the remote, or can't be bothered to get off the couch, you can still control your TV with just your voice. The hub by itself usually sells for about $90, so this bundle adds a powerful remote for only $50.
---
The government should mandate that all TVs come with at least five HDMI ports. I see no downside to this. Until I become president though, this $8 HDMI switcher will have to do. It basically turns one port into two, switches between devices at the press of a button.

---
HDTV bias lights are nothing new to our readers, but Luminoodle's are some of the most highly-rated out there, and you can save 30% on the white models today on Amazon.

For a limited time, you can choose from all three lengths (there's a guide to help you pick on the product page, but you can trim them every two inches to get the right fit) for 30% off with promo code NZ6Y8AN2. If you aren't familiar, these ease eyestrain when watching TV at night, improve your TV's perceived contrast, and just look really cool. Needless to say, this would make for a creative holiday gift as well.
---
Anker's original SoundBuds were our readers' favorite affordable Bluetooth headphones, but they've since spawned an entire line of earbuds to fit every budget and lifestyle.
The SoundBuds Curve are the newest addition to the family, and are designed with active users in mind. Their ear wings ensure they stay put while you exercise, and an internal hydrophobic coating means your sweat won't fry them. Their best spec though? 12.5 hours of battery life, which is fantastic for Bluetooth earbuds. They normally sell for around $30, but you can get them for an all-time low $19 right now, no code necessary.

---
An SSD is the best upgrade you can give your older computer, and Samsung's 850 EVO line is the most popular one there is. A worldwide NAND shortage has reversed the previously inexorable downward price trend on these things over the past year or so, but today on Amazon, the 250GB and 500GB models are both back down to the best prices of the year.
---
Smart plugs are like a gateway drug into home automation, and TP-Link's is down to $20 on Amazon right now, the best price ever if you aren't including various Echo bundles that were available last week. This basically lets you control any device with an on/off switch from your phone, or even with your voice via an Echo device.

---
Car jump starting batteries are nothing new, but this RAVPower model is more powerful than most at 1000A, and it's a fantastic deal at $50. This has enough juice to start a 7L engine, but is still small enough to fit in your glove box. And of course, it'll also charge your phone in a pinch.

---
Plug in all the things with this $19 tower of power. This surge protector comes with 10 outlets, four USB ports, and its own 6ft retractable power cord. Plus, it rotates for optimum space-saving.
---
Update: We're having some trouble with this promo code, and will update the post when it's working.
For iPhone and iPad owners, there's no such thing as owning too many Lightning cables. So buy two cables for yourself, or stuff someone's stocking with a 3' and 6' cable for just $10.

---
The most versatile member of Anker's insanely popular PowerCore battery pack family pulls double duty as a USB wall charger, and you can save $8 on the white model with promo code XMAS1621.
I've owned the Fusion since it launched earlier this year, and it's an indispensable part of my bag. Now, rather than traveling with a wall charger, a battery pack, and a microUSB cable to recharge said battery, all I need is the Fusion and my Apple charging cables. You can read all of my impressions here, and then head over to Amazon to get yours for $22.
---
Whether you need a small card for a dash cam, or a ton of space for Nintendo Switch games and 4K GoPro footage, these Samsung microSD cards are cheaper than they've ever been, in all four of the capacities listed below.

---
We thought Amazon was just about done with discounts on their own gadgets for the year, but a bunch of new deals launched this morning, some of which are actually better than Black Friday.
Check out all the device discounts here.
---
VPNs are in the news a lot lately, and whether you want to hide your tracks, or just watch videos that would otherwise be geoblocked, there are several great deals available out there to get you started.

If you can commit to five years, PureVPN is going to be your best bet at a measly $70, which works out to just $1.17 per month. PureVPN encrypts and obscures all of your internet traffic from everyone from malicious hackers to your ISP to the government, and includes some cool features like a kill switch to automatically disconnect your Wi-Fi if the VPN stops working, as well as split tunneling, which can route some of your traffic through the VPN, while letting the rest go through your ISP as normal.
If you don't want to commit to the same company for that long, or would just prefer to use a different provider, NordVPN's holiday offers are still in effect as well:
Lifehacker has recommended Nord in some previous guides, but if you have any firsthand experience with the service, sound off in the comments!
Top Home Deals
Is some new cookware on your wish list? Well, today is a great day to buy one of these Cuisinart 8-piece sets. This MultiClad tri-ply pro set typically sells for $300, has never been under $200, but is marked down to $140 today. The beautiful hammered copper set got its first discount today, and they're almost half off, from $400 to today's $205.
So if you're in the market for new cookware, grab a set early - this deal will only last though the end of the day or until the products sell out.
---
Nonstick pans are synonymous with brief lifespans and possibly carcinogenic flaking, but Zwilling's ceramic pans are just as slick, with none of the downsides. They're dishwasher safe, oven safe up to 300 degrees, and above all else, really pretty to look at.

These are exclusive to Food52, and never really go on sale, but for a limited time, you can save $19 when you buy both the 8" and 10" model ($89 total), $23 when you buy the 10" and 11" model ($105 total), or $38 when you buy all three ($139 total). These pans hardly ever go on sale, so if you want some for yourself, or to give as a gift, get this deal while it's hot.
---
There may be no better way to spend a Sunday than killing a bottle of wine while leisurely making a big-ass paella to share, but the experience isn't complete without an honest-to-goodness paella pan. Luckily, Lodge makes a heavy duty carbon steel model that'll work on pretty much any cooking surface, and with a few exceptions, $38 is about as cheap as it gets.
---
Very similar to a Big Green Egg, this 18" Kamado Joe is discounted about $200, bringing the price down to $699.
If you're unfamiliar, kamado grills are ovens, grills, and smokers in one. They have a very wide temperature range, and are made of ceramic, which allows them to heat up quickly and keep that heat for long periods of time.
Similar-sized models of the Big Green Eggs typically sell for around $850, so today's price on this Kamado Joe is a hot deal. However, this is a Gold Box discount, so this deal will only last through the end of the day or until the product sells out, so don't dillydally.
---
The perfect gift or stocking stuffer for the Game of Thrones fan in your life is this Hand of the King bottle opener. At just $11, down from its usual $20, you won't have to be Lannister to afford it.
---
If you've ever eaten at a nice steakhouse, you were probably eating sous-vide meat. Here's a secret though: It's really easy to get those kinds of results yourself, and Amazon's here to help with a $120 deal on the newest Wi-Fi version of Anova's top-selling immersion circulator, as well as a $99 deal on the older Bluetooth model.

Lifehacker has a great explainer on Sous-Vide cooking for you to check out, but the basic idea is that you seal the food in plastic bags, and then cook it in precisely heated water over a longer period of time. It sounds weird and kind of sterile, but the result is meat that's cooked to the exact right temperature all the way through.

We saw these for slightly less around Deals Week, but by any other measure, these are fantastic deals if you've been meaning to pick one up.
---
Want to get a robotic vacuum for someone you love this holiday season, or just buy one for yourself? A couple of models are back on sale today.

First up, the ECOVACS Slim Neo is thin enough to slip under most furniture, and is $30 off when you clip the on-screen coupon. You can also control and program it with your smartphone.
If you'd prefer the name brand, the iRobot Roomba 690 is back down to its Black Friday price of $275. This one also features smartphone controls, and you can even start or stop it with Alexa.
---
If you own an Apple device, you can get a $5 iTunes gift card just by using Apple Pay on any online purchase at any of these retailers, between now and December 21:
I probably wouldn't go out of my way to buy something just to get the $5 gift card, but this is worth keeping in mind as you wrap up your holiday shopping. Full details here.
Offer valid in the U.S. only, while supplies last. Limit one App Store & iTunes Gift Card per partner. Additional terms and conditions may apply. See the applicable partner website or app for details.
---
Anker's home goods brand, Eufy, is blowing out 33' strands of copper string lights for just $8 each for the holidays, so go make Pinterest proud.
---
Our general rule of thumb for mechanics tool sets is that anything under $.50 per piece is generally a good deal. This 170 piece set from Stanley easily hits that threshold at $70, even though it includes some stuff you wouldn't normally find in a mechanics set, like a tape measure and some pliers. Just note that this price is only available today, and it could sell out early.

---
Aer makes some of our favorite minimalist luggage, and their weekender-ready Duffel Pack is on sale for just $105 today for our readers with promo code KD30.

The 24L Duffel Pack includes a main compartment for your clothes, be they outfits for the weekend or just dirty gym clothes, a shoe compartment to keep odor away from the rest of your stuff, a slim laptop sleeve, plus two side pockets for smaller items like your phone. And once you're all packed up, you just carry it around like an attractive backpack.
---
Anker's line of dash cams isn't even a year old, but they're already a huge hit with our readers, and two different models are down to great low prices on Amazon today.

You can read my original Roav DashCam impressions here, but the C2 model (available for $45 today with promo code RVC2SD44) has a few differences. Notably, it operates at a wider temperature range, so if you live in an extreme climate, this is the model for you. It also upgrades the screen from 2.4" to 3", and packs in a new Sony Exmor sensor and Ambarella A12 chipset. However, unlike the original, it doesn't include Wi-Fi, so you'll have to plug your microSD card into a computer to export your footage.
Or, for $79 (with code SDRV7814), you can opt for the C1 Pro. This is an upgraded version of the model I reviewed, with higher resolution recording, built-in GPS, and an included 32GB microSD card. It also has Wi-Fi, unlike the C2.
---
Anker, producer of a lot of your favorite charging gear, has its own line of flashlights now, and you can get one for an all-time low $8 right now.

The entry-level LC40 model is IP65 dust and water resistant, but actually doesn't include a rechargeable battery. However, you can run it on three AAAs or a single rechargeable 18650 battery, which are cheap and easy to find.
---
Every year around the holidays, Amazon offers a limited edition teddy bear when you order gift cards of certain denominations, and it never lasts long. Frankly, we're surprised this year's is still available after over a week. The bear comes with gift card purchases between $100-$500, so lock in your order before they're all adopted.

---
You probably wouldn't want to use the Dremel MiniMite for, like, cutting through steel bolts, but it's perfect for smaller tasks like sanding, polishing, and engraving. Plus, it's battery powered, and only $20 today, making it a great little stocking stuffer.

---
It's not the holidays until your booking last minute travel. Hotels.com can help you survive the busiest time of the year (or plan a relaxing vacation for after its all done). Use the code HURRY1217 and save $40 when you spend $250 if you book on 12/12 or 12/13.
---
In their continued effort to become the place you get literally everything you could ever need, Amazon now makes (pretty nice looking) home decor. Rivet and Stone & Beam feature modern styles, their collections of artwork and prints are all 20% off. Photos, canvases, wood murals, and more are included, so if you have some wall space you need to fill, this is perfect.
---
If your wiper blades have seen better days, Amazon's discounting a variety of Michelin Stealth and Bosch Insight blades right now.
Unlike a lot of previous wiper blade sales, there are no coupons to clip or in-cart discounts here; the prices listed are the prices you'll pay. The deals vary a bit by wiper blade size, but you'll be spending about $10-$12 per blade, which is about $4-$6 less than usual, in most cases.
---
Today's $5 price on this reusable set of silicone baking cups is an all-time low and is just in time for the height of holiday baking season. Plus, they would make great stocking stuffers for the baker in your life.
---
No matter how great your kitchen knives are, they all need some tender loving care from time to time. This $7 Lansky BladeMedic includes two v-sharpeners, a fold-out sharpening rod, and a ceramic sharpening edge for serrated knives, all in a handheld package that can fit into any kitchen drawer.

This thing amazingly has a 4.6 star review average from over 3,000 customers, and it's sold out within a few hours every time we've posted it at this price, so I wouldn't wait.
Top Lifestyle Deals
When society collapses and the power grid fails, you'll always be able to keep your phone charged with twigs and branches if you buy BioLite's CampStove 2 for 25% off today.
It sounds like fake news, but this thing really does work. You just find some sticks just laying on the ground, toss them into the stove and press a button to light them on fire. Then, you plug your phone into the USB port on the side of the stove, which is connected to a battery that is recharged by the flames. It's completely bonkers, and yet it works.

Of course, this also works as a regular old camp stove, and at full power it can boil a liter of water in under five minutes. It's also super light, and is about the size of a large water bottle, so it won't take up too much space in your camping bag. Save over $30 on it today with promo code BioLite2, which brings it below $100 for the first time ever.
BioLite's BaseLanterns is also on sale with the same code today. It puts out enough light to illuminate your entire campsite, and you can also plug in SiteLites from BioLite's NanoGrid for even more illumination.