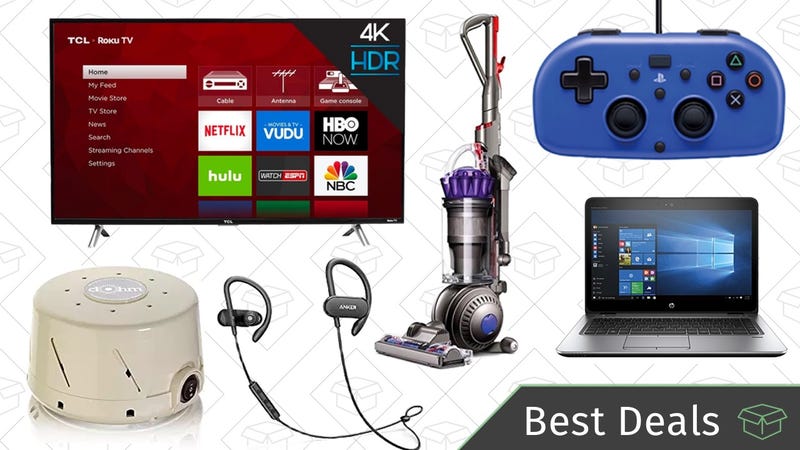 Pick up savings on 4K TVs for the Super Bowl, a refurbished Dyson Animal, Anker SoundBuds, and more.
Bookmark Kinja Deals and follow us on Twitter to never miss a deal.

TOP TECH DEALS
TCL's 2017 4K TVs aren't technological marvels, but they might just represent the best value in the TV world, and three different sizes are on sale right now in preparation for the Super Bowl.
These sets all have Roku's excellent software built in, 4K resolution, and even a limited form of HDR, though not Dolby Vision like you'd see on more expensive sets.

These discounts aren't huge, but these sets don't go on sale often, and they weren't expensive to begin with.
---
Monoprice sitewide discounts are nothing new, but $50 off a $150 order of Monoprice-branded products (with code 50MASTER) is basically unheard of. The only catch is that you'll have to pay with MasterPass, which is free to sign up for, and works with non-MasterCard credit cards, so it's really not much of a catch at all.

This landing page has a few ideas for products, including monitors, audio gear, and even PlayStation VR (Update: Sold out), but the code isn't limited to those products; it seems to work on everything Monoprice-branded.
---
While mesh routers have broken through in the past few years, the uber-popular TP-Link Archer C7 though is one of the best "traditional" routers you can get, and it'll only cost you $60 today, the best price we've ever seen. As long as you don't live in a mansion or a series of concrete bunkers, this should be more than enough router for you.
---
The release of the Sonos One effectively pushed the going rate of the old Play:1 down to $150, but right now on Amazon, you can get the white model for an even cheaper $137.

The Play:1 sounds exactly the same as the new One (that is to say, it sounds great), and you can even combine two Play:1s into a stereo pair, or scatter them all over your home for multi-room listening. Sonos is expected to offer a 2-for-$349 deal on the new model tomorrow, but honestly, this is probably a better deal for most people.
---
Whether you're buying them all for yourself, or sharing them with particularly forgetful family members, we've never seen a better deal on the Tile Mate than this $48 4-pack. The Mate's most obvious home is on your keychain, but it'd also work great on a gym bag, in your luggage, or even attached to a TV remote.
---
This HP laptop is not particularly good looking, and I wouldn't call it a powerhouse, but it's a solid deal at $350, even refurbished.

That gets you a quad core AMD processor, a 14" 1080p screen, 8GB of RAM, and somewhat surprisingly, a 128GB SSD rather than a spinning hard drive. If that sounds like enough computer for you, this deal is only available today in Amazon's Gold Box, so hop to it.
---
Anker's SoundBuds Curves were a runner up in our recent affordable headphone poll (they were only beat out by Anker's own SoundBuds Slims), and you can grab a pair for just $19 today, a match for the best price we've seen.
The SoundBuds Curve are the sportiest member of the SoundBuds family, and are designed with active users in mind. Their ear wings ensure they stay put while you exercise, and an internal hydrophobic coating means your sweat won't fry them. Their best spec though? 12.5 hours of battery life, which is basically unheard of in the space. They normally sell for around $30, but you can get them for an all-time low $19 in today's Amazon Gold Box, no code necessary.

---
The perfect power strip for your office is down to $29 on Amazon today with promo code AUKEYA13. That gets you eight AC outlets (two of which are offset to accommodate larger plugs), five regular USB ports, and even a Quick Charge 3.0 port, so you can plug in all of the things.

---
Anker makes smart plugs now, because Anker makes everything, and they're down to their lowest prices ever today when you clip the 15% coupons on the product pages.

Like pretty much all of these things, you can control or schedule it with both your phone and with Alexa, and their built-in energy monitoring feature is a great feature at this price. The coupon is available both for the original, square model and the new, compact (i.e. non-outlet-blocking) version, though the older one is a few bucks cheaper.
---
RAVPower's newest battery pack is very similar to the reader-favorite Anker PowerCore Fusion, but with double the battery capacity (10,000mAh vs. 5,000mAh). For a battery pack that plugs directly into an AC outlet, that does mean that it might be more susceptible to falling out of worn out, loose-fitting outlets, but at $21, it wouldn't hurt to try it out.

The real appeal of these things is that you only have to take one charger with you when you travel. This can act as your wall charger at night, and your battery pack during the day, all without the need to futz with microUSB cables to recharge it.
If you missed it yesterday, here's a 10,000mAh battery for just $9, albeit without AC outlet prongs.
---
Update: Now just $60 with promo code ANKERPD9
Anker's reader-favorite PowerCore battery packs run the gamut from tiny tubes that fit into your pocket to massive blocks of energy that can power your devices for days at a time. Today's deal is quite firmly in the latter camp.

The PowerCore Speed 20000 is one of the few battery packs on the market with USB-C Power Delivery up to 22.5W. That means it can charge a 12" MacBook at nearly full speed, a Nintendo Switch at full power while you're playing Zelda on a plane, or an iPad Pro significantly faster than the charger it came with (if you have a USB-C to Lightning cable).

Power Delivery works both ways too, so you can actually recharge the entire battery pack with the included 30W USB-C wall charger, which will refill it in a fraction of the time of a standard 2A USB charger.
We saw this thing at CES last week, and while its capacity is slightly smaller than the similarly equipped PowerCore+ 26800, it's dramatically lighter, and probably the better choice for most travelers. They've marked it down to an all-time low $80 $60 today on Amazon, which is $10 $30 less than its launch price, and $20 $40 less than its regular going rate.
---
We see deals on USB 3.0 to USB-C cables fairly often, but discounts on straight C-to-C cables are comparatively rare. If you need a few to add to your collection, you can grab two (a 3' and a 6') today for just $7 with code KINCB009.

And if you missed it yesterday, you can still get a 3-pack of A-to-C cables for the same price as well.
---
In today's edition of "Silly Things That Are Actually Kind of Useful," we have a $9 beanie with tiny Bluetooth speakers built right in. I'm sure the sound quality isn't amazing, but it should be adequate for listening to podcasts, or even some summery songs to make you feel less cold and miserable over the next month or so.

---
The government should mandate that all TVs come with at least five HDMI ports. I see no downside to this. Until I become president though, this $8 HDMI switcher will have to do. It basically turns one port into two, switches between devices at the press of a button.
---
Little known fact: Entering your Netflix password on a TV with a game controller is technically considered torture under the Geneva Convention.

If you're still subjecting yourself to this misery, do yourself a favor and pick up this $10 wireless keyboard/trackpad remote. It's kind of ugly looking, but it'll get the job done on your PS4, Xbox One, smart TV, or home theater PC. It's even backlit!
---
We see deals with some regularity on Anker's 6' and 10' nylon-wrapped PowerLine+ Lightning cables, but today, you can upgrade your standard 3' cords for just $8 each. The PowerLine+ feels ridiculously nice in the hand, is way more durable than Apple's first party cable, and comes with an 18 month warranty, so what's not to love?

Note: The code is only valid on the red model.
---
VPNs are in the news these days, and with good reason. So if you're curious to sign up and start protecting your browsing history and personal data (or, you know, getting around websites' geoblocks), NordVPN charges less per month than a typical trip to Starbucks.
NordVPN has long been one of the most popular and reliable VPN providers out there, and if you sign up for a one-year membership, promo code VIP70 will drop your annual price from $69 to $48. If you're sure you want to commit, use this link to get a special two year plan for $79 with code 2YSpecial2017, or this link to get three years for $99 with code 3ydeal. Lifehacker has recommended Nord in some previous guides, but if you have any firsthand experience with the service, sound off in the comments!
TOP HOME DEALS
Dyson's DC65 is our readers' favorite vacuum, and you can pick up a refurb of the Animal model for just $190 today.

As you might have guessed, the Animal designation means that this vacuum is designed for pet owners, its main advantage being an included tangle-free turbine tool for getting pet hair out of furniture. It also comes bundled with a stair tool, a soft dusting brush, and a combination tool for everything else.
Looking past the accessory hose, the vacuum itself rests on one of Dyson's patented balls for easy maneuverability, and is as powerful as you'd expect. Yes, it's a refurb, but a new one would set you back over $500 on Amazon, and this is the best price we've ever seen.
---
If excessive noise (or utter silence) makes it difficult for you to doze off, this popular white noise machine might be the key to a better night's sleep. Marpac's Dohm-DS boasts a 4.3 star average on over 12,000 (!!!) reviews, and Amazon's offering the tan model for $40 today, or about $10 less than usual. I wouldn't sleep on it, as this price is unlikely to last long.

White noise can also be great for infants, and you can also save 15% right now on the new, baby-friendly LectroFan Kinder. The Kinder includes over 75 sounds (including lullabies), has a soothing, color shifting night light built-in, and can even be controlled from outside your baby's room with a smartphone app. Just use code 15OffKinder at checkout to get it for $68.
---
This isn't some leftover Halloween candy deal, and it's not an overpriced heart shape box: These are full sized candy bars. The good stuff. You get 30 of them for just $14, or about half the price of buying individually in the grocery store checkout line. The best part? 10 of those 30 are Reese's cups.

---
Go nuts over 20% off a 12-pack of snack-sized bags of raw almonds, a 3-pack of 24-ounce bags, and a 12-pack of mini salt and pepper-flavored bags today. As far as snack foods go, pistachios are the most delicious, and not too bad for you either. Just remember, the final discounted price won't show up until checkout, and some of these are Subscribe & Save products. If you don't want multiple shipments, you can cancel right after the first order ships.

---
Clear some desk space for this $7 mug warmer and you won't have to suffer through drinking lukewarm coffee or tea again. Today's price is the lowest Amazon has priced it in a couple of months, so why not?

---
On top of being possibly the prettiest cookware you can buy, this Cuisinart copper hammered 8-piece set is made with triple-ply material, meaning it provides superior heat distribution and conductivity. This is the good stuff that professionals use. Plus, it's about $125 off its usual price on Woot today.
---
You all know this, but replacing your air filters is the cheapest way to improve the air quality in your home, removing funky smells and allergens. Home Depot is selling a whole bunch of Arm & Hammer air filters for just $20 today. For comparison, the same filters are selling for $45 on Amazon, so you might as well stock up before spring allergies swarm in.
---
These $9 gloves let you grab a hot pan out of the oven, pull meat right off a grill, or even turn logs in an active campfire without getting burned, like some kind of kitchen superhero. We've seen silicone barbecue gloves for less than this in the past, but these are rated for much higher temperatures, and should be more flexible as well.
---
If some of your kitchen gadgets are looking a little worse for wear, replace them on the cheap with today's KitchenAid gadget Gold Box. They've discounted measuring cups and spoons, gadget sets, a commercial press juicer, can openers - the works. This deal will only last through the end of the day or until the products sell out, so scoop up what you need before it's gone.
---
This microfiber towel is considered by many detailing aficionados to be the best for drying off your car after you wash it. In fact, I can personally confirm that it's less a towel and more a towel-shaped sponge. It's also down to one of the lowest prices Amazon's ever listed.
---
If you already own a KitchenAid, you can turn it into a powerful citrus juicer for just $17 today, down from the usual $20. This thing just plugs into your mixer's accessory port and makes quick work of your citrus fruits while catching seeds and pulp in a strainer tray.

---
Yi makes our readers' favorite budget action cam, and now, they've brought that expertise to an extremely affordable dash cam.

$30 gets you the Yi Dash Cam today (with promo code SDSV7MX8), this model doesn't support 1080/60 recording like another Yi dash cam we've seen (you're stuck with 1080/30), but it does have Wi-Fi for easy offloading of clips onto your phone.
---
It's physically impossible to have too many kitchen towels. Everyone knows this to be true. Restock your collection with 15 towels for just $12 with code 66AJYOMK.
---
Packing cubes can make organizing clothes and toiletries for your next trip a little less hellish, and this highly-rated set of four from AmazonBasics is only $16 today, or about $4-$6 less than usual. I have a set of these, and absolutely love them.

---
This is hardly the first deal we've seen on a phone repair screwdriver kit, but it's the first time we've ever seen one for just $7. That includes screwdriver heads for most major electronics products, plus a suction cup to help you remove screens, and some plastic tweezers too.

---
Update: The endoscope we wrote about yesterday sold out, but here's a very similar product for just $1 more.

Look, I get it, you don't think you need an endoscope. And you probably don't! At least right now. But the day will come—it could be in a week, it could be in 10 years—where you need a snake-like camera to look down a drain, or in the recesses of a car engine, or inside your air conditioning ducts, and you'll be glad you bought one for $19.

Dr. Meter's Wi-Fi endoscope is a 720p camera with built-in LED headlights at the end of a five-meter, semi-rigid cable. At the other end of the cord is an included Wi-Fi module that that broadcasts live video to your phone or computer over, so you see what the camera sees. It also comes with three attachments (a hook, a magnet, and a mirror) that you can slip onto the end to peer around corners, or retrieve tiny items.

At this point, I feel like I should cover my bases and point out that this is not a medical device. Please, don't put it inside you or anyone else. Otherwise, have fun. Thanks.
TOP LIFESTYLE DEALS
It may not seem like the time or place to pick up more sweaters, but if it's discounted cashmere, it's always a good time. Amazon's in-house brand Lark & Ro makes some pretty nice cashmere sweaters, and they're all on sale for under $85, most coming in around the $50 range. Slightly unheard of for cashmere, not so much for Amazon.

---
Bowflex's adjustable dumbbells have been a huge hit with our readers, and today you can save $100 on the smartest set they sell.

The SelectTech 560s can adjust from five to 60 pounds in 2.5 pound increments, so you can add more weight as you get stronger without dedicating half of your spare bedroom to a weight rack. The main advantage of the 560s over the more popular 552s, and the reason they're more expensive? Bluetooth.
Before you start rolling your eyes, the smart features here actually seem, well, pretty smart. The weights sync with a smartphone app that shows you how to perform over 70 different exercises, then automatically tracks your reps and weight for each one, so you can see how you've improved over time. Your muscles won't know the difference, but it might give your brain the motivation it needs to keep pushing.