Best Deals of the Day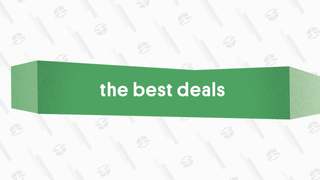 Best Deals of the Day
The best deals from around the web, updated daily.
Tools at Amazon, discounted Target gift cards, and Travelpro luggage are some of the hottest deals on the web today.
Bookmark Kinja Deals and follow us on Twitter and Facebook to never miss a deal.
G/O Media may get a commission
Nanfu AAA Batteries (48-Pack)
At a certain point, the benefits of upsizing your monitor still start to be overshadowed by the sheer amount of desk real estate you lose. But 27" is not that point, and the Dell UltraSharp 27" LED Monitor is a good buy at $329 today at Amazon, if you've been jonesing for more screen space.
---
It's $5 more expensive than it was on Black Friday and Cyber Monday, but if anyone on your shopping list (yourself included) would like an Alexa-enabled, incredible-sounding Sonos One speaker, they're $20 off right now, which is the second best deal we've ever seen. Or, you can buy two and save $50, which is a match for Black Friday.

Unlike Black Friday though, that $20 discount is also valid on the new, limited-edition HAY Sonos Ones. They're priced $30 higher than black and white, even on sale, but you get to pick from five designer colors.
The $100 Connect:Amp discount also made a comeback. This device basically turns any unpowered speaker pair into a Sonos smart speaker, compatible with streaming services and multi-room audio.
---
It's 2018. Hang your TV on your wall, already.

Amazon has a few mounts on sale for under $20 today, so you can't even say price is a factor in your decision to put it off. Order one, get it done, and bask in the glory of your newly mounted TV.
---
iOttie's been turning out ultra-popular smartphone dash mounts for years, and its new flagship, the iOttie Easy One Touch 4, is down to $17 today, from the usual $25.

You see that giant button on the back of the One Touch's cradle? Once you put your phone in place and press down, that button will snap the sides of the cradle shut, holding your phone in place with minimal effort. You can also extend and tilt the mount's arm, meaning you can find the right angle no matter how your dashboard is arranged.
---
In today's edition of "Silly Things That Are Actually Kind of Useful," we have a $22 beanie with tiny Bluetooth headphones built right in. I'm sure the sound quality isn't amazing, but it should be adequate for listening to podcasts, or even some summery songs to make you feel less cold and miserable over the next few months. There are dozens of different styles, and promo code RTKJ45CODE should work on all of them.

---
Wireless charging works the best when you have charging pads scattered all around your home. If there's a table where you set down your phone, it should have a Qi charger on it. And at these prices, that ideal can be your reality.

For $40 (with promo code KINJA378), you grab an LED desk lamp that supports 10W (Android) and 7.5W (iPhone) Qi charging, plus an extra USB charging port for your other devices. The lamp itself even supports multiple color temperatures, so you can set it to daylight when you want to feel energized, or dim and warm when you want to wind down at the end of the day.
Or, just stock up on regular Qi pads for $8 each with promo code KINJA0014. These would also make great stocking stuffers.
---
There's no question that rechargeable batteries are generally superior to the kind that you use once and throw away. But they're also more expensive, and it doesn't hurt to keep a stash of the more primitive style of batteries on hand for instant use while you wait for your others to regain power or arrive from Amazon, or for low-draw devices where they actually make more sense.

Today, you can get 48 Energizer MAX AA Alkaline Batteries for just $14, or around 29 cents apiece. I'm not going to twist your arm to buy them, but if you do, you'll be super glad they're in your cabinet next time you're in immediate need of power and all your eneloops are otherwise engaged.

---
Samsung's U3-rated microSD cards are some of the fastest and most popular options out there—I have the 128GB model in my own Nintendo Switch—and all four sizes are down to all-time low prices today on Amazon.

The 32GB card is down to a laughably cheap $6, the 64GB just dropped to $11, and the 128GB went from $25 to $20.
If you need extra space for your action cam, smartphone, tablet, Switch, or anything else, these are extremely fast cards, and extremely good deals.
---
Anker's newest PowerPort wall charger is its smallest one yet, and you can grab two of them for just $13 on Amazon today with promo code ANKERWBF.

The PowerPort Mini isn't much bigger than the power brick that came with your iPhone, but it includes folding plugs, two ports, and 12W of power rather than just 5W. Literally everything about it is better.
That power is split between the two ports, so while it can charge an iPad at full speed if it's the only thing plugged in, it'll drop down to half speed if you plugged in a second device. But even so, that's perfectly fine for overnight charging, and this thing is small enough to fit in any bag.
---
Amazon sells a ton of affordable tech essentials under its AmazonBasics brand, and dozens of them (including some surprises) are on sale right now.

Your basic essentials like rechargeable AA batteries, USB-C cables, and Velcro cable ties are here, as you'd expect, but did you know AmazonBasics has a UPS power supply? An LED mouse pad? A cool retractable Lightning cable? Yeah, me either. Be sure to head over to Amazon to see all of the deals; chances are there's something you can use.
---
VPNs have been in the news, and whether you want to get around video geoblocks, circumvent proxy filters, or just keep prying eyes out of your browsing data while using sketchy public Wi-Fi, reader-favorite Private Internet Access has a deal to fit your needs.

Private Internet Access doesn't do much in the way of discounting, but they offer exclusive pricing and packages just for our readers that you won't find anywhere else. Here are your options, and what you'd pay if you bought the same plan elsewhere:
These deals are only for our readers, but we aren't sure how long they'll be available, so go ahead and sign up while you can.
I guess we were all good enough to earn a special gift this Christmas, because Target gift cards are 10% off, today only. You can buy up to $300 worth, meaning you can save up to $30, and you know you could easily drop that much on a single Target run. Why are you still reading? Go! Seize the deal!
Notes: You can choose mail, email, or mobile delivery for any of the card designs. You won't be able to use the card until tomorrow, and the typical 5% REDCard discount doesn't apply on Target gift card purchases, so we recommend using a credit card that will earn you points like the Capital One Venture or Chase Freedom Unlimited.
---
Holiday light projectors are a godsend if you're full of Christmas spirit, but not so full of the energy to hang up lights on your house. Amazon has a couple on sale today for under $20, so it's not too late to get one and do the most by doing the least with your holiday decor.
---
Give your kitchen or bathroom a quick refresh with today's Amazon Gold Box featuring Moen fixtures.

Lighting, faucets, and other accessories are marked down to as low as $7, so you can make a big impact with minimal cash sink. (Get it? Sink?)

---
Fans of Breaking Bad might consider tankless water heaters to be ostentatious displays of wealth, but they're actually more affordable than you might think, especially in today's Amazon Gold Box.

Two sizes of EcoSmart's well-reviewed tankless heaters are included in the sale. The 11 model can pump hot water to two sinks and a shower at the same time (or possibly just two sinks if you live somewhere cold), while the 27 can provide effectively unlimited hot water to all but the largest mansions.
Tankless water heaters never run out of hot water, since they heat the water on demand, so you can indulge yourself with a longer shower every now and then. That also means that in most cases, they'll be more energy efficient too, since they aren't continuously heating a large tank of water that you may or may not be using.
Today's prices are all-time lows, but they're only available today, or until sold out.
---
Amazon's Wickedly Prime snack brand makes a Nutella-like chocolate spread, and it's actually pretty damn good! And at $8 for two 13 oz. jars (in both standard and salted flavors), it's way cheaper too. That's down from the usual $10-$12, so stock up, and pig out.

---
Are you still fumbling with house keys like a pleb? Stop. There's a better way.
Today only, Amazon has the 3rd-gen August Smart Lock Pro for $158, which auto-toggles as you leave and approach. Or, to get really fancy, there's the $165 3rd-gen August Smart Lock Pro + Connect, which can be controlled via your phone or smart assistant. Don't stress about choosing; there are no bad options here.

---
You can't drive the darkness out of your heart, but today's Amazon Gold Box full of Mr. Beams spotlights can at least illuminate the shadowy places around your home. Prices start at just $12, which is totally reasonable for peace of mind.

---
Work Sharp's Ken Onion tool sharpener isn't your average countertop knife sharpener. But then, the average kitchen knife sharpener doesn't have precise angle adjustments, a variable speed motor, 6000 grit belts, and nearly 6,000 overwhelmingly positive Amazon reviews. It'll work on your kitchen knives, sure, but its design also allows it to sharpen scissors, outdoor knives, and even mower blades and axes.

Normally $130, Amazon's ground the price down to $86 today as part of their 12 Days of Deals event, but this deal will go dull by the end of the day though.
---
If you haven't crossed all of the handy people in your life off your holiday shopping list, Amazon's kicking off its 12 Days of Deals event with this one-day sale is full of affordable gift ideas (and a worthwhile splurge or two).

We love this Bosch drill/driver for its compact handle, especially compared to the giant battery bulges present on just about every other cordless drill, and $75 is the cheapest it's ever been. You can also add a bit set for an extra $25.
A wet/dry vac is just one of those things you should always have in your garage, just in case. And at $60, why wouldn't you?
These folding knives from CRKT make great stocking stuffers, as long as they're closed.

And for people you really love, there are some great splurges in here like a router table, a couple of saws, and a high-end Dremel kit.
For the rest of the deals, be sure to head over to Amazon before the prices go back to normal tomorrow.
---
Travelpro's Maxlite luggage series just keeps getting lighter. The Maxlite 3 was a reader favorite the last time we did a carry-on luggage poll, and the new Maxlite 5s are even easier on the scales.

Light checked luggage makes sense, but why, you might ask, should you care what your carry-on weighs? Well, a lot of international airlines are starting to weigh carry-ons at check-in (I flew on one this year with a 21 pound limit, it's true), and if there's a buck to be made, you know it's only a matter of time until domestic airlines follow suit.
Today on Amazon, the rollaboard carry-on, the spinner carry-on, and the 25" checked bag are all on sale for the best prices ever, in multiple colors. The carry-ons both weigh less than six pounds, which is remarkable for wheeled luggage, and the checked bag is just over seven, so you'll have a lot of pounds to play with before you risk an overweight baggage fee.

---
Here are a few reasons why you should pick up this $30 Mr. Coffee Automatic Burr Mill Grinder: 1. It's affordable, 2. It's really simple to use and 3. Hipsters are right—coffee tastes a lot better if you make it with freshly ground beans.

---
For a limited time, Amazon will sell you three pouches of Tide HE-compatible laundry detergent (totaling 144 ounces or 93 loads) for just $14 after you clip the 20% coupon.

These pouches are designed basically as refills for plastic Tide bottles, but as long as that doesn't bother you, this is a fantastic price-per-ounce for any detergent, let alone name brand. Just be sure to clip the coupon on the page, and use Amazon Subscribe & Save for even more savings.
---
If you still don't have an Instant Pot in your kitchen (or want a second; it's not that crazy!), it may be time to grab the 8 qt. DUO model for $79. That's not quite as cheap as Black Friday, but it's a great deal if you cook for large groups. The 6 quart Wi-Fi model is also back down to $90, the same price as Cyber Monday.
In addition to pressure cooking (which is a miracle), this is also our readers' favorite slow cooker, and one of their favorite rice cookers too. To put it simply, it's one of the most versatile kitchen gadgets you can own.

---
We all know the ThermoWorks Thermapen is the king of the castle when it comes to high-end meat thermometers, but with thousands of positive Amazon reviews, Javelin thermometers are probably a close second. Today only at MassDrop, you can get the Pro model, which gives you a reading within 3 seconds, for just $33. That's a full ~$20 less than Amazon (not to mention nearly $70 less than the latest Thermapen), and a great stocking stuffer idea for the home cook in your life.

---
You know Hydro Flask makes really good water bottles. But did you know you could customize them?

From now until December 3, you'll get 25% off when you build your own My Hydro. Choose from 11 sizes, two lid styles, and the colors for the bottle, the boot, the lid, and even the handle. Mix and match to create a work of art, or a horrible monstrosity. Either way, it'll be a unique gift.
---
You know what would be nice this time of year? When it's freezing cold and pitch black every night when you leave the office? A trip to the Amalfi coast, obviously.

This discounted vacation package from TripMasters includes roundtrip airfare, two nights at a hotel in Rome, three nights at a goddamn-amazing looking hotel in Positano, and a rental car to get you between the cities (and anywhere you want to go in between). Prices start at $1,032 from New York, but you can select other departure cities as well. Ciao!
---
Think fast: Your mom/boss/other intimidating figure whose opinion you value just called and said she's 2 minutes away from your house and will be stopping by for a short visit. Your living room is a wreck, strewn with the detritus of careless living, and you'd really rather not be seen for the slob you are. Not by this person, anyway. What do you do?

If you own the Sauder Dakota Pass Lift-Top Coffee Table, currently $98 at Amazon, you scoop up as much stuff as you can and conceal it beneath the mobile top. You won't be able to shove, like, a ton of junk in there, but you can certainly clear off the this and any other tables and maybe hide a stray object or two that would otherwise be sitting on the floor or couch. That's better than nothing! And before next time, maybe, examine your life choices so you'll be more prepared.
---
If you're still using that $30 metal bed frame you bought in college, it might be time to do the "adult" thing and upgrade to a nice looking wooden one. These frames from eLuxury Supply come in three different wood finishes, and install (and break down, if you need to move) without any tools. The best part though? The wood slats are only six inches apart, meaning you can lay a foam mattresses right on top without any additional support.

Prices vary by size, but for a limited time, promo code KINJAFRAME15 will take a flat 15% off.
---
You can certainly get through life without a full-length mirror, but they're awfully handy to have when you're trying out new ensembles. And if you forego the cheap over-the-door kind in favor of a nice leaner, a big mirror can even be a nice decor touch.

This Sandberg Rose Gold Full Length Leaner Mirror features a super now aesthetic and, at 65" x 31", it'll let you check yourself out from head to toe to avoid embarrassing wardrobe malfunctions. And if you're some kind of alien who's not into rose gold, don't worry: There are plenty of other finishes available.
---
There comes a time in every young person's life when he or she must strike out and leave the nest to take up a new dwelling place. When that time comes, owning a basic tool set is a must, and this $49 Stanley Black + Decker 20-Volt MAX* 85-Piece Drill Kit is a solid choice.

Along with a drill and accessories for weekend projects, it includes hand tools you'll need for everyday tasks, like a hammer, a tape measure, screwdrivers, and a stud finder (maybe it'll point the way to Chris Hemsworth?). They're probably not the most high-quality tools on the planet, but they're a fine starter collection for a fledgling adult adapting to a new native habitat.

---
Cooking is enough work without having to worry about keeping your pans in good condition. You shouldn't have to be overly precious with objects designed for use with fire and knives.

While you're nodding in agreement, click on over and add the Gotham Steel 12-Piece Nonstick Frying Pan and Cookware Set to your cart for $99, and enjoy the freedom that comes with pots and pans you can stick in the dishwasher. The titanium ceramic coating supposedly keeps anything from sticking, but that sounds too good to be true; maybe try making your own Christmas candy in them and report back?

---
Especially during the bleak winter months, it feels good to have something green in your home. This sets of succulents, which features five different aloe plants, is on sale for $12, and they don't need much sunlight or water, giving them a solid chance of surviving the frigid months ahead. Plus, they make for nice plant children to nurture while all other flora is cold and dead outside.

---
Firstleaf is an online wine club that learns your preferences, offers tons of options, and most importantly, saves you money compared to buying from the store. It's a solid deal any time, but it's even better for our readers from now through the holidays.

Every new Firstleaf member gets an introductory delivery with three bottles of wine for just $15, plus $5 shipping. Every box thereafter includes six bottles for $80, plus $10 shipping. If you use this link and promo code Kinja when you sign up though, you'll get free shipping on every box for your entire first year. That'll save you over $100 if you get a new box every month.
If you've ever wanted to own a tiny axe, now's your chance. IMO, the mini hatchet alone makes the Whetstone Multi-Function 10-in-1 Camping Tool totally worth today's $6 price; the fact that it also has a hammer, pliers, screwdrivers, and several other functions is just a fun bonus.

---
In the words of the great philosophers ZZ Top, every girl's crazy about a sharp dressed man. Becoming one of those men is easier than you think, especially with today's sale on men's fashion at Amazon. Shirts, shoes, jackets, sweaters, and more are discounted — something for every occasion.
---
Shorten your mental checklist of smartphone-wallet-keys to just two components with this stick-on wallet case.
Make sure to clip the coupon and use the code promo code KP8RYT4K to bring the price down to $8.
---
What do you get this holiday season for the person that loves water, doesn't have a ton of storage space, and enjoys having shoulders that feel like they're on fire?

Computer! <bleep bloop bleep bloop>
An inflatable kayak! Walmart's discounting a single seater from Intex to $60 today. It'snot as stable as a real kayak, but it can fit in the trunk of your car or the back of a closet with ease.
---
While most eye masks try to provide as little compression as possible, IMAK's compression pain relief mask lightly presses around your eyes by design to help with headaches, migraines, and sinus pain. You can even throw it in the freezer for cooling (but not too cooling) relief when you go to bed.

$9 is the best price Amazon's listed all year, and it makes a great stocking stuffer for light sleepers and headache sufferers.
---
We're moving at alarming speeds towards the coldest part of the year, so chances are, you could use a jacket, or a vest, or at least some warm workout gear right about now. So head over to socially responsible outdoor retailer Cotopaxi, where any $100 purchase today will get you a $20 voucher towards your next purchase, and a $200 order will get you $50.

The only restrictions are event tickets and gift cards, but you'll have to spend your voucher by the end of the year, so be sure you have a purchase plan in mind.
---
Macy's wants to be more to you than just the store in Miracle on 34th Street and the sponsor of Thanksgiving's most iconic entertainment. So they've decided to label you and me and everyone we know as their "friends and family" and offer us a 30% discount sitewide via coupon code FRIEND (except in certain departments, where it's only 10%, or 15%, or 25%).

There are a bunch of annoying exclusions, so it may take some trial and error to figure out where the best savings lie, but isn't the thrill of the hunt one of the reasons humans love shopping? Yeah, Macy's could have done better, but they're trying, okay? They just want to be part of your life.
---
Quit wasting time trying to disguise your dark circles and/or under-eye puffiness with concealer, especially if you don't even have enough free hours to get a full night's sleep. Instead, attack the issue itself. Baebody's Eye Gel has garnered enough Amazon reviews (over 13,500!) to be considered a cult favorite, and now it's available for just $19 after clipping a $5 coupon. The gel is formulated with peptide complex, Matrixyl 3000, vitamin E, jojoba oil, amino acids, and other effective ingredients that claim to help tackle most under-eye woes. That's not something to roll your eyes at.

---