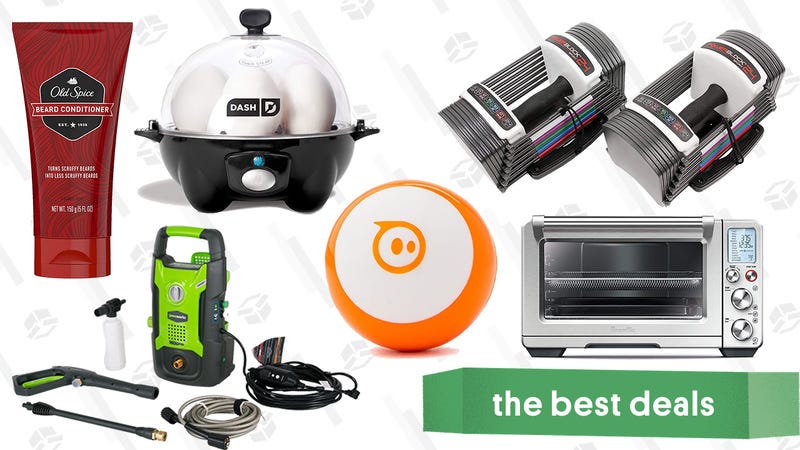 Best Deals of the Day
The best deals from around the web, updated daily.
A pressure washer Gold Box, a Breville smart oven, and an adjustable dumbbell set lead off Sunday's best deals from around the web.

Bookmark Kinja Deals and follow us on Twitter and Facebook to never miss a deal.
Anker's reader-favorite SoundCore Bluetooth speaker spawned a whole line of products, but the original model is still great, and the blue color is back on sale for a great low price.

The SoundCore's headlining feature is its 24 hour battery life, and in my experience, that's a conservative estimate. It also packs in dual 6W drivers for room-filling sound, and looks pretty great to boot. It's been mostly selling for $30 lately, but you can get it for just $24 today in red and blue, within $2 of the best price we've ever seen.
---
If you're still paying your cable company a monthly modem rental fee, stop what you're doing and buy your own for just $81. This 32x8 model supports higher maximum speeds than its predecessor, which should cover just about every cable internet plan out there. Just be sure to clip the $7 coupon to save.

---
This Aukey surge protector orients its four AC outlets and two USB ports to the side, which is great for hiding behind furniture. But it's also a night light and phone stand, which is sort of contradictory to the furniture thing, but I guess you could use it either way. Get it for $14 with promo code AUKEY06X.

---
Update: Kickstarter discounts on the Capsule by itself are nearly sold out! There are some bundles with more availability, but if you don't need the added accessories, you shouldn't wait.
Anker's soda can-sized Capsule portable projector was a crowdfunding hit last year, and it really did deliver on its promise. But there were a few obvious areas for improvement, and Anker tackled all of the big ones with the brand new Capsule II, now up for preorder on Kickstarter.

So what's new?
1) Resolution: The original Capsule's standard definition 480p has been bumped to 720p, so your videos should look a lot crisper. Easy win.
2) Brightness: The first Capsule's 100 ANSI lumen bulb was fine in a dark room, but the Capsule II's is twice as bright, which means you'll be able to get a usable picture in more lighting conditions, and at larger screen sizes. I saw it firsthand in a fairly well-lit event space, and while not as bright as a TV screen or a full-sized projector, it was definitely bright enough to watch a movie.
3) Software: The original Capsule had a version of Android installed, but it was pretty janky, and didn't have access to Google Play. This time around, the Capsule II ships with Android TV 9.0 onboard, with access to the vast Google Play app store, which means you won't have to rely on your phone for casting content.
There are a few other minor differences of note, including the inclusion of USB-C Power Delivery for fast charging, an improved speaker, and autofocus. It is a bit bigger than the Capsule (which will remain on sale for the time being); Anker calls it "pint sized," rather than soda can-sized, which was pretty cheeky of them. Whatever beverage you compare it to though, it's still very small for a projector.
Kickstarter backers can preorder the Capsule II right now for $399. Anker's touting a $599 MSRP for the Capsule II, and while there will surely be discounts after it comes out, Anker's previous crowdfunding projects have, in hindsight, legitimately offered prices to backers that weren't matched on Amazon for many months after release, if ever.
If you ever bought a Capsule I prior to this Kickstarter going live, you're also eligible for a $100 rebate when you preorder the Capsule II. Check out the bottom of the campaign page for details.
---
Walmart has its own exclusive brand of Wi-Fi routers, and according to PC Mag, they're actually really solid, especially for the price. Both the AC3000 and AC1900 models are on sale for $10 and $15 less than usual, respectively, and are priced far lower than similarly specced competition. These aren't modern mesh routers, so they're probably not ideal for large homes, but they should definitely get the job done in an apartment or smaller house.
---
This tiny, $6 USB charger isn't much bigger than the one that ships with every iPhone, except it has two ports, folding prongs, and 2.4A of total power, compared to the 1A Apple gives you. No surprise, it's one of our top sellers of all time. Just use promo code FQCJOBX6 to get the deal.
---
What were they thinking inventing this surge protector and not calling it the Power Tower? Missed marketing opportunities aside, it comes with 10 outlets, four USB ports, and its own 6ft retractable power cord. Plus, it rotates for optimum space-saving. Get it for $18 with promo code ROXH3B3E.
---
Walmart has already marked down a few of the TVs listed in their Black Friday ad: Grab a smart Sharp 50" TV with HDR (though not Dolby Vision) for $249, or a 55" version for $299, both the best prices we've seen. If size trumps features and you don't need smart functionality or HDR, there's also a 65" RCA on sale for $399.
---
The best upgrade for an old PC is an SSD, and if you don't need a ton of space, this 240GB model from SanDisk is down to $45 today, an all-time low. Just note that it's only available for Prime members.
---
If you just got a new USB-C-equipped MacBook Air or iPad Pro, of if you already own a USB-C computer, you're gonna want some dongles. Three different options from Anker are on sale today that give you extra USB ports, an SD card reader, or even a potpourri of USB, HDMI, and ethernet. Just be sure to note the promo codes.
---
The Anker PowerCore Fusion is one of our biggest sellers ever, because it combines a USB wall charger and a portable battery pack into a single product. Now, RAVPower has their own alternative with a slightly larger 6700mAh battery inside, and you can grab it for just $23 with promo code KINJABYC.

They sent me one to check out, and despite the larger battery inside, it's barely bigger or heavier than the Anker, and would make a great holiday stocking stuffer.
---
We see deals all the time on USB-A to USB-C cables, but discounts on C-to-C cables, which are necessary for faster Power Delivery charging (used by the new iPad Pros, the Nintendo Switch, and a bunch of laptops), are bafflingly rare. Today though, you can get an Anker PowerLine II C-to-C cable for just $7 with promo code ANKE8481, or double your length to 6' for $8 with promo code ANKE8482.

PowerLine II cables are incredibly durable, and also come with a lifetime warranty, so if you ever do wear it out, you can contact Anker for a free replacement.
---
VPNs have been in the news, and whether you want to get around video geoblocks, circumvent proxy filters, or just keep prying eyes out of your browsing data while using sketchy public Wi-Fi, reader-favorite Private Internet Access has a deal to fit your needs.

Private Internet Access doesn't do much in the way of discounting, but they offer exclusive pricing and packages just for our readers that you won't find anywhere else. Here are your options, and what you'd pay if you bought the same plan elsewhere:
These deals are only for our readers, but we aren't sure how long they'll be available, so go ahead and sign up while you can.
Breville added air frying and dehydrating features to your favorite line of toaster ovens, and the feature-packed Smart Oven Air is $80 off today, within $11 of the best price we've ever seen.

Trust me when I say that once you own one of these, you'll hardly ever use your "real" oven anymore. It preheats significantly faster, it's much easier to program, and it's big enough to cook all but the biggest meals. They don't go on sale often though, and the Air model hasn't been this cheap since April. Trust me, it'll really come in handy when it comes time to prepare Thanksgiving dinner.

---
You might not have an immediate need for a pressure washer, but if you own a home, it's a useful thing to stash in the back or your garage. Just check out r/pressurewasherporn if you don't believe me.

Today only, a GreenWorks 1600 PSI washer is on sale in Amazon's Gold Box for $70 (within $3 of the best price ever), in addition to a number of discounted accessories. Not to put too much pressure on you, but these deals could very well sell out early.
---
Cooking eggs isn't exactly rocket science, but I'd say the ability to make soft, medium, and hard boiled eggs, plus omelettes and poached eggs at the touch of a button is worth $15. The Dash is Amazon's top-selling egg cooker, and carries a truly stellar 4.4 star review average from over 7,000 customers, so get it while it's on sale for its best price of the year.

Note: Usually, these sales are only for one color, but as of the time of this writing, you can pick from any of them.
---
If you're unfamiliar, Cricuts make all those custom stickers, delicate doilies, and Instagram-ready greeting cards you see around your crafty friend's house. You too can start being a craft wizard with Amazon's sale on this popular Cricut Explore Air 2 machine.

Let's talk about the cool stuff it can do: It can print any design you create in Photoshop/Illustrator/etc. or you can select a design for its extensive library. You can design and print on the go, using Cricut's app on your phone or tablet. It's strong enough to cut through a bunch of different materials like faux leather, vinyl, and speciality paper. Lastly, the Explore Air 2 prints faster and has more color options than the first model.
It typically sells for $250, but is down to $197 today, so go open that Etsy shop.
---
Home and/or car improvement is a process that never really ends. Keep your momentum going with a bunch of new supplies from AmazonBasics. Their current sale includes everything from replacement refrigerator water filters to wheel brushes.

---
There are plenty of small household safes on the market to keep your valuables safe, but what if you lose the key? Or forget the combination? With this biometric safe from AmazonBasics, you won't have to worry.

The safe can register up to 50 unique fingerprints, so you can add your entire family, as well as a few trusted confidants. It also comes an emergency backup key as a last resort. Today's $70 price tag for the compact .5 cubic foot model is its first ever discount from $100. I suggest locking the $30 you saved inside.
---
Wayfair's massive holiday sale just went live, and in addition to deals on holiday decor like 5-for-$25 ornaments and artificial Christmas trees, you'll find wide-ranging deals on furniture that you'll use all year long. We're talking rugs starting under $15, furniture for every corner of your bedroom, and dining furniture to fit any style of decor. Every order over $49 ships for free, so this is a great chance to give your home a bit of a refresh.

---
Most air fryers take up a ton of counter space, but Dash's 1.2 L model is perfectly sized for small apartment kitchens. It probably shouldn't be your first choice if you're cooking for a family, but for one or two people people, it can crisp up more than enough french fries, chicken wings, or anything else.

If you aren't familiar, air fryers use hot air and convection to achieve the crispiness of deep frying, but without any oil. That means your food is healthier, and your apartment doesn't smell like the back of a Burger King for four days. Today's $40 price tag is a match for an all-time low, so don't let this deal overcook.
---
Vacuum insulated stainless steel is almost always the right choice for carrying your beverage of choice, whether it's hot or cold. That's Manna Hydration's specialty, and all of their products, from koozies to tumblers to 64 ounce growlers, can keep drinks at a stable temperature for hours on end, while insulating your hand from temperature extremes.

For a limited time, you can save 30% on all of their products on Amazon with our exclusive KINJA2018 promo code. Just be sure to choose Manna Hydration as the seller on the individual product page; the code won't work with other third party sellers.
---
Microwave popcorn sucks, but this absurdly popular Whirley Pop makes it easy to make fresh popcorn on your stovetop, without burning it. Cooking it yourself means that you can customize your oil and butter (pro tip, coconut oil makes it taste like movie theater popcorn), and it only takes about three minutes to cook, so it's basically just as fast as the microwave.

$21 is an all-time low, and compared to buying microwave popcorn bags, it'll pay for itself over time.
---
Our readers buy a lot of tools, so it's easy to assume that you guys have plenty of screws, nails, washers, and other little pieces to store as well. This AmazonBasics small parts organizer can keep everything easy to find with 25 adjustable compartments and a snap-on transparent lid. The coolest part about it is, if you buy more than one, you can snap them together, so your tool box will grow with you.

The price here typically fluctuates between $10 and $18, and $7 is an all-time low.
---
Free bacon. Forever. Do I have your attention?

Butcher Box ships grass fed beef, heritage grade pork, and free range chicken right to your door for less than $6 per serving, and if you sign up with our exclusive link, you'll get $10 off your first box, plus a FREE pack of uncured bacon in every box for the life of your subscription. Think of all you could do with an extra pack of bacon every month.
Your reader-exclusive bonuses come bundled with any of Butcher Box's pre-selected boxes, which are priced at $129 for 24 servings, or $238 for 48 servings, which can be delivered every 30 or 60 days. For a nominal surcharge, you can also build a completely custom box, with your choices of proteins.
Note: You'll have to enter your email at the beginning of the process. I know, it's annoying.
---
Trekking out to the Christmas tree farm is fun, but you know what's even more fun? Saving money on your tree. Groupon is here to conserve your Christmas cash this year by taking pre-orders on a few festive options, all for about half-off, including a 6-Foot Premium Fraser Fir Tree for $80, a 22-inch Fraser Fir Wreath for $35, a Fraser Fir tree-wreath combo for $95, and a 6-Foot Snow-Tip Black Hills Spruce for $80. They'll be shipped right to your front door starting on November 27 for maximum Christmastime freshness, but saving all that green on a tree is what will really make this holiday season merry and bright.
---
For as long as humans have been fermenting grapes, wine has always been an "indoor" beverage. If you want to enjoy wine on the go, you've got a pack a big, breakable bottle, a corkscrew, and glasses. There's an entire cottage industry dedicated to making the practice slightly less inconvenient. Here's a better idea: just drink wine from a can, dummy!

The Drop is an online wine club that makes and sells its own canned wine, and our readers can save $20 on their first 24-pack with promo code KINJA20 by signing up for a subscription. By default, you'll get eight cans each of red, white, and my personal favorite, rosé, but you can also customize the mix to your liking. Each can holds 1.7 glasses, or 1/3 of a bottle, making this deal essentially eight bottles of wine for $47. You don't need to be a math whiz to know that's a great deal.
If you stay on as a member, you'll get a new box every month for $67 with free shipping, which still comes out to just over $8 per "bottle." If you've got too many cans piling up, you can also skip a month or flat out cancel your subscription at any time.
---
If you're still using a regular ol' bath towel to dry off after your daily scrubbing, you're doing it wrong. Bath sheets are basically the bath towel's bigger, more luxurious cousin, and for a limited time, you can get one of your own from Crane & Canopy for 15% off of their usual price of $48 each, using promo code KINJA15.

Measuring in at a whopping 40" by 70", these bath sheets are 67% larger than your typical bath towel, and they're made from finely combed, long-staple cotton for an extra soft and absorbent feel. We've previously tested out these bath sheets and were particularly impressed by their most surprising, yet ingenious feature: a built-in loop for effortless hanging.
Snag your own set in any of six available colors by November 12, when this deal runs dry.
---
AmazonBasics makes pretty much everything at this point, and generally speaking, it's a brand you can count on to be affordable and of good quality. While Amazon runs discounts on individual AmazonBasics products with some regularity, a whole bunch of it is on sale right now.
A few favorites are below, but dozens of other products are included, so head over to Amazon to see the full list.
---
Firstleaf is an online wine club that learns your preferences, offers tons of options, and most importantly, saves you money compared to buying from the store. It's a solid deal any time, but it's even better for our readers today.

Every new Firstleaf member gets an introductory delivery with three bottles of wine for just $15, plus $5 shipping. Considering that you aren't locked in and can cancel any time, that's a bargain. But it gets even better for our readers, as promo code Kinja will waive the $5 shipping charge, for a limited time. That's three bottles of wine (all of mine had MSRPs over $20) for just $5 each shipped, with no commitment.
You can read more about the service in my review, but if you choose to remain a member (I did), every box thereafter includes six bottles for $80, plus $10 shipping.
Do you brush your teeth, shave, or take care of your skin? If so, there's a deal for you in this Braun, Oral-B, Olay, and Old Spice Gold Box. If not, I have some concerns.
Inside, you'll find electric toothbrushes, grooming tools, Korean beauty products, Old Spice hair care products, and more. Just remember that like all Gold Box deals, these prices are only available today, or until sold out.
---
If you can't be bothered to schlep to the gym during the winter, you can still keep in shape at home with this cleverly designed PowerBlock dumbbell set. Each dumbbell adjusts from 3 to 24 pounds in 3-pound increments with just the flick of a selector pin, so it's basically like a complete weight rack that could almost fit into a shoebox.

Today's $106 price tag is within a few bucks of an all-time lwo, so you can really flex those savings muscles.
---
Uniqlo's Ultra Light Down jackets will keep you warm, but not too warm. And this weekend only, men's and women's versions are marked down to $60, plus free shipping.
---
If you want your wallet to do it all, the Suave wallet packs in a ridiculous number of features into a svelte, classy package.

First, let's talk about Suave's leather. They say it's tanne with natural bark extracts, and that only 5% of tanners use this method. I don't really know anything about tanning, but I do know that the sample they sent me featured some of the softest leather I've ever felt. It looked brand new, but felt like it'd been broken in for 10 years.
Inside, you'll find room for up to 13 cards with elastic pull tabs for easy access, dedicated pockets for SD cards, microSD cards, and a house key, plenty of space for bills, and even a zippered pocket for coins and other small valuables. It sounds very much like a "dad" wallet, but it's surprisingly thin and intelligently organized, and could easily fit into most front pockets.
The Suave was recently fully funded on Kickstarter, and is now continuing to take preorders via Indiegogo, with estimated delivery in January. It usually sells for $109, but if you use this link, you'll see a Kinja Deals-exclusive $74 option. That'll leave you with more money to store in the wallet once you receive it.
---
Japanese skincare brand Tatcha uses gentle, simple ingredients to achieve especially glowy results — but that luxe-looking glow doesn't come without an equally luxe price tag. Today, though, Tatcha is taking 20% off their entire site with promo code FRIENDS18, so it's time to stock up.

The Water Cream is a best seller (Sephora has struggled to keep it in stock in the past), as is their Rice Polish. Their Essence has also received rave reviews; it's meant to be used just after cleansing, before applying any other skincare products in order to facilitate maximum absorption. I'm personally a big fan of the Indigo Cream, a miracle product containing colloidal oatmeal meant for those with sensitive skin.
---
SPANX pretty much has the market on shapewear cornered, and they're not exactly cheap. So if you feel like that's something you want, head over to Nordstrom Rack. The selection currently on sale includes SPANX of all shapes and sizes — everything from bike shorts, tanks, and slips to bras and briefs.

---
REI famously opts out(side) of Black Friday, but instead runs one of their biggest sales of the year leading up to Thanksgiving. It's a distinction without a difference, and it's live now.
As part of their Gear Up Get Out sale, the outdoor superstore is offering up to 30% off on select gear and clothing — including all their best stuff. Our readers' favorite men's socks, puffy jackets, and raincoats are just a few of the great clothing buys currently up for grabs. In terms of tech, there's a $60 gift card available with the latest GoPro, which is the same deal we're expecting elsewhere on Black Friday.
Don't wait too long to bring in your haul. Everything from apparel to outdoor adventurers' must-haves are sure to go quick, and by November 19, this sale will be off into the wild blue yonder.