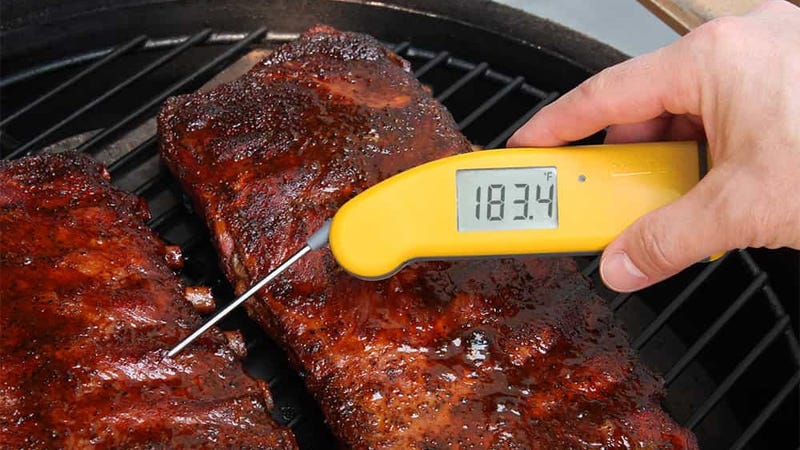 It's barbecue season and ThermoWorks is celebrating with by discounting two of their most popular thermometers by $15 today.
First up, the Thermapen Mk4, you guys love it because it displays the temperature in 2 - 3 seconds, has a 3,000 hour battery life, is waterproof, and accurate within 0.7°F.

Here are just a few people gushing over it:

Thermapen Classic (or really any of the Thermapens). Bar none the best thermometer for cooking I have ever bought — accept no substitutes.

Somewhat expensive at ~$70-$120 range, but I've been using mine for years and years, and it still gives me an accurate reading in less than three seconds. Well, well worth the price. Especially excellent for the grill. - theburners
Without a doubt. No other thermometer comes close. I've said it before on Kinja that the Thermapen is the best piece of kitchen equipment I've ever bought. - the-return-of-samba00
We have seen this priced a little cheaper before, but it was only on one color and a little over a month ago. If you'd rather not wait around for the next sale and have your choice of color, today is a good day to buy.
ThermoWorks is also discounting their leave-in probe thermometer, perfect for smoked meats or any grilled food. It comes with two probes so you can keep track of two temperatures at once, like your meat and the grill/smoker, and allows you to view the temperatures from your couch with the included receiver. It's also $15 off today and compatible with ThermoWorks' other probe thermometers.
These make great gifts for any foodie friends or family members.

---