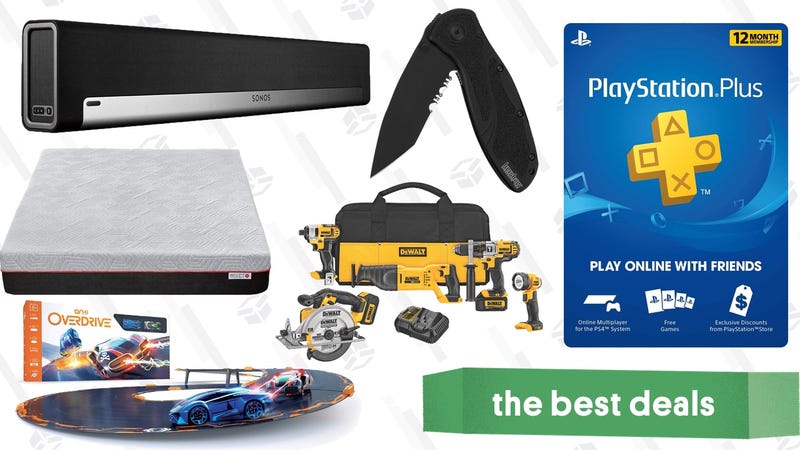 Best Deals of the Day
The best deals from around the web, updated daily.
Early Black Friday deals on PlayStation Plus memberships, Amazon-branded mattresses, and a huge DEWALT power tool combo lead off Saturday's best deals from around the web.
Bookmark Kinja Deals and follow us on Twitter and Facebook to never miss a deal.
We see deals on individual Aukey products with some regularity, but today in Amazon's Gold Box, you can save on a whole bunch of their chargers, peripherals, and audio products.
Options include a $10 Bluetooth receiver, a wall charger with USB-C Power Delivery, a desktop surge protector that looks like a tiny trash can, a $14 gaming headset, a 1080p dash cam, and a lot more. Some of these would make great stocking stuffers, even if you own every gadget you could possibly need. But just remember that these deals are only available today, or until sold out.
---
The best all-around SSD for most people is down to $73 for 500GB, the best price ever. It'd obviously be a great upgrade over a spinning hard drive for your computer, but you could also stick it in a cheap enclosure to create your own, super-fast external drive.

---
There will be no shortage of sexy surround sound and Dolby Atmos sound bar deals this Black Friday, but if you're happy with a really good 2.1 system, or need a sound system for, say, a bedroom TV, this 36" Vizio for $98 is the way to go. That's $50 less than usual, and it includes a wireless subwoofer.
---
While we're expecting to see a $50 discount on the newer, smaller Sonos Beam sound bar next week, if you want the richer and fuller sound stage of the old Sonos Playbar, Amazon is currently tossing in a free $50 gift card and a wall mount today. We haven't seen any advertised Playbar Black Friday deals, so I think this as good an offer as you're going to see this holiday season.
---
If you're like us, you have a long list of items you hope to get on Black Friday. Like, spreadsheets and phone alarms might be involved. But if snagging a Fire HD 10 Tablet is one of your goals, you can go ahead and check that box today, because it's already at its Black Friday price of $100. It's almost like Amazon knows you so well that it could predict what you wanted to buy and decided to make it easier for you. Almost.
---
Stop me if you've heard this one before: Kids, having been in the car for less than 5 minutes, complain that they're bored. They declare that they cannot survive without an electronic devices before their faces. On a normal day, you could tell them to deal with it and experience life in the real world for a while, but special occasions like road trips might call for some degree of acquiescence.

Lucky for you, the Fire HD 10 Kids Edition Tablet has already hit its Black Friday price for $150, so you can have it on hand for Thanksgiving travel. Need two? That's an even better deal, at $250. And you can choose from three colors of kid-proof cases, so there's never any fighting which tablet belongs to who. If you're looking to assuage your guilt about using a digital babysitter, you could say these are a good lesson about responsibility. Oh, you didn't charge your tablet last night, and now the battery is dead? Guess it's time for I Spy.
Worth noting: The 7" and 8" versions are also discounted, and all come with a 2-year "no questions asked" warranty. Just, you know, in case.
---
I can't for the life of me figure out why records are making a comeback, but our Co-Op for best album to own on vinyl was one of our most popular polls ever, so I guess I'm duty-bound to report that we've spotted three great deals on turntables today.

This highly-rated Audio-Technica doesn't have any built-in speakers, but it outputs audio over Bluetooth to any other device. It can even store eight of them in memory for quick connections. $120 is as low is it's ever gone.

And finally, this high-end Audio Technica is more of a professional tool. It doesn't have Bluetooth or built-in speakers, but it can output audio over USB to your computer, allowing you to digitize your favorite LPs. $229 isn't an all-time low, but it is $70 less than usual.
---
Dell's Walmart-exclusive gaming laptop deals aren't going to play your games at the highest possible settings, but they offer a clean look and solid values. Both include a 1TB HDD augmented with a 16GB Intel Optane SSD, 8GB of RAM, and a 15.6" 1080p display. The difference is that the $649 model has a Core i5 processor and a GTX 1050, while the $749 bumps you up to a Core i7 and a 1050 TI. At $100, that's probably a no-brainer.

---
Are you clumsy enough to star in an infomercial? Can you really not afford to crack yet another phone screen? Then perhaps you should check out PopUps Direct, where you can buy up to 10 PopUp Grips for $1 apiece. They won't magically glue your phone to your hand or anything, but they will give you slightly more secure grip, which is better than nothing. The range of designs even allows you to rep your favorite animal or hobby, which is more than we can say for any gripless phone back. Trust, you'll be wishing you had bought a couple the next time your phone eats pavement.

---
For just $19 today, you can grab Anker's SoundBuds Surge lightweight Bluetooth headphones, a close relative of the SoundBuds Slim, which won our affordable Bluetooth headphone Co-Op. With magnetic connectors on the earpieces and a water-resistant coating, these would be a great addition to your gym bag or suitcase, even if you already have another set of earbuds.

---
Given how many Lightning cables seem to wear out at the necks, it's surprising that 90 degree cables aren't more of a thing. You can grab two nylon braided cables for $13 from Aukey today with promo code AUKEY04AL, which would be a great price for two nylon-braided Lightning cables anyway, even without the unique connector.

---
LG's OLED TVs have achieved something of a cult status thanks to their ridiculously dark black levels and vibrant colors. If you were waiting for Black Friday to snag yours, the discounted price on the 55" C8 model is already live.

The picture quality got an upgrade over last year's model thanks to a new processor that improves color accuracy, reduces artifacts, and supports HFR (high frame rate video) up to 120 FPS. HFR content doesn't really exist yet, but a few movies are expected to come to streaming services starting later this year, so if you're planning on using the TV for several years, it might be worth it for future-proofing purposes.
We've seen cheaper deals on the lower-end B8 model, but that one uses last year's processor, meaning it can do HFR or HDR, but not both at the same time like the C8.
---
If you've had your eye on Samsung's 8000-series TVs, which are the company's best non-QLED sets this year, their Black Friday discounts are already live. Every size (55", 65", 75", and 82") includes Samsung's new Dynamic Crystal Color engine and HDR10/ HDR10+ support, plus some nice quality of life features, like the Bixby voice assistant, and a quad core processor for speedy smart app operation.

These prices are the same that we've seen in Black Friday ads, and we have no reason to expect them to go any lower. So buy now, and you'll be set up in time for Thanksgiving football.
---
VPNs have been in the news, and whether you want to get around video geoblocks, circumvent proxy filters, or just keep prying eyes out of your browsing data while using sketchy public Wi-Fi, reader-favorite Private Internet Access has a deal to fit your needs.

Private Internet Access doesn't do much in the way of discounting, but they offer exclusive pricing and packages just for our readers that you won't find anywhere else. Here are your options, and what you'd pay if you bought the same plan elsewhere:
These deals are only for our readers, but we aren't sure how long they'll be available, so go ahead and sign up while you can.
I suppose it was only a matter of time, but Amazon makes mattresses now. This model is sold under its Rivet furniture brand, and includes the same 100 night trial, three-layer foam construction, and slick marketing photos you've come to expect from all those other online mattress places.

If you're in the market for a better night's sleep, the Full, Queen, and King sizes are on sale for $90, $100, and $125 off their usual prices, respectively, with Prime shipping available.
---
Netgear's Arlo home security cameras are among the few that can run completely on battery power, and the newer Pro models add additional touches like rechargeable batteries (rather than watch batteries), improved motion detection, two-way intercom, and a base station with 100 decibel alarm. So if you're ready to start monitoring your home like a paranoid person, Walmart will sell you the two camera starter kit for $239 today, an all-time low.
---
If you don't have all the tools you need for Thanksgiving dinner prep, you can fill in the gaps with today's Amazon Gold Box. Save on a roasting pan, a baster, a thermometer, a scale, and more gadgets that you'll use on Thursday, and keep using all year.
---
With this one-day Amazon sale on Kershaw Blur knives, you can be one of those people that's randomly carrying a knife whenever something needs cutting. Those people are respected by all.

Choose from multiple colors, and both straight and serrated blades, all for an all-time low $35. These would make great stocking stuffers too, just be sure they're closed before you put them inside a stocking.
If you want to go all out, you can pay $20 more for one with stronger S30V steel. That one rarely sells for under $70.
---
This OXO spiralizer can cut your favorite fruits and vegetables into versatile stings and strands, and includes three different blades, and even suction cups on the bottom to keep it locked to your counter. Today's $24 price tag is $16 less than usual, making it the perfect gift for the home chef who has everything.
---
Cordless hand vacs are handy for cleaning the nooks and crannies of your house, but they're especially great for vacuuming out your car. This 16 volt model from Black & Decker is just $42 today on Amazon, the best price we've seen all year.
---
This DEWALT five-tool cordless combo kit would be the ultimate holiday gift for any home improvement enthusiast, and its $349 Black Friday price is a full $50 less than the previous all-time low on Amazon.

That's a decent chunk of change, but it's got everything you need to cosplay as a Property Brother, including a hammer drill, a reciprocating saw, a circular saw, an impact driver, a work light, and two batteries that you can share between all the tools.
---
The GiR Get It Right spatula just won our Best Spatula Co-Op, and now you can grab the mini flipper model for $12, in a variety of colors. For some colors like gray, that's the best price ever, but it's generally within a dollar of an all-time low, so this is a deal worth flipping out over.
If you've ever had a plastic flipper that melted on the edge, this is the antidote. The seamless silicone exterior is heat resistant up to 550 degrees, and the fiberglass core resists heat better than the metal cores in most competitors.
---
Your out-of-town family members are probably not looking forward to nights of tossing and turning on your lumpy sofa when they come to visit this holiday season. Instead of banishing them to the couch, do everyone a favor, and get this $43 queen-sized airbed. It's 22 inches off the ground, so they won't feel like they're sleeping on the floor, and it features a built-in electric pump for easy inflation. Plus, your guests will have nothing but glowing reviews of your hosting skills to share with the rest of your relatives at the Thanksgiving dinner table, so it's really a win-win.

---
The Roomba 960 is a bit extravagant, but at over $100 off, it might be worth considering if less expensive robotic vacuums haven't checked all of your boxes.

The key feature here is an onboard camera that allows the Roomba to build a constantly-updating map of your home, which means it can clean every square foot without wasting an hour ping ponging around the same room. Of course, you'll also get Wi-Fi for app control, and a more powerful cleaning system than the entry level models.
Today's $450 price tag is an all-time low, and in fact, it's $50 lower than listings we've seen in Black Friday ad scans, so there's really no reason to wait.
---
Even if you don't do much DIY work, you should probably have a screwdriver extension shaft in your toolbox. These let you access awkwardly placed screws that regular screwdrivers can't reach, and this $8 one (with promo code 2LE7VHC4) even comes with a full set of bits.

---
Of the seemingly dozens of private label brands Amazon has launched this year, Solimo is probably the broadest. Encompassing everything from gummy vitamins to shampoo to coffee pods to razors, it aims to be your everything when it comes to home essentials.

For a limited time, Amazon's offering discounts on dozens of different items, including their ultra-popular melatonin gummies, a big bottle olive oil, food storage bags, and a lot more. Like I said, it's a really broad brand.
Some of the deals are straight discounts (usually 20%, as far as I can tell), and some require you to clip an on-page coupon. Some deals combine both, so you can stack the savings.
---
If there's a day that will make you take a long, hard look at your current appliance situation, it's Thanksgiving. Is your oven capacity adequate for everything you need to cook? Do you have enough fridge space for all the leftovers? Can your dishwasher handle the massive flood of plates and utensils coming its way?

The more questions you answered "no" to, the more you'll save during Home Depot's appliance sale, where buying two appliances will net you $60 off, but a purchase of six or more will save a whopping $500. That means you can upgrade your entire suite at once! (If you need help finding a sixth appliance to add, wine coolers totally qualify.)
Note that some exclusions apply, but many items are already legit deals at Special Buy prices.
---
Gerber's suspension multi-plier features 12 tools in one package, meaning you're spending less than $2 per function today. If you don't already own one, you should take this opportunity to rectify that. If you do, buy some more to give away as holiday gifts.

---
Before we go any further, let's get this out of the way: Please don't burn your house down. Alton Brown can show you the way to fry a turkey safely, and it's so worth the extra work to not eat your Thanksgiving meal to the dulcet tones of firetruck sirens.

Now, why do you need this 30-Quart Turkey Fryer? Because frying has been the trendiest way to cook your holiday turkey for as long as there have been culinary trends. Because for $40, it's a smart investment. Because it's what William Shatner would want for you. (And if you're not sure how to fry a turkey? There's an app for that.)

---
Free bacon. Forever. Do I have your attention?

Butcher Box ships grass fed beef, heritage grade pork, and free range chicken right to your door for less than $6 per serving, and if you sign up with our exclusive link, you'll get $10 off your first box, plus a FREE pack of uncured bacon in every box for the life of your subscription. Think of all you could do with an extra pack of bacon every month.
Your reader-exclusive bonuses come bundled with any of Butcher Box's pre-selected boxes, which are priced at $129 for 24 servings, or $238 for 48 servings, which can be delivered every 30 or 60 days. For a nominal surcharge, you can also build a completely custom box, with your choices of proteins.

Note: You'll have to enter your email at the beginning of the process. I know, it's annoying.
If you don't know about Dallas-based Breda, it's time to change that. The watch brand creates minimalist, easy-to-wear styles of watches that aren't overworked or over priced. And we've got an exclusive discount this Black Friday: use the code KINJABF35 and grab any full-priced watch for 35% off. That beats the standard 30% discount that everyone else gets.

It should go without saying that these look better than any smart watch, and even if your wrist is already spoken for, these would make thoughtful gifts for any watch collectors on your list.
---
Thousands of our readers have bought Bowflex's adjustable SelectTech dumbbells, and you can put them in your own home gym today for $249.

That's a decent chunk of change, but they barely take up any space, each dumbbell can go up to 52.5 pounds (apologies to your delivery driver) and make it more likely that you'll work out this winter when it's too cold to go to the gym. They've been cheaper before, most notably last April, when Amazon and Walmart got into a bizarre automated price war, but this is still the best price we've seen since February.
---
It's only November, but snow has already blanketed much of the Northeast. Good thing Columbia is taking 40% off select gear for men, women, and kids. A whole lot of outerwear is up for grabs, and with winter arriving so early this year, you can bet the whole family could use a new vest, puffer, fleece, etc. But don't wait to stock up; this sale only lasts until November 21, unlike the cold weather, unfortunately.

---
Looking to bag a new bag this season? Coach is taking 30% off select full-priced items for both men and women with promo code THANKS18. The sale event includes a variety of trendy handbags, backpacks, and wallets, not to mention a few key chains, belts, and even some shoes, all of which would make for a classy holiday gift. Just don't forget a present for yourself for being such a good gift-giver.

---
Ultimate boho brand Free People's effortlessly cool, vintage-y styles don't come without some heavy lifting on the part of your wallet. But today, flower children should head over to Nordstrom Rack, where Free People clothing, shoes, and lingerie are marked way down. Move quickly, since free spirits will likely buy up this stock faster than you can say, Coachella weekend 1 passes with car camping included.
---
Cole Haan makes some seriously great shoes, but the price tags can often make you turn your heels. So when they kick off their Black Friday (ahem, Grand Giving) sale, it's the perfect time to act.
For a limited time, you get 30% off sitewide, including shoes, apparel, and yes, even already-discounted sale items. Their Semi-Annual sales are also 30%, but are only valid on full-price items, so you can step into some huge bargains if you play your cards right.
We'd be remiss if we didn't recommend you check out their 2.ZERØGRANDs, as well as the sweater-like ZERØGRANDs with Stitchlite wool, which I just wrote about on The Inventory recently.
---
It's not a race, but you should definitely hurry over to Adidas to take advantage of an extra 30% off their already heavily discounted sale section. Use promo code NOVSALE to snag this deal on everything from sneakers to athletic apparel, and feel like you scored a gold medal.
---
Everybody keeps saying winter is coming, but IMO, it feels like winter is already here. And you know what that means: It's finally cold enough to break out your cute sweaters and coats. Is your wardrobe lacking in that department? No prob, there's a sale on Lark & Ro sweaters and outerwear at Amazon, with pieces starting at just $23. It includes everything from slouchy cardigans for lounging around to puffer coats for outdoor adventures, so you're pretty much guaranteed to find something you want.
---
There is a light at the end of the seemingly never-ending skincare tunnel, literally. The Neutrogena Light Therapy Acne Mask is a breakout-clearing marvel (and one of our favorite collagen-boosters), and now, it's available on Amazon for just $21. The mask covers your entire mug, and delivers powerful targeted blue light, effectively zapping acne-causing bacteria, and red light, which reduces inflammation. The whole treatment is gentle enough for daily use, and it's safe for those who are prone to irritation. Plus, it sort of makes you look like Iron Man.

---
If you're planning your next outdoor adventure, or just need a gift idea for the most adventurous person in your life, Backcountry is here to help. For a limited time, take 20% off any full-priced item with the code TAKE20NOVEMBER.

If you need any inspiration, check out our reader polls for puffer jackets, raincoats, and socks; many of the finalists and winners are eligible for the sale.