Best Deals of the Day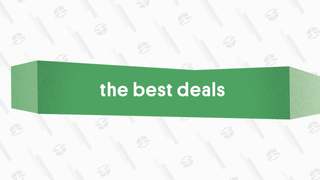 Best Deals of the Day
The best deals from around the web, updated daily.
Black Friday is in the rearview mirror, and Cyber Monday looms. As usual, the middle Saturday is a good mix of new deals, plus a surprising number of Black Friday deals that are still available. We expect a lot of Cyber Monday deals to go live tomorrow, but until then, there's plenty to tide you over.

Bookmark Kinja Deals and follow us on Twitter and Facebook to never miss a deal.
Update: Back in stock!
The release of the new Apple Watch Series 4 coincided with a price drop for the still-excellent Series 3. But this is deals week, which means prices have dropped even lower.
G/O Media may get a commission
This deal is valid for the 42mm GPS model ($229), plus both sizes in GPS + Cellular configurations. All of the prices are $80 below Apple's new MSRPs, but we don't expect it to last for long.
---
While it can't handle the highest end games of the Oculus Rift, the portable Oculus Go doesn't require a $1500+ gaming PC to use. Hell, it doesn't even need a smartphone. It's a fully integrated, fully portable VR headset that you can use to watch videos and play basic games, and it's on sale for the first time ever for deals week. We're only talking about a $20 discount here, but this thing was so cheap to begin with, that we'll take it.

---
Crawling behind your tree twice a day to plug in and unplug your Christmas tree lights? Bah, Hum-plug. Bring your tree into 2018 with this $16 TP-Link Mini Smart Plug, which allows you to enable or disable your outlets with your smartphone, put them on an automated schedule, or control them using Alexa. All that, and it only occupies on socket. Santa would definitely approve.
---
Unless you really need the iPad Pro (and you almost definitely do not), the standard, vanilla 2018 iPad is a terrific tablet for both consuming and creating media. It even works with the Apple Pencil, the first non-Pro iPad to do so.
We haven't seen many deals on the new model since it was released, but you can currently grab the 32GB model for an all-time low $249 for Black Friday, or a 128GB model for $329 (hint: get that one). If you ask me, it's worth it just to play Civilization VI.
---
Update: Amazon just dropped the two-bulb color starter kit to an all-time low $80, or bundled with a previous generation Echo Dot for $90. Considering the bulbs cost $40 alone each (on sale!), this is far and away the best Hue deal we've seen this Black Friday.
It's 2018. It's time for your lighting to do more than just turn off and on. At the very least, you should be able to control it with a smart device. Amazon is currently discounting a number of Philips Hue bulbs that can do just that, so you can join the rest of us here in the 21st century. Or, if you've already got the basics, there's also a deal to be had on the ambient lightstrip, so you can really lean into that futuristic Blade Runner vibe. Except, hopefully, for the bleak post-apocalyptic overtones.

---
Whether you're looking to start the next big podcast (seriously, you've got, like, things to say), improve the quality of your Twitch streams, or just want your Skype calls with Grandma to sound better, the Blue Yeti is one of the most popular mid-range USB microphones you can buy. It's down to $89 for Black Friday right now, in a variety of colors including Blackout, which is the correct choice.

---
TCL's 2018 6-series TVs are famous for offering every form of HDR (including top-shelf Dolby Vision) and excellent Roku software in an affordable package, and the 5-series has basically all of the same features, save for a metal body and local LED dimming zones. It still supports Dolby Vision, it still has an advanced Roku remote and app control, and it'll still look amazing. At a Black Friday price $430 for a 55" (about $40-$70 less than usual), it's an incredible value. You can also get the 49" for $350, or the 43" for $320.

Really want the 6 Series? The 55" has a modest discount to $630, from the usual $650 as well.
---
We see really good deals on Samsung's higher end QLED TVs with some regularity throughout the year on sites like MassDrop; better even than Black Friday prices. But if you want the OLED-like blacks of Samsung's best TVs on a budget, we've never seen better deals on the entry level Q6 line.

Compared to Q-sets higher up the lineup, the Q6 loses out on (admittedly impressive) features like full array local dimming and Samsung's higher-end HDR engine, but thanks to the quantum dot tech, it'll still look better than pretty much any conventional LED TV.
Black Friday prices start at $698 for 49", and in true Samsung fashion, you can go all the way up to 82" if you'd like.
---
They aren't Sony's best noise canceling Bluetooth headphones—that honor goes to the $349 WH1000XM3s—but these wireless over-ears are still a fantastic deal for $98, or $50-$100 less than usual, and the same price we saw on Prime Day. The WH-CH700Ns run for up to 30 hours in wireless noise canceling mode, or you can plug them in with a 3.5mm cord to extend that to 50 hours. If you travel a lot, or just work in a noisy office environment, this is a...
...
...
sound investment.
---
You like falling asleep listening to podcasts or white noise, but your partner doesn't. How do you deal? DubsLabs Bedphones are extremely thin and wrapped in soft padding, making them ideal for falling asleep while wearing.

For a limited time, you can save 25% on both the wired (regularly $60) and wireless (regularly $100) models with our exclusive KINJA25 promo code.
---
It's no secret that our readers love Anker products, so we worked with them to line up exclusive deals on rarely-discounted products, reader favorites, and items we recommended in our holiday gift guides. Just be sure to note the promo codes, and let us know what you got (or anything else you might want a deal on...) in the comments.

All of the deals are above, but I should make special note the two most popular items. The PowerCore Fusion is one of my favorite products (not "Anker products"...just "products") ever. It's a wall charger that doubles as a USB battery pack, and the battery recharges itself whenever it's plugged into the wall. Most USB battery packs require you to bring a spare wall charger and a cable to recharge them, but this just refills while it charges your gadgets at night. I never take a trip without it. At $21 (with code KINJAFS6), it's a must-buy.
And it can't be overstated how popular SoundBuds Slims are with our readers. The won our Co-Op because of their solid battery life, tiny design, and strong magnets that hold them together around your neck when not in use. Get them for $21 with promo code KINJAH325.
And while it's not cheap at $100 (with promo code KINJAPD5), the USB-C Power Delivery battery pack is insanely useful for keeping laptops and Nintendo Switches charged up on long flights. And unlike most USB-C PD battery packs, this one is encased in premium aluminum, and comes with a USB-C wall charger that you can use with all of your USB-C gadgets.
---
Native Union's 10' Lightning cable isn't the cheapest Lightning cable out there, but it might just be the best looking. From the woven exterior (in your choice of colors) to the attractive (and movable) knot that acts as a built-in weight to keep it from falling behind your nightstand, it would be a great gift for any iPhone owner. It's hardly ever discounted from its usual $40, but today, it's down to $28.

---
Okay, Google, show me the good deals. If Google Assistant is your smart home assistant of choice, Black Friday is the day to put it in every room of your house. The Google Home Mini is down to $25 in every color, the Google Home is just $79, and the Google Home Hub is just $99, with a $10 VUDU movie credit.

And in case you missed it earlier, you can also bundle a Google Home Mini, a Chromecast, and a $15 VUDU credit for $45.
---
In honor of Black Friday Thanksgiving, Amazon is discounting a huge range of Echo devices, accessories, and bundles. The Show, the Look, the Connect, the Plus — all on sale, and is it just me, or has Amazon developed a crazy high number of SKUs? I don't know how they do it, but it's pretty impressive. Whether you need fashion advice, a video calling gadget, or a smarter way to watch your favorite shows, there's an Echo for that. (You can see them all here.)

---
Sonos' Black Friday deals are here, and I won't bury the lede: you can score the first real, official discount ever on the Sonos Beam. The smart sound bar offers stunning audio quality, and can be the basis of a truly wireless surround sound system if you pair it with other Sonos speakers. Gizmodo loves it, and you will too.

The Sonos One, the atomic unit of excellent wireless audio, is also on sale for $25 off. It offers the same incredibly sound you loved from the Play:1, but with a nicer design and built-in support for Alexa and Apple AirPlay 2.
Rounding out the deals are $100 discounts on the Sonos Sub (which is a subwoofer, obviously) and the Connect:Amp, which essentially powers your passive speakers, and brings them into your own personal Sonos ecosystem.
---
It was a quietly good year for Fitbit. While all attention has turned to the Apple Watch, they released two terrific fitness tracker/smart watches in the Charge 3 and the Versa, and you can save on both of them for Black Friday, in addition to some of the company's older offerings.

---
Elevation Lab makes some of the best iPhone docks money can buy, and you'll need a whole lot less money than usual to buy them with our exclusive Black Friday discounts. Even if you don't need one yourself, they'd make great gifts for any iPhone owner.

The $36 (with promo code KINJADOCK4) ElevationDock 4 incorporates a pair of fine adjustment knobs to get a perfect fit, no matter what model iPhone or what case you happen to be using at the time.
The smaller CordDock won't hold your phone quite as steady, but it lets you effortlessly take the phone off the dock while keeping the charging cord attached, which is perfect for nightstand use. Get it for $24 with promo code KINJACDOCK.
---
Elevation Lab's Anchor has long been one of our favorite headphone storage solutions, and our readers have bought thousands of them. And now, the company is raising the bar with the brand new Anchor Pro, and our readers can get it for $12 for Black Friday with promo code KINJAANCHOR.

The concept is the same—it's still a hook that hangs under your desk to hold your headphones—but every aspect has been improved. The hook is larger, to accommodate big over-ear headphones and gaming headsets, it includes a built-in Velcro cable tie to keep your cords under control, and optional screws afford you added security, if the included 3M adhesive isn't sufficient. It's only a few bucks more than the original, so I see no reason not to get the Pro.
That said, if you do want the original, it's also on sale for $9 with promo code KINJAANCHOR.
---
Your laptop is one of the most expensive things you own, and it deserves to be treated as such. Rather than throwing it roughshod into your bag, slip it into one of PicasoLabs' beautiful, hand-stitched leather sleeves, now back on sale just for our readers, this weekend only.

Jesus Diaz raved about these and interviewed the creator on Gizmodo a few years ago, and now you can pick your own from Amazon for 20% off with promo code KINJA020, plus $8 if you want it engraved.
There are several options available, and prices will vary depending on the size of your laptop. They're all designed specifically for various MacBook models, but compare measurements, and you could probably find one to fit your Windows Ultrabook as well. No matter which one you choose, you'll save 20% at checkout with that promo code.
---
Luminoodle's professional bias lights aren't the cheapest bias light strips out there, but there's good reason for that: They're one of the few options that can output true 6500K white. AV geeks strive for this, as 6500K won't affect your eyes' perception of the screen's color accuracy.

With the press of a button on the included wireless remote, you can also choose from 15 different backlighting colors too, you can get the best price ever (by a longshot!) on the large light, which is meant for TVs 40" and below. Unfortunately, there's no deal on the XL.
Want to use one with a computer monitor? This smaller model only does white light, but it's just $10 with promo code 5TG5TOT7.
---
While AirPods offer the most seamless headphone experience for iPhone owners, BeatsX are probably a close second, and you can get a pair for $75 from Walmart for Black Friday, in both white and black only. That's the best price we've ever seen by about $20, and half what they cost when they first came out.

From Gizmodo:
"The Beats X are the third product from Beats (and the fourth from all of Apple) to use the new W1 Bluetooth chipset. This Apple-designed chipset should allow for better battery life. It also makes pairing with an Apple device a total snap—as long as your iPhone runs iOS 10.1 or higher. All I had to do to pair was turn the Beats X and bring them near my phone. A 'Connect' button instantly popped up and I was off—music ready to be heard wirelessly."
---
Jabra's Elite 65Ts might just be the best true-wireless headphones out there. In addition to their excellent five hours of battery (plus 15 with the charging case), they feature some of the best microphones in class for calls, compatibility with all the major voice assistants, and even a two year dust and water resistance warranty, so you can work out in them without fear.
Normally $170, you can grab a pair for $120 right now, the best deal we've seen.
---
Stupid-cheap Fire Tablets are nearly as much of a Thanksgiving tradition now as turkey and football, and this year's deals don't disappoint. The kid-friendly Fire 7 is just $30, but you should probably spend the extra $20 to get the new Fire HD 8, which has better battery life, more storage, better speakers, and a nicer screen. Or, if you're looking for a portable TV replacement, consider the Fire HD 10 for just $100, which is absolutely bonkers for a device with a 1920 x 1200 IPS display.
Note: At the top of the page, you'll also find discounted kid's editions of each tablet, which come with kid-friendly content options, a rugged case, and a two-year warranty that covers accidental damage.
---
You might have heard of quantum dots in the context of TVs, but Samsung uses them in a 4K computer monitor as well, and their 28" model just dropped to $330, its best price ever.

You can read all about quantum dots here, but tl;dr, they're the backbone of a backlighting technology that can produce OLED-quality images and rich, deep blacks on less expensive LCD panels. Samsung's QLED TVs are the most common example of them, and this monitor is basically a small version of those.
$330 is really not all that expensive for a 28" 4K monitor from a name brand manufacturer, so you're definitely getting your money's worth considering this model uses state of the art technology.
---
Permanence is overrated. For evidence, go back and read what you wrote in your LiveJournal when you were 17. How hard does it make you cringe? You never have to feel that way again with the Boogie Board 8.5" LCD Writing Tablet. It allows you to endlessly write, rewrite, erase, and forget, and it's way better for the environment than using a paper and pen. Just think of all the lists, reminders, and deep, dark secrets that you'll be keeping out of landfills.

---
Nest's iconic thermostats don't go on sale often, and sizable discounts on their other products are even rarer still, so Black Friday really is a great chance to join the ecosystem, or expand your collection. Save $70 on the third generation Nest Learning Thermostat, get the nearly-as-good Nest Thermostat E for $40 less, take $20 off the Protect smoke detector (both the battery and wired versions), and even save $50 on the outdoor Nest Cam, or $70 on the indoor one.

If we see any more Nest deals, we'll be sure to add them to this post.
---
Plasma lighters are the lighter, evolved. They can light things on fire while fixing the three biggest problems with traditional lighters:

Fuel - This lighter doesn't need fuel; you recharge it over USB. How cool is that?
Wind - Since it's using tiny electrical coils to create heat rather than an open flame, it can't be blown out.
Orientation - You can use a plasma lighter upside down without burning your fingers, which makes lighting candles a lot easier.
We covered the Sparkr Mini here, and now you can get the 2.0 version of the lighter for an all-time low $15 with promo code MS5PPBGL. That's a few bucks more than some other electric lighters we've seen, but the Sparkr Mini is the best of the best, featuring two criss-crossing arcs for a more reliable spark, a built-in flashlight, much quieter operation than the cheaper models, and a fiddle-friendly flip top that'll remind you of your old Zippo.
Most of its dodgy Amazon reviews focus on the fact that the flashlight could turn itself on in your pocket, but that's been fixed in this 2.0 version by switching it to a three button press. This model also uses a different frequency to eliminate the high-pitched buzzing that's commonplace with these products.
---
Update: Promo code KINJAGRIPS is working now, sorry about that!
Apple's Magic Mouse has a lot of good things going for it—I've been using one for years now—but ergonomically, it's a mess. And while Elevation Lab's Magic Grips don't exactly turn it into a palm-shaped Logitech, they do make it noticably more comfortable to use for extended periods, and you can save 25% on a set today with promo code KINJAGRIPS.

Each pack of Magic Grips includes a few pieces of molded silicone designed the fit the contours of the mouse's sides. Just pick the width you want, peel off the 3M adhesive backing, and stick them on. The product costs about $10, installation takes under a minute, and it'll make the mouse you use for hours per day noticeably more comfortable, possibly for years to come. That's a pretty great value proposition.
---
If you're cool with buying lightly used products, it could pay off in a big way, literally. Amazon Warehouse has just launched its Black Friday deals, featuring thousands of used items going for 20% off their regular prices. The discounts are hitting a ton of different categories, from luggage, to baby, to power tools. And don't forget to check out the Bargain Bin for used items up to 50% off a bunch miscellaneous stuff. Chances are we could also use something from this sale.

---
Amazon's Black Friday deals on Blink indoor and outdoor home security camera systems have already gone live! Kits start at $67 and $79, respectively, so if you've ever been curious what your pets do at home while you're gone all day, now you can afford to find out. You'll save more if you buy multiple cameras as well.

Other potential uses: Keeping footage of mundane conversations so you can win the next argument about whether or not you said a certain thing; a motion-detecting alarm system; bringing truth to the claim that Santa "sees you when you're sleeping" and "knows when you're awake."

---
I'm not saying your TV is stupid, but it could certainly be a little smarter. Now's a great time to teach your television about technological advancements of the 21st century with a $45 Google Smart TV Kit. That includes a Google Home Mini and Chromecast for less than half of what they'd normally retail for. And for extra credit, you'll get a $15 VUDU credit to help break in your new upgrades. This deal gets an A+.
---
Sugru is right up there with binder clips and the Raspberry Pi in Lifehacker's pantheon of must-have gear, and you can stock up today with eight packs from Amazon for just $15 or $16 (depending on the color), or about $4-$5 less than usual.

---
Samsung's Level Ons are some of the best looking Bluetooth headphones on the market, and Samsung's blowing them out for just $60 per pair on their website right now, less than half the price of buying them elsewhere. That'd be a great price for any name brand wireless headphones, but it's incredible for a set with four-mic active noice cancelation.
---
Amazon has quietly come out with a pretty exciting lineup of Fire TV streaming gadgets over the past few months, and they all just went on sale for Black Friday.

You can get a regular Fire TV Stick for $25, but it's almost definitely worth spending $10 more to get the new version, which supports 4K, HDR, and Dolby Atmos audio.
Moving up the line, the Fire TV Cube is essentially a Fire TV 4K with an Echo Dot built in, allowing you to control your TV with your voice, totally hands-free. It's also on sale for $60, or half its original price.
But perhaps the most interesting device here is the new Fire TV Recast. This DVR is designed explicitly for cord cutters, and works with any OTA antenna. Rather than plugging straight into your TV, it broadcasts live or recorded shows over Wi-Fi to your Fire TV, an Amazon Echo Show, or any iOS or Android device, no matter where you are in the world. Both the two-tuner 500GB and four-tuner 1TB models are on sale for the first time ever, and you can also save by buying a bundle that includes a Fire TV Stick 4K and an antenna.
---