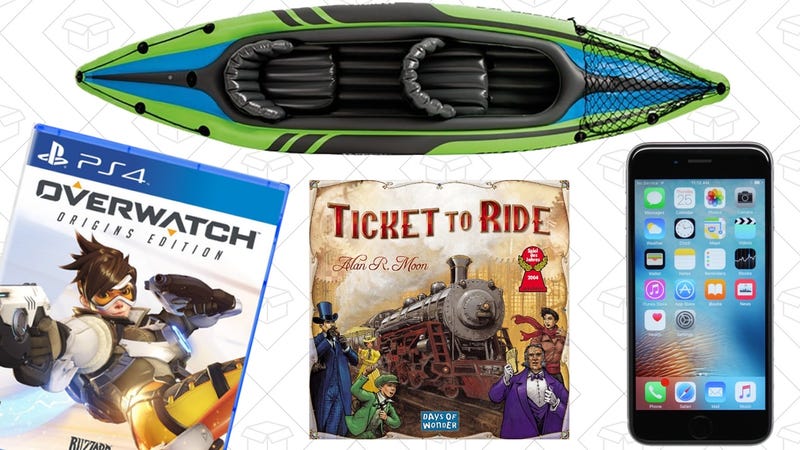 The best remaining deals from Black Friday, Ticket To Ride, and refurbished iPhones lead off Saturday's best deals.
Bookmark Kinja Deals and follow us on Twitter to never miss a deal. Commerce Content is independent of Editorial and Advertising, and if you buy something through our posts, we may get a small share of the sale. Click here to learn more, and don't forget to sign up for our email newsletter.

Top Deals
Overwatch for $35 was one of the first good Black Friday deals to go live this year, but if you made the mistake of skipping it, your procrastination was rewarded this morning, as it's now down to $33. Seriously, there's no reason not to buy this if you don't already own a copy.
Update: The PS4 version sold out on Amazon, but it's available for $35 at Walmart.
---
If you have any movie buffs on your holiday shopping list, you could do a lot worse than to give them a $50 AMC Theaters gift card. You don't have to tell them that it only cost you $40.
---
The iPhone 7 is fine and dandy, but the 6s is still a great phone, and Amazon's clearing out refurbs starting at $415, today only. To be honest though, you should pony up the $50 extra for the 64GB model; a 16GB phone will turn you into an unhappy person.
Update: The 64GB model is sold out, but 16GB and 128GB are still available.
---
You probably didn't wake up this morning planning on buying a kayak, and yet here we are, staring at a highly-rated Intex Challenger K2 priced at an all-time low $70, complete with two seats, two paddles, and a pump.

Since it's inflatable, it won't take up a ton of space in your house while you aren't using it, making it perfect for the occasional weekend trip. Needless to say, it would also make a great gift for anyone who lives near a navigable body of water. Just note that this price is only available today, so make up your mind before it washes away.
---
After Catan, Ticket to Ride is probably the most popular "good" board game out right now, and you can grab a copy for $30 on Amazon today, just in time for the holidays.

Want to try it out before you buy? The iOS and Android versions are both on sale for $3 right now. Don't take too long though, the board game deal could leave the station at any time.
---
You know the guy that writes The Oatmeal webcomics? He made a card game, and it became the most-backed project in Kickstarter history, as measured by number of individual backers. If you weren't one of them though, Amazon's taking $3 off NSFW edition today. I can't think of a better way to pass the time with your family over the holidays.
---
Tri-ply pots and pans can transform the way you cook, but if you don't want to take out a second mortgage to buy a bunch of All-Clad, this similar Lagostina set is on sale for just $200, today only.

These pots and pans feature a durable stainless steel cooking surface (with the exception of one pan with a nonstick cooking surface), an even and rapid-heating aluminum core, and a beautiful stainless exterior, all sandwiched together to give you the best properties of both metals. You're getting eight pieces of cookware here (not counting the lids), or $25 per piece. You won't see a better tri-ply deal very often, so if you enjoy cooking, snap these up before they sell out.
---
A decent HDTV antenna is an essential part of any cord cutter's toolkit, and three different models from 1byone are on sale in today's Amazon Gold Box.
They're listed with 25, 35, and 50 mile ranges, but those are really only under the most ideal circumstances, and your actual range will probably be somewhat shorter. If you need help deciding which to buy, Lifehacker has a great guide to get you started.
---
Today only, Amazon will sell you a complete 9-film X-Men Blu-ray collection (including Deadpool!) for $60, an all-time low. It's important to note that this isn't a box set; it's literally just a bundle of individual Blu-rays (including the X-Men Collection, which contains six films). But at less than $7 per film, it would make a great gift for any superhero fan.
---
Whether you're looking to start a podcast, or just want your Skype calls to sound better, the Blue Yeti is one of the most popular mid-range USB microphones you can buy.

If you missed Amazon's $90 Gold Box deal earlier this week, you've got another chance today, this time on the murdered-out Blackout edition, which actually wasn't included in said Gold Box.
---
If your gaming mouse or headset could do with an upgrade, several popular Logitech peripherals are on sale on Amazon right now, including the G600 MMO mouse (one of your five favorites), and the G930 surround sound headset (ditto).
---
You don't need a yard, or even any gardening skills to grow your own food at home; you just need Miracle-Gro's Aerogarden line. These fully-integrated, soil-free indoor gardens can grow herbs, vegetables, and salad greens up to five times faster than regular soil, and you can choose from three great deals today.
---
The Bouqs is probably the best place to use when sending flowers right now. The bouquets are unique and the blooms are harvested from the side of a freakin' volcano.. And right now, take $10 off $50 orders with the code SAVE10, $15 off $60 orders with the code SAVE15, and $20 off $80 orders with code SAVE20. I promise you will want to find an excuse to get one of these bouquets.

---
The new Amazon Echo Dot is a brilliant little smart home assistant that you can hide in every corner of your home, and Amazon's taking $10 off the base price for Black Friday. If you're struggling to think of a gift idea for anyone on your shopping list, this is sure to be a hit with nearly everyone.

And if you were holding out for the full-sized Amazon Echo, complete with its booming speaker, it's $40 off again right now, while supplies last.
In addition to being a pretty solid Bluetooth speaker, the Echo can check the weather, turn on your lights, read you the news, trigger custom IFTTT recipes, order food, and—my personal favorite—read you Jeopardy questions like a robotic Alex Trebek.

The battery-powered Amazon Tap is also $40 off, but it doesn't feature the always-on microphone of its plugged-in siblings. So unless you really want to take Alexa on the road, you should probably skip it and get one of the other two.
---
The 7" Fire Tablet blew Black Friday 2015 wide open at a mere $35, but Amazon's upping the ante this year with an even lower $33 offer.
It should go without saying that this isn't an amazing tablet by any means. But it's a perfectly serviceable portable video screen, includes a microSD card slot for expandable storage, and even boasts a pair of (pretty bad) cameras! In short, it's all the tablet most people need, and it's never been cheaper.
If you need a little more out of your tablet, the brand new Fire HD 8 is $30 off today, bringing it down to $60. Compared to the $33 Fire, the HD 8 boasts a larger, sharper screen, louder speakers, faster Wi-Fi, and significantly more battery life.
---
Amazon's Fire TV is one of the only streaming boxes that can push out 4K content, and you can save $15 on yours today.

Don't need 4K? The recently revamped Fire TV Stick is $10 off as well. This new model features a quad core processor, and includes a voice remote by default, giving you full access to Alexa from the comfort of your couch.
---
While not nearly as good as the Prime-only deals we saw last month, if you're in the market for a Kindle e-reader this holiday season, you can save $20-$30 today on three different models.
The $50 price point on the entry-level model brings it into impulse purchase range, but just remember that it doesn't include a backlight. The $170 Voyage is really nice, and I own one myself, but it's probably not worth the $70 price premium over the excellent Paperwhite.
If you don't mind buying a refurb (and since it includes a full warranty, you shouldn't), you can also opt for a Voyage for $120, the same price as a non-discounted Paperwhite.

---
If you threw my Mac into a volcano and forced me to use a Windows laptop, I'd absolutely choose the Dell XPS 13. Adorama's eBay storefront today is selling one with a 3200x1800 edge to edge display, 8GB of RAM, and a 256GB SSD for $850 today, which is a fantastic bargain for anyone seeking a mid-to-high end laptop who doesn't care too much about gaming.

For context, the same model is currently listed at $1,199 from Microsoft, and that's on sale.
---
Eero's mesh routers were the standout networking deal of Black Friday, but they're probably overkill if you live in a relatively small apartment or home. The Wirecutter-recommended TP-Link Archer C7 though is one of the best "traditional" routers you can get, and it'll only cost you $70 today. If you have a friend or family member that's plagued by terrible Wi-Fi, this will be their favorite gift of the year.
---
Unlike most Chromebooks with tiny, ~720p displays, the Acer Chromebook 14 packs in an expansive 14" 1080p IPS panel, backed up by 32GB of storage, 4GB of RAM, and up to 12 hours of battery life. This model regularly sells for $300, but it can be yours for an all-time low $230 this Black Friday.

And yes, it's on the list of devices that will support Google Play and Android apps in the future.
---
The best Lightning cable is the one you always have with you, and for just $13, it can be KERO's Nomad keychain cable. These are perfect for use with portable battery packs when you're out and about, and they make great stocking stuffers for iOS users as well.
---
SONOS speakers go on sale maybe a couple times per year, but even then, a full 25% discount on the PLAY:1 is unheard of. The PLAY:1 is the smallest member of the SONOS family, but it still sounds fantastic, and you can even link two of them together as a stereo pair.
---
It's 2016, and your headphones don't need wires anymore. Luckily, Amazon's offering up Sony's popular and well-reviewed MDRXB950BT Bluetooth over-ears for $88 today. Not only is that an all-time low, it's actually a whopping $60-$110 off its usual price.
---
If you still have any TVs without a Chromecast attached, Google's official eBay store will sell you one at a $10 discount today (also available on Chromecast Audio). Plus, Google will throw in 90 days of unlimited Google Play music, 75% off a movie rental of your choice, and even three months of HBO Now (new users only) for free.
---
Fitbit's annual Black Friday discounts just went live, with all-time low prices (save for a brief preorder price mistake) on the entire wrist-based lineup, including the svelte Flex 2, the powerful Charge 2, the fashionable Alta, and the Blaze smart watch.
---
If there are any items on your wishlist that you wouldn't mind buying slightly used, Amazon's taking an extra 20% off over 60,000 (at the time of this writing) select products from the Amazon Warehouse, or an extra 25% off over 5,000 used video games, consoles and accessories.

You can use the links above to search for what you're looking for, and you'll see the 20% or 25% discount automatically at checkout. Unfortunately, there's no great way to sort through the deluge beyond searching for what you're interested in, but if you have any items on your personal wish list, it's worth a try.
---
Anker makes your favorite battery packs, charging cables, Bluetooth speakers, and more, and practically everything they sell has a special Black Friday promo code available right now.
Items are organized by category over on this post, just be sure to note the promo codes, and remember that you can only use one promo code per order on Amazon, so if you want multiple items, you'll have to buy them separately.
---
This is about as small as a flash drive can possibly get, and yet it can hold 128GB of data for just $23. I can't believe I paid Apple an extra $100 for that amount of storage on my iPhone.
---
Google Home is the smart speaker that Google devotees have been clamoring for, and it's already down to $99 (from $129) for Black Friday. For context, that's cheaper than we've ever seen the Amazon Echo, even refurbished.