Best Gaming Deals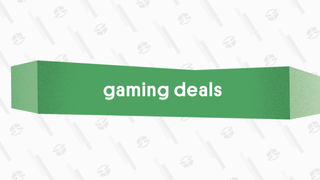 Best Gaming Deals
The best deals on games, consoles, and gaming accessories from around the web, updated daily.
Waluigi Stuffed Plush | $16 | Amazon
Wario Stuffed Plush | $17 | Amazon
[UPDATE: Liz here. So, an earlier version of this deal, left below in its entirety, speculated that Wario and Waluigi are brothers— a common assumption. I was curious, so I googled the answer and found an archived Kombo article with Charles Martinet (voice actor for Mario), who explained that he doesn't think the duo are brothers, but are instead "just two nice, evil guys who found each other." I personally want to believe that, and thought it would be nice to share that little tidbit in all its wholesome goodness—along with the deal on these adorable little plushies below. Check it out!]
Here at The Inventory, you've probably noticed that we love Wario. Anytime you see one of our daily deal round-ups, you'll see the jolly yellow villain with his gaping maw wide open. That's because someone has to rep Wario while his brother (?) gets all the attention. For some reason that is still unclear to me, everyone loves Waluigi. Maybe a little too much, in some ways. The Purple Prince is a style icon, not unlike Marilyn Monroe. The day that he gets added to Super Smash Bros. is probably the day the world ends. Regardless of who you love more, you can now invite both horrible men into your home like vampires. Amazon has a 12.5" Waluigi plush on sale $16 today, so I dare you to put your money where your mouth is. For us, we'll stick to this 10" Wario plush, which is down to $17.
If you just couldn't possibly choose between the two, you can always buy both of them together for $35.
G/O Media may get a commission
---
This deal was originally published by Giovanni Calontonio on 1/08/21 and was updated with new information by Elizabeth Lanier on 1/09/21.