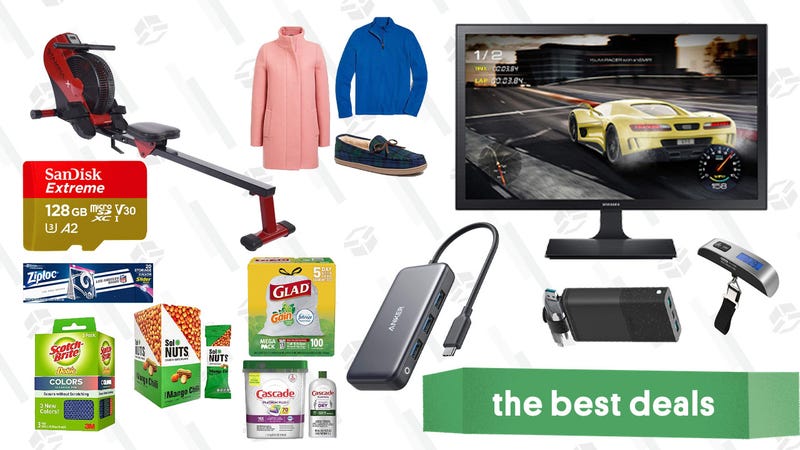 Best Deals of the Day
The best deals from around the web, updated daily.
Amazon game day essentials, a LEGO BB-8, Levi's sale and a Butcher's Box bonus lead off the Monday's best deals from around the web.
Bookmark Kinja Deals and follow us on Twitter and Facebook, or sign up for our newsletter to never miss a deal.

This $99 speaker from Amazon is unlikely to trump Sonos in terms of audio quality, but damn, if it doesn't look so, so classy. I, for one, love the retro aesthetic it has going on.
It has knobs! But not just for decoration, they actually control volume, treble, and bass. There's Bluetooth and it also has 3.5mm input, so you can connect your smartph... wait, never mind. You can connect an Echo Dot to it.
If you're not an audiophile and are more interested in making your apartment as chic as possible, this is a great time to invest.
---
Don't botch your Super Bowl (or Overwatch League) viewing party with bad sound. Consider picking up a sound bar, like the Sony HT-MT300/B Powerful Mini Sound bar, to pair with your 4K TV.

Regardless of your home theater setup, this sound bar is compact enough to fit in most situations, and it's got a wireless subwoofer to provide all-important bass. Better still, $198 is the best price we've seen on this particular model.
---
A good VPN is an essential tool for protecting your anonymity online, especially when you're using public Wi-Fi, and can also potentially unlock other countries' streaming services. (Hint hint: watch Love Island on Netflix by routing through a British VPN).

Private Internet Access is our readers' favorite VPN, and to celebrate the official launch of their fancy new app, they're offering the best deal we've ever seen, exclusively to our readers.
Just sign up for a year of the service at $40 through this link, and you'll get five months added to your membership for free, compared to the three months they're offering the general public. That's only about $2.35 per month!
---
While it's not the cheapest 128GB microSD card we've ever seen, SanDisk's Extreme 128GB card blows most competitors away with read speeds up to 160mbps, compared to 90-100 on most competitors. Not every device will be able to take full advantage, but for things like high-end action cams that shoot 4K, it could come in handy. It's also, needless to say, as future-proof as flash storage can be.

---
These Anker PowerLine+ Lightning cables (3' | 6') are wrapped in nylon, are rated for 6,000 bends, and come with an 18 month warranty, all of which are improvements over Apple's own Lightning cable, and that's not even accounting for how much nicer they feel to use, or the included pouch that keeps them organized.

Oh yeah, and at $10 or $12 each, they cost about as much as what you'd pay at the Apple Store for an inferior product.
---
I'm not sure if you heard, but there's a rather large sporting event happening next weekend, and if you have a TV, but don't pay for cable, all you need to watch it for free is an over the air HDTV antenna.

This one includes an amplifier to boost your range, and is only $9 today with promo code Y6EU7TZO. Just ignore the ESPN logo on the product photo; antennas can't pull in ESPN. But that game you're thinking of? It's on CBS.
---
USB-C will be truly ubiquitous one of these days, but for the next few years at least, owners of USB-C laptops will probably want to carry a dongle or two. A couple of Anker's highly rated adapters are on sale right now, so just be sure to use the correct code for each and clip the coupon code on the page to maximize your discount.

---
Founded by former Mophie employees, Nimble's novel idea was to build a charging accessory company that was good for the environment, featuring recycled aluminum, plant-based plastics, and a prepaid e-waste recycling bag in every package.

And oh yeah, the chargers are really good too.
This week only, our readers can take an exclusive 30% off all of Nimble's battery packs and wireless chargers with promo code 30KINJASHOP. The Qi chargers are gorgeous, include a Quick Charge wall adapter, and charge iPhones at 7.5W. There's even one that can charge two devices at once.
The battery packs range in size from 10,000mAh to 26,000mAh, and they all include USB-C Power Delivery (though only 18W), and an included, short charging cable that snaps to the top of the battery magnetically. They're all very good, and today's deals are among the best they've ever offered.
---
Today's Gold Box lowers the price on a couple of desktops and a Samsung monitor.

Both desktops feature super powerful NVIDIA Geforce RTX 2070 8GB graphics, an SSD and HDD for storage, and 16GB of RAM.
The big difference, aside from the case, peripherals, and about $200, is the processor. The iBUYPOWER uses an Intel Core i7-8700K Six-Core Processor 3.7 GHz and the CYBERPOWERPC uses AMD Ryzen 7 2700 3.2GHz chip.

These are solid deals and either one will run most games really well.
The Samsung monitor is also a decent bargain. While it doesn't have the super fast refresh rate you'll want for competitive gaming, it's certainly good enough for most people or a second screen to watch a stream while you game.
---
If your current rig is on its last legs, or if you just want a relatively affordable way to get into PC gaming, Best Buy via eBay is selling a pretty powerful gaming rig for just $700. This HP tower offers a Radeon RX 580, 16GB of RAM, and a combination 1TB HDD + 128GB SSD.

This HP gaming PC is more than capable of handling most mainstream PC games, like Overwatch and Fortnite.
---
You don't need to spend hundreds of dollars to enjoy the benefits of noise canceling headphones: TaoTronics' latest noise canceling over-ears are down to just $40 today with promo code 2SI6REVL when you also clip the coupon on the page.

The ANC won't match Sony or Bose, but it'll definitely do well, especially against consistent noises like fans or airplane engines. They'll last 30 hours on a single charge, are extremely comfortable, and fold up for easy storage.
---
Surprise! Nokia makes great mid-range, budget smartphones. Though not as powerful or as tech-filled as some of the latest iPhone, Google and Samsung offerings, this Nokia 8 is good enough for most people and a good starter model for your teen.

This $200 is $50 less than what's currently on Amazon. Better still, it's unlocked so no contract to worry about. Heads up: This smartphone is compatible with GSM carriers like AT&T and T-Mobile, but are not compatible with CDMA carriers such as Verizon and Sprint.
---
Apple's long-rumored wireless charging case for AirPods still doesn't exist, but in the meantime, this gadget adds wireless charging to your existing case. Unfortunately, this is a case for your case, not a replacement case for your AirPods themselves, so it'll take up some extra room in your pocket, so you'll need to do your own calculus over whether wireless charging is worth it.

Normally priced at $20, it's down to $15 today on Amazon.
---
The original Boogie Board LCD writing tablet has been hugely popular with our readers, and today, the larger Boogie Board Sync is on sale for $70 today, the best price we've seen in months.

Unlike the original, which has no ability to save or sync your drawings, this one can do both, with enough internal memory to store over 1000 images, and Bluetooth to connect to your phone or computer.
---
Sometimes the number of built-in LAN ports in your sexy, modern router isn't enough. Luckily there's a cheap solution: Networking switches.

This $15 TP-Link 5-Port model is the cheapest we've ever seen on Amazon and about $5 less than average going rate. But the $18 Netgear 8-Port model is an even better deal. That's a extra port per dollar. That's a steal.
It's also quite rare that ones with metal housing can be so cheap. So save yourself a future headache and invest on either of these models. You won't regret it.
---
Buying a discounted gift card is basically getting free money. And right now, Daily Steals is lowering the price on Google Play and App Store & iTunes Gift Cards.

Depending on the value of the gift card, you'll save between $2-10. Of course, these cards aren't just for buying apps or music anymore, you can purchase digital movies and pay for your streaming or cloud storage subscriptions too.
I, for one, buy one of these every time a sale goes on. And then I wait until an app or a movie I like is on sale (which is frequent with digital media) and I stack my savings that way.
---
Amazon has the Fujifilm Instax Square SQ6 camera for $100, if you choose the Ruby Red or the Aqua Blue flavor.

If you're not familiar, Instax cameras are Fujifilm's cute, Polaroid throwbacks that quickly became a mainstay in corporate parties. (Your niece and/or aunt probably got one for Christmas.)
This particular model is Gizmodo's favorite overall.
It doesn't seem to have gotten much attention, but the Fire TV Recast is quietly one of the most interesting gadgets Amazon's come out with in a long time, and it's back on sale today for up to $50 off.

This isn't a streaming dongle that you plug into your TV like the rest of the Fire TV lineup. Instead, you plug any HDTV antenna into the Recast DVR, which in turn streams live and recorded shows to your Fire TV, your Amazon Echo Show, your Fire Tablet, or any iOS or Android device, no matter where you are in the world. That means you could possibly hide your antenna in a closet, instead of keeping it out on display in your living room. Or you could set one up at your parents' house to stream local news and sports that you can't get where you live. And unlike some other devices that perform a similar function, the Recast doesn't have any monthly or annual fees.
Both the two-tuner 500GB and four-tuner 1TB models are on sale, but considering that we're really only talking about a handful of worthwhile channels here (CBS, ABC, NBC, and Fox are the big ones), the cheaper model is probably all you need.
---
While USB-A to USB-C cables can't take advantage of Power Delivery charging speeds, it's still a good idea to keep a few handy for charging USB-C-powered phones, tablets, and other devices from regular old USB chargers, even if they're slower.

Today at Amazon, you can grab a pair of 6' nylon-braided cables from Anker for just $8, down from the usual $10, with an extra 5% off when you clip the coupon. They even have a lifetime warranty if anything goes sideways.
---
Anker's SoundBuds Curves were a runner up in our recent affordable headphone poll (they were only beat out by Anker's own SoundBuds Slims), and you can grab a pair for just $20 today. Just use promo code ANKER3263 at checkout.
The SoundBuds Curve are the sportiest member of the SoundBuds family, and are designed with active users in mind. Their ear wings ensure they stay put while you exercise, and an internal hydrophobic coating means your sweat won't fry them. Their best spec though? 12.5 hours of battery life, which is basically unheard of in the space.

---
Aukey's teeny-tiny car charger is the third-best-selling product in Kinja Deals history, and now, it comes in aluminum. Does that really matter on a car charger that you can barely see? Probably not. But at only $7 (with promo code AUKEYC02), who cares?

Even with this tiny form factor, it puts out 2.4A on both ports simultaneously, so your phones and other gadgets can charge even if they're playing music or being used for GPS. And even if you have a car charger that you already like, you should get another one just for your luggage.
Note: This deal continues for the rest of the week, but you'll need to order by today to get your wings in time for the big game.
Butcher Box ships grass fed beef, heritage grade pork, and free range chicken right to your door for less than $6 per serving, and if you sign up before 2/3, you'll also get three pounds of organic chicken wings in every box for the life of your subscription, for no additional charge. Who doesn't want a wing night every month forever?

Note: While the deal runs through 2/3, you'll want to order by 1/28 for guaranteed delivery in time to eat the wings while you watch the Patriots lose.
The three pound wing bonus come bundled with any of Butcher Box's pre-selected boxes, which are priced at $129 for 24 servings, or $238 for 48 servings, which can be delivered every 30 or 60 days. For a nominal surcharge, you can also build a completely custom box, with your choices of proteins.
---
If you're anything like me, you got a small screwdriver bit set in a stocking when you were like 19, and you've used the same slowly dwindling, extremely disorganized bits for every home improvement project ever since. Don't have a Philips head bit that's quite the right size? Eh, just use a flathead, it'll probably be okay.

It doesn't have to be this way! This 100-piece bit set from DEWALT includes four complete sets of bits for different jobs, in four different boxes, for just $30. I'm not saying you'll never lose one, but you've got a lot of options here if you do.
---
You might have a bathroom scale at home that works just fine for weighing luggage when you're leaving town, but this hanging scale is small enough to take with you, so you can make sure you won't get dinged for all of those heavy souvenirs on your return trip. All it has to do is save you from an overweight baggage fee once, and it will have paid for itself several times over.

---
Whether you're at your kid's soccer game, or a D1 football game, nobody enjoys sitting on bleachers. But this $18 seat hooks onto a backless bleacher, and gives you a comfortable backrest, a storage pocket, and even armrests. You won't mistake it for a luxury suite, but at that price, it's a worthwhile upgrade.

---
Amazon's Super Bowl party essential Gold Box is here, and it's...full of cleaning supplies. It's not the most fun sale we could imagine, but hey, trash bags are an important part of any party.

That's not to say it's only trash bags. You'll also find team-branded Ziploc bags (including, cruelly, Saints bags), soaps, and yes, even some snacks. The best deal though? The Dobie cleaning pads (with an extra 10% coupon!), which have featured prominently in many a Jolie Kerr cleaning advice column. Seriously, they're amazing, and I bought a box.
So if you're hosting anyone for the game, surely there's something on sale that could prove useful. Just remember that these prices are only available today, so don't overlook your clock management.
---
Magnetic wristbands are incredibly handy for doing work around the house, and you can get two of them for just $7 with promo code 5L9WV4A8 today. Don't want it on your wrist? This one will fit over your belt too for easy access with either hand.

---
Beyond the standard $50 discounts you hear about in the middle of every podcast, Casper mattresses don't go on sale often, and Casper accessory deals are even rarer. But today's 10% sale (live now) holds the promise of serious savings, if you still haven't gotten rid of that old coil spring.

 10% savings on a standard Casper mattress works out to nearly $100 on a queen, or as much as $240 on the new, advanced Wave mattress. Just use promo code FLASH at checkout to see the savings stack up.
---
Deez nuts...are 20% off via coupon at Amazon right now. Save on cans of Planters for your upcoming Super Bowl soirees, keep a jar at your desk for midday snacking purposes, put a few in your bag for when you're feeling hangry — generally, just go nuts.

---
As much as your dog prefers to smell like butt, he's probably overdue for a bath. In fact, he's probably been due for a long time now. But if you live in an apartment and don't have easy access to a hose, a regular shower or sink isn't really the right tool for the job. At least not without the Waterpik Pet Wand.

The Pet Wand attaches to any standard sink faucet, shower, or garden hose (though it's probably overkill if you have one of those), and transforms it into a professional pet washing tool. Its WaterComb spray mode delivers high pressure (this is a Waterpik, after all) streams of water to penetrate fur, but with a flick of the thumb wheel, you can switch to a narrower spray for sensitive areas.
If your dog doesn't like baths, this won't do anything to prevent that devastating look of betrayal he gives you, but at least it'll help bath time end sooner.
---
Adjustable height pet bowls are great for larger dogs or older dogs who don't bend down as well as they used to, and this attractive, ladder-style model starts at just $28 today with promo code KJPETFEED, a small price to pay for your good dog.
That code will take $5 off both the small and large model, in either white or cloud blue, so no need to sit or stay, just take a walk over to Daily Steals to fetch it while you can.
---
Now that plastic straws are evil, you can replace them with these metal ones, now just $8 for a pack of eight after you clip the $1 coupon. I use these at home, but you could definitely keep one in your purse or bag to use when you're out and about as well.

The set also comes with a couple of pipe cleaners to help you clean the inside, but for what it's worth, I've just run mine through the dishwasher for years, and I'm not dead!
Urban Outfitters does way more than just outfit you; the cool-kid superstore also hooks up your home and beauty routine with trendy stuff that's sure to please any millennial. Today only, go all out on UO, since they're taking an extra 50% off their entire sale section. That means a whole heap of extra discounted men's and women's clothes, accessories, home decor, and other miscellaneous items.
---
No matter how worth it they are, spending a fortune on designer denim never feels great. But today, you can take home a pair of Joe's Jeans for much less than usual, thanks to a Nordstrom Rack flash event. Both men's and women's styles of jeans and other apparel are more than half off their regular prices. It's a sale you'll want to slide on ASAP.

---
I can't own enough Baggu bags — seriously, I have two of their nylon bags, two leather bucket bags, and a canvas duck bag, and I love them all dearly. No matter what kind of bag you're in the market for, chances are Baggu makes a highly wearable, very sophisticated version of it that's built to last, and now, the bag brand is taking 15% off their entire sale section with promo code SALEONSALE. I'm not even going to try to resist this Baggu blowout, and neither should you.
---