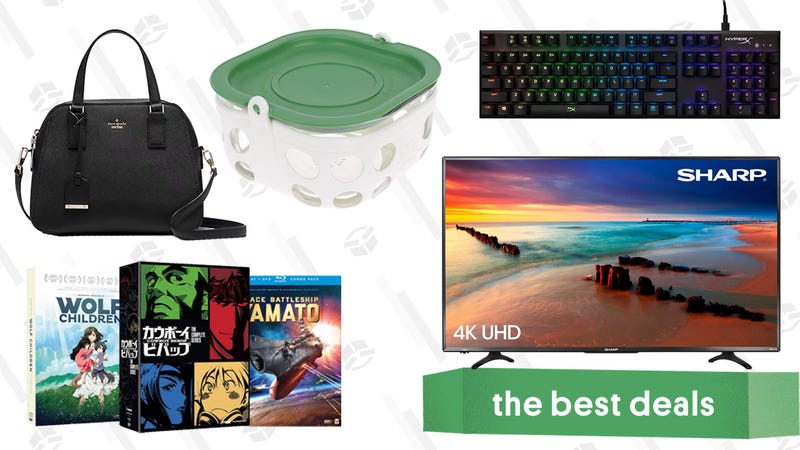 Best Deals of the Day
The best deals from around the web, updated daily.
A Sharp TV with Roku, a PC gaming sale, and savings on the Luminoodle lead off Monday's best deals.
Bookmark Kinja Deals and follow us on Twitter and Facebook to never miss a deal.
While it pales in comparison to larger, more feature rich sets, this Sharp's 43-inch model is a steal at $250. This internet-connected TV features 4K resolution and a 60-hertz refresh rate, LED backlighting, three HDMI inputs, and built-in Roku.
It might not be a home theatre level panel but it'd shine as a bedroom, Netflix machine.
---
We, the trackball enthusiasts, are a special breed. You may point and stare at our ergonomically sculpted peripherals, but we're too busy getting stuff done to care.
It took nearly a decade for Logitech to update its trackball line and with the MX Ergo, I got everything I wanted. It's super comfortable, can tilt 20 degrees for a more natural hand position, and it'll last 4 months on a single charge.
It's currently $76 on Amazon, a few pennies off from the lowest price we've ever seen. And while it's not as sexy as the MX Master 2S, it won out as my favorite office accessory.

---
Noise canceling headphones, like the Sony WH-1000xm3 or Bose QuietComfort 35, come with many useful features, superb audio quality and a restrictive price tag. This alternative from Sennheiser offers great sound and a bare-bones noise canceling experience for less than half the price of the competition.
These cans leave out a lot of the bell and whistles of the competition, such as touch controls and a voice-assistant dedicated button. But they deliver what most people care about most: price and sound quality. And right now, the black version is available at the same price offered on Black Friday: $130.
---
Anker's entry-level truly wireless headphones are available for just $45 today, the lowest price we've ever seen.

Like the Liberty headphones before it, the Liberty Lites will run for 3.5 hours on a single charge. The Lite's charging case only holds an extra 9 hours worth of battery, vs. 24 hours for the Liberty, and 48 for the Liberty+. Still, that's enough juice for an entire workday or a flight from New York to Los Angeles.
---
We've seen power cubes with more ports and outlets from other manufacturers, but Anker's take on the category has a few nice touches. While it leaves one side of the cube empty, it does come with adhesive pads that let you mount it on a wall or underneath a desk. It normally sells for $26, but you can get it for just $20 today — the cheapest it's been.

---
Tile is the handy device for anyone who can't stop losing their things, and you can get four Tile trackers (two Sport and two Style) for $50 today on QVC.

Use Tile app on your phone to ping lost items, such as keys and wallets, over Bluetooth and cause them to beep until you find what you're looking for.
Better still, this price is $25 less than what we usually see.
---
Anker makes just about every capacity of PowerCore battery pack imaginable, but the company's 10,000mAh packs have always been among their most popular. And now, just in time for the holidays, they squeezed that much juice into a shockingly small new package.

The PowerCore 10000 Redux is only 4.1" x 2" x 1", and weighs only 6.6 ounces, making it the smallest 10,000mAh battery pack we've ever seen. And of course, Anker's PowerIQ technology is built in, meaning you'll get the fastest possible charging speed no matter what you plug in. There's even a special trickle charge mode for low-draw devices like Bluetooth headphones, which often don't draw enough power to keep USB battery packs "awake."
The Redux only just came out, and retails for $34, but it's marked down to $26 this week, making it a perfect stocking stuffer idea.
---
If you play games on PC, or hell, even if you don't, there's probably something you could use in Amazon's 12 Days of Deals PC gaming sale.

The star of the show here is probably the ASUS ROG Zephryus S gaming laptop, all tricked out with a 144Hz IPS screen, a GTX 1070, 16GB of RAM, a 512GB SSD, and a Core 17. At $1,699, it's a splurge, but that's the best price Amazon's ever listed.
Other deals includes the HyperX Cloud Pro gaming headset for its Black Friday price of $50, the reader-favorite Corsair K70 mechanical keyboard, a portable 2TB Samsung SSD, and a really good range extender from TP-Link. That's just scratching the surface though, so head over to Amazon to find the rest of the deals, and remember that they expire at the end of the day.
---
At a certain point, the benefits of upsizing your monitor still start to be overshadowed by the sheer amount of desk real estate you lose. But 27" is not that point, and the Dell UltraSharp 27" LED Monitor is a good buy at $329 today at Amazon, if you've been jonesing for more screen space.
---
It's $5 more expensive than it was on Black Friday and Cyber Monday, but if anyone on your shopping list (yourself included) would like an Alexa-enabled, incredible-sounding Sonos One speaker, they're $20 off right now, which is the second best deal we've ever seen. Or, you can buy two and save $50, which is a match for Black Friday.

Unlike Black Friday though, that $20 discount is also valid on the new, limited-edition HAY Sonos Ones. They're priced $30 higher than black and white, even on sale, but you get to pick from five designer colors.
The $100 Connect:Amp discount also made a comeback. This device basically turns any unpowered speaker pair into a Sonos smart speaker, compatible with streaming services and multi-room audio.
---
iOttie's been turning out ultra-popular smartphone dash mounts for years, and its new flagship, the iOttie Easy One Touch 4, is down to $17 today, from the usual $25.

You see that giant button on the back of the One Touch's cradle? Once you put your phone in place and press down, that button will snap the sides of the cradle shut, holding your phone in place with minimal effort. You can also extend and tilt the mount's arm, meaning you can find the right angle no matter how your dashboard is arranged.
---
In today's edition of "Silly Things That Are Actually Kind of Useful," we have a $22 beanie with tiny Bluetooth headphones built right in. I'm sure the sound quality isn't amazing, but it should be adequate for listening to podcasts, or even some summery songs to make you feel less cold and miserable over the next few months. There are dozens of different styles, and promo code RTKJ45CODE should work on all of them.

---
Wireless charging works the best when you have charging pads scattered all around your home. If there's a table where you set down your phone, it should have a Qi charger on it. And at these prices, that ideal can be your reality.

For $40 (with promo code KINJA378), you grab an LED desk lamp that supports 10W (Android) and 7.5W (iPhone) Qi charging, plus an extra USB charging port for your other devices. The lamp itself even supports multiple color temperatures, so you can set it to daylight when you want to feel energized, or dim and warm when you want to wind down at the end of the day.
Or, just stock up on regular Qi pads for $8 each with promo code KINJA0014. These would also make great stocking stuffers.
---
Samsung's U3-rated microSD cards are some of the fastest and most popular options out there—I have the 128GB model in my own Nintendo Switch—and all four sizes are down to all-time low prices today on Amazon.

The 32GB card is down to a laughably cheap $6, the 64GB just dropped to $11, and the 128GB went from $25 to $20. The ever-so-slightly-slower SanDisk Ultra 128GB is also down to a new all-time low of $18, which is even cheaper than we saw on Black Friday.
If you need extra space for your action cam, smartphone, tablet, Switch, or anything else, these are extremely fast cards, and extremely good deals.
---
Anker's newest PowerPort wall charger is its smallest one yet, and you can grab two of them for just $13 on Amazon today with promo code ANKERWBF.

The PowerPort Mini isn't much bigger than the power brick that came with your iPhone, but it includes folding plugs, two ports, and 12W of power rather than just 5W. Literally everything about it is better.
That power is split between the two ports, so while it can charge an iPad at full speed if it's the only thing plugged in, it'll drop down to half speed if you plugged in a second device. But even so, that's perfectly fine for overnight charging, and this thing is small enough to fit in any bag.
---
Amazon sells a ton of affordable tech essentials under its AmazonBasics brand, and dozens of them (including some surprises) are on sale right now.

Your basic essentials like rechargeable AA batteries, USB-C cables, and Velcro cable ties are here, as you'd expect, but did you know AmazonBasics has a UPS power supply? An LED mouse pad? A cool retractable Lightning cable? Yeah, me either. Be sure to head over to Amazon to see all of the deals; chances are there's something you can use.
---
VPNs have been in the news, and whether you want to get around video geoblocks, circumvent proxy filters, or just keep prying eyes out of your browsing data while using sketchy public Wi-Fi, reader-favorite Private Internet Access has a deal to fit your needs.

Private Internet Access doesn't do much in the way of discounting, but they offer exclusive pricing and packages just for our readers that you won't find anywhere else. Here are your options, and what you'd pay if you bought the same plan elsewhere:
These deals are only for our readers, but we aren't sure how long they'll be available, so go ahead and sign up while you can.
If you primarily use your blender to make smoothies for yourself, you don't need to make a giant pitcher dirty, you need a Nutribullet. This 900W model blends your drink inside an individual cup (it comes with two, plus lids and handles), meaning you'll have a much easier job cleaning up afterwards.

Today's $60 deal is within $4 of an all-time low, so grab it before the deal gets pulverized.
---
It's only a matter of time before we're all buried in snow. Be prepared when that fateful day finally arrives, and get (at least) one of these AmazonBasics 1500 Watt Space Heaters in either black or silver for the poorly insulated corners of your house. Currently on sale for $20, this little ceramic hottie features an adjustable thermostat and three output options: low, high, or fan only. Plus, it has an easy-carry handle so you can take it with you as you move throughout your home. I expect this will be a hot commodity, what with temperatures dropping by the second, so get yours now or risk being left out in the cold.
---
Your KitchenAid stand mixer is already an amazing appliance, but now it can be even more so with this spiralizer attachment. Turn zucchini into pasta! Core and peel your applies! Slice things! That's a lot of bang for your buck at today's $50 price, which is about $25 less than you'd usually pay. If you want to plan your entire holiday menu around the many uses of this tool, we won't stop you. In fact, it sounds like a pretty good idea.

---
I'm not a scientist, but I know that Coke tastes better from a glass bottle. I also know that glass is where it's at for food storage for a number of reasons, so it seems clear that the Lifefactory 4-Cup Glass Dish with Silicone Sleeve and Lid is a purchase that might improve your life in a not-insignificant way. Even better, it's at an all-time price low of $13!

The soft cover not only protects against breakage (because glass shards are anything but a culinary delicacy), but it also snaps onto the lid to keep it secure during transportation. That should take your holiday stress down at least one notch — no more worries about the sweet potato casserole spilling in the trunk while you drive to Uncle Clark's for Christmas Eve dinner.

---
December is the month of packages — from Amazon to you, and from you to friends and family. Don't be the sucker who mails your gifts late because you ran out of shipping tape! Amazon has six rolls of the Scotch heavy duty variety for just $17, which should be plenty to get everything where it needs to go.

If you're all set for now and just want to stock up for the years to come, you can buy it via Subscribe & Save and pay just $16. Just don't use this option if you need it now, unless your monthly delivery is scheduled soon.
---
Sleep is precious. Whether or not you get enough sets the tone for your entire day, so give yourself a fighting chance at happiness with a white noise machine to cancel out any sounds that might keep you awake.
Amazon has the Marpac Dohm Classic, which allows you to customize the volume and tone, for $40 — a fair investment for your first foray into sound therapy. Once you've got the soothing din working, all you'll need is a weighted blanket for maximum quality sleepage.
---
A perfect stocking stuffer for anyone who ever dabbles in electrical work, Sperry's outlet tester uses a series of three lights and an easy-to-read chart to make sure you avoid any shocking surprises. At under $6, it's near the best price we've ever seen, albeit as an Add-On Item.

---
Once you've gotten used to keeping a multi-tool on you, it can be hard to go without. But the TSA doesn't care about that, and good luck getting your Leatherman on a plane.

The Gerber Shard isn't as fancy as a lot of mini tool gizmos, but it's airline approved and it fits on your keychain — and it's $5. It features three drivers, a wire stripper, a pry bar, and a bottle opener, so maybe it's just enough to keep you from having handy gadget withdrawals in "no weapons" situations. (It's also a nice little gift for people that don't really need or want anything else.)

---
You know you're officially an adult when a chest freezer makes it onto your wish list, even if it's only in a vague "that would be nice to have" sense. Whether it would live in your garage or right in the kitchen, it's a life improvement you can't fully appreciate until you've grown up.

With the Arctic King 5-Cubic-Foot Chest Freezer, on sale for $155 at Walmart, you'll finally have a place to stash your stock of frozen foods. And no judgment if it's nothing but cartons of Halo Top. We all have our weaknesses.

---
Power Practical's latest Luminoodle is a terrific light strip attached to an amazing button, and it's ideal for illuminating dark closets, or installing under shelves and cabinets.

It's an affordable product to begin with, but right now, you can save 20% with promo code 3EYFQVKX. That'll work on the daylight or warm white versions, and on the single pack or the three-pack, which is basically a three-for-the-price-of-two deal.
---
If kitchen utensils were sentient, I imagine these would take offense to being called lazy. They have built-in notches to help them balance on the rims of your cookware. How is that lazy? If anything, it's going above and beyond.
I suppose the "lazy" in "Rachael Ray Silicone 3-Piece Lazy Tools Set" ($12 at Walmart and Amazon) might be a reference to the chef who uses them, like, "ha, you're too lazy to hold this spatula for 30 minutes while your sauce reduces." But again, is that really lazy? To me, it seems more sensible. Let your kitchen implements handle themselves while you focus on some mise en place or something. Work smart, not hard.

---
Travelpro's Maxlite luggage series just keeps getting lighter. The Maxlite 3 was a reader favorite the last time we did a carry-on luggage poll, and the new Maxlite 5s are even easier on the scales.

Light checked luggage makes sense, but why, you might ask, should you care what your carry-on weighs? Well, a lot of international airlines are starting to weigh carry-ons at check-in (I flew on one this year with a 21 pound limit, it's true), and if there's a buck to be made, you know it's only a matter of time until domestic airlines follow suit.
Today on Amazon, the rollaboard carry-on, the spinner carry-on, and the 25" checked bag are all on sale for the best prices ever, in multiple colors. The carry-ons both weigh less than six pounds, which is remarkable for wheeled luggage, and the checked bag is just over seven, so you'll have a lot of pounds to play with before you risk an overweight baggage fee.

---
Here are a few reasons why you should pick up this $30 Mr. Coffee Automatic Burr Mill Grinder: 1. It's affordable, 2. It's really simple to use and 3. Hipsters are right—coffee tastes a lot better if you make it with freshly ground beans.

---
For a limited time, Amazon will sell you three pouches of Tide HE-compatible laundry detergent (totaling 144 ounces or 93 loads) for just $14 after you clip the 20% coupon.

These pouches are designed basically as refills for plastic Tide bottles, but as long as that doesn't bother you, this is a fantastic price-per-ounce for any detergent, let alone name brand. Just be sure to clip the coupon on the page, and use Amazon Subscribe & Save for even more savings.
---
If you still don't have an Instant Pot in your kitchen (or want a second; it's not that crazy!), it may be time to grab the 8 qt. DUO model for $79. That's not quite as cheap as Black Friday, but it's a great deal if you cook for large groups. The 6 quart Wi-Fi model is also back down to $90, the same price as Cyber Monday.
In addition to pressure cooking (which is a miracle), this is also our readers' favorite slow cooker, and one of their favorite rice cookers too. To put it simply, it's one of the most versatile kitchen gadgets you can own.