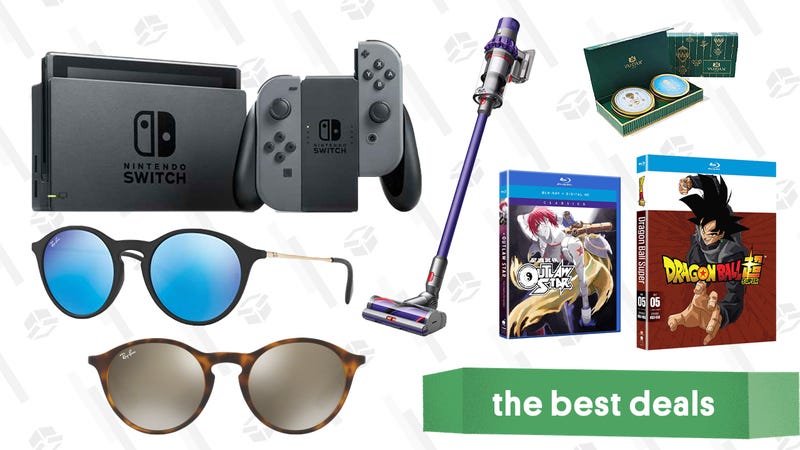 Best Deals of the Day
The best deals from around the web, updated daily.
A Dyson vacuum, fitness trackers, anime Blu-Rays and discounted USB-C cables kick off Monday's best deals.

Bookmark Kinja Deals and follow us on Twitter and Facebook to never miss a deal.

Bose's wireless QuietComfort 35 headphones set the standard for all other brands to follow when it comes to noise-cancelling technology. And right now you can get a pair for $300.

This price is $30-50 lower than usual, matching its Black Friday pricing.
However, as with all great things, these are not cheap. But it's hard to argue against this investment, especially around the holiday travel season.
---
Anker's reader-favorite PowerLine charging cables have blossomed into an entire line of different products, and it hasn't always been clear which one was the best:

PowerLine - The original. Rubber-wrapped, and kevlar-reinforced.
PowerLine+ - The same, but wrapped in Nylon for added durability, less tangling, and a better feel.
PowerLine II - A more durable version of the original, and backed by a lifetime warranty, but without the benefits of nylon wrapping.
That confusion can now become a thing of the past, because Anker combined the best of all of its cables into the new PowerLine+ II, and you can save on the 3' (promo code CABLE8462) or 6' (CABLE8463) USB-A to USB-C version today. It's incredibly durable, it's wrapped in nylon, and it comes with a lifetime warranty, meaning it's probably the last cable you'll ever have to buy.
Those codes work on both red and black, but just be sure you're using the right code for the right length. And remember, USB-A to USB-C cables don't support USB-C Power Delivery charging speeds like C-to-C cables, but they do allow you to charge your USB-C gadgets from any standard, ubiquitous USB charger.
---
How inkjet printers can be both frustratingly awful and painfully mundane never ceases to amuse me. Bless monochrome laserjets, like this $30 Samsung Xpress M2024W, for being much less of a train-wreck.

By-and-large, inkjet printers are soul-sucking monsters. They waste a lot of ink from maintenance cycles and the refills are obnoxiously expensive. Laser printers, on the other hand, use toner which doesn't dry out, so you'll spend less on refills regardless of how infrequently you print.
But, this model only prints in black-and-white and laser printers are notoriously mediocre at printing photos. If you're okay with that, Office Depot has this Amazon return label printing machine for half the price currently on Amazon.
---
At 18W, this Aukey power brick isn't the most powerful USB-C Power Delivery charger we've seen—a 12" MacBook's charger puts out 29W, for example—but it is certainly the smallest, and one of the cheapest to boot. Just use promo code XMASAK07 at checkout to save.

---
Anker's most impressive entry in the true wireless headphone market is on sale for the lowest price we've ever seen, by a longshot.

You can read our impressions of the Zolo Liberty+ over on The Inventory, but here are some highlights:
3.5 hour battery, plus a charging case with enough power for 48 hours of playback.
Transparency mode that lets in some ambient noise.
Customizable EQ settings.
Bluetooth 5.0 for a stable connection.
Normally priced at $150, promo code ZWSDZ2010 will bring them down to $75 right now, just in time for the holidays. That's less than they were selling for on Kickstarter, way back when.
For $15 less (with promo code ZWSDZ2000), you can also get the standard Zolo Liberties, which only carry 24 hours of charge in their case, rather than 48. They also lack transparency mode and customizable EQ settings, so it's probably worth spending just a little more for the top-end model.
---
It might look like a run of the mill USB battery pack, but EnergyFlux's Enduro pulls double duty as an electric hand warmer. Its 7800mAh of power can recharge your phone a couple of times, or heat the exterior up to 109 degrees for about seven hours, depending on how cold it is outside.

At just $27 (after clipping the 10% coupon), it beats buying a bunch of those chemical hand warmers that can only be used once, and would make a great last minute gift for anyone living in a cold climate.
---
I love my fancy, new 11-inch iPad Pro and right now, you can take $40 off the 64GB Space Gray model on Amazon.

During Cyber Week, I picked up both the Pro and the regular 2018 iPad, and there was no question which had more power and a better screen.
While most people would be happy with the standard iPad, I couldn't suffer through a non-laminated display. I'm also really excited to use it in tandem with the latest Apple Pencil, which is more convenient and easier to hold.

---
TCL's affordable 6-series TVs are famous for offering every form of HDR (including top-shelf Dolby Vision), local dimming zones for better contrast and black levels, and even excellent Roku software, and the 55" model just dropped to a new all-time low price of $550. That's about $100 less than usual, and even $80 cheaper than we saw on Black Friday, and any way you slice it, it's an incredible value for that set of features.

Want to upsize to the 65"? It's also on sale for $930, though that's only about a $20 discount, and we've seen it go as low as $900, albeit very briefly.
---
Logitech's Harmony Elite is basically the grand poobah of TV remotes, with the ability to control up to 15 different devices, a capacitive touchscreen, the ability to build programs that control multiple devices with one touch, and a lot more.

My favorite feature though? The included Harmony Hub that turns your smartphones, Echoes, and Google Homes into fully-functional remotes; perfect for when you've inevitably lost the actual remote in the couch cushions. $230's a pretty penny, but it's the best price we've ever seen by $10, and deals on this usually only go as low as $220.
---
$13 is about what you'd expect to pay for a 4-port USB charging hub, but this Aukey model also comes with two AC outlets, so your lamps and laptops don't have to go hungry.

---
Mechanical keyboards are trendy these days, but there are still shockingly few wireless options. The Logitech G613 is one few you can buy with both built-in Bluetooth and a USB wireless dongle, and its quiet Romer-G switches will feel great to type on, but are quiet enough to use in an open office. On the left side of the board, you'll also find six programmable keys where you can set up your own macros.

$65 is the best price ever, so if you're still typing on the terrible keyboard that came with your computer, or the one your company provided you, this is a fantastic deal.
---
I'll level with you...there's nothing particularly special about these Sceptre TVs. They don't have HDR, there's no smart functionality to speak of, and they don't have anything I'd describe as a memorable industrial design. But for all the things that they aren't, what they are are cheap screens that you can use to watch shows. Like, very cheap. Cheaper than Black Friday cheap (we actually posted them at the time, and they're all $10-$20 less expensive now).

Just note that the 55" model is 4K, the 50" is 1080p, and the 32" is 720p.
---
RAVPower's HyperAir Qi charging pad is one of the few models out there to support the fastest-possible 7.5W iPhone charging, and you can get it for just $20 today with promo code KINJA034.

To be clear, there are a lot of Qi pads that support 10W charging for certain Android devices, but iPhones require a very specific frequency to enable their maximum charging speed of 7.5W, and this is one of the most affordable compatible pads we've seen, and the cheapest we've seen with the necessary Quick Charge 3.0 power adapter included.
---
At first glance, Anker's SoundCore Spirits look a lot like the reader-favorite SoundBuds Slims, but they do have a few key upgrades. The big one is IPX7 water resistance, plus added sweat-countering measures from Anker that make them ideal for working out, especially compared to the IPX5-rated Slims. They also last a bit longer with an eight hour battery (vs. seven), include a built-in cord shortener, and should have a bit more bass as well.

The SoundCore Spirits have sold for $30-$40 since they launched earlier this year, but today, they're just $21 if you clip the coupon on the product page and use the promo code SDCSPT03.
---
Obviously, these $38 Bluetooth headphones from TaoTronics don't sound as great or block noise as well as a high end pair of Sony or Bose headphones. Obviously!

But...TaoTronics sent me a pair to try, and they're pretty good! They sound fine, like any other relatively inexpensive pair of Bluetooth headphones, and the noise cancelation works better than I expected against constant noises like airplane engines and the like. They'd make a great gift for anyone that travels with any regularity, but just be sure to use promo code KINJAL40 to save $22 at checkout.
---
Giant plugs that cover up half the outlets on your power strip should be outlawed, but until that day arrives, these short extension cords will have to do. $17 gets you a pack of 10, which should be enough for even the most advanced home theater setups.

The deal doesn't require a promo code this time around, but today's price is about $2-$5 less than the usual going rate for this set, and a match for the last deal we posted.
---
Given how many Lightning cables seem to wear out at the necks, it's surprising that 90 degree cables aren't more of a thing. You can grab two nylon braided cables for $11 from Aukey today if you clip the coupon on the product page and use the promo code AUK7XMAS, which would be a great price for two nylon-braided Lightning cables anyway, even without the unique connector.
---
The Anker PowerCore Fusion is one of our biggest sellers ever, because it combines a USB wall charger and a portable battery pack into a single product. Now, RAVPower has their own alternative with a slightly larger 6700mAh battery inside, and you can grab it for just $22 with promo code KINJAQFF.

They sent me one to check out, and despite the larger battery inside, it's barely bigger or heavier than the Anker, and would make a great holiday stocking stuffer.
---
With its 24 hour battery life, impressive bass, and crystal clear sound quality, the Anker SoundCore has long been our readers' favorite affordable Bluetooth speaker, and its water-resistant successor is down to $30 today, or $10 less than usual.

The SoundCore 2 still includes dual drivers and that amazing 24 hour battery; the only real differences are a slightly tweaked design and the aforementioned water resistance. That means you can take it to the pool, the beach, or even the shower without fear.
---
Anker makes just about every capacity of PowerCore battery pack imaginable, but the company's 10,000mAh packs have always been among their most popular. And now, just in time for the holidays, they squeezed that much juice into a shockingly small new package.

The PowerCore 10000 Redux is only 4.1" x 2" x 1", and weighs only 6.6 ounces, making it the smallest 10,000mAh battery pack we've ever seen. And of course, Anker's PowerIQ technology is built in, meaning you'll get the fastest possible charging speed no matter what you plug in. There's even a special trickle charge mode for low-draw devices like Bluetooth headphones, which often don't draw enough power to keep USB battery packs "awake."
The Redux only just came out, and retails for $34, but it's marked down to $26 this week, making it a perfect stocking stuffer idea.
---
Samsung's U3-rated microSD cards are some of the fastest and most popular options out there—I have the 128GB model in my own Nintendo Switch—and all four sizes are down to all-time low prices today on Amazon.

The 32GB card is down to a laughably cheap $6, the 64GB just dropped to $11, and the 128GB went from $25 to $20.
If you need extra space for your action cam, smartphone, tablet, Switch, or anything else, these are extremely fast cards, and extremely good deals.

---
VPNs have been in the news, and whether you want to get around video geoblocks, circumvent proxy filters, or just keep prying eyes out of your browsing data while using sketchy public Wi-Fi, reader-favorite Private Internet Access has a deal to fit your needs.

Private Internet Access doesn't do much in the way of discounting, but they offer exclusive pricing and packages just for our readers that you won't find anywhere else. Here are your options, and what you'd pay if you bought the same plan elsewhere:
These deals are only for our readers, but we aren't sure how long they'll be available, so go ahead and sign up while you can.
When Oprah spills tea, the world listens. And when Oprah spills tea about her favorite tea, the world obligingly purchases it on Amazon and takes a sip. Seriously, though, Oprah does know her beverages, and today, you can purchase her favorite Vahdam tea gift sets at a discount thanks to an Amazon Gold Box.
The queen of "Favorite Things" lists is partial to chai, but there's a tea for every taste on sale. Give a set away as a gift, or drink it yourself and imagine you're at a tea party hosted by Ms. Winfrey herself.

---
If the image you've been hoping to craft for yourself is "I totally have my life together, and also I'm really good at parties," a proper bar cart is one of your household must-haves. This Better Homes & Gardens Fitzgerald 2-Tier Serving Cart has all the style you seek, and today it's just $64.

Even if you're not able to have it flawlessly stocked in time for your next shindig, just the fact that you're started the process will be worth something. All decent acts of curation take time, and you can always fill the empty space with pretty knick knacks or drink accessories in the interim.

---
As much as your dog prefers to smell like butt, he's probably overdue for a bath. In fact, he's probably been due for a long time now. But if you live in an apartment and don't have easy access to a hose, a regular shower or sink isn't really the right tool for the job. At least not without the Waterpik Pet Wand.

The Pet Wand attaches to any standard sink faucet, shower, or garden hose (though it's probably overkill if you have one of those), and transforms it into a professional pet washing tool. Its WaterComb spray mode delivers high pressure (this is a Waterpik, after all) streams of water to penetrate fur, but with a flick of the thumb wheel, you can switch to a narrower spray for sensitive areas.
If your dog doesn't like baths, this won't do anything to prevent that devastating look of betrayal he gives you, but at least it'll help bath time end sooner. Today's $30 list price is an all-time low, but promo code 5PET18 will save you an extra $5 at checkout.
---
An organized garage is a happy garage, and you can't be organized if you don't even have proper places to put your stuff. In the case of tools, the Husky 31" 1-Drawer Utility Cart is a smart storage choice.

The 300-lb. capacity and bottom shelf mean it can accommodate even your big, heavy tools, and the locking drawer and lid keep dangerous objects out of the wrong hands. Between the wheels and the extendable side table, it also provides a mobile workspace, because jobs need doing even when they're not conveniently located.
---
Sawyer makes some of the highest rated insect repellent on Amazon, as well as a portable water filter that we actually like better than LifeStraw, so if you still haven't found the right gifts for the campers and hikers in your life, Amazon's one-day Sawyer sale could be just what you were waiting for.

The aforementioned Point One water filter is here, as are several other models like the Mini version. The most popular product in the sale though is actually Sawyer's clothing insect repellent, boasting over 4,000 reviews, and available in several different sizes. But just remember that all of the prices are only available today, so don't ponder this deal over a late night campfire.
---
Somewhat counterintuitively, dull kitchen knives are more dangerous than sharp ones, as they require more pressure to use, and are more likely to slip off the side of whatever you're cutting, and into your hand.

Luckily, you don't necessarily need to buy a new knife to get a sharp edge; this professional electric sharpener is down to $93 in Amazon's Gold Box, within $3 of the best deal we've ever seen. Boasting a fantastic 4.6 star review average from over 1,000 customers, the Chef's Choice 15 XV can even convert standard 20 degree edges into even sharper 15 degree edges, meaning your knives could actually come out sharper than they were when you first bought them.
---
It's 2018, and your vacuum shouldn't have a cord anymore. Dyson's cordless V-series stick vacs have long been go-to cordless options, but the powerful new V10 is arguably the first that can truly, completely replace a corded vacuum, at least for smaller homes.

Big discounts on the Animal version have been few and far between, but today only, it's back down to the same $380 that we saw around Cyber Monday. Not bad considering it debuted at $600 just nine short months ago.
This model doesn't include the soft cleaning head of the Absolute version, but it has a larger bin and more accessories than the entry level Motorhead, which is only a few bucks cheaper right now. All of the V10s include the same 60 minute (!!) battery, and the same powerful motor.
---
When it comes to measuring food temperature, ThermoWorks, and specifically its Thermapen, has the market pegged. The Classic model has a rare discount down to $59 right now, the best price we've ever seen, so grab one for yourself, and a few more as holiday gifts.
There is a newer model of this available, which includes a rotating, backlit display, longer battery life, and better water resistance, but the actual nuts-and-bolts temperature measurement is exactly the same.
---
There are many, many things wrong with the behavior depicted in Mad Men, and I don't have the energy to begin to get into all of it. Even the way the execs' offices are set up with bar carts could look at lot more like functional alcoholism than professional hospitality from many angles, but let's take the charitable view here. Always being able to offer visitors a drink is courteous, and a nice decanter set looks good in almost any environment.

This Godinger Globe Whiskey Decanter Set drops to just $42 via code 6GEHT6Y3, so today might be the day that you lean a little towards the Sterling Cooper Draper Pryce way of doing things. (But just a little, and only the good parts.) It has fancy etching and a ship inside the bottle, so it'll look like you paid a lot more than you did. I'm not saying lie about the cost, but letting people believe what they wanted got Don Draper pretty far in life.
---
Everyone poops. Which means literally everyone on your list would benefit from a Poo-Pourri gift set in their stocking this season. HauteLook is dropping prices on a load of different sets and scents of this stuff. If you've somehow never come across Poo-Pourri before, you're supposed to spritz this unassuming (all-natural, essential oil) spray into the bowl before doing your business, thus masking any stench with a less offensive smell. And before you shit all over this as a stocking stuffer idea, think of it as a gag gift that will ensure you won't gag upon entering the bathroom again.
---
You don't need a yard, or even any gardening skills to grow your own food at home; you just need one of these countertop AeroGardens. These fully-integrated, soil-free indoor gardens can grow herbs, vegetables, and salad greens up to five times faster than regular soil. Normally priced at $130-$180, today's price of $90 is the best we've ever seen on this particular model.

To start growing you simply pop in the seed pods, pour in some water, occasionally add nutrients, and the machine does the rest. This AeroGarden has accommodations for six plants and includes seed pods to get you started. So start growing your own garden, or gift to an aspiring green thumb. The deal's available in four different metal finishes, including copper, which is obviously the one you should get.
---
We saw a bunch of Anova sous-vide deals around Black Friday, but today's deal on the new Nano model is actually better than any we'd previously seen.

At 750W, it's nearly as powerful as the old models, and still includes Bluetooth (but sadly not Wi-Fi), but it'll take up a lot less space in your kitchen cabinets. In fact, this one can fit inside most drawers. Get it for an all-time low $61 on Amazon right now after clipping the 5% coupon. The $64 list price is the same as Black Friday, but the coupon is new.
Lifehacker has a great explainer on sous vide cooking for you to check out, but the basic idea is that you seal the food in a bags, and then cook it in precisely heated water over a longer period of time. It sounds weird, kind of like food hot tub, but the result is food that's cooked to the exact right temperature all the way through.

---
Roombas get all the glory, but don't let name recognition overshadow an excellent deal on an equally efficient, if not better, robotic vacuum. Anker's slim Eufy RoboVac 11S is a favorite of our readers, and today, you can use promo code KINJAT008 to clean it out for just $149, the same price as Cyber Monday. The 11S is extremely quiet, extra slim for tight spaces, and it sucks up anything in its path with ease.

---
Once you've gotten used to keeping a multi-tool on you, it can be hard to go without. But the TSA doesn't care about that, and good luck getting your Leatherman on a plane.

The Gerber Shard isn't as fancy as a lot of mini tool gizmos, but it's airline approved and it fits on your keychain — and it's $5. It features three drivers, a wire stripper, a pry bar, and a bottle opener, so maybe it's just enough to keep you from having handy gadget withdrawals in "no weapons" situations. (It's also a nice little gift for people that don't really need or want anything else.)

---
Firstleaf is an online wine club that learns your preferences, offers tons of options, and most importantly, saves you money compared to buying from the store. It's a solid deal any time, but it's even better for our readers from now through the holidays.

Every new Firstleaf member gets an introductory delivery with three bottles of wine for just $15, plus $5 shipping. Every box thereafter includes six bottles for $80, plus $10 shipping. If you use this link and promo code Kinja when you sign up though, you'll get free shipping on every box for your entire first year. That'll save you over $100 if you get a new box every month.
This is a shady deal — in a good way: Five pairs of Ray-Ban sunglasses are available for $8 to $90 in