Best Deals of the Day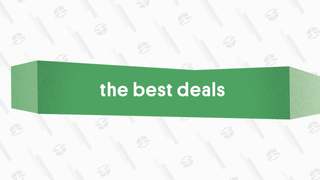 Best Deals of the Day
The best deals from around the web, updated daily.
A pair of discounted robo vacs, a J.Crew flash sale, and a Millennium Falcon LEGO set lead off Monday's best deals from around the web.
Bookmark Kinja Deals and follow us on Twitter to never miss a deal. Be sure to bookmark our Prime Day deals hub to be ready for the big day.
G/O Media may get a commission
Charging on the go is no problem when you've got your trusty cable attached to your keychain. With this USB-C to USB-A Key Cable from Native Union, keeping a cable handy is as easy as remembering to take your keys with you when you leave the house. And right now, it's going for just $25 on Amazon; that's a powerful deal, folks, so don't miss out.

---
Some people enjoy listening to music while they're hiking, camping, biking, or being physically active while outdoors. I prefer my music while sitting by the pool, being fairly inactive. Whether you like to get moving while you listen, or enjoy the sedentary life, a portable speaker is ideal. An added bonus is when your speaker is waterproof, in case you're caught out in the rain, or if your dog accidentally knocks it into the water.

You can snag the Soundcore Icon by Anker Portable Speaker for $10 off right now on Amazon, which is the first time it's ever been on sale. The mini version of this speaker is also on sale, for $6 off. The larger speaker has 12 hours of battery life, while the mini has eight. The portable speakers can survive water, dust, sand, snow, mud, and can even float. Now I won't feel bad if I drop my speaker because I am too busy carrying my snacks back to my beach chair.
---
There's no such thing as owning too much flash storage, and you can stock up on flash drives, SD cards, and more from Amazon's latest Gold Box.

I suspect that the most popular items here will be the high-capacity microSD cards, which are great for the action cams and Nintendo Switches you all are buying at this time of year. You can't beat 256GB for $31. Literally, that price has never been beaten.
The sale also includes a number of flash drives, including some with Lightning and microUSB. There's also a 1TB NVMe drive, a CF card, and a network-attached storage drive.
And finally, the Gold Box is rounded out with a 1TB portable SSD on sale for $250. There are still some deals that we didn't mention here though, so be sure to head over to Amazon to see them all.
There's nothing better than a latte to start the morning and the Barista Express has been on my to-buy list for a long time, and Woot's selling a refurb unit for $360.
This particular model includes a built-in grinder, and dispenses the perfect amount for each shot, making it pretty much idiot proof. This price, while super low compared to all of the sales we've seen previously, is still pretty steep. But, if you spend a ton on your morning espresso at Starbucks, this could very well be a cost-saving purchase.
---
I struggle to remember a time that a single-port USB charger generated as much buzz as Anker's PowerPort Atom PD 1. The tiny, 30W USB-C GaN charger was almost constantly sold out when it came out earlier this year, but now it's on sale for the first time ever.

$25 is about $5 less than usual, and about half of what Apple chargers for a much larger charger with the exact same power output.
---
Video doorbell or standard security cameras? Camera-based or traditional security system? Whatever your home protection preferences, you can get a great deal on the setup of your choice today.

Amazon's discounting nearly all of its Ring products (save for the smallest accessories) right now, including two different video doorbells (the Ring 2 is battery-powered, while the Pro hooks into your doorbell wiring), a full home security starter kit (with a free Echo Dot), and various cameras, including the Floodlight and Spotlight cams, and first deal we've seen on the Stick-Up Cam, in both wired and battery forms. And in true Amazon fashion, they all come with free Echo Dots.
---
If you're planning any overseas trips this summer, you can be ready for any power outlet you might encounter with this $10 universal adapter. It plugs into anything, and anything plugs into it, and it even has four USB charging ports on one side (one of which is a USB-C port!) for all of your mobile devices.

Just clip the $2 coupon and use promo code CCTIKTAI to get it for $10, which should take the sting out of any exchange rate woes.
---
Today's Gold Box is discounting two robotic vacuums, the ECOVACS DEEBOT 601 and 711.
Both models offer scheduling, obstacle detection and anti-drop smarts, a 3-step cleaning process, 110-minute run time, and app and smart assistant control. The $80 premium on the 711 unit will get you house mapping with their Smart Navi software and camera, as well as more suction power.
Just note that this is a Gold Box, so these prices will only stick around for a day, or until sold out, which would really suck.

---
When you think of smart lighting, you probably think of special lamps and bulbs. But Belkin's WeMo dimmer switch adds a brain to pretty much any light fixture in your home, including ceiling lights.
Priced today at an all-time low $50, the switch replaces a regular dimmer light switch installed in your home, and uses Wi-Fi to control and dim your lights from your phone, or via your favorite voice assistant. You can even schedule it to automatically turn off at night, or use it to simulate people being home when you're away to ward off ne'er-do-wells. Best of all, there's no hub required; it talks directly to your router.
You can also get two of them for $95.
---
While it doesn't have the brand recognition of Nest's learning Thermostat, the Ecobee4 Smart Thermostat one-ups its most popular competitor by pairing with wireless remote sensors that you can place elsewhere in your house, giving the thermostat a more accurate picture of your home's overall temperature. Plus, it'll work with Siri via HomeKit, and your Amazon Echo too.

Today's $175 price tag is the lowest Amazon's ever listed, and would be unprecedented if not for an out-of-the-blue $150 sale from Target a few weeks ago.
---
Dishwasher safe. Microwave save. Freezer safe. Freakin' oven safe. Pyrex stands alone when it comes to leftover storage containers, and this 10-piece set (five lids and five containers) is a steal at $13. That's not all that unusual a price on Amazon, but they're usually out of stock.

Is your favorite steak knife basically a butter knife at this point? If you're anything like me, you probably haven't been willing to shell out the money for a high-tech knife sharpener. If you love quality products but hate the prices, you're in luck! The Chef's Choice electric knife sharpener is $40 cheaper than on Amazon. With over 1,200 Amazon reviews and 4.5 stars, this is a product that looks to be well loved. The first time you use this 3-stage sharpener, it will take 60 seconds, and every following sharpening is only 10 seconds.
---
If you don't own a pressure cooker, today's a great day to fix that. The apartment-friendly 3 qt. Instant Pot Mini wants a permanent home on your kitchen counter, and it's down to $60 today, a $20 discount.

While Instant Pots are best known for cooking foods quickly, they're also our readers' favorite slow cooker, and a damn good rice cooker too. Basically it's one of the most versatile kitchen gadgets you can own, and this model is great if you're nervous about it taking up precious cabinet and counter space.

Bowflex's SelectTech adjustable dumbbells have been a hit with our readers for years, but Amazon has never flexed its discount muscles on them quite like this before.

For a limited time, $299 gets you the dumbbells and a $229 Bowflex adjustable weight bench. The dumbbells typically sell for $299 by themselves, and even their best discounts don't really compare to the value you'll get from this bundle, assuming you don't already have a good weight bench.
---
Now's the time to stock up on solid basics for your whole crew, because J.Crew styles for men and women are on sale at Nordstrom Rack for as low as $15. That's quite a steal for quality cardigans, button ups, tees, jeans, and more. Just be sure to snag the stuff you want before these deals disappear in two days.
---
Unfortunately, work doesn't always end when you leave the office. For days when you need to take the laptop home with you, there's this Spire Laptop Backpack from Timbuk2, and today, it's 50% off with promo code ROLLTOP. Use it to carry your precious computer (it's designed specifically with Apple products in mind), plus your other stuff too with lots of internal pockets. Just to sure to secure this deal ASAP; the promotion only lasts through Tuesday.
---
Forever 21 is already known for stylish, yet inexpensive clothes, but today, the brand is slashing prices even further by taking an extra 50% off sale items. Right now, select styles of sweaters, activewear, skirts, dresses and more are marked way down with promo code EXTRA50 — which means a good portion of the stock is under $10. This sale lasts through tomorrow, but the satisfaction of buying a cute $5 top will last, uh, forever.
---
Eyeshadow palettes are pretty much always a worthwhile buy—who wants to mess around with individual eyeshadows anyway?—but this Morphe blowout is a particularly rare find. The Morphe Cosmetics 35-Color Nature Glow Eyeshadow Palette (35OM) is currently up for grabs at Ulta for $15. (The palette normally goes for $24.) And not only are you getting a plethora of shadow options, but you'll get a ton of use out of each and every one of them. All the shades are ultra wearable warm-toned neutrals in either a matte or shimmer finish, perfect for every day makeup artistry.

---
Today only, Amazon's discounting Dockers khakis, shirts, jackets, and accessories to help you freshen up your wardrobe for the spring. Just note that this is a Gold Box, so these prices will only stick around for a day. So if your work gear has more than a few holes or slightly-noticeable pizza stains, don't wait.
---
When it comes to having a corner on the market, nothing really compares to Nike. And right now, use the code SAVE20 and take an extra 20% off their entire clearance section for both men and women. Over 3,000 already-discounted items are even cheaper now, and everything you could need for a good workout wardrobe is included, from apparel, to sneakers, to gear.
---
Lands' End makes the kind of spring stuff that a preppier, more put-together you would wear, like cardigans and button-downs, as opposed to the ratty cutoffs and tees you often resort to this time of year. Now, that classic warm-weather look is more attainable than ever with 40% off full-priced styles from the retailer, today only. Just use promo code THANKFUL, along with pin 2794, and outfit yourself and your entire family in the stylish spring wardrobe you all deserve.
---
A blowout sale is upon us. Lucky Brand wants to make sure you get lucky with some deeply discounted apparel with up to 75% off Lucky's already marked-down sale sections for men and women. So don't waste another second; load up on tees, tops, denim, shoes, and even some coats like it's your lucky day.
Today's Best Gaming Deals
Why walk when you can roll? Razor's A Kick Scooters have been a classic in the (non-motorized) scooter game for years, but today, the green version is just $23 over at Amazon, down from its usual price of $45. So scoot on over and snag one as a gift for the kid in your life — or for yourself, no judgement — before this discount speeds out of here.

---
Walmart's letting you build your own Nintendo Switch bundle for just $330. Here's what you'll get:

a console, either neon blue/red or gray Joy-Cons
a game, pick from Mario Kart 8 Deluxe, Super Mario Odyssey, Super Mario Party, Splatoon 2, or The Legend of Zelda: Breath of the Wild
and some sweet pins, either in Mario or Mario Kart flavors.
If you've been putting off buying a Switch... well, dude. I mean, come on. The last time we saw this kind of bundle, it included a backpack in lieu of a USB-C dongle.
But here's where it gets a little tricky. While the dongle includes an HDMI port, I don't think you'll be able to use it as a mobile dock, like the one included with the Switch. The Switch is notoriously selective on what devices it'll output video through, so *shrug* buy this for the extra ports, but not the HDMI.
---
Marvel's Spider-Man features all the web-slinging fun you could want in an open world Spider-Man game, and it's back down to $30 today on Amazon, an all-time low. And yes, it has the Sam Raimi suit now.

---
You don't have to be a nerf-herding scoundrel to appreciate this deal on a1414-piece LEGO Star Wars Solo: A Star Wars Story Kessel Run Millennium Falcon set.
It's down to $120 today on Amazon, which is about $50 off its original price.
TECH
HOME
LIFESTYLE
MEDIA
GAMING
Deals You May Have Missed
A ton of Amazon gear is being marked-down right now. Everything you'd want from the shopping giant is on sale right now, including the super affordable Fire TV Stick (in standard and 4K), the super mediocre Fire TV Cube, an Insignia TV, the Recast, Cloud cameras, and more.

This is your standard fare sale. We've seen all of these prices before but they're still good.
---
Guacamole and salsa just tastes better when scooped out of a stone molcajete heavy enough to use as a weapon. Scientists don't know why this is the case, but it's irrefutably true. And today, you can buy your own for just $20.
---
If you want to take your streaming game to the next level, Elgato's time-saving and workflow-automating Stream Deck Mini is on sale for $70 right now, down from its usual $100.

Its six keys are actually tiny, customizable LCD screens, and you can assign them to different actions and workflows on YouTube, Twitch, and other popular streaming platforms. It's basically a very cool, very elegant alternative to custom keybindings and keyboard shortcuts, and it would make a great gift.
---
If you somehow don't own Overwatch yet, the Legendary edition is back down to an all-time low $15 on PC.

For an additional $5, Legendary package includes 10 extra skins for the game, plus bonus Overwatch-themed content for Blizzard's other games as well. But don't worry about all of that; the underlying game is a must-own even without any extras.
(I'm kidding about GOATs.)
---
Amazon makes its own AmazonBasics luggage, because ... well... Amazon makes everything now, and several sets and individual bags are deeply discounted today.

For starters, $54 gets you a 24" hardshell spinner. Additionally, you'll find packing cubes, duffel bags, backpacks, etc. Basically everything you'd want to stuff your crap into is on sale today, for about 20% off. Check out all the options here.
---
Curly hair requires a lot of very specific care, so make the most of your money and purchase your must-have products during this worthwhile promotion from cult-favorite curl brand DevaCurl. Right now, when you spend $75 on DevaCurl (that's less than the cost of a 32 oz. shampoo and conditioner, just saying), you'll receive a DevaTowel for free. The microfiber towel usually goes for $20, and it's one of my favorite microfiber hair towels. So essentially, that's a major steal for a super-powered styler. Just use promo code DEVASPRING to treat your hair to this deal.

---
Aerie is most well known for very well-made, highly affordable underwear, but the brand is so much more than that. Right now, you can get your taste of Aerie's collection of apparel — including some cozy sweaters and tees, stylish activewear, sweats, and pajamas, plus swimwear and yes, bras and bralettes — for between 25% and 60% off. (Unfortunately, undies aren't included in the sale.) Snag some new stuff for spring or even — gasp! — summer; these styles will serve you well through both of the impending warmer months.
---
A new season means it's a good time time to upgrade your watches, bags, and other accessories, and Fossil, a brand that's had your back since practically the Jurassic Period, is coming through with a deal you'll dig. Take an extra 20% off the retailer's clearance items for men and women with promo code HIGH5, and score a set of deeply discounted styles that will never go extinct, trend-wise.
---
Razer's Blade Pro somehow manages to fit powerful gaming components into laptops that are as thin and well-built as MacBook Pros, and right now you can save big on the 17" model. Using the coupon code AFFWIN, this laptop can be yours for $1,600.

Yep, that's a lot but it's a really great laptop. Here's what it packs: GTX 1060 graphics, i7-7700HQ processor, 256GB SSD and 2TB HDD, and 16GB of RAM.
---
Time to upgrade your watch with a new one from this TIMEX sale. Right now, you can save 35% on the brand's Easy Reader collection and the Weekender line (the latter is one of our readers' picks for best affordable watch). Use promo code EVERYDAY35 to score these timepieces at the discounted price, but watch out, this deal won't last much longer.

---
Today's a good day to restock your workout wardrobe with tons of sneakers, apparel, and accessories from Reebok, since right now, you can take $40 off orders of $100 or more with promo code 40BACK. With over 1,000 items included in the promotion, you'll certainly break a sweat scrolling through all these deals.
---
If you malakas haven't picked up Assassin's Creed Odyssey yet (and you should, because it's amazing), Amazon just marked it down to $20 on PS4 and Xbox One, which is even cheaper than we saw on Black Friday. I paid full price for this, and got a solid 80 hours out of it, with no regrets.