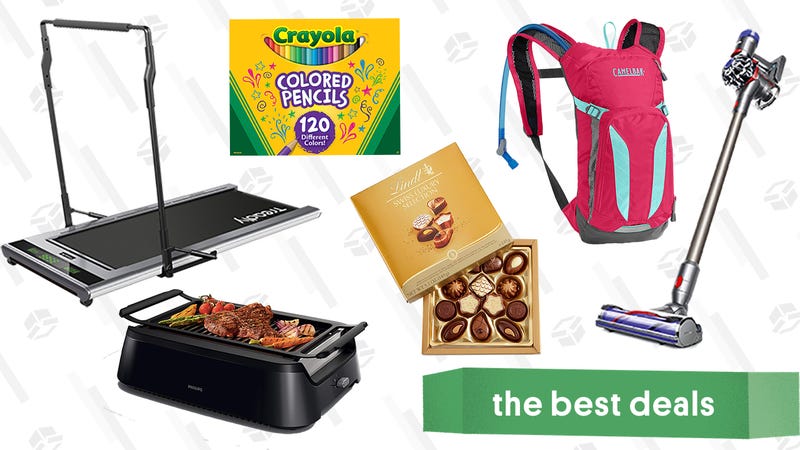 Best Deals of the Day
The best deals from around the web, updated daily.
Anker car accessories, a Philips indoor smokeless grill, and the complete Cowboy Bebop series lead off Monday's best deals from around the web.

Bookmark Kinja Deals and follow us on Twitter and Facebook, or sign up for our newsletter to never miss a deal.

An Echo smart speaker lets you control your Fire TV Stick with nothing but your voice, so it makes perfect sense that Amazon would offer a Dot + Stick bundle. For a limited time, you can get the streaming dongle plus a second generation (the old one) Echo Dot for $40, which is the regular price of the Fire TV Stick by itself.

---
Anker's Nebula Capsule raised the bar for portable projectors, and now, they've taken the guts of that soda can, and put it into a much less expensive home projector.
On paper, the Nebula Prizm's picture quality stats are a dead ringer for the Capsule's. It outputs an 800 x 480 picture at 100 lumens, features automatic keystone correction, and has a built-in 5W speaker. However, it lacks an Android OS (you'll have to use a streaming dongle, or something similar), and it has to be plugged in at all times, since it doesn't have a battery.
Novelty aside, I could see it being perfect for a kid's room, or maybe a bedroom or garage where you occasionally want to watch video, but don't want to keep a TV. And at $100 (down from the usual $130), it's practically an impulse purchase.
---
If you've had your eye on Samsung's 8000-series TVs, which are the company's best non-QLED sets this year, their Black Friday discounts are already live. Every size (55", 65", 75", and 82") includes Samsung's new Dynamic Crystal Color engine and HDR10/ HDR10+ support, plus some nice quality of life features, like the Bixby voice assistant, and a quad core processor for speedy smart app operation.

These prices are the same that we've seen in Black Friday ads, and we have no reason to expect them to go any lower. So buy now, and you'll be set up in time for Thanksgiving football.
---
If you aren't a professional photographer, but still value image quality and features in your drone, the DJI Mavic Air offers the best combination of portability, ease of use, and camera specs on the market. It's rarely been discounted much from its usual $800, but now you can get it for an all-time low $700 on Amazon.

I had a chance to fly one of these at Outpost this year, and as an old Phantom 2 owner, I was completely blown away. It folds up small enough to fit in a jacket pocket, but holds remarkably still in the air. Front and rear obstacle avoidance cameras keep it from crashing into a tree (or a person), and its gimbal-stabilized 4K camera can automatically track moving subjects, or perform pre-programmed shooting routines. You'll have a ton of fun with this thing.
---
Amazon's kicking off the week with an Anker Gold Box, this time full of deals on the company's popular car accessories. Inside, you'll find several car chargers, including one with a built-in Bluetooth/FM transmitter, and another with Alexa support.
They aren't specific to the car, but there's never a bad time to save on Anker's excellent charging cables. Grab a 6' nylon-wrapped Lightning cable for $9, or a couple of USB-A to USB-C cables for $14.
Another highlight is this $30 vent mount, which doubles as a Qi charger. As I've written here, the car is my favorite place for Qi charging.
And finally, if your car has an AUX jack, but no Bluetooth, this $12 dongle will add wireless audio and hands-free calls to your car. I own this exact model, and it works great.
As always, be sure to head over to Amazon to see all of the deals, and remember, these prices are only available today.
---
NETGEAR's Nighthawk X6 includes all the networking features you could possibly want, including tri-band support, six beamforming antennas, and two USB ports for connecting printers and external storage drives. Oh, and it's fast. Like, really fast. $180 is the same price we've seen in Black Friday ads, and you can get it right now.

---
Our readers have bought thousands of Yi's home security cameras, and today, you can get a panning and tilting 1080p model for $36 with code XNUQ2G79.
Yi now offers an online cloud DVR service that will store seven days of motion detection footage (six second clips when it detects movement) for free, or more footage if you pay. That said, you can choose for forego the cloud service altogether, and just store your clips locally on a microSD card. The camera also has two-way intercom and live broadcast built in, so you can check in on your house any time you want.
---
Anker's reader-favorite SoundCore Bluetooth speaker spawned a whole line of products, but the original model is still great, and the blue color is back on sale for a great low price.

The SoundCore's headlining feature is its 24 hour battery life, and in my experience, that's a conservative estimate. It also packs in dual 6W drivers for room-filling sound, and looks pretty great to boot. It's been mostly selling for $30 lately, but you can get it for just $24 today in red and blue, within $2 of the best price we've ever seen.
---
Update: Kickstarter discounts on the Capsule by itself are nearly sold out! There are some bundles with more availability, but if you don't need the added accessories, you shouldn't wait.
Anker's soda can-sized Capsule portable projector was a crowdfunding hit last year, and it really did deliver on its promise. But there were a few obvious areas for improvement, and Anker tackled all of the big ones with the brand new Capsule II, now up for preorder on Kickstarter.

So what's new?
1) Resolution: The original Capsule's standard definition 480p has been bumped to 720p, so your videos should look a lot crisper. Easy win.
2) Brightness: The first Capsule's 100 ANSI lumen bulb was fine in a dark room, but the Capsule II's is twice as bright, which means you'll be able to get a usable picture in more lighting conditions, and at larger screen sizes. I saw it firsthand in a fairly well-lit event space, and while not as bright as a TV screen or a full-sized projector, it was definitely bright enough to watch a movie.
3) Software: The original Capsule had a version of Android installed, but it was pretty janky, and didn't have access to Google Play. This time around, the Capsule II ships with Android TV 9.0 onboard, with access to the vast Google Play app store, which means you won't have to rely on your phone for casting content.
There are a few other minor differences of note, including the inclusion of USB-C Power Delivery for fast charging, an improved speaker, and autofocus. It is a bit bigger than the Capsule (which will remain on sale for the time being); Anker calls it "pint sized," rather than soda can-sized, which was pretty cheeky of them. Whatever beverage you compare it to though, it's still very small for a projector.
Kickstarter backers can preorder the Capsule II right now for $399. Anker's touting a $599 MSRP for the Capsule II, and while there will surely be discounts after it comes out, Anker's previous crowdfunding projects have, in hindsight, legitimately offered prices to backers that weren't matched on Amazon for many months after release, if ever.
If you ever bought a Capsule I prior to this Kickstarter going live, you're also eligible for a $100 rebate when you preorder the Capsule II. Check out the bottom of the campaign page for details.
---
Walmart has its own exclusive brand of Wi-Fi routers, and according to PC Mag, they're actually really solid, especially for the price. Both the AC3000 and AC1900 models are on sale for $10 and $15 less than usual, respectively, and are priced far lower than similarly specced competition. These aren't modern mesh routers, so they're probably not ideal for large homes, but they should definitely get the job done in an apartment or smaller house.
---
This tiny, $6 USB charger isn't much bigger than the one that ships with every iPhone, except it has two ports, folding prongs, and 2.4A of total power, compared to the 1A Apple gives you. No surprise, it's one of our top sellers of all time. Just use promo code FQCJOBX6 to get the deal.
---
What were they thinking inventing this surge protector and not calling it the Power Tower? Missed marketing opportunities aside, it comes with 10 outlets, four USB ports, and its own 6ft retractable power cord. Plus, it rotates for optimum space-saving. Get it for $18 with promo code ROXH3B3E.
---
Walmart has already marked down a few of the TVs listed in their Black Friday ad: Grab a smart Sharp 50" TV with HDR (though not Dolby Vision) for $249, or a 55" version for $299, both the best prices we've seen. If size trumps features and you don't need smart functionality or HDR, there's also a 65" RCA on sale for $399.
---
The Anker PowerCore Fusion is one of our biggest sellers ever, because it combines a USB wall charger and a portable battery pack into a single product. Now, RAVPower has their own alternative with a slightly larger 6700mAh battery inside, and you can grab it for just $23 with promo code KINJABYC.

They sent me one to check out, and despite the larger battery inside, it's barely bigger or heavier than the Anker, and would make a great holiday stocking stuffer.
---
We see deals all the time on USB-A to USB-C cables, but discounts on C-to-C cables, which are necessary for faster Power Delivery charging (used by the new iPad Pros, the Nintendo Switch, and a bunch of laptops), are bafflingly rare. Today though, you can get an Anker PowerLine II C-to-C cable for just $7 with promo code ANKE8481, or double your length to 6' for $8 with promo code ANKE8482.

PowerLine II cables are incredibly durable, and also come with a lifetime warranty, so if you ever do wear it out, you can contact Anker for a free replacement.
---
VPNs have been in the news, and whether you want to get around video geoblocks, circumvent proxy filters, or just keep prying eyes out of your browsing data while using sketchy public Wi-Fi, reader-favorite Private Internet Access has a deal to fit your needs.

Private Internet Access doesn't do much in the way of discounting, but they offer exclusive pricing and packages just for our readers that you won't find anywhere else. Here are your options, and what you'd pay if you bought the same plan elsewhere:
These deals are only for our readers, but we aren't sure how long they'll be available, so go ahead and sign up while you can.
Apparently yogurt is a thing we should all be making ourselves now, and with this Gourmia Digital Yogurt Maker, now $23 at Amazon, you can become a veritable yogurt mad scientist. Experiment with different mix-ins, flavors, and thicknesses all in one batch — the yogurt maker fits seven included jars at a time — and finally be free from any artificial colors or preservatives that plague your usual foil-lidded yogurt cup.
---
That love interest of yours might not be so into labels, but we here at The Inventory are very into labels, and label makers, and slapping labels on all the things everywhere. And you don't even have to have a type-A personality to know the pure, unbridled joy that comes with organizing your life with personalized fancy stickers, because this high-tech Brother Label Maker is down to nearly its lowest price ever at $35 on Amazon. The full keyboard makes it easy to use, and it can print 14 different fonts, 7 font sizes, 600 symbols, and 99 frames—hence why we'd label this a great deal, and your non-committal S.O. a jerk.

---
The Dyson V8 cordless vacuum is ideal for cleaning rugs, hardwood floors, car seats, ceilings, shelves...pretty much anything really, and you can get a the Animal version on Amazon today for $300, about $130-$150 less than usual. Compared to the standard V6, this model has 75% more brush head power to lift pet hair and other debris out of carpets and furniture.
The Animal model features True HEPA filtration to filter out allergens from pet dander, and has 150% more brush bar power than the older V6. $300 is the same price we've seen in Black Friday ads, so there's no reason to wait.
---
You don't want to spend a bunch of money on a nice mattress, only to instantly ruin it with an untimely wine spill while you watch Sabrina in bed, or even slowly make it gross with your own sweat and grime. No, a mattress protector is a must, and this breathable, dimpled cover from eLux is 20% off for our readers with promo code EKINJA20. That code should work on every size, and it'll bring the queen model down to $21.

---
Chocolate is a year-round kind of food, but demand for sweets certainly ramps up around the holidays. Stock up on a few fancier favorites today with this seasonally appropriate Lindt and Ghirardelli Gold Box from Amazon. The deal includes something to please every chocolate critic: 60 to 120 count boxes of individually wrapped truffles, truffle boxes perfect for gifting, and even some snowman-shaped and peppermint-flavored options. But just like a box of these treats in my own hands, this deal will be gone tomorrow, so get yours now.
---
Philips' indoor grill isn't the Foreman grill you're probably picturing. Rather than heating the grill plate directly, the Philips uses two infrared burners on the bottom to direct heat upwards at a constant 446 degrees, which is far hotter than most electric grills, and perfect for searing meat.

Today's $150 deal is about $120 less than usual, and an all-time low by a whopping $70. If you live in an apartment and can't use a real grill outdoors, this is the closest indoor facsimile you're going to find. In fact, I'd go so far as to call this deal...sizzling.
I'll see myself out.
---
Despite what door-to-door salesmen might tell you, you don't need a full set of knives. You can breeze through about 99% of kitchen tasks with just a few important blades, and they're all included in this discounted 4-piece set.

The chef's knife is one of our readers' five favorites, and has long been the best value in kitchen knives. The paring and bread knives are pretty self explanatory, and while you could probably get away without owning a utility knife, it is a little more maneuverable than the chef's knife, and it's good to have one for chopping vegetables if you've been using your main knife on raw meat.
---
Breville added air frying and dehydrating features to your favorite line of toaster ovens, and the feature-packed Smart Oven Air is $80 off today, within $11 of the best price we've ever seen.

Trust me when I say that once you own one of these, you'll hardly ever use your "real" oven anymore. It preheats significantly faster, it's much easier to program, and it's big enough to cook all but the biggest meals. They don't go on sale often though, and the Air model hasn't been this cheap since April. Trust me, it'll really come in handy when it comes time to prepare Thanksgiving dinner.

---
Cooking eggs isn't exactly rocket science, but I'd say the ability to make soft, medium, and hard boiled eggs, plus omelettes and poached eggs at the touch of a button is worth $15. The Dash is Amazon's top-selling egg cooker, and carries a truly stellar 4.4 star review average from over 7,000 customers, so get it while it's on sale for its best price of the year.

Note: Usually, these sales are only for one color, but as of the time of this writing, you can pick from any of them.
---
If you're unfamiliar, Cricuts make all those custom stickers, delicate doilies, and Instagram-ready greeting cards you see around your crafty friend's house. You too can start being a craft wizard with Amazon's sale on this popular Cricut Explore Air 2 machine.

Let's talk about the cool stuff it can do: It can print any design you create in Photoshop/Illustrator/etc. or you can select a design for its extensive library. You can design and print on the go, using Cricut's app on your phone or tablet. It's strong enough to cut through a bunch of different materials like faux leather, vinyl, and speciality paper. Lastly, the Explore Air 2 prints faster and has more color options than the first model.
It typically sells for $250, but is down to $197 today, so go open that Etsy shop.
---
Home and/or car improvement is a process that never really ends. Keep your momentum going with a bunch of new supplies from AmazonBasics. Their current sale includes everything from replacement refrigerator water filters to wheel brushes.
---
Wayfair's massive holiday sale just went live, and in addition to deals on holiday decor like 5-for-$25 ornaments and artificial Christmas trees, you'll find wide-ranging deals on furniture that you'll use all year long. We're talking rugs starting under $15, furniture for every corner of your bedroom, and dining furniture to fit any style of decor. Every order over $49 ships for free, so this is a great chance to give your home a bit of a refresh.

---
Most air fryers take up a ton of counter space, but Dash's 1.2 L model is perfectly sized for small apartment kitchens. It probably shouldn't be your first choice if you're cooking for a family, but for one or two people people, it can crisp up more than enough french fries, chicken wings, or anything else.

If you aren't familiar, air fryers use hot air and convection to achieve the crispiness of deep frying, but without any oil. That means your food is healthier, and your apartment doesn't smell like the back of a Burger King for four days. Today's $40 price tag is a match for an all-time low, so don't let this deal overcook.
---
Vacuum insulated stainless steel is almost always the right choice for carrying your beverage of choice, whether it's hot or cold. That's Manna Hydration's specialty, and all of their products, from koozies to tumblers to 64 ounce growlers, can keep drinks at a stable temperature for hours on end, while insulating your hand from temperature extremes.

For a limited time, you can save 30% on all of their products on Amazon with our exclusive KINJA2018 promo code. Just be sure to choose Manna Hydration as the seller on the individual product page; the code won't work with other third party sellers.
---
Microwave popcorn sucks, but this absurdly popular Whirley Pop makes it easy to make fresh popcorn on your stovetop, without burning it. Cooking it yourself means that you can customize your oil and butter (pro tip, coconut oil makes it taste like movie theater popcorn), and it only takes about three minutes to cook, so it's basically just as fast as the microwave.

$21 is an all-time low, and compared to buying microwave popcorn bags, it'll pay for itself over time.
---
Life is full of conflicting desires. Like, you don't want to sacrifice valuable kitchen counter space to ugly, bulky appliances, but you also don't want to have to dig your coffee maker out of the cabinet every morning when you wake up. A task like that is not meant to be taken on before you're caffeinated.

Behold the Keurig K-Compact K-Cup Coffee Maker for just $50 at Walmart. It's sleek enough to be tolerable as a kitchen fixture, and it's also available in red and turquoise, if you dig colorful appliances as a decor choice. Does it make coffee as good as an Aeropress or a a $1,000 DeLonghi? No. But it takes like a minute and you have to push one button, which is a perfectly valid trade off.

---
Our readers buy a lot of tools, so it's easy to assume that you guys have plenty of screws, nails, washers, and other little pieces to store as well. This AmazonBasics small parts organizer can keep everything easy to find with 25 adjustable compartments and a snap-on transparent lid. The coolest part about it is, if you buy more than one, you can snap them together, so your tool box will grow with you.

The price here typically fluctuates between $10 and $18, and $7 is an all-time low.
---
Free bacon. Forever. Do I have your attention?

Butcher Box ships grass fed beef, heritage grade pork, and free range chicken right to your door for less than $6 per serving, and if you sign up with our exclusive link, you'll get $10 off your first box, plus a FREE pack of uncured bacon in every box for the life of your subscription. Think of all you could do with an extra pack of bacon every month.
Your reader-exclusive bonuses come bundled with any of Butcher Box's pre-selected boxes, which are priced at $129 for 24 servings, or $238 for 48 servings, which can be delivered every 30 or 60 days. For a nominal surcharge, you can also build a completely custom box, with your choices of proteins.
Note: You'll have to enter your email at the beginning of the process. I know, it's annoying.
---
Trekking out to the Christmas tree farm is fun, but you know what's even more fun? Saving money on your tree. Groupon is here to conserve your Christmas cash this year by taking pre-orders on a few festive options, all for about half-off, including a 6-Foot Premium Fraser Fir Tree for $80, a 22-inch Fraser Fir Wreath for $35, a Fraser Fir tree-wreath combo for $95, and a 6-Foot Snow-Tip Black Hills Spruce for $80. They'll be shipped right to your front door starting on November 27 for maximum Christmastime freshness, but saving all that green on a tree is what will really make this holiday season merry and bright.
---
For as long as humans have been fermenting grapes, wine has always been an "indoor" beverage. If you want to enjoy wine on the go, you've got a pack a big, breakable bottle, a corkscrew, and glasses. There's an entire cottage industry dedicated to making the practice slightly less inconvenient. Here's a better idea: just drink wine from a can, dummy!

The Drop is an online wine club that makes and sells its own canned wine, and our readers can save $20 on their first 24-pack with promo code KINJA20 by signing up for a subscription. By default, you'll get eight cans each of red, white, and my personal favorite, rosé, but you can also customize the mix to your liking. Each can holds 1.7 glasses, or 1/3 of a bottle, making this deal essentially eight bottles of wine for $47. You don't need to be a math whiz to know that's a great deal.
If you stay on as a member, you'll get a new box every month for $67 with free shipping, which still comes out to just over $8 per "bottle." If you've got too many cans piling up, you can also skip a month or flat out cancel your subscription at any time.
---
AmazonBasics makes pretty much everything at this point, and generally speaking, it's a brand you can count on to be affordable and of good quality. While Amazon runs discounts on individual AmazonBasics products with some regularity, a whole bunch of it is on sale right now.
A few favorites are below, but dozens of other products are included, so head over to Amazon to see the full list.