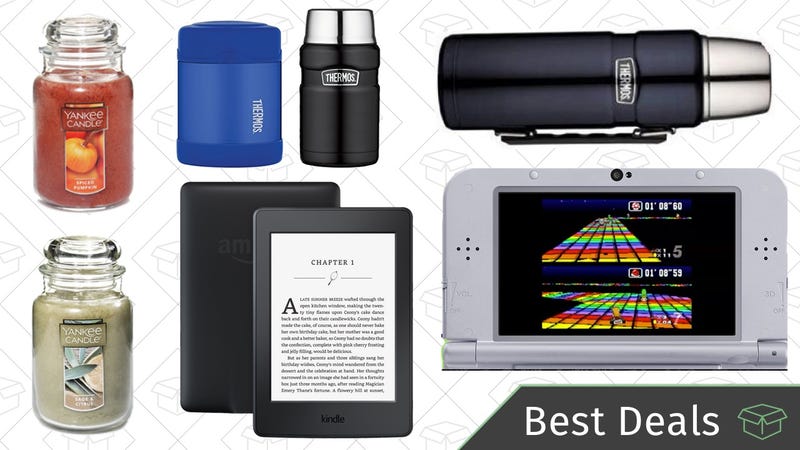 Cure your case of the Mondays with deals on Yankee candles, Amazon Kindles, a pre-order sale on the Nintendo 3DS XL Super NES edition, and many more.
Bookmark Kinja Deals and follow us on Twitter to never miss a deal.
Top Tech Deals
Prime exclusive Kindle discounts come around fairly often, but today's $30 discounts are notable in that they're available to all Amazon shoppers.

The Kindle, Kindle Paperwhite, and Kindle Voyage are all included in the sale. Most readers will probably want to get the Paperwhite for $90, since the $50 Kindle has a lower resolution screen without a backlight. But if you've got the money to spare, the pressure-sensitive bezels and ambient light sensor on the Voyage do make for a superior reading experience.
To give you some context for these deals, since the holidays are on the horizon, $30 is about as big a discount as you're likely to see on the Kindle and the Paperwhite; that's what Amazon offered on Prime Day this year. The Voyage, however, has been discounted as much as $5o in the past, on rare occasions.
Update: You can also save an extra $35 on the Voyage by buying refurbished.
---
Smart outlet switches have become the atomic unit of smart home gadgetry, and you can get two Alexa-compatible switches (with energy monitoring!) for just $13 each today with promo code 855XJ38T.

---
You don't need to sell a kidney to afford noise-cancelling Bluetooth headphones; these 4 star-rated Cowin E-7s are just $40 right now, or $30 off with promo code 9H9778YO.
They might not have the brand recognition of Sony or Bose, but these headphones pack in 30 hours of battery life, and yes, active noise cancellation that reviewers say works really well.
---
The Qi charging pads that Apple sells in the Apple Store cost $60. This one from Seneo works just as well, props up your phone like a stand, and is only $13. So whether you just got a new iPhone, or have owned Qi-enabled Android phones for years, this is a great price.
---
Several capacities of Samsung's adorably tiny T5 external SSDs are marked down to some of their lowest prices ever today on Amazon. The 500GB model is the best deal of the bunch in terms of percentage savings versus its usual price, but the 1TB model has never been cheaper.

---
Monoprice sells everything from charging cables to speaker systems to 3D printers, and you can save 20% on (nearly) all of it today during a one-day site wide sale. Promo code MONSTER will get you the deal at checkout; just note that there are some exclusions, but it's not totally clear what they are.

Let us know what you suggest in the comments!
---
Everyone should keep an inverter in their glove box for powering laptops and other electronics in the car, and you can choose from two discounted options from Aukey today, including one that fits in your cupholder.

---
An SSD is the best upgrade you can give your older computer, and Samsung's 850 EVO line is the most popular one there is. A worldwide NAND shortage has reversed the previously inexorable downward price trend on these things over the past year or so, but today on Amazon, you can score a 1TB drive for $300, the best price Amazon's listed in 2017.
If you don't need quite that much space, the 500GB model is priced at $150 right now. That's $10 more than it was last month, but it's still on the low end of the price spectrum for this drive this year.
---
You're probably familiar with the color-changing Hue lights that screw into your existing lamps and light fixtures, but if you really want to paint your rooms with color, you'll want to pick up a few Hue Bloom accent lights as well.

These lights used to sell for around $80, and today's $45 deal on Amazon is the best we've ever seen. If you're already invested in the Hue ecosystem, you should absolutely pick up at least one.
If you want to take your Hue ecosystem on the go, the Hue Go is similar to the Bloom, except that it can run off a battery for up to three hours at a time, making it perfect for backyard parties. $60 is one of the best deals we've ever seen on it.
---
Anker's glass screen protectors will keep your iPhone displays looking flawless, and you can get two of them for just $5 right now on Amazon.

---
External Bluetooth transmitters and receivers with 3.5mm jacks have been around for years, but Aukey's new model raises the bar with support for optical (SPDIF) audio.

The little box can both receive and transmit Bluetooth signals, and includes SPDIF in and out ports to connect it to your TV or high-end audio equipment. Plus, it can even pair to two pairs of headphones simultaneously when transmitting, which would allow two people to, say, listen to the same TV over headphones to avoid waking up someone in the next room. Just be sure to use promo code AUKEBRO2 at checkout to save $12.
---
There are only a handful of USB battery packs out there with USB-C Power Delivery, and this is the lowest price we've ever seen on one of them.

$56 gets you RAVPower's 26,800mAh battery pack, complete with a 30W USB-C port that can power a MacBook or Nintendo Switch at basically full speed, plus two regular USB ports as well. We posted a deal on a very similar Anker battery pack recently that cost more (though it did come with a USB-C Power Delivery wall charger, no small thing), and either one would be a great companion on a long flight.
---
You know when you ask someone to take a picture of you and your family on vacation, and you quickly learn that almost nobody understands how to take a decent photo? With a tripod, you can be in total control of those long range selfies, and this $13 AmazonBasics model works with most DSLRs and can extend from 16.5 inches up to 50 inches.
---
We see a lot of deals on home theater bias lights, but even by our standards, $10 is insanely cheap for an RGB model. Just stick it to the back of your TV, plug it into a USB port, and control it with the included remote.

---
You could fill a swimming pool with sub-$20 Bluetooth earbuds, but not many of them boast 8mm drivers, let alone 10 hours of battery life. Even if you already own a pair you like, I recommend getting extra sets of headphones to keep in your gym bag or luggage, for when you inevitably forget your favorites.

---
There's a nasty new Wi-Fi exploit out in the wild these days, but you can protect yourself from prying eyes (and get around geo-blocked content too) with a VPN subscription.
Lo and behold, PureVPN is offering some pretty stellar discounts right now when you use promo code Privacy20:
24 months for $62.40 ($2.60 per month)
Six months for $42.96 ($7.16 per month)
One month for $8.76
PureVPN encrypts and obscures all of your internet traffic from everyone from malicious hackers to your ISP to the government, and includes some cool features like a kill switch to automatically disconnect your Wi-Fi if the VPN stops working, as well as split tunneling, which can route some of your traffic through the VPN, while letting the rest go through your ISP.
Top Home Deals
This Amazon Gold Box is ostensibly meant as a back-to-school Thermos sale, but several items in there could appeal to adults who want to pack lunch for work.
Inside, you'll also find water bottles, food jars, steel koozies, and even a massive 40 oz. double walled container with a lid that doubles as a serving cup. A few notable deals are listed below, but head over to Amazon to see them all.
Just note that like all Gold Box deals, these prices are only available today, or until sold out.
---
You don't necessarily need to buy a new mattress to get a better night's sleep: Sometimes, a mattress pad will do, and the one on sale in today's Amazon Gold Box is here to help.

Unlike most mattress pads, these are stuffed with Revoloft synthetic fill, which should feel a lot like down, but without the associated allergies and poking feathers. They also feature a hypoallergenic bamboo cover. Prices range from just $67-89 today, depending on the size, but just note that this is a Gold Box deal, meaning this price is only available today, so don't sleep on it.
---
Everyone has fond memories of smelling the Yankee Candle store from halfway down the shopping mall's hallways. It's a rite of passage to attempt to walk by without getting a headache. But their candles really are great, and with this one-day sale on Amazon, you can have those scents in your home for even less. Choose autumnal scents, or classic candles smells, but this deals will cool off at the end of the day.

---
Magnetic wristbands are incredibly handy for doing work around the house, and this one's only $8 with promo code JWBEUCWX today.
---
If you've ever thought about pulling out your blender to make a smoothie, sauce, or dip, and then held off because you didn't want to clean 12,537 different parts, this deal is for you. A highly rated OXA hand blender is $10 off, and comes with a variety of attachments.

The big advantage here is that unlike a traditional blender, you can dip a hand blender into whatever container you were already using to hold your ingredients; be it a single-serve cup or a huge mixing bowl. That saves you time, and means fewer dishes to clean up once you're done. This one though also comes with a whisk attachment, and even a food processor bowl that plugs right into the end of the blender, and includes its own set of food chopping blades.
---
Upgrade all your bakeware in one purchase with this 10-piece nonstick set from Calphalon. It includes all the essentials like a loaf pans, cookie sheets, muffin tin, cooling rack, and more. This set has been hovering between $70 to $95 for the last 6 months, so at $60, this purchase should be a cake walk.
---
Freshly ground pepper tastes about 100 times better than the pre-ground stuff. This electric pepper grinder takes away the elbow grease from grinding your own.
It's adjustable so you can set the fineness and refill with different spice combinations if you prefer. It's just $7 today, matching it's lowest price ever.
---
We see our fair share of deals on refurbished Dyson vacuums, but this Dyson Ball Allergy has never been used before.

As you might have guessed from the name of the product, this model features a whole-vacuum HEPA filtration system to expel only the cleanest air. And of course, it being a Dyson upright, it's also extremely powerful, and comes with a bunch of accessories to clean every nook and cranny in your home.
For a limited time, Home Depot has marked it down to $288, or $41 less than Amazon's current price.
---
Yard work is never fun, but you might as well save some money and get all the equipment you need. Amazon's best-selling string trimmer is just $24 today, which is about a $6 - $10 discount from its normal price. Throw in some of the replacement strings and you're ready to start trimming.
---
These $11 gloves let you grab a hot pan out of the oven, pull meat right off a grill, or even turn logs in an active campfire without getting burned, like some kind of superhero. We've seen silicone barbecue gloves for less than this in the past, but these are rated for much higher temperatures, and should be more flexible as well.
Use promo code L8ERJCOU to get them for $11.
---
Robotic vacuums are so cheap and ubiquitous now, it almost makes sense to start building a fleet of them.
While it lacks the brand recognition of a Roomba, and we can't personally vouch for them like we can for the Eufy RoboVac 11, this ILIFE A4S vacuum has very good reviews, and is insanely affordable today at $150 with promo code DGQI57RL. Now you'll have more time to clean the bathroom!
---
This inexpensive bed frame looks great, and its closely-spaced slats make it perfect for those foam mattresses you can buy on the internet, with no box spring required.

---
Whether you decide to pass them out to trick-or-treaters or keep for yourself, this a good deal on a Snickers variety pack. You get 2 full pounds of fun-sized Snickers in all 4 flavors - regular, peanut butter, almond, and crisper for just $9. You can save another 50 cents if you subscribe, but remember to cancel your subscription if you don't want multiple shipments.
---
Most of us will soon be enduring the season of perpetual darkness, in which the sun is already setting by the time we leave the office. So really, there's never been a better time to install some affordable solar motion lights around the outside of your home. You can stick them anywhere that gets a sliver of sun during the day, and they don't require any wiring.

---
There are few things more irritating than noticing your tires are low on air, and then having to find a bunch of quarters, driving to the gas station, and cursing the heavens when the compressor shuts off before you've finished filling all four.

Instead, just buy this tiny $26 compressor, and fill up your own tires from anywhere. You can thank me later.
---
The Nest Learning Thermostat usually costs $250, or maybe $200 if you find a good sale, but today at Home Depot, you can pick up a refurb of the previous generation model for only $139. The only real difference between this and the current edition is that it has a smaller screen, and it's not like you're watching movies on the thing.
---
I was in the camp of people who felt like aromatherapy diffusers were glorified Glade plug-ins. And they are to some extent, but the fact you can use natural essential oils to create the scent, rather than whatever Glade uses, is a real game changer. The peppermint and eucalyptus scents can help with migraines and sinus headaches as well help humidify the air during drier winter months.
This diffuser is just $10 (with code 9HESUV4K), has 2 different aromatherapy settings, and doubles as an LED light with 5 colors options. Throw in this 9-pack of essential oils, just $13 with code BLISSOIL, and you're all set.
---
When is a pen worth $40? Possibly never, but the GP 1945 makes a really strong case.

This Kickstarter campaign is set to ship out pens starting in November, and the demo unit they sent me is incredibly impressive. My titanium model is very solid and well built (there's also a lighter aluminum version), to the point that I don't think I could break it if I tried. The butt cap also doubles as a glass breaker for emergencies, the diamond knurled finger grip works as a small ruler, and you can even blow into the back of the tube to to use it as a survival whistle.
The real star of the show here though is the bolt action method of extending and retracting the tip of the pen. It gives you enough resistance to be satisfying, but not enough to be slow or frustrating, and it makes a very addictive click when the mechanism slides into place. I have no less than four fidget toys in heavy rotationon my desk, but clicking this pen was all I wanted to do today.
There's only about a week left of the campaign, but you can still get aluminum GP 1945s for under $40, or titaniums for under $70. That's a lot to spend on yourself, but these would make great gifts for the holidays. Plus, if you pledge $8 extra and include a note, they'll throw in a magnesium pen core that you can use to start a fire. Just take it out and rub it against the finger grip to generate a spark.
Top Lifestyle Deals
What's better than a $13 folding camp chair with a cupholder? A $13 folding camp chair with TWO cupholders, of course.

---
Whether you wear TOMS for the ease of never having to tie your shoes, or just dig the style, this is one deal you should take advantage of. Head over to Nordstrom Rack for their rather large TOMS sale for both men and women. Plus, they've come a long way from just simple, canvas slip-ons.
---