Best Home Deals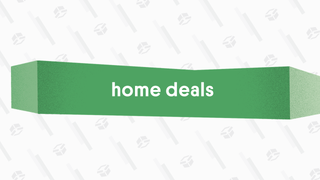 Best Home Deals
The best home, kitchen, smart home, and automotive deals from around the web, updated daily.
Save Up to 43% on Greenworks Lawn Care | Amazon Gold Box

If you haven't already started cleaning up your yard, then the task is sure to be all the more challenging by the day. I know: I took the pandemic year as a cue to skip as much of that as possible in 2020, which means my outdoor chores were even more laborious this time around. Whoops.
In any case, if you need some fresh gear to help conquer the terrain immediately outside your home this year, Amazon is currently holding a sweet Gold Box deal on Greenworks electric lawn care tools.
There's a cordless electric mower and cordless drill combo pack for just $252, or a plug-in corded electric mower for a mere $130, as well as an electric hedge trimmer with battery for $96 and an electric chainsaw with two battery packs for $196. Those are just highlights, but there are other options within the sale.
G/O Media may get a commission
15% off Your First Order
Hum Nutrition Gummy Supplements
This post was originally published by Andrew Hayward on 04/02/2021, and updated with new information on 06/08/2021. 
---