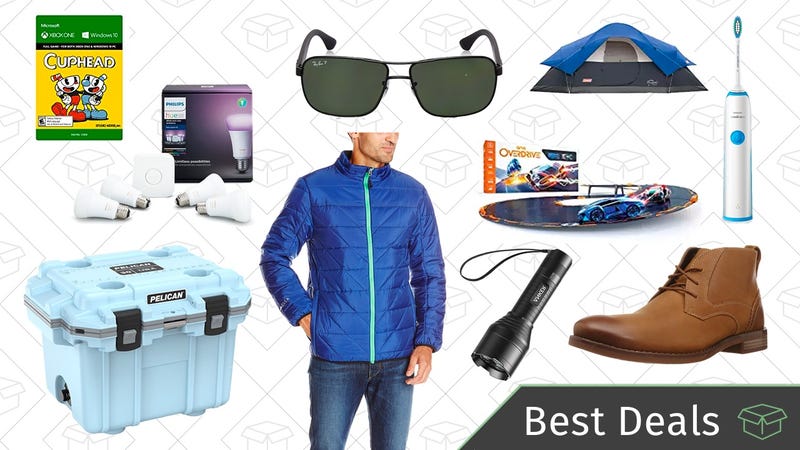 Winter gear, Philips Hue Starter Kit, Pelican coolers, and more are all part of today's best deals.
Bookmark Kinja Deals, follow us on Twitter and Facebook, join our Kinja Deals Community group, and sign up for our Kinja Deals messenger bot for the latest updates!

Top Tech Deals
There were a ton of Philips Hue lighting deals over Black Friday, but if you didn't pull the trigger then, the complete starter kit is back down to $140, which is $60 less than usual, and within $5 of an all-time low. This kit now includes four color changing bulbs rather than the three it used to come with, and you also get a hub that can accommodate up to 50 Hue accessories.

I recommend spending the money you saved on this four-pack of Hue White bulbs, which is back in stock for $50 today. That's the price Amazon usually charges, but it hasn't been available for the last few weeks. These bulbs don't change color, which is fine for places like bathrooms, but you can still control them in all the same ways that you control the color bulbs.
---
$65 for a Logitech Harmony remote is a great deal on its face, but the real reason to buy this model is the included Harmony Hub.

Note: No, this is not the same hub that Logitech is sunsetting. This hub is the replacement for that hub.
The Hub allows you to use your iPhone, Android device, or even an Amazon Echo to control everything a Harmony remote can (which is basically any piece of home theater gear you can think of). So even when you inevitably lose the included remote behind the couch cushions, you'll still have multiple ways to take control of all of your home theater gear.
Considering the hub alone sells for $85 right now, getting the hub plus a remote for $65 is a pretty stellar deal.
---
VPNs are in the news a lot lately, and whether you want to hide your tracks, or just watch videos that would otherwise be geoblocked, there are several great deals available out there to get you started.

If you can commit to five years, PureVPN is going to be your best bet at a measly $70, which works out to just $1.17 per month. PureVPN encrypts and obscures all of your internet traffic from everyone from malicious hackers to your ISP to the government, and includes some cool features like a kill switch to automatically disconnect your Wi-Fi if the VPN stops working, as well as split tunneling, which can route some of your traffic through the VPN, while letting the rest go through your ISP as normal.
If you don't want to commit to the same company for that long, or would just prefer to use a different provider, NordVPN's holiday offers are still in effect as well:
Lifehacker has recommended Nord in some previous guides, but if you have any firsthand experience with the service, sound off in the comments!
---
Dash cam deals are a dime-a-dozen, but VAVA's new entry into the market has a few tricks up its sleeve.
In addition to 1080p/60 capture, a G-sensor for automatic clip saving and built-in Wi-Fi, the VAVA dash cam is fairly unique in that it mounts magnetically and can spin 360 degrees. So if you feel like recording carpool karaoke, all you have to do is turn the camera around.
My favorite little touch though is the included wireless snapshot button, You just mount the button to your steering wheel or dashboard, and when you see something worth recording, just press it to take a picture, or hold it down briefly to record and save a 20 second clip. Of course, you could always scrub back through your old footage to find the right moment after you're done driving, but this saves you from the hassle.
---
Update: Echo Show deal is over, but the Echo and Echo Dot are still discounted.
Just because you missed out on Black Friday and Cyber Monday doesn't mean you can't save on an Echo device this holiday season. The Echo and Echo Dot speakers are both on sale for $20 off.

Plus, for every Echo you buy, you can add on a TP-Link Smart Plug for just $5. Just don't forget to add it to your cart.
---
If you're more of a Google loyalist than an Alexa fan, you can still get the Google Home smart speaker for just $79 or a Google Home Mini for $29 for the holidays.

---
Know of anybody that's planning to travel abroad and/or flee the country in the near future? This $10 international plug adapter is compact, and includes two USB charging ports in addition to a universal AC outlet. Just be sure to use promo code KINJA250 at checkout to get the deal.

---
Anker's SoundBuds have long been reader favorites, and two different options are on sale right now for the holidays.

For just $18 (with code SUPER236), you can grab the SoundBuds Surge lightweight Bluetooth headphones. With magnetic connectors on the earpieces and a water-resistant coating, these would be a great addition to your gym bag.
And if you missed it earlier this week, Anker's brand new Zolo Liberty truly wireless headphones are still on sale for $80 when you clip the $20 off coupon, down from $100. These run for 3.5 hours untethered, but the included battery case packs in an extra 24 hours for recharging on the go.
Top Home Deals
Pelican is probably best known for their high-end camera transporting equipment, but they also make high-end coolers, and they're all on sale in today's Amazon Gold Box.

You can choose from several size and color options in this sale, but they all claim to keep ice frozen for up to 10 days at a time, and have nice touches like a water drain, built-in cupholders, and even a ruler etched onto the lid.
---
Cold brew coffee is basically the only kind of coffee I like, and when there wasn't a Starbucks readily available, I'd been using the popular Takeya cold brew pitcher for over a year to make it at home. That all changed when my mother-in-law got me OXO's alternative as an early Christmas gift to help me through a sleep-deprived Deals Week, and it quickly became one of my favorite possessions.
The Takeya is fine. Good, even, especially for under $20. But at Shane's recommendation, I wanted to try the OXO, and wow is it good. The video above tells you everything you need to know about how it works, but I promise you that the coffee you get after 24 hours of steeping is potent, delicious, and and can easily last you over a week, even if you don't dilute it as much as OXO recommends.
Its MSRP is $50, and as an OXO product, that's about what you'll typically pay. Right now though, you can get it for $40, and I definitely recommend that you do.
---
Anker, producer of a lot of your favorite charging gear, has its own line of flashlights too, and the high-end LC130 is marked down to $40 today with promo code XMASFLA2.
That's a lot of money to spend on a flashlight, but the LC130 has just about every feature you could possibly want, including IP67 dust and water resistance, 1300 lumens (that's incredibly bright, for what it's worth), five lighting modes, and a USB-rechargeable battery that can last up to 6 hours. Even if you don't need it for yourself, this could make a great holiday gift as well.
---
Nest threw out all of the old assumptions about home security systems, and built something pretty great with the new Nest Secure, and you can save $100 on the usual price of the starter bundle today on eBay.

$400 gets you the Nest Guard (the big keypad thing that doubles as a motion detector), a couple of Nest Tags that can disarm it instantly, and two Nest Detects which can monitor entire rooms for motion, and also detect when windows or doors open.
Gizmodo's review has more details about how all of these pieces fit together, and there are more add-ons that you can purchase a la carte to fit your home's needs.
---
This beautiful and functional Bodum pour-over coffee maker is marked down to just $17, the cheapest it's been since October, and an $8 discount from its usual price. This 34-ounce model will make about eight smaller cups of coffee, and has a nice-looking cork collar so you won't burn your fingers.
---
Made by one of our best-selling brands, these two All-Clad skillets are selling for the lowest price ever today. The 8-inch and 10-inch skillets are nonstick, scratch resistant, and oven safe up to 500 degrees.

This package usually sells for $60, so get them while they're still sizzling.
---
You can start cooking in this Crock-Pot at its best price in the last six months today. Priced at just $51, this 6.5-quart Crock-Pot has a touchscreen control panel and shiny stainless steel exterior for easy cleaning.
The best part is you can program it to start cooking while you're at work, so you can come home to warm meal with limited effort. Plus, this 6.5-quart size is large enough for big family meals, with the capacity for a 7-pound roast or a whole spaghetti squash. It has been priced around $60 - $70 for the last couple of months, so get this deal while it's hot!
---
If you've been eyeing a KitchenAid mixer for a while, and don't mind getting a refurbished one, then today is your day. You can pick up one from eBay for just $170, that's $110 less than the new ones are selling for and $40 less than other refurbished models.
So go ahead and get yourself one, the color options might not last long.
---
This AmazonBasics space heater just got its first discount. For only $24 today, you can select from low, high, or fan only options, plus a adjustable thermostat.
It's a new product, but AmazonBasics is a brand our readers' have rated very highly, selecting it as the maker of their favorite hangers and batteries, so you know can trust it.
---
It's 2017, and your lighter doesn't need fuel anymore, it just needs to recharge over USB. This Tacklife lighter is the cheapest we've ever seen of its kind at $10 (with code JQ2UFWXI).
It doesn't have a flexible neck like the other Tacklife deal we posted earlier this week, but it can still spark 400 times on a charge from its 220mAh battery. Needless to say, it would be a perfect stocking stuffer.

---
If dry winter air is wreaking havoc on your sinuses, you can fight back with this Eufy (Anker's home division) humidifier.

The Humos Air 1.0 can run for 20 hours with its one gallon tank, and can humidify a room with hot or cool mist, depending on the season. It usually sells for around $43, but you can swap those two digits and get it for $34 right now, no promo code required.
---
For a limited time, Dyson's eBay outlet is taking an extra 20% off any $25 order (maximum $50 discount) with promo code PHOLIDAY20, including vacuums, fans, and even hair dryers. They sell a lot of new stuff on eBay, but the best deals are on the refurbs. Either way, they're sold directly by Dyson; this isn't a sketchy third party situation.
My pick is the refurbished V6 Motorhead for $176. I bought the V6 Animal a months ago, and it makes quick work of all the pet hair on our furniture.
That same PHOLIDAY20 code will work with a number of other (admittedly less exciting) sellers as well, including Klymit, KitchenAid, Worx, and more, so check out the full list on this page.
---
This extra large heating pad has six temperature settings, comes in two colors, and boasts an impressive 4.3-star rating with almost 3,000 reviews.
It typically sells for $35, so today's price of $28 is a sizable discount and the lowest price we've ever seen.
---
Some may think they're "Etsy's answer to a straightjacket," but you can't deny these mermaid blankets are trendy. If you or someone on you gift list wants to dive in, you can clip the coupon to get these adult-sized mermaid tail blankets for 15% off, bringing the price to just $16.
It looks like the coupon is only valid for the blue one, so your color options are as limited as your mobility will be while wearing it.

---
Give the gift of non-watered down whiskey with these discounted stainless steel reusable ice cubes.
Normally $15, you can take these home for just $10 with code KINJAW2E. This set comes with tongs and a tray, and they make great stocking stuffers. Cheers!
---
We've seen some deals in the past on Uber gift cards, but if you prefer to spend your money with the somewhat-less-evil Lyft, you can score a $50 card for just $45 right now from Amazon with promo code LYFT5. Even if you don't use it yourself, this would make a nice gift.
---
Thousands of our readers have bought Dremels over the years, but if you need some new accessories to tackle a specific job, or if the sanding attachments that yours came with are starting to wear down, these official Dremel accessory kits are all on sale today.

---
Similar to the special Walmart and Best Buy Chase Pay promotions we shared a few weeks ago, you can now get 2,000 Chase points (worth $20 in cash back at a bare minimum) when you spend $20 at eBags and use Chase Pay to check out. Terms and conditions here and here.

At a base level, if you find something for around $20—like this TRTL travel pillow, or these packing cubes—and use this promotion, you'll almost be getting your purchase for free.
Update: Get FREE ShopRunner shipping for two years through this link.
But if you have either a Sapphire Preferred or Sapphire Reserve card, the points you earn from this promotion can be used for travel rather than cash back, meaning they could be worth a lot more than $20. For example the Sapphire Reserve allows you to book travel directly at a rate of 1.5 cents per point, making this promotion worth a minimum of $30 in travel. And if you find a really good partner redemption (like I did for my trip to Hawaii), it could be worth a lot more.
Just be sure to hit the Chase Pay button at checkout, and use either a Chase Freedom, a Freedom Unlimited, or a Sapphire Preferred card to pay. It doesn't appear that the Sapphire Reserve is eligible, though once you get the points, you can transfer them into your Reserve account for travel redemption purposes.
---
RTIC's top-selling 30 ounce vacuum insulated tumbler just got a design refresh, and the new model is down to an all-time low $8 on Amazon right now. I don't think I've ever met someone who didn't love these things, so it'd make a great little gift.

RTIC also makes our readers' favorite coolers, and all three sizes are on sale for about $18-$25 less than usual, in a variety of new colorways. I have the 20-can model, and yes, it really does keep ice frozen for days on end.
---
---
If you need a little extra help getting your house together for holiday guests, let Amazon pitch in for $30 less today.
For cleaning services, you simply select the size of your home. For handyman services, you estimate how many hours you'll need them and note whether they'll be inside or outside. Examples of applicable handyman jobs might be installing a garbage disposal, mounting a TV, or drywall repair. For both services, you'll see the $30 discount at checkout.
Unfortunately, Amazon isn't set up with providers everywhere in the country, but if you live in a covered area, this is as great deal.

Just note that you'll have to complete the checkout process with the local provider by 12/21, and you'll have to schedule service within 90 days.
---
No matter how great your kitchen knives are, they all need some tender loving care from time to time. This $7 Lansky BladeMedic includes two v-sharpeners, a fold-out sharpening rod, and a ceramic sharpening edge for serrated knives, all in a handheld package that can fit into any kitchen drawer.

This thing amazingly has a 4.6 star review average from over 3,000 customers, and it's sold out within a few hours every time we've posted it at this price, so I wouldn't wait.
Top Lifestyle Deals
Winter probably has the most extreme activities you can do, from skiing and snowboarding, to braving a blizzard to drink at your favorite bar (definitely not speaking from experience). Make whatever you're doing in the cold a little easier with Amazon's massive sale on winter apparel and gear. From outerwear and snow pants, to gloves and face masks, this sale is filled to the brim with cold weather necessities from brands like Under Armour, Columbia, White Sierra, and more.
Note: You can now sort not only by item type, but by size, so you know what comes in your size at what price point.
---
ThinkGeek is helping the nerds in your life get ready for the holidays. Score up to 70% off of a ton of products and apparel during their Black Friday Sale. There are seriously hundreds of items to choose from, which means every corner of geekdom is covered by this sale.

---
Merrell makes some of the best footwear in the game, and they're knocking 50% off a couple styles to help you hit the trails. IT may not exactly be hiking weather, but if you're a bold winter camper, these are the boots you should pick up.
---
It's been a long year, and I'd say you've earned a foot massage. But if you're a little weirded out by the thought of a stranger touching your gross feet, a couple of electric massagers from Mynt are cheaper than ever right now.

First up, their basic foot massager includes heat, a removable hood, and two massage nodes for just $55 with promo code MYNT2670 That's not much money for something that can meaningfully improve your day, every day, forever.
If your feet deserve only the best, their premium model also massages your heel and the top of your foot, and includes a lot more options to customize your experience. It's more of an investment at $150 (with code MYNT2611), but that's a $50 discount, and an all-time low.
---
You can do some heavy lifting without straining your wallet today. This exercise stand, weight bench, and Olympic bar combo pack is $50 less than usual. These 40-pound adjustable dumbbells are their lowest price of 2017, and this dumbbell set is at its lowest price ever. So what are you waiting for?
---
Hammer & Anvil's minimalist wallets boast nearly 3,000 Amazon reviews, can hold six cards, can fit in your front pocket, and only cost $8-$10 depending on the color. Today though, you can take an extra $2 off at checkout thanks to the on-page clippable coupon. That's, uh, money in your pocket.

Note: A few of these had Lightning deals earlier in the day, so you may still see the waitlist. Just ignore that and add them to your cart at the regular price to see the $2 discount.