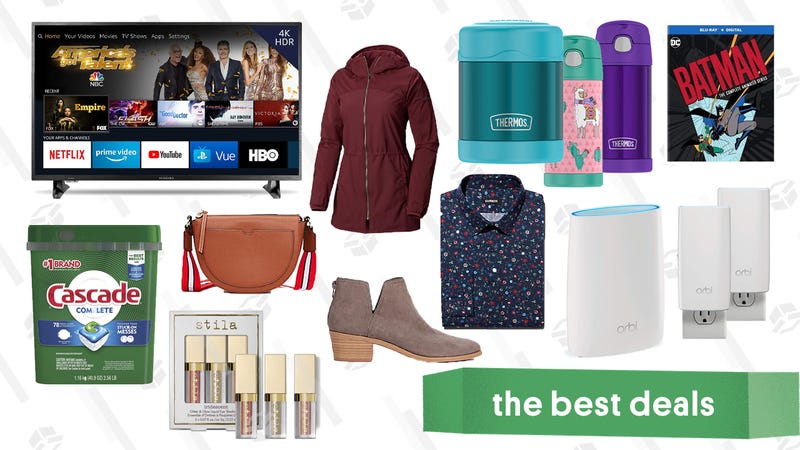 Best Deals of the Day
The best deals from around the web, updated daily.
A Columbia sale, Orbi mesh network, Express sale, and a Thermos Gold Box lead off Friday's best deals from around the web.
Bookmark Kinja Deals and follow us on Twitter to never miss a deal. Be sure to bookmark our Prime Day deals hub to be ready for the big day.
If you're looking for a classy way to incorporate a TV into your living room, The Frame QLED Smart TV is the way to go and right now a number of models are discounted at Walmart. These TVs show off works of art when you're not watching TV, and is so much more affordable now than when it was first introduced.

These TVs can act as a home theater when you want, but will fade away into the background when not needed. Better still, these are much more than just an accent piece, they're actually terrific TVs.

They're 4K UHD (2160P) with the vibrant colors you'd expect from a QULED Samsung set. Choose from a 65" set for $1,798, 55" for $1,398, 49" model for $1,198, and a 43" model for less than $1,000.
---
Anker, as you probably know by now, makes a lot of products. But I don't think any of them are as ambitious as the Nebula Capsule, a surprisingly good portable projector shrunk down to the size of a soda can.
At this size, the Capsule is obviously not as bright as a projector you'd permanently mount to your ceiling, and its standard definition resolution won't dazzle, but it can run for hours on a charge, and has great audio built in, making it ideal for an impromptu outdoor movie night, or even as a replacement for your bedroom TV. I've played around with it, and you can see all of my thoughts here.
For a limited time, the first-generation Capsule is marked down to $250 on Nebula's site, down from the usual $300. You can also get the Nebula Prizm for $65 with promo code PRIZM2210. Its picture quality should look the same as the Capsule, but it has to be plugged in at all times, and doesn't have a built-in operating system.
---
This Insignia 50" 4K UHD Fire TV is worth every penny at $270. It has Fire TV smarts and Alexa voice-control built-in. And it'll likely perform as well as any most mid-tier TVs, so its perfect if you're on a budget.

Full disclosure, this has been $20 cheaper a few months ago. But this current price is still about $80 less than usual, so it's as good a time as any.
---
They say solar power is getting cheaper and cheaper, and Amazon's hastening the trend with today's sale. This 100W panel from Renogy is ideal for RVs, boats, golf carts, tool sheds, or any other smallish application, has great reviews, and is only $87 today after clipping the coupon, a new all-time low price.
You'll still need a controller to get usable electricity out of the panels, but this one from Renogy, designed for boats and campers, is also down to an all-time low $40 today.
---
If you take your home WiFi coverage seriously, Netgear's Orbi mesh routers are some of the best you can buy, and Woot's running one-day deal on their WiFi router and 2 satellite (or RBK52W) permutation.

The latest-version of this reader favorite is now selling for just $290 , which is $60 less than usual. The main base station plugs into your modem, and the two wall plugs automatically create a mesh network that can fill over 5,500 square feet of space with sweet, sweet, Wifi.
It's offering a 500 square feet more area of coverage than the RBK33, which we've written about. Just remember that this deal is only available today so pick yours up ASAP.
Are you looking for a water bottle to take with you on all of your summer adventures? One of the most important features of a water bottle is that it is leak-proof. The Takeya Originals Vacuum-Insulated Water Bottle is insulated, so it will keep your drinks hot or cold. The 32. oz water bottle is only $15 on Amazon.

---
Tacklife is perhaps best known for simple, affordable tools like electric lighters and laser measures, but the Amazon-native brand also sells a handheld circular saw that can be yours for just $52 with promo code HWFHK7SK.

Despite the low price, you get six blades in the box, an adapter to attach your vacuum hose, and even a built-in laser that projects a straight line directly in front of your blade, so your lines don't get crooked. Just remember, as always, Kinja Deals is not responsible for any death or dismemberment you may experience with power tools, so please, mind your fingers.
---
A heatwave might be headed your way, but that doesn't mean you should ignore your garden. Right now, you can get up to 35% off garden supplies at Home Depot. The RYOBI 18-Volt Lithium-Ion Cordless Chemical Sprayer is only $89. A ProFlex No-Dig 100 Ft. Scallop Tod Edge Kit is 15% off right now. If you think it is too hot outside to garden outdoors, you can always snag a Miracle-Gro Twelve Indoor Growing System is 35% off.

---
If you want to get started with <Mark Zuckerberg voice> smokin' some meats, an electric pellet grill is one of the easiest ways to get delicious, consistent results.

Traeger is the best-known brand in the space, but many of our readers have suggested looking into other brands, which often offer similar quality at a lower price. This model from Green Mountain is marked down to an all-time low $300 today, while it's pretty small at just 219 square inches, it can run off both a regular AC outlet and a 12V car power outlet, making it perfect for tailgating and car camping. It even has Wi-Fi built in so you can control the temperature from your phone.
---
Babysitting the grill or oven while dinner cooks is nobody's idea of a good time, but this wireless temperature probe will alert you the moment your food has reached the desired temperature.

That means no more dried out, overcooked meat, and more importantly, no awkwardly taking back your guests' plates to finish cooking that pink chicken. Today on Amazon, you can get a single probe wireless monitor set for $25, or a dual probe set for $42, both all-time lows.
---
You might not need to use a Dremel all that often, but it's one of those things everyone should keep in their tool box, if only for sanding wood and carving jack-o-lanterns. Today on Amazon, you can get a Dremel 4000 with 50 handy accessories for $119, the best price we've seen in years.

The Dremel 4000 features a variable speed motor that can spin anywhere from 5,000 to 35,000 RPM, and includes 50 accessories and six attachments to get you started with projects all around the house.
---
This Amazon Gold Box is ostensibly meant as a back-to-school Thermos sale, but several items in there could appeal to adults who want to pack lunch for work.

Inside, you'll also find water bottles, food jars, and even a lunch box shaped like a firetruck. Just note that like all Gold Box deals, these prices are only available today, or until sold out.
---
You need dishwasher detergent anyway, so you might as well buy it on sale. While supplies last, Amazon's offering a coupon on this 78-pack container of Cascade Complete ActionPacs, which was already marked down to about $12. If you stack with Subscribe & Save, you'll be spending less than $.13 per dishwasher load.

---
The team that brought us one of the most innovative nonstick pans we've ever seen is back with their latest project, a German steel chef's knife that can last you a lifetime.

That's not to stay that the Wigbold will stay sharp on its own for a lifetime, but the blade is larger and thicker on the heel than most premium chef's knives, giving you more steel to work with over the course of years as you sharpen it. And if you don't know how or don't want to sharpen it yourself, you can send it into Crowd Cookware for free at any time to get it professionally honed.
The handle of the knife flows from the blade as a single, uninterrupted piece of steel, and utilizes the same hexagonal pattern that we saw from Crowd Cookware's nonstick pans. While that pattern served an actual purpose in the cookware, here it's primarily decorative. That said, it does look fantastic, and the ridges provide a bit of extra grip if your hands get sweaty.
Today is the Wigbold's last day on Kickstarter, where it's already raised over a quarter million dollars, and you can preorder to get one for about $66.
---
Spending $450 on a espresso machine might sound indulgent, but when you add up all the money you spend at coffee shops, buying this Breville Barista Express could save you money over time.

The Barista Express includes a built-in grinder, and dispenses the perfect amount for each shot, making it pretty much idiot proof. The $450 price tag is the best price Amazon has ever listed, so if you've been eyeing an espresso machine for a while, this is a deal worth perking up for.
It's that time of year. Nordstrom's Anniversary Sale—the biggest of just three big sales put on annually by the department store—has arrived, and so have all the deals you've been waiting for on a range of designer goods for men, women, and kids.

Load up on all the newest clothes, shoes, accessories, home goods, and beauty products for fall from your favorite brands, including Nike, Cole Haan, Madewell, The North Face, Patagonia, Topshop, and much more. There's certainly a lot to sort through, which you should plan on doing ASAP; the best stuff always sells out first, after all.
---
Laptop bags that protect your computer during transport are often all function, but no form. And understandably so. But this 15" Lifewit bag is actually incredibly attractive and functional, with durable genuine leather, a padded interior, and five pockets for things like your phone, chargers, and more. Our readers have bought over 2,000 of them over the years, and now, you can grab it for an all-time low $20.

---
If you stan Stila Cosmetics, this sale is for you. Right now, snag an extra 25% off all sale items at the makeup brand, no promo code necessary. This is a perfect opportunity to stock up on our reader's favorite liquid eyeliner, or any palettes, kits, and individual cosmetics your makeup bag might be craving. Plus, you'll get free shipping! Just be sure to fill up your makeup bag before this sale ends.

---
I'm not a consistent flosser, and more often than not, I only brush my teeth once per day. It's gross, I know. But you know what? My dentist always compliments me on my clean teeth, and I've never had a cavity, and I'm pretty sure my secret has been using a Sonicare toothbrush.

The ProtectiveClean 4100 model is down to just $35 on Amazon today after you clip the $5 coupon, and while it doesn't have Bluetooth like some of the company's more expensive brushes, it does have a pressure sensor, a quadpacer, and can work with any of Sonicare's standard brush heads.
---
The cold weather is a thing of the past, but that doesn't mean you won't need a jacket for the rest of the year. Luckily, several select items from Columbia that would be perfect for spring and summer's breeziest nights are up to 70% off with promo code SAVE70. Gear up now, and get ready for whatever the weather throws your way.

---
Fall is well on its way, and cooler temperatures call for footwear that covers as much of your leg as possible. Luckily, Nordstrom Rack is here for your calves' warmth with a major Frye Flash Event. Men's and women's shoes — including those classic Frye boots — are up to 50% off, along with a lot of handbags. Rest assured, these items can all stand up to winter weather, but they won't stick around long, so shop soon.

---
Summer is certainly something to celebrate, and Express is using the incoming warmer temperatures as an excuse to take and extra 50% off their entire clearance section. But like all nice weather, this sale won't last forever, so snag the styles you want — everything from dresses, shirts, suits, pants, jeans, and accessories —now.

---
You might associate drawstring bags with kids headed off to sports practice or day camp, but they're practical for people of all ages. You don't need to rationalize buying a Marvel Drawstring Bag when they're only $11. If you use the promo code KJMRVL, you can get the bag for that low price from Daily Steals. Might as well get one for each of your favorite heroes!

---
Working out at home is free and (in theory) easy. If you feel weird not having any equipment in your house, you can start out small with a set of resistance bands. They might be tiny, but they can be very effective when working out different muscle groups. Plus, you can easily pack them in a bag and work out from anywhere using them. You can get Letsfit Resistance Loop Bands for $7 on Amazon. The set includes five bands, varying in resistance from extra light (five pounds) to extra heavy (40 pounds).
For some, Batman: The Animated Series is the definitive iteration of the caped crusader and right now you can pick it up in its entirety for a low $44 in Blu-ray and digital. You'll love its beautiful, art deco-inspired animation style and masterful storytelling, plus you get to see Batman punch his way through his entire rogue's gallery— which is always a treat.

Just remember that this price is only available today, and it will likely sell out before the end of day. So, get yours before The Riddler gets here.
If you want to take your mobile gaming to another level, maybe you should invest in this $34 SteelSeries Nimbus Gaming Controller 

No touchscreen can ever match the comfort and precision of playing with a dedicated controller. And keeping your fingers from blocking a quarter of your iPhone's screen is a big plus too. Better still, it's also compatible with all of your Apple gear, including the Apple TV, iPads and your Mac.
While the Xbox and a PS4 controllers will soon be compatible on your Apple products after this summer's update but those rarely drop lower than $40. And this $34 price on the SteelSeries Nimbus Gaming Controller is the best price we've ever seen on this model. Now, go forth and click some heads for me.
---
The problem with keyboards is that the keys are all already assigned to something. Letters? Numbers? Lame. Razer's Orbweaver, on the other hand, includes 30 mechanical, RGB-backlit keys that can be whatever you want them to be. Ostensibly, it's designed for gamers who want to create complicated in-game macros to get a leg up on the competition, but it's also great for office workers, video editors, and photography professionals, who do a lot of highly specific, oft-repeated tasks in software.

The Orbweaver normally costs $110-$120, but today on Amazon, it's down to $94.
You've achieved "Winner, winner, chicken dinner!" You've perfected The Floss. But if you're looking for a new way to show off your Fortnite fandom, this Chugger Jug is just $11 if you clip the coupon on the page.

Better still, if you're a cosplayer... this'll be a terrific prop, right?
Tech
Home
Lifestyle
Media
Gaming
Deals You May Have Missed
Anker's SoundCore Spirit X headphones are the sportiest member of the SoundBuds family, and are designed with active users in mind. Their ear wings ensure they stay put while you exercise, and an internal hydrophobic coating means your sweat won't fry them. Hell, you could even swim with them. Their best spec though? 12 hours of battery life, which is basically unheard of in the space.

They normally sell for $40, but they're currently marked down to $36, and you can knock an extra $6 off that price by clipping the coupon. Even if you already have a set of wireless headphones, it never hurts to toss an extra pair in your gym bag or luggage in case you forget them.
---
When you travel these days, one or two USB charging ports might not be enough. You've got to recharge your phone, your tablet, your smart watch, your headphones, your Fitbit, your portable battery. It can be a lot, and no, I don't have a gadget problem, you have a problem!

Luckily, this four-port, 40W charger from iClever is small enough to slip into any travel bag, and it's only $15 today after you clip the 5% coupon and add promo code XUAN1599. One particularly nice touch? The USB ports emit a subtle blue light so you can easily find them in your hotel room at night.
---
Maybe you work at a day camp and need unlimited snacks for the kids. Or maybe you just really, really like Goldfish. We're not going to judge whatever reason you have for wanting to buy 24 bags of the snack that smiles back. Right now, you can get a 24-pack of Pepperidge Farm Goldfish Crackers for only $38, in flavors cheddar, pizza, and parmesan. To get this discount, you need to clip the 20% off coupon. You can save a few more bucks if you choose the Subscribe & Save option, though this discount will only be applied to your first order.

---