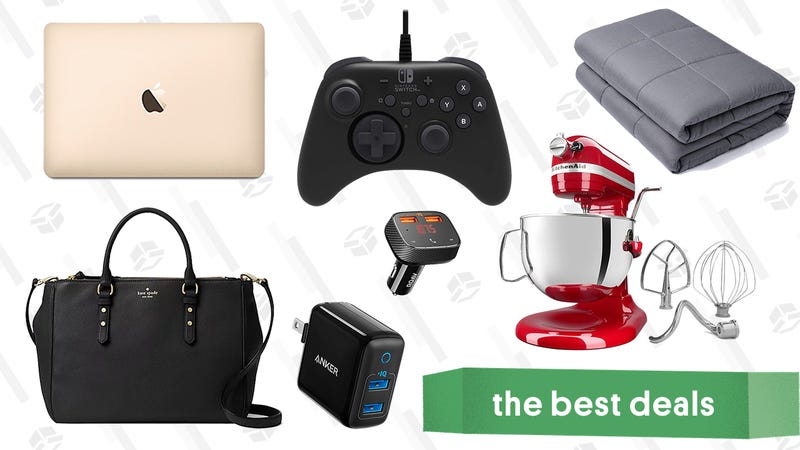 Best Deals of the Day
The best deals from around the web, updated daily.
A 12" MacBook, a KitchenAid mixer, and Uniqlo cold weather gear for men and women lead off Friday's best deals from around the web.

Bookmark Kinja Deals and follow us on Twitter and Facebook to never miss a deal.
Apple's 12" MacBook is one of the thinnest and most travel-friendly laptops out there, and you can get the current 2017 model for $900, complete with a 256GB SSD, 8GB of RAM, and a core M3 processor, as a certified refurb.
This computer isn't exactly a powerhouse, but if you just need a travel-friendly Mac, this is one of the best deals we've seen. I have this exact model model as my work computer, and I'm happy with it, especially when I travel.
---
$350 would be a really good price for a standard GTX 1070 graphics card (especially considering how overpriced they were during the crypto-boom earlier this year). Today though, that's enough to get you a TI variant. Just clip B&H's $150 coupon to get the deal at checkout.
---
What gift do you get for the gadget lover who already has everything? A bag to carry their gadgets, of course. The Zero Grid Electronics Travel Organizer is bursting with pockets, straps, and zippers to keep all of your tech gear organized and untangled while you're on the road. Get it for an all-time low $15 today with code LZ7RJD72.
---
Anker makes our readers' favorite charging gear, and now, you can save on a bunch of it in today's Amazon Gold Box.
Highlights for me include the PowerPort II and PowerPort Speed 4, which pack two multiple powerful USB ports into tiny, travel-friendly packages, and the PowerPort Wireless 10, which is one of the thinnest Qi pads on the market.
The popular Roav Anker car charger is also on sale, and is perfect for people who need an FM transmitter to listen to their phone in the car.
And naturally, it wouldn't be an Anker sale without a couple of battery pack deals. The PowerCore II Slim 10000 is incredibly thin and light given its capacity, and the PowerCore+ 26800 could keep your phone charged for a week, if necessary.
For the rest of the deals, including several cables, be sure to head over to Amazon, and remember that these prices are only available today, or until sold out.
---
With Apple transitioning their iPad Pros and MacBook Airs to USB-C, a lot of Amazon's most popular tech brands are offering deals on chargers, cables, and dongles, and we've rounded up the best of the bunch. There are too many deals to list them all here, but head over to this post for the details:
---
Update: Alert! The price on this TV just went down to $400, the best price we've ever seen on a 65" 4K set.
If size trumps features in your hierarchy of TV needs, this 65" Sceptre 4K TV is a steal for just $430, one of the best prices we've seen for a TV of this size. It doesn't have smart apps or HDR, but what it does have is four HDMI ports, which is more than you get in a lot of high end TV sets.
---
Not that we'd endorse voiding warranties, but if you want to get inside your phone to make repairs, this compact kit from AmazonBasics has the tools you need for the job, including screwdrivers, pry bars, and suction cups, all for just $8, the best price Amazon's ever listed.

---
Bose's wireless QuietComfort 35 noise-cancelling over-ears are basically a mute button for the rest of the world, and you can get them for $265 at MassGenie today, down from the usual $329.
<Waves frantically in your eye-line to get your attention>
That's the best deal we've ever seen on these!
---
You don't need to spend hundreds of dollars to enjoy the benefits of noise canceling headphones: These TaoTronics noise canceling over-ears are down to just $40 today with promo code KINJAV02.

I've actually tried these, and while the ANC isn't as impressive as what you'd get from Sony or Bose, it definitely works, especially against consistent noises like fans or airplane engines. They're also extremely comfortable, and fold up for easy storage. $40 is a steal, is what I'm saying.
I haven't tried these neckband ANC headphones, but they're also available for $33 with promo code KINJA297.
And if you want to go really old school, here's a set of ANC wired earbuds (yes, people still make those) for $23 with promo code KINJAL69.
---
Nope, it's not a mistake: This is a 1TB SSD for $144, which is about as cheap as we've ever seen on an SSD with that much space, especially from a name brand like SanDisk. If you still have a PC lying around with a spinning hard drive, do yourself a favor and pick this up, or turn it into a DIY external SSD on the cheap.

---
If you like to vape and want to upgrade your equipment, VapeWorld is taking 20% off sitewide this week with promo code SPOOKY20. As an authorized seller of Pax Labs, Grenco G Pens, Kandypens, and AirVapes, just for starters, you're sure to find what you're looking for.
This deal ends on Friday, so place your order before the promo code goes up in a puff of smoke.
Vizio's 5.1 channel sound bars changed the game by bringing surround sound to people who didn't want to buy a receiver or run a ton of wires around their living room, and now, you can get your own setup for just $148.

That includes a 32" sound bar with your three front channels, a wireless subwoofer that you put in the back of the room, and two wired satellite speakers that plug into the subwoofer, and serve as your rear channels. I've had a very similar setup from Vizio for years, and absolutely love that I can just plug it straight into my TV, with no fuss.
---
Half of your electronics charge over USB these days, so it makes sense to buy power strips that include both AC outlets and USB ports. For just $12 with promo code 6YI3ALOA, this Aukey power strip includes four of each.
---
Samsung's U3-rated microSD cards are some of the fastest and most popular options out there—I have the 128GB model in my own Nintendo Switch—and all four sizes are down to all-time low prices today on Amazon.
The 32GB card has been $7 for a few weeks, but the 64GB just dropped from $15 to $14, the 128GB went from $30 to $25, and the 256GB dropped from $70 to $60.
If you need extra space for your action cam, smartphone, tablet, Switch, or anything else, these are extremely fast cards, and extremely good deals.
---
Anker's original PowerLine Lightning cables were our readers' favorites, and while they've been iterated on in the years since, the originals remain far nicer and stronger than Apple's own cables. For a limited time, you can grab a 6' cable in white for just $8, or about $3 less than usual.
---
Anker's soda can-sized Capsule portable projector was a crowdfunding hit last year, and it really did deliver on its promise. But there were a few obvious areas for improvement, and Anker tackled all of the big ones with the brand new Capsule II, now up for preorder on Kickstarter.

https://theinventory.com/anker-packed-a-shockingly-decent-portable-cinema-into-a-1822204809
So what's new?
1) Resolution: The original Capsule's standard definition 480p has been bumped to 720p, so your videos should look a lot crisper. Easy win.
2) Brightness: The first Capsule's 100 ANSI lumen bulb was fine in a dark room, but the Capsule II's is twice as bright, which means you'll be able to get a usable picture in more lighting conditions, and at larger screen sizes. I saw it firsthand in a fairly well-lit event space, and while not as bright as a TV screen or a full-sized projector, it was definitely bright enough to watch a movie.
3) Software: The original Capsule had a version of Android installed, but it was pretty janky, and didn't have access to Google Play. This time around, the Capsule II ships with Android TV 9.0 onboard, with access to the vast Google Play app store, which means you won't have to rely on your phone for casting content.
There are a few other minor differences of note, including the inclusion of USB-C Power Delivery for fast charging, an improved speaker, and autofocus. It is a bit bigger than the Capsule (which will remain on sale for the time being); Anker calls it "pint sized," rather than soda can-sized, which was pretty cheeky of them. Whatever beverage you compare it to though, it's still very small for a projector.
Kickstarter backers can preorder the Capsule II right now for $399. Anker's touting a $599 MSRP for the Capsule II, and while there will surely be discounts after it comes out, Anker's previous crowdfunding projects have, in hindsight, legitimately offered prices to backers that weren't matched on Amazon for many months after release, if ever.
If you ever bought a Capsule I prior to this Kickstarter going live, you're also eligible for a $100 rebate when you preorder the Capsule II. Check out the bottom of the campaign page for details.
---
While it doesn't have the best picture quality out there, it's tough to complain about a 65" 4K TV for $550, a 55" for $320, or a 49" model for $250. Both include HDR, though with a distinct lack of specs on the page, I'm going to assume that's not Dolby Vision. And while they doesn't have apps onboard—pretty typical at this price level—they do have Chromecast built in, so you can stream video easily from your phone, which is very rare at these price points.
---
VPNs have been in the news, and whether you want to get around video geoblocks, circumvent proxy filters, or just keep prying eyes out of your browsing data while using sketchy public Wi-Fi, reader-favorite Private Internet Access has a deal to fit your needs.

Private Internet Access doesn't do much in the way of discounting, but they offer exclusive pricing and packages just for our readers that you won't find anywhere else. Here are your options, and what you'd pay if you bought the same plan elsewhere:
These deals are only for our readers, but we aren't sure how long they'll be available, so go ahead and sign up while you can.
Summer barbecue season might be drawing to a close, but a good meat thermometer can come in handy all year long, and you can score a rare 20% discount on the best one today.

Our readers love the Thermapen because it displays the temperature in 2 - 3 seconds, has a 3,000 hour battery, is waterproof, and is accurate to within 0.7°F.

Here are just a few readers gushing over it:

Thermapen Classic (or really any of the Thermapens). Bar none the best thermometer for cooking I have ever bought — accept no substitutes.

Somewhat expensive at ~$70-$120 range, but I've been using mine for years and years, and it still gives me an accurate reading in less than three seconds. Well, well worth the price. Especially excellent for the grill. - theburners
Without a doubt. No other thermometer comes close. I've said it before on Kinja that the Thermapen is the best piece of kitchen equipment I've ever bought. - the-return-of-samba00
This model doesn't see significant discounts very often, and when it does, it's usually only on one or two colors, whereas today you can pick any one you want.
---
Winter is coming, but weighted blankets can work wonders for your anxiety in addition to keeping you warm, and several different models are on sale today for some of the best prices we've seen, including a rare discount on a 25 pounder. Just note the promo codes.
Personally, I want my weighted blankets to be capable of breaking ribs, but the general recommendation is 10% of your body weight. Not to stress you out, but we wouldn't expect this deal to last for long.
---
Most travel deals we post focus on adventure and exploring new places, and you should definitely do as much of that as you can. But sometimes, a vacation should be purely about recharging your batteries, and there's nothing better for sheer relaxation than an all-inclusive beach resort.

For a limited time, you can unwind at a variety of Riviera Maya all-inclusive resorts for four (or more) nights, including roundtrip airfare, lodging, taxes, and of course, all the food and beverages (including alcohol) you want, starting at just $499.
Prices vary based on your departure city, travel dates, and length of stay, but if you play your cards right, this can be a very cheap trip, since the only thing you'll really have to pay for while you're there is tips.
---
$209 would be a really good price for a 325 watt, 5 qt. KitchenAid Artisan stand mixer, but today, that gets you a 6 qt. Professional model with a 575 watt motor that can stand up to the thickest doughs.
This price is the best we've ever seen on this model, and actually beats the price we're seeing in early Black Friday ad leaks. It's only available in red, but why would you want a KitchenAid in any other color?
It'll really come in handy for holiday baking, and with accessories like a food grinder, a spiralizer, and a pasta roller, you can use it for tons of different cooking tasks.

---
If you've had your eye on a sous vide machine, today might be your day. This Monoprice Strata sous vide circulator is just $43, the best price we've ever seen on this model, and one of the lowest prices we've ever seen on any soud-vide circulator.
If you aren't familiar with sous vide, Lifehacker has a great explainer of the process here. Spoiler alert: it's almost impossible to mess up and makes perfectly cooked meat with minimal effort. Really, if you're going to spend a bunch of money on really nice steaks, it'd be irresponsible not to sous-vide them.
---
The Cricut Maker lets you use your computer to cut designs into everything from vinyl to leather to wood to kevlar, and it's $50 off its usual price today, bringing it to within $10 of an all-time low.
Corey reviewed this over on The Inventory, and used it to print out a custom logo for his kids' soccer team jerseys, design custom pint glasses, and cut screen prints for t-shirts, just for starters. At $350, it's still an investment, but there's basically no limit to what you can design and make with it.
---
If the main reason you want smart bulbs is to turn your lights on automatically at night, and off during the day, you can skip the Wi-Fi enabled bulbs and just get these Philips LEDs instead. Equipped with a built-in light sensor, they'll turn themselves on and off automatically based on the light around them. The three pack is down to $15 right now, an all-time low.

---
Simplehuman makes our readers' favorite trash cans, and one of their most popular kitchen models has a $20 discount today.

This has been my personal kitchen trash can for several years now, and I love the thing more than anyone should be allowed to love a garbage receptacle. It looks great, the pedal mechanism is rock solid, is does a good job of containing, odor, and the inner lining makes it easy to remove a bag and add a new one.
---
Kickstarter has become a design playground for travel pillows, and if the TRTL+ didn't look like the right pillow for you, NapUp FLY offers a totally different approach.

NapUp FLY uses a set of adjustable straps to attach the pillow to your headrest, giving you extra padding, and keeping the pillow firmly in place. Once you slap the velcro eye mask into place, your head is effectively anchored to your seat, so you'll never bob off to the side and drool on a stranger's shoulder. I found the prototype they sent me to be very comfortable, and I could definitely imagine falling asleep in it on a long flight, as cumbersome as the setup process may be.
For $10 more, you can upgrade to a version with built-in headphone speakers to pump white noise or podcasts into your ears. In my sample, these were extremely quiet, and it's hard to imagine using them for anything other than white noise on a loud plane, but it would still be nice to not have to wear headphones to bed.
The campaign is already almost fully funded, and you stand to save quite a bit by preordering. Unfortunately, they're not estimated to ship until February, so you'll need another solution for your holiday flights.
---
Welp, it's not even November yet, but Lowe's has kicked off some of its Black Friday deals early. Inside, you'll find a selection of appliances, tools, holiday decorations, and a lot more on sale. Some of the deals (mostly appliances) are listed as running through 11/29—I believe those are the real Black Friday deals—and some only go through 11/14, which I think could get cheaper later.
---
Gerber's suspension multi-plier features 12 tools in one package, meaning you're spending just $2 per function today. The pliers are the main attraction, but inside the handles, you'll find knives, a wire stripper, screwdrivers, an awl, a nail file, a ruler, and more.

---
String lights: They're not just for dorms. Nowadays, hanging up these tiny bulbs are less Christmas year round, more legitimate home decor (or patio decor, or wedding decor) strategy. They're also way less boring than they used to be; simple light bulbs are being replaced with everything from clips for hanging photos from, to tiny peaches. Now, just in time for the coziest season, Urban Outfitters is taking 20% off all their string lights, so you can up your ambient lighting game ASAP.
---
Typically selling for $14, you can grab yourself a two-pack of Amazon's best-selling silicone baking mats for $8.

If you haven't used one before, you should now that nothing will stick to these. They're made of silicone, flexible, and fit onto standard-sized baking sheets, making clean up a breeze. Plus, since you won't be baking nonstick spray into your cookie sheets, they'll look like new for longer.
In addition to being bestsellers, these mats boast a near-perfect 4.7-star rating with over 2,600 reviews.
---
For a limited time, Amazon will sell you three pouches of Tide HE-compatible laundry detergent (totaling 144 ounces or 93 loads) for just $15. These pouches are designed basically as refills for plastic Tide bottles, but as long as that doesn't bother you, this is a fantastic price-per-ounce for any detergent, let alone name brand. Just be sure to clip the $3 coupon on the page and use Amazon Subscribe & Save.
Don't want to deal with bags? This 64 load bottle is still on sale for $9 as well, after clipping the coupon.
---
Firstleaf is an online wine club that learns your preferences, offers tons of options, and most importantly, saves you money compared to buying from the store. It's a solid deal any time, but it's even better for our readers today.

Every new Firstleaf member gets an introductory delivery with three bottles of wine for just $15, plus $5 shipping. Considering that you aren't locked in and can cancel any time, that's a bargain. But it gets even better for our readers, as promo code Kinja will waive the $5 shipping charge, for a limited time. That's three bottles of wine (all of mine had MSRPs over $20) for just $5 each shipped, with no commitment.
You can read more about the service in my review, but if you choose to remain a member (I did), every box thereafter includes six bottles for $80, plus $10 shipping.
We've got a sale that will make you get out your wallet...and ditch it for something newer and cuter. The pocketbook purveyors at Kate Spade want to hook you up with new handbags, wallets, clothing, jewelry and other accessories, so they're taking an extra 30% off already marked down sale items. Use promo code SUCHAGEM to take advantage of this gem of a designer deal.

---
If you don't have your winter wardrobe locked down yet, Uniqlo's taking $10 off a variety of jackets, sweaters, and pants for men and women. The star of the show here though is definitely the Seamless Ultra Light Down Parka (men | women), the lighter version of the Seamless Down line we covered on The Inventory. With no exterior stitching, it's warmer, more water resistant, and just plain better looking than Uniqlo's older Ultra Light Down jackets.
---
Update: These are now even cheaper, just $8 without a coupon.

If it's your dream to get some solid shut-eye for once in your life, why not give melatonin gummies a try? You can get these strawberry-flavored ones by Solimo with a $1 coupon at Amazon today, not to mention, they're gluten-free, wheat-free, dairy-free, soy-free, and egg-free. That's 60 nights of tossing and turning that you just saved yourself.

If you need some more melatonin, you can get 90 10mg gummies from Natrol for $7 as well, an all-time low. It's an Add-On item though, so you'll need to use Subscribe & Save to get free shipping, or add it to a larger order.
We just tested out these exact gummies on The Inventory, and we're yawning just thinking about it.
---
The last thing you probably want to do when it's cold and miserable outside is schlep to the gym. Your house is so warm and cozy, and it has all of your food, after all. But with this Bowflex Blaze, you can get a complete workout without leaving the house, thanks to over 60 available exercises. So cancel the gym membership, and it'll pay for itself in short order; today's price is about $50-$150 less than usual.
---
You've probably heard a lot about CBD oil lately, and its ability to relieve everything from pain to anxiety to acne. A lot of its benefits are unproven, but if you want to try it out yourself, Daily Steals is discounting CBD-infused gummies right now from myCBD (which has a solid reputation). Use promo code KJCBD600 to get 600mg for $27, or code KJCBD1200 to get 1200mg for $47.
---
Most adjustable dumbbells top out around 50 pounds, but if you're too big and strong for that (or think that you may one day be), this one from Bowflex can go up to 90 pounds, and it costs $50 less than usual today. Just note that it's only one dumbbell, not a pair.

---
Sweater season is here, so chances are your wardrobe could use this sale on Lands' End. A solid contingent of the brand's classic sweater styles is up for grabs for 40% off on Amazon today. But they'll probably go quick — unlike winter — so hurry up and checkout soon.