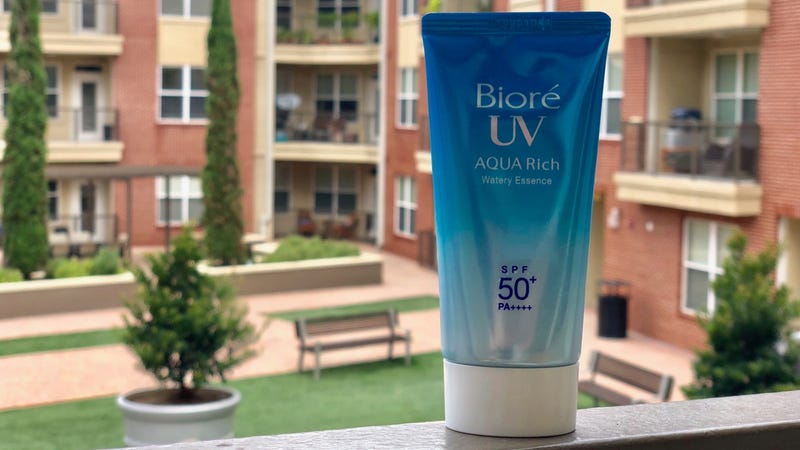 Biore Watery Essence Sunscreen 50g | $8 | Amazon
Does your skin turn a nice tomato red after only five minutes of sun exposure? You better stock up on some sunscreen now before you're assaulted by UV rays all summer long. Thankfully, a cult-favorite Japanese sunscreen is currently on sale.

You can get a regular bottle of Biore UV Watery Essence for $8, an extra large bottle (1.7x the normal size) for $15, or three of the regular sized bottles for $25. Those are some of the best prices we've seen, and while I realize the single bottle is a slightly better deal per ounce than the 3-pack or the extra large bottle, it does have a tendency to sell out, which is why we're linking to all three options. The 50 SPF sunscreen is pretty literal to its name and is said to feel like water when applied to your skin.
Here's what Shep McAllister had to say about it on The Inventory:
As far as sunscreen goes, the only thing I really knew about it was that I didn't like it, and given the option, I would usually just opt to stay indoors until the UV index fell to around 3 or 4, or until someone invented a sunscreen pill, whichever came first.

That all changed when my wife introduced me to Biore Watery Essence sunscreen. It's SPF 50 (the bare minimum for my needs, thank you very much), waterproof for 80 minutes, and feels like rubbing water on your skin. Cool to the touch, it rubs in effortlessly, and doesn't come with the unpleasant smell or zincy stickiness of pretty much every other sunscreen I've used. About two minutes after putting it on, I've usually completely forgotten about it, which is a compliment of the highest order.
---