Best Media Deals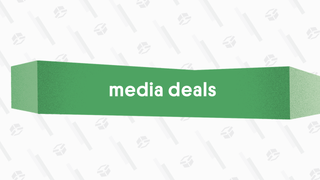 Best Media Deals
The best movie, ebook, and music deals from around the web, updated daily.
Elder Scrolls: The Official Cookbook | $18 | Amazon
In the world of Elder Scrolls, sweet rolls are serious business, and now you don't have to use your imagination to pretend you know why. Grab The Elder Scrolls: The Official Cookbook for just $18 and get access to that and dozens of other recipes inspired by the homeland cuisine of the Bosmer, Khajit, Nords, and more.
Feast on all of the delicious dishes found in Skyrim, Morrowind, and all of Tamriel in this beautifully crafted cookbook based on the award-winning Elder Scrolls game series. Immerse yourself in the diverse cuisines of the Nords, Bosmer, Khajit, and beyond with these recipes inspired by food found in the Old Kingdom, across Tamriel, and more. With over sixty delicious recipes for fan-favorite recipes including Apple Cabbage Stew, Sunlight Souffle, Sweetrolls, and more, The Elder Scrolls: The Official Cookbook will delight every hungry Dragonborn.
And if anyone tries to steal a sweet roll from the, er, sweet roll pan, just shoot them with an arrow (preferably in the knee).
---